attention to detail at a colossal scale
German DIY brand HORNBACH teams up with the sneaker store 43einhalb with a unique project — the group has unveiled a colossal pair of Adidas sneakers to house a swimming pool. The project was realized together with the Berlin-based production studio Neulant van Exel who build the pool from scratch.
The so-called 'sneakerpool' takes the shape of a pair of adidas ZX 1000 sneakers and is built from materials — including tiles, chicken wire, MDF, linoleum, flexible tube — which can be bought at HORNBACH or at any other craft or hardware store. Surrounding the whirlpool at their core, the 'XXL' sneakers have been reproduced in every detail.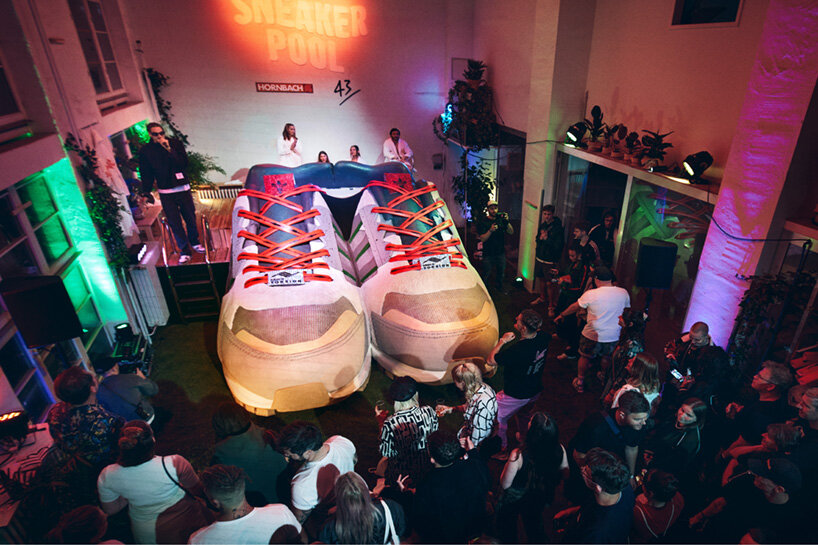 images courtesy HORNBACH
the sneakerpool by 43einhalb x hornbach
Unveiling the sneakerpool with 43einhalb, HORNBACH notes its mission to 'encourage people to be as creative as possible, develop their own DIY projects, and set themselves no limits.' With this in mind, the team claims that the sneakerpool follows past its creative crossovers. 'Most recently,' the group explains, 'with Ai Weiwei, who developed a complete work of art from DIY materials to recreate at home. Previously, Danish designer Sigurd Larsen and Japanese architect Yo Shimada designed pieces of furniture purely from DIY materials.' 
For HORNBACH, sneakers and DIY are both means of creative self-expression. This playful and colossal project merges the two outlets. 'With the help of assembly instructions,' the group continues, 'anyone could build the design furniture at home. With the Sneakerpool, HORNBACH is taking a step into the sneaker scene.'