auxetic wear expands + compresses to adapt to the foot
In a reinterpretation of the classic shoe design, Berlin and Munich based design studio Wertel Oberfell's Auxetic Wear is a 3D printed shoe that utilizes an auxetic structure to adapt itself to the ergonomics of its wearer's foot. Combining traditional crafts with modern technology, the designers emulate techniques from classic shoemaker craftsmanship. They devise a design that displays a stitched and glued pattern comprising of low-profile two-dimensional shapes, made of thermoplastic polyurethane (TPU) with a Shore hardness of 98A. This semi-flexible filament offers high tear and tensile strength, and the auxetic structure expands bidirectionally as soon as a tensile force is applied. It expands or compresses on a local level to take on each ergonomic form of the foot in each instance, enhancing comfort through a distinct design.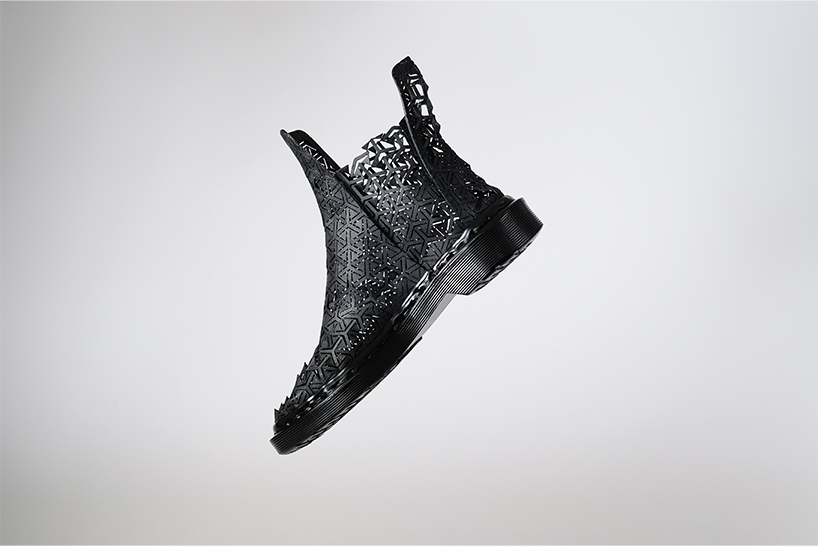 a skeleton-like base gives the shoe its final organic form and serves as reinforcement to the auxetic structure
all images courtesy of Wertel Oberfell
the prototype shoe features a skeleton base
In a reinterpretation of a classic shoe, Wertel Oberfell combines the unique auxetic design with a traditional existing sole. This allowed the team to focus their efforts on experimentation for the base pattern, the manufacturing process, and the textures and materiality, to devise an optimal design. The design and research process culminates in a 3D printed prototype shoe with an organic shape, and a two-dimensional lattice-like pattern made of TPU (Shore 98A). 
Several options to reinforce the structure of Auxetic Wear were tested, varying from linking elements within, generatively altering the dimension of the pattern to simply adding a supporting lattice. The German design studio concluded by incorporating a skeleton-like base which not only gives the shoe its final organic form, but also serves as reinforcement where the individual parts come together, supporting the auxetic structure.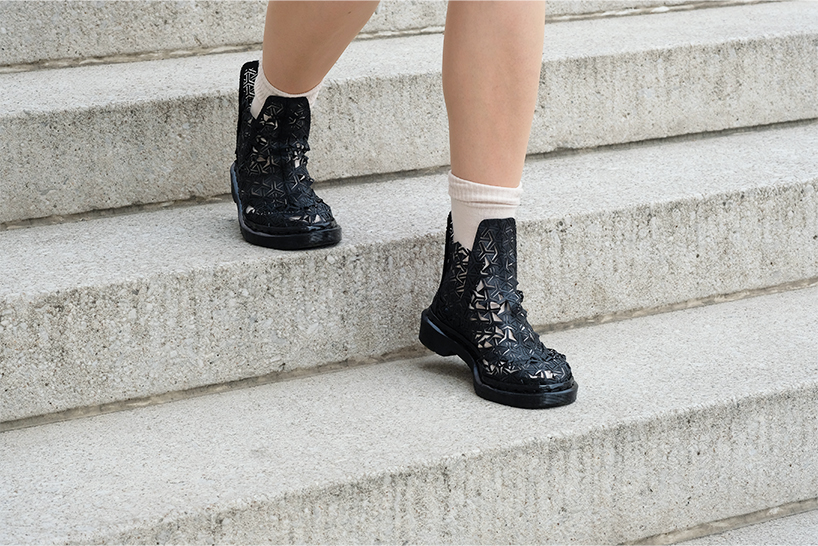 the final design was refined in many iterations
wertel oberfell unites traditional crafts + 3D printing
Wertel Oberfell combines traditional craft with modern technologies for the design of Auxetic Wear. The individual parts of the prototype shoe, including the auxetic structure and its reinforcements, are 3D printed out of a strong thermoplastic polyurethane (Shore 98A). Emulating the techniques of classic shoemaking craftsmanship, the elements are glued together in an intricate composition, and then stitched onto the existing sole.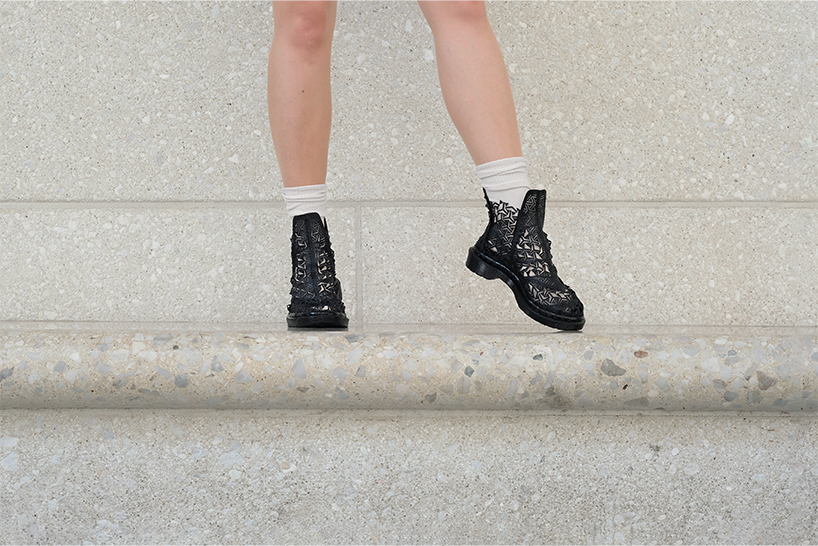 it expands or compresses to take on the ergonomic form of the foot, enhancing comfort through a distinct design