'the kaleidoscope' by inrestudio adapts to the local climate
Placed between hill and sea on a factory site in Central Vietnam, 'The Kaleidoscope' is a living and working hub completed by Japanese-led practice Inrestudio. The building features a sculpturally conical roof, evoking a Vietnamese farmer's hat, that rests atop a series of angular blocks and generous wall-to-ceiling glazing. Together, these architectural features help protect the complex from the region's harsh tropical climate — namely, hot winds, typhoons, and floods.
Besides keeping the building shaded entirely, the roof protects window openings from rain splatter thanks to its deep eaves. Meanwhile, a ventilated cavity between its double-layered frame acts as a natural heat insulator when sunlight strikes full force.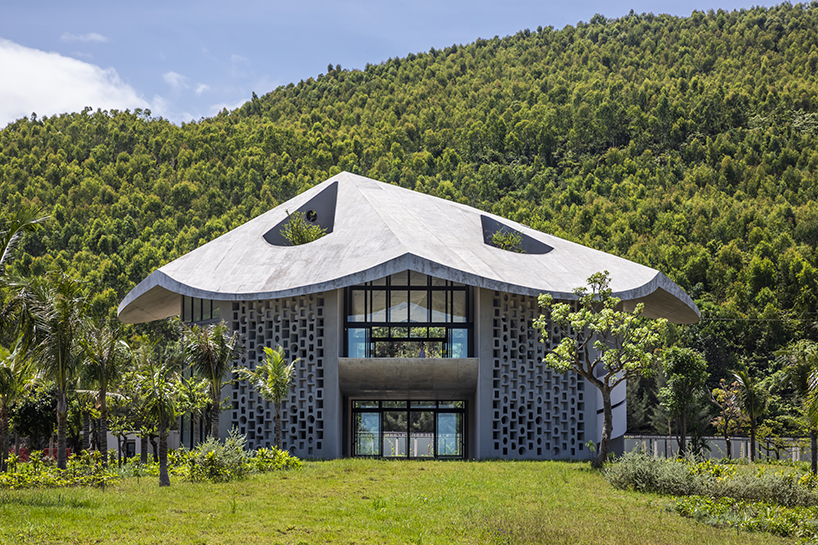 all images courtesy of Inrestudio 
v-shaped rooms with perforated ventilation blocks 
Layout-wise, for optimal climate control and flow, the architects shaped the building by arranging its walls perpendicularly to the roof periphery, creating seven V-shaped blocks with perforated facades for natural ventilation and framing expansive views of the surroundings.
'Perforated ventilation blocks are common building elements in tropical regions, not only to moderate environmental factors but also for casting unique light patterns. Custom precast ventilation blocks compose the outer surfaces of the triangular volumes to provide privacy to the inner rooms. These fiber-reinforced concrete blocks have larger dimensions than usual and match the grand scale of the surrounding backdrop,' explains Inrestudio.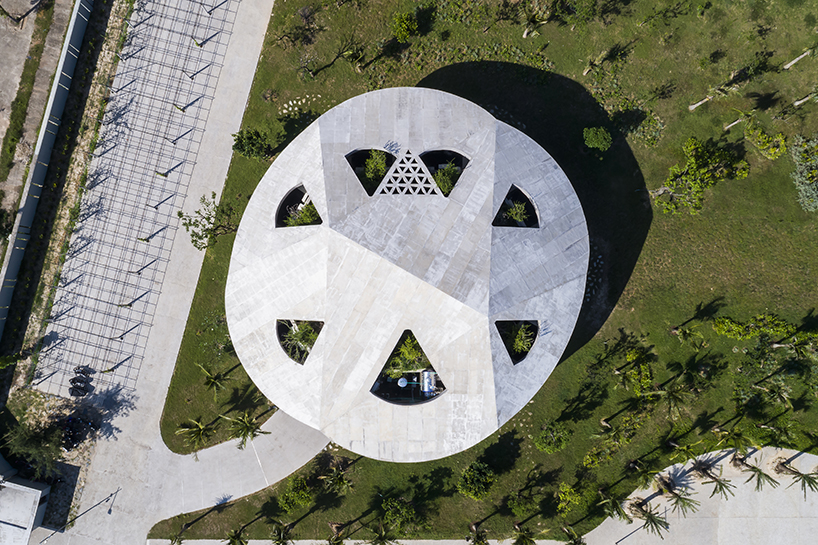 the conical roof revealing the skylights of each angular volume below it
Speaking of inner rooms, each angular block hosts private functions like bedrooms and offices, while the spaces in-between them are set for social programs, including a central office and parlors. The cavernous quality of the main office creates a pleasant play of natural light. Furthermore, Inrestudio set up a simple lighting design that helps transition smoothly from day to night, from working to living and resting. Indeed, as the day unfolds, the building starts to look like a big house filled with soft and warm lighting.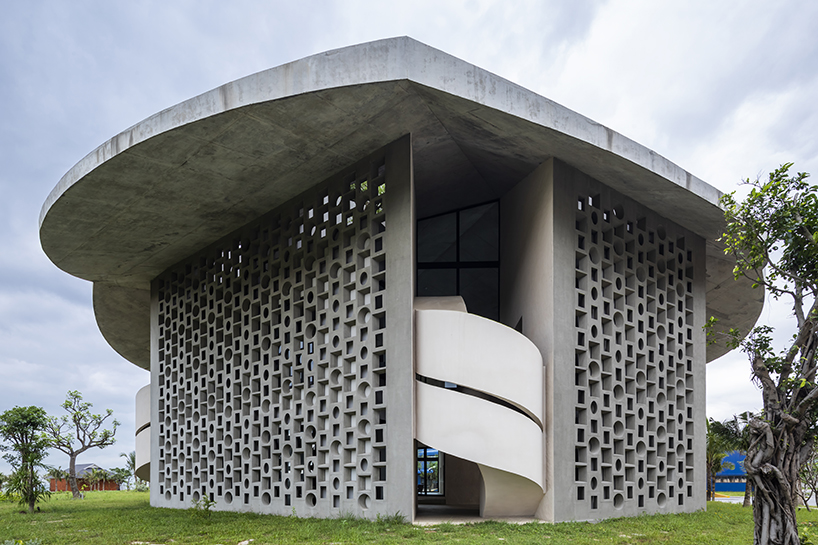 perforated ventilation blocks
'The Kaleidoscope' was completed after a five-year-long process. Carrying out its construction is a team of experienced builders from Saigon, the largest city in Vietnam, and local farmer workers. 'Not only does the project symbolize the client's initiative, but it contributes to the evolution of the local workmanship and offering a window into the potential of rural construction,' concludes the studio.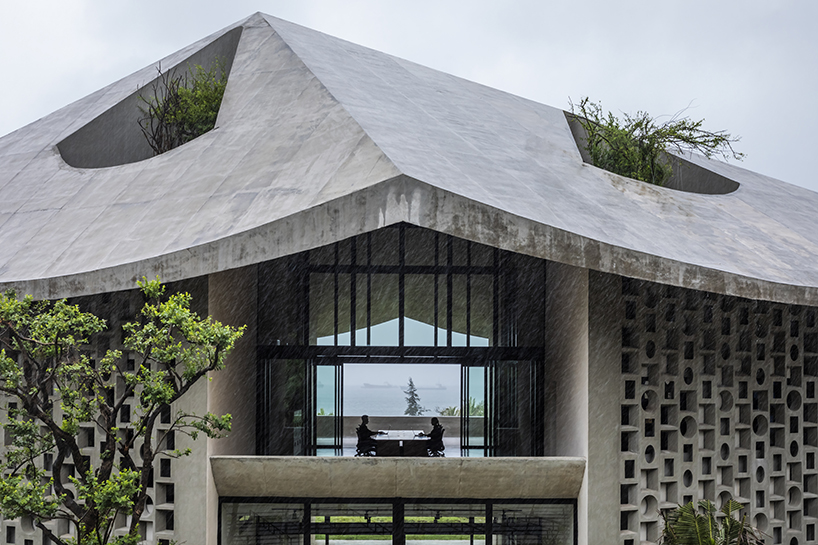 deep eaves help protect the building from extreme heat and rain