excalibur sorayama monobalancier: a hyper expressive design
Swiss brand Roger Dubuis has joined forces with Hajime Sorayama to design the futuristic 'Excalibur Sorayama Monobalancier' (MB) timepiece, which takes cues from the artist's provocative 'sexy robot' aesthetic. Merging one radical vision with another, the product breaks new grounds in the world of luxury watch wear. 'Hyper performing, hyper inspiring, and hyper hypnotic, the result is modern art for the wrist,' writes the Roger Dubuis team.
This new design is a sophisticated reinterpretation of the 'Excalibur Monobalancier', a signature Roger Dubuis piece which underwent slight uplifts earlier this year. 'Clean cut lines on both case and movement create a heightened sense of depth, while the signature star now levitates freely above the barrel. An evolution that not only raises the timepiece to an even higher standard, but also makes it an exciting and versatile canvas for Sorayama to express himself,' continues the Swiss brand.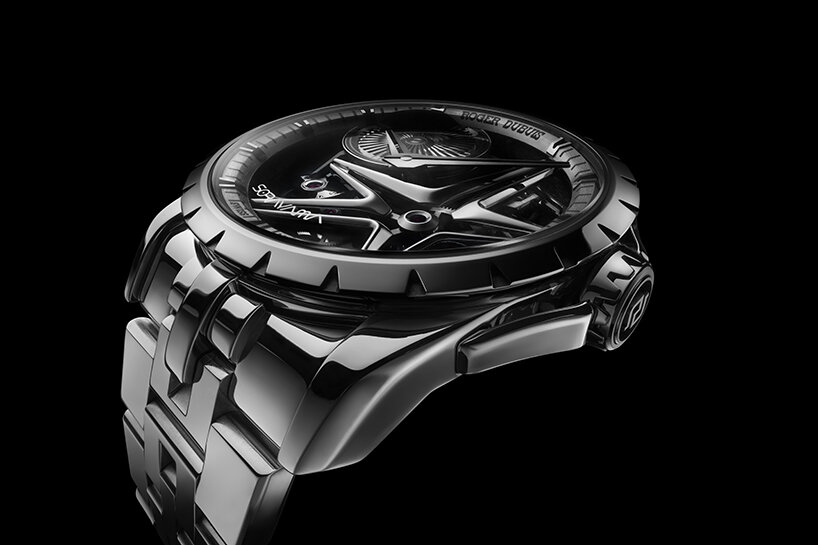 all images courtesy of Roger Dubuis 
Tapping into his boundary-breaking style, the 75-year-old artist endowed the watch with hyper-expressive details, provocative curves, and a sculptural grade 5 titanium finish polished to a T. Creating that striking shiny effect was not an easy task for the Roger Dubuis watchmakers, pushed to adopt unusual methods to replicate the desired shine.
Moreover, Sorayama and the team spent months prototyping an upgrade for the Exaclibur micro-rotor, revealed in this re-design as a hypnotizing moiré pattern that triggers endless rippling effects when users move the watch around. 'The final execution associates an extremely precise and optimal distance between each line of the stamped décor, with a traditional three-hour long guilloché technique on specific parts of the micro-rotor and an innovative assembly process placing a stamped sapphire dial above the reimagined micro-rotor,' explains Roger Dubuis.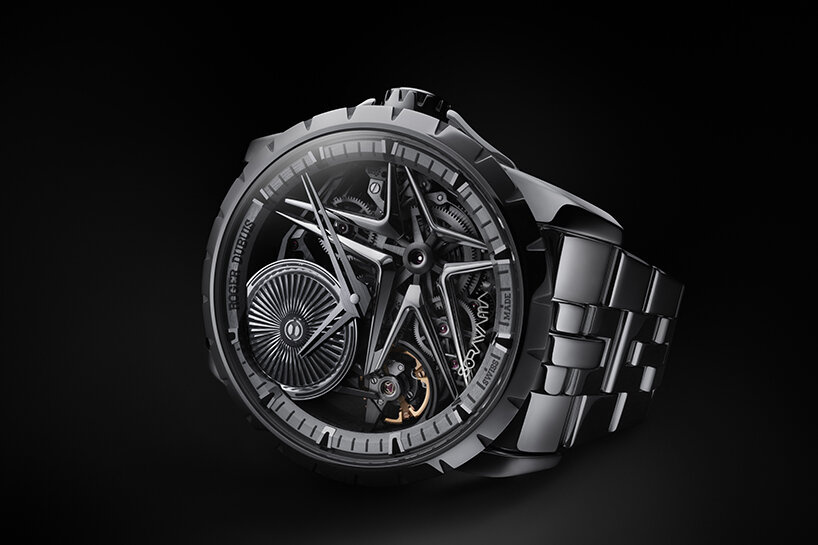 Excalibur Sorayama Monobalancier
tapping into hyper performance 
Besides cranking up the aesthetics, Roger Dubuis looked to 'hyper performance,' optimizing the mechanical and technical details of the 'Excalibur Sorayama Monobalancier' to impressive levels.The power reserve of its RD720SQ can now last up to 72 hours, the micro-rotor vibrations are greatly reduced, and the balance wheel inertia is now doubly stable and more shock-resistant. Moreover, the team used diamond-coated silicon to create an improved escapement wheel and adjustable pallet stones. Together, these new standards of horological craftsmanship earned the Poinçon de Genève watchmaking certification.
This is the third watchwear from the Roger Dubuis 'Urban Culture Tribe' series, available as 28 pieces currently sold exclusively in Japan.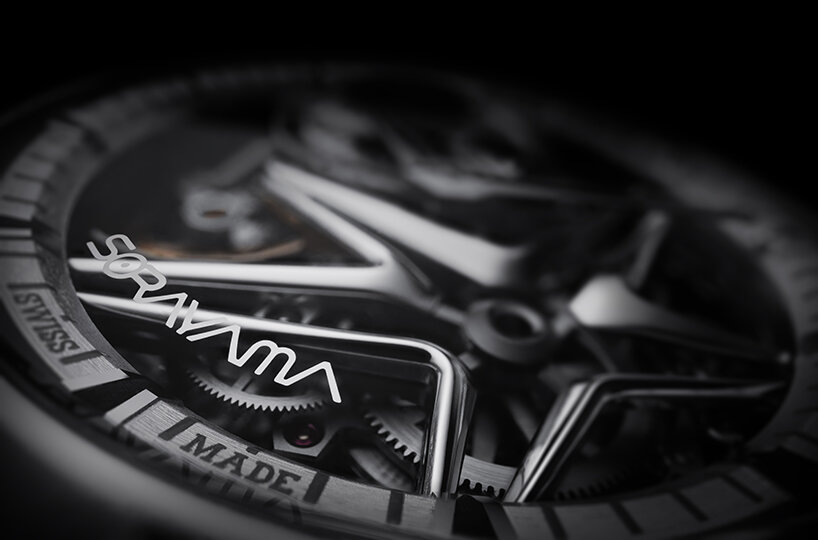 hyper expressive details with new, sculptural lines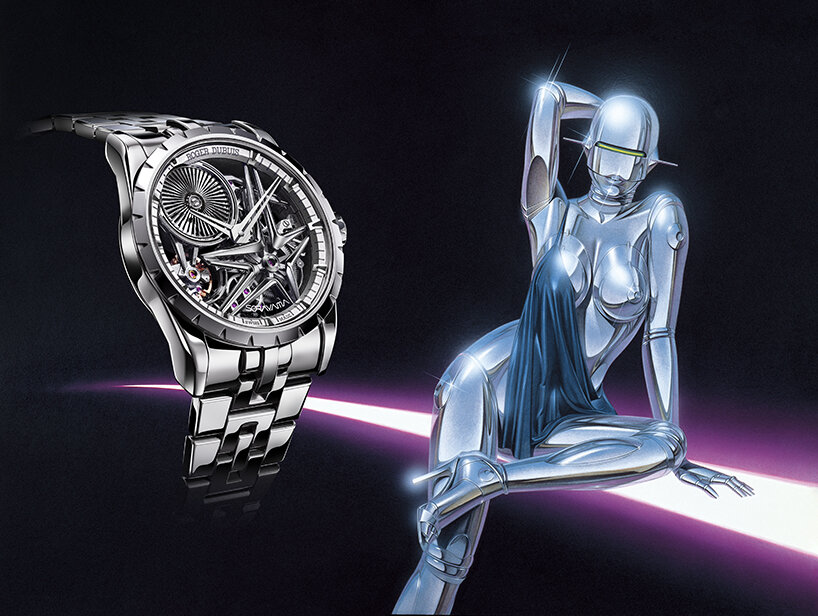 the design takes cues from Sorayama's provocative 'sexy robot' artwork