anders berensson architects' Järva Stadspark
In the unused green belt of Järvafältet in Stockholm, Sweden, Anders Berensson Architects proposes the new Järva Stadspark to transform the area into a park with a bustling new city district. In response to a commission by the Stockholm Center party, the architects envision a new central district hosting a range of recreation and leisure activities, with the addition of 12,000 new apartments, and 140,000 sqm of commercial space that will emerge from the allotment gardens with connected roof terraces, making the city district into a climbable hill. With its location, the project increases the accessibility of Järvafältet, better connecting it to its neighbouring districts through the inclusion of new passageways and strengthened transportation links.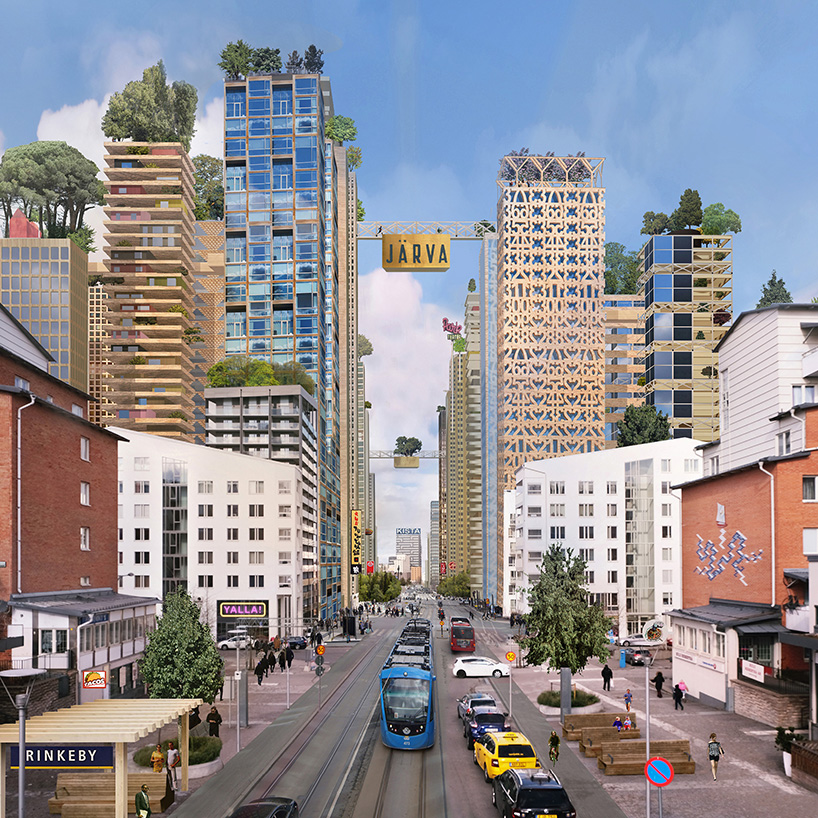 all images courtesy of Anders Berensson Architects
Järva Stadspark will host a range of recreational activities
Today, the green area of Järvafältet consists of unused agricultural land, with few natural connections between the suburbs of Rinkeby and Kista to the north and south of the area. Anders Berensson Architects envisions an ambitious transformation of the space into a well connected, easily accessible central park with a new city district that emerges from the green space. 
Introducing a variety of recreation and leisure activities, Järva Stadspark's local hill will be heightened and equipped with a ski and mountain bike slope on its northern end. The local stream Igelbäcken will be broadened to provide water for a new lake for swimming and ice skating. The park will also host several sports fields and exercise trails for running, cycling, horseback riding and skiing in the winter. Further, barbecue areas, small public huts as well as an amphitheater with space for large outdoor events such as theater and concerts, will also be created. The architects' proposal suggests clear pedestrian and bicycle paths between the encompassing suburbs and a low-speed road for pedestrians, cyclists, and cars around the park.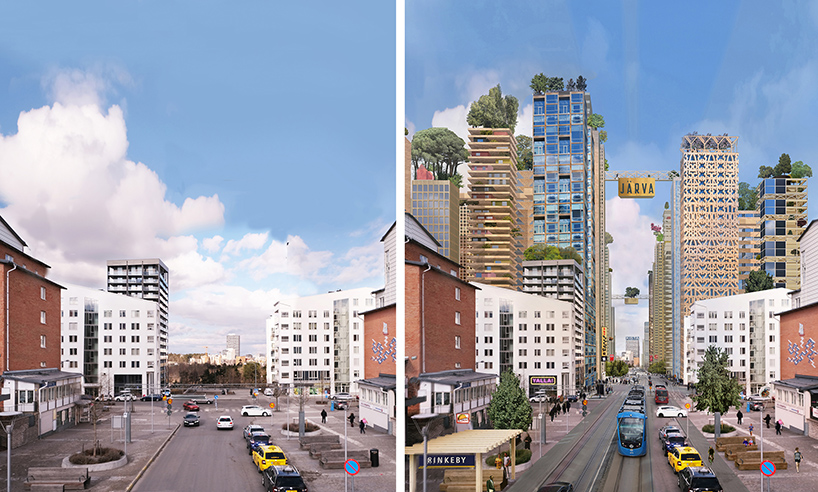 the local street Rinkebystråket before and after
the park continues across the skyscrapers' rooftops
Anders Berensson Architects' Järva Stadspark city district will comprise a mixture of the existing architecture, ranging from small allotments and city townhouses close to the park to skyscrapers in the city center, and 12,000 new apartments, and 140,000 sqm of office and business space. The local street Rinkebystråket will be extended to the Kista suburb, becoming the new district's main street, and a new tram line will be added to connect the districts. A green wedge will be retained along Igelbäcken and become a new city park, extended up on the roof terraces via footbridges, making the city district into a climbable hill. It will become Stockholm's highest park promenade with a panoramic view of northern Stockholm.

Järva Stadspark from the park