Anna Uddenberg's 'FAKE-ESTATE' takes over Schinkel Pavillon
Swedish artist Anna Uddenberg takes over the first floor of Schinkel Pavillon with her solo exhibition, 'Fake-Estate'. designboom attended the opening of the exhibition on the occasion of Berlin Art Week and experienced the live performance. The engaging project touches on topics of free will, control, and technology. A series of ergonomic sculptures encircle the room, while a group of baby-esque performers activates them by posing in and around them. 
Based on masochistic practices in which the body is willingly released for humiliation, the show arouses questions of ownership, leading the mind to an infinite feedback loop. 'Who owns our bodies, our minds, our data?'. Through this project, the berlin-based artist seeks to negotiate the limits between the body and control while the performer-object association oscillates from 'using' to 'being used', between dominating and subjugating.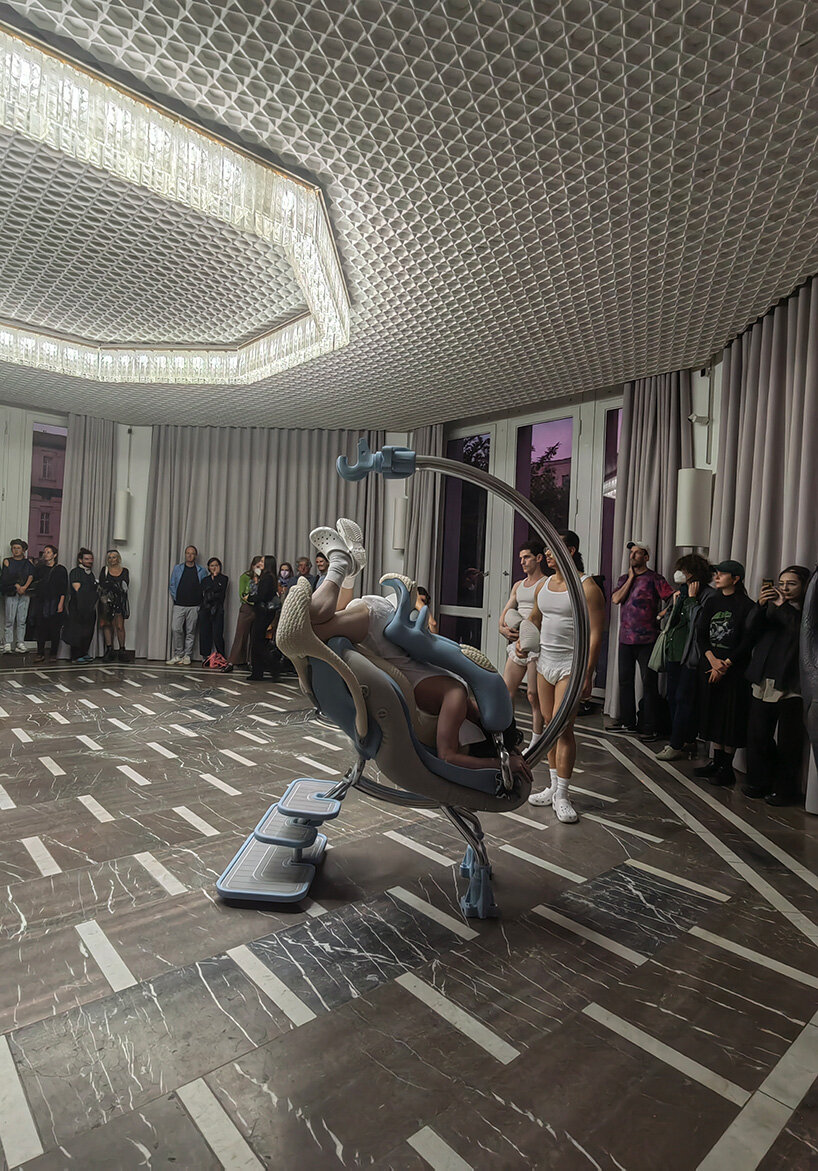 all images © designboom | designboom experienced the live performance of 'Fake-Estate'
video © designboom
acting with a mindless flow
Anna Uddenberg's sculptural and performative works often explore the merging of body and the 'Self' with avant-garde technology. Throughout the show at Schinkel Pavillon (see more here), the audience observes the baby-like figures wandering around the room and operating the ergonomic sculptures. Inspired by the kink subculture practice of Paraphilic infantilism (also known as 'adult baby syndrome', a desire to return to a submissive, childlike state), the performers' costumes mimic a classic baby outfit, including a white diaper, vest, socks, and sandals.
Free from logic, the performers slip into the role of a baby, executing poses as 'a state of mindless flow'. According to the artist, this reflects on our behavior, 'in which we hand over control to user-friendly technologies, algorithms and targeted advertising on a daily basis.'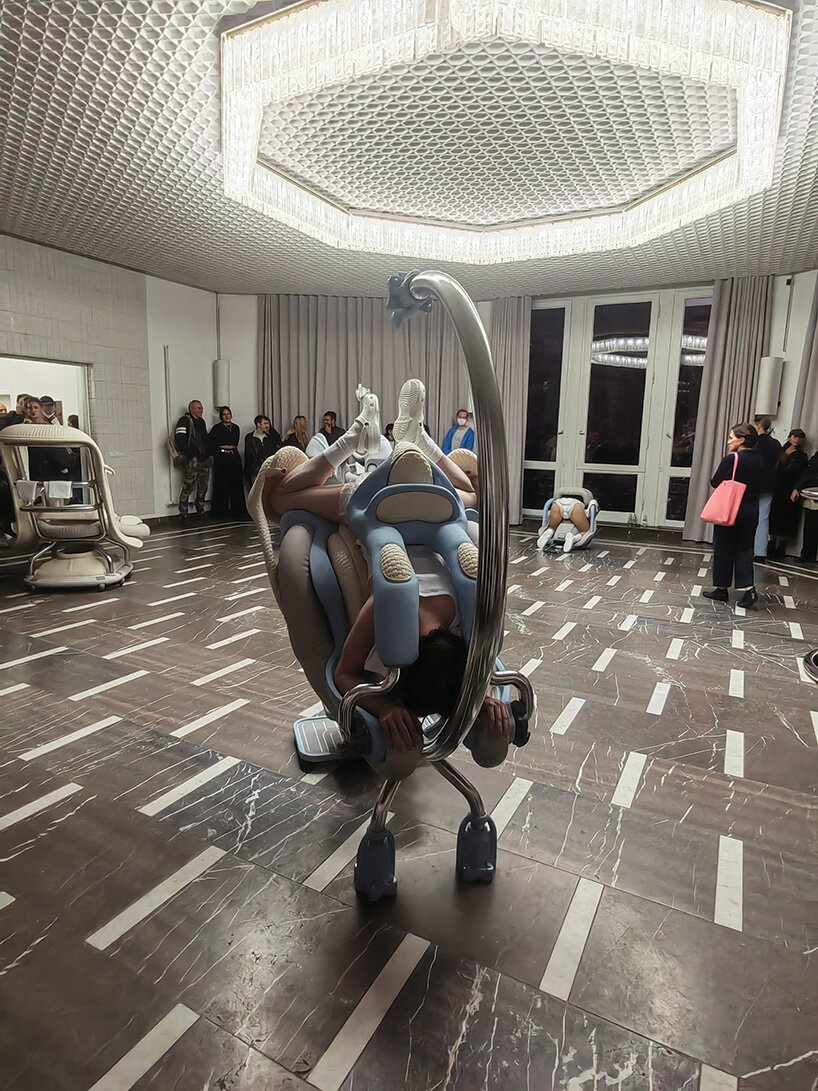 oscillating from 'using' to 'being used'
Uddenberg's new work symbolically and materially echoes the surroundings of the venue.'The historicizing facade buildings, rapidly constructed in recent years and criticized as 'fake history' have transformed the area of Berlin's southern Museum Island into a stage-like backdrop. The eclectically arranged buildings, most of which are used as investment properties, create a supposedly romanticized image of Berlin that hardly bears any relation to the socio-economic reality of the city. The sculptures, whose surfaces produced in a 3D printing process, imitate materials of these facades – brushed stainless steel, rattan, 'skins' or veneer – in this way themselves become 'fake' of their own materiality.'
That said, the view from 'Fake-Estate' turns into a unique setting for Anna Uddenberg's exhibition in which the performers renounce their ultimate 'assets', their bodily autonomy, and, thus, their 'Self'.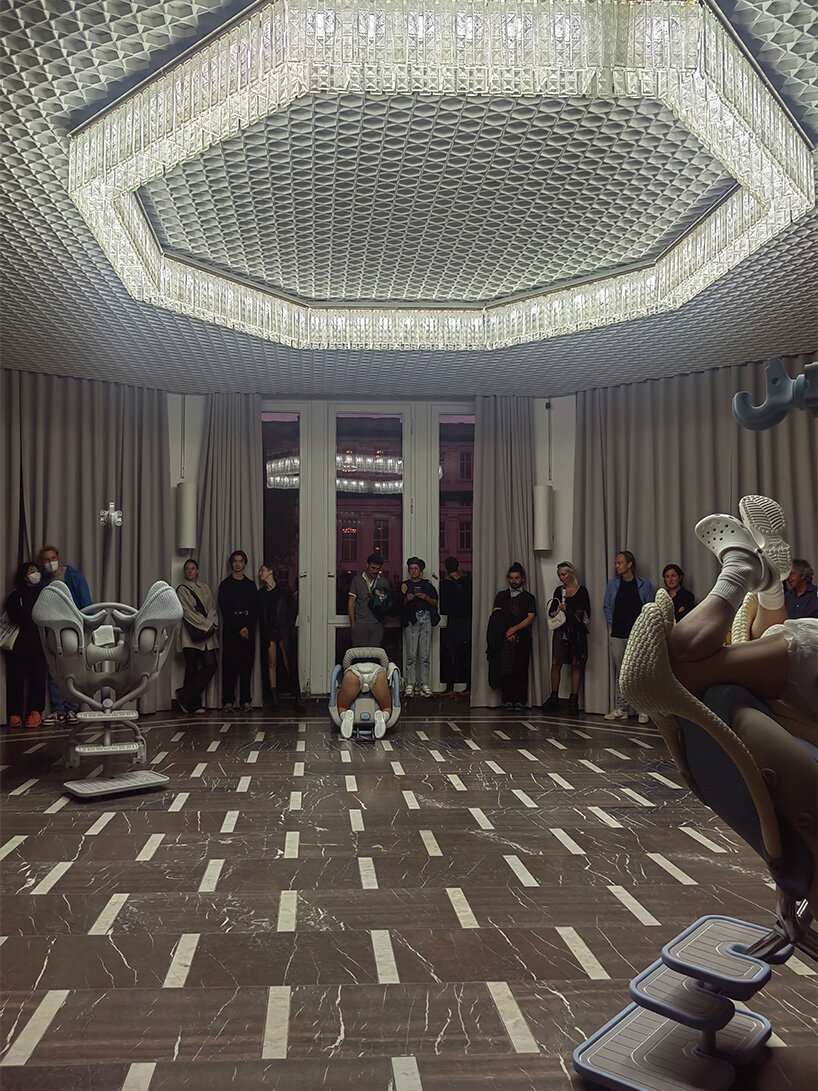 a series of ergonomic sculptures surround the room