asymmetric shed-like installation MADE OF WOOD IN CALIFORNIA
'Poly Canyon Accessory' is an asymmetric shed-like installation designed to highlight the overlooked built fabric of Central Valley in California. Created as part of an effort to increase representation and widen the scope of participatory audiences, the installation promotes an alternative understanding of architectural value. Made of plywood, and with no accessible interior, it defines space around it and provides needed shade and views down at the canyon's other structures. Built by designers Dylan Krueger, Vera Alekseyeva Gabriel, Cobain Galen, Anping Fong, Dara Lin, Will McCullough, Edgar Rivera, and Jacqueline Velasquez, in collaboration with the Experimental Structures Lab, the project celebrates the distinct style of architecture within the canyon.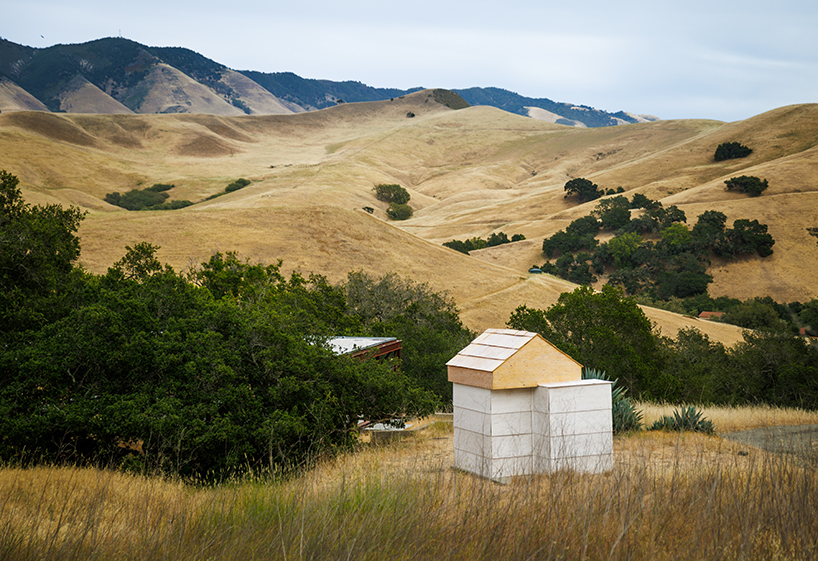 poly canyon accessory located in Central Valley California
all pictures courtesy of Dylan Krueger
formal and material properties define the space and structure
Initially, the installation may appear to be an ordinary barn shed situated in the countryside, but it is actually an asymmetrical structure, 10'x10'x15' high mass, that attracts hikers frequently passing through the canyon. It borrows formal and material properties from the valley with familiar elements like a pitched roof, a raised heel truss, and overhanging eaves made of CDX plywood treated with whitewashed lime for 2' lap siding and 1'-6" shingles. Additionally, the designers chose to eliminate the interior aspect of the structure by leaving no windows or doors in an effort to draw the attention of travelers to its unique style of architecture where barns, sheds, warehouses, and coups are abundant and architecturally undervalued.
With an imbalanced structure, Poly Canyon Accessory adopts several configurations, as it weathers in the winter rain and summer sun. The exposed siding corners will fray and bow, mimicking the natural built conditions of Central Valley. Characterized by typological attributes worth comparing to historically appreciated ones, the wood installation proposes an excellent space for picnicking under the roof eave, watching the sunset, or star gazing at night. The site where it's located, the Experimental Structures Lab, is open to the public year-round from dawn to dusk, on Cal Poly's campus in San Luis Obispo, California.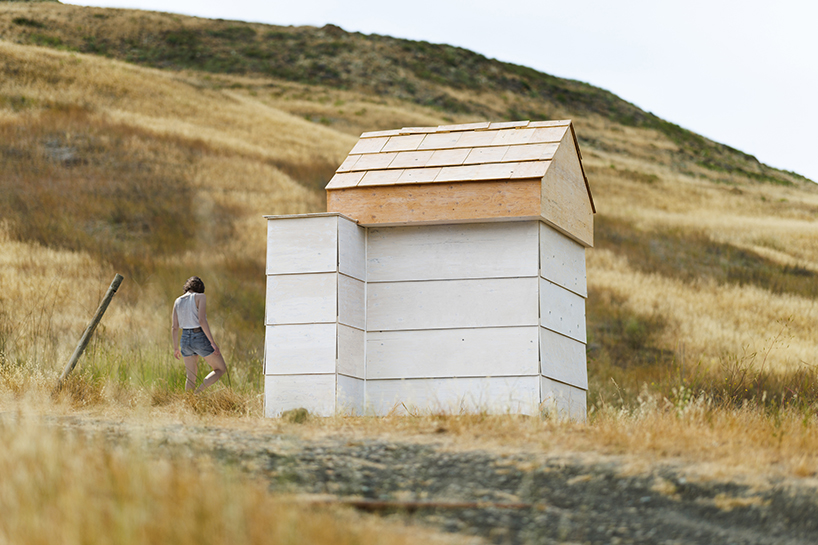 an attraction spot for hikers in the canyon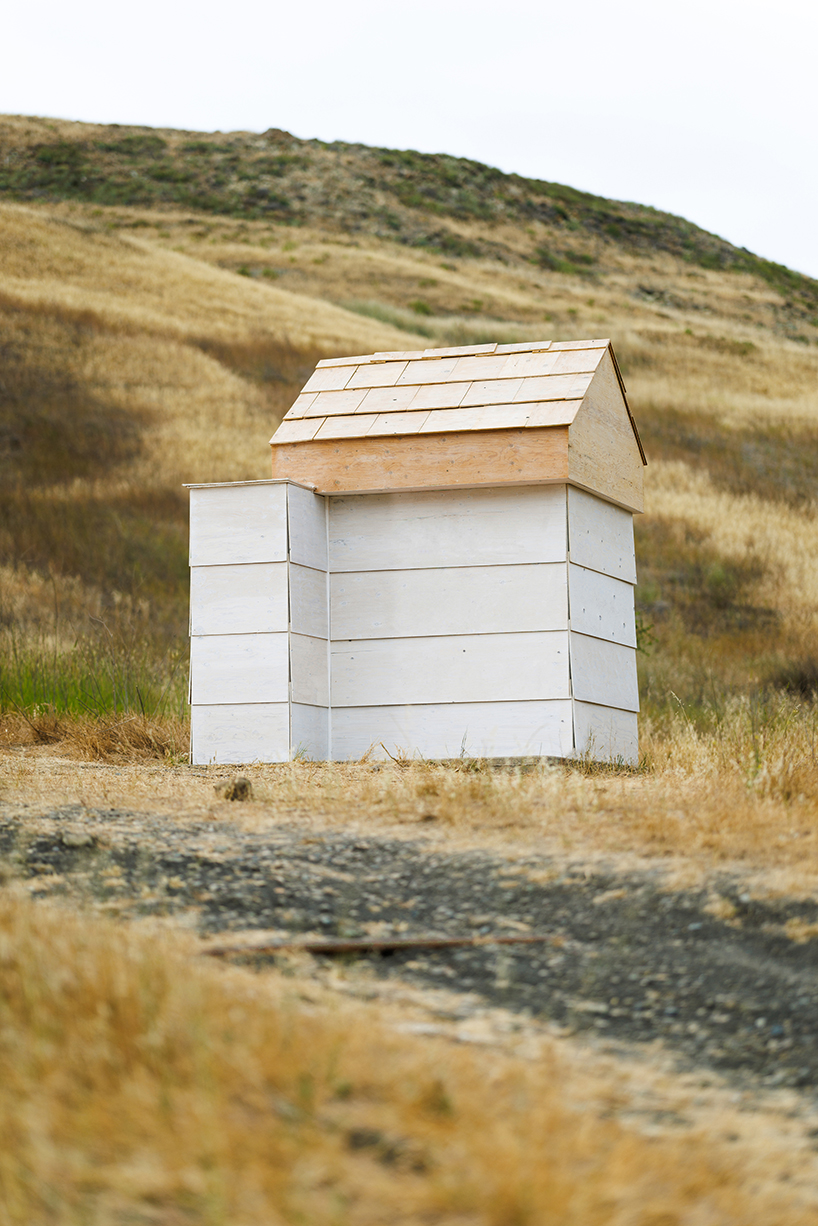 a plywood structure that is influenced by formal and material elements of the canyon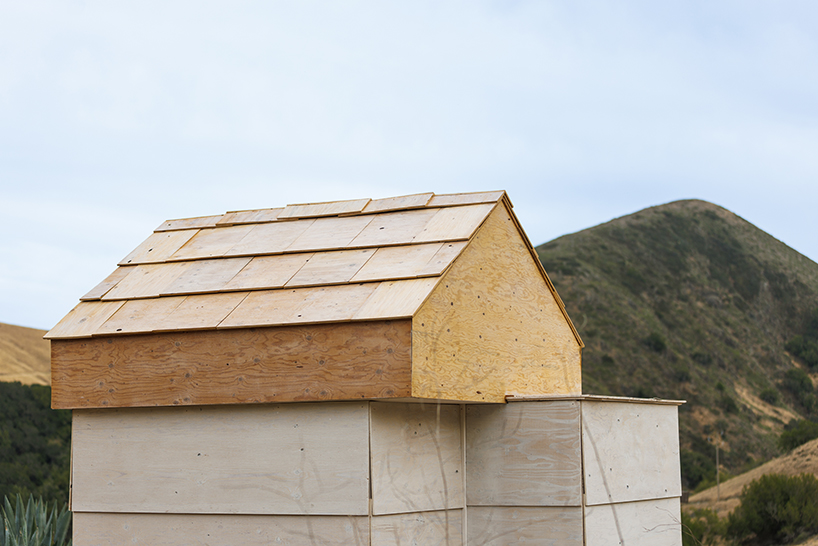 CDX plywood makes up the pitched roof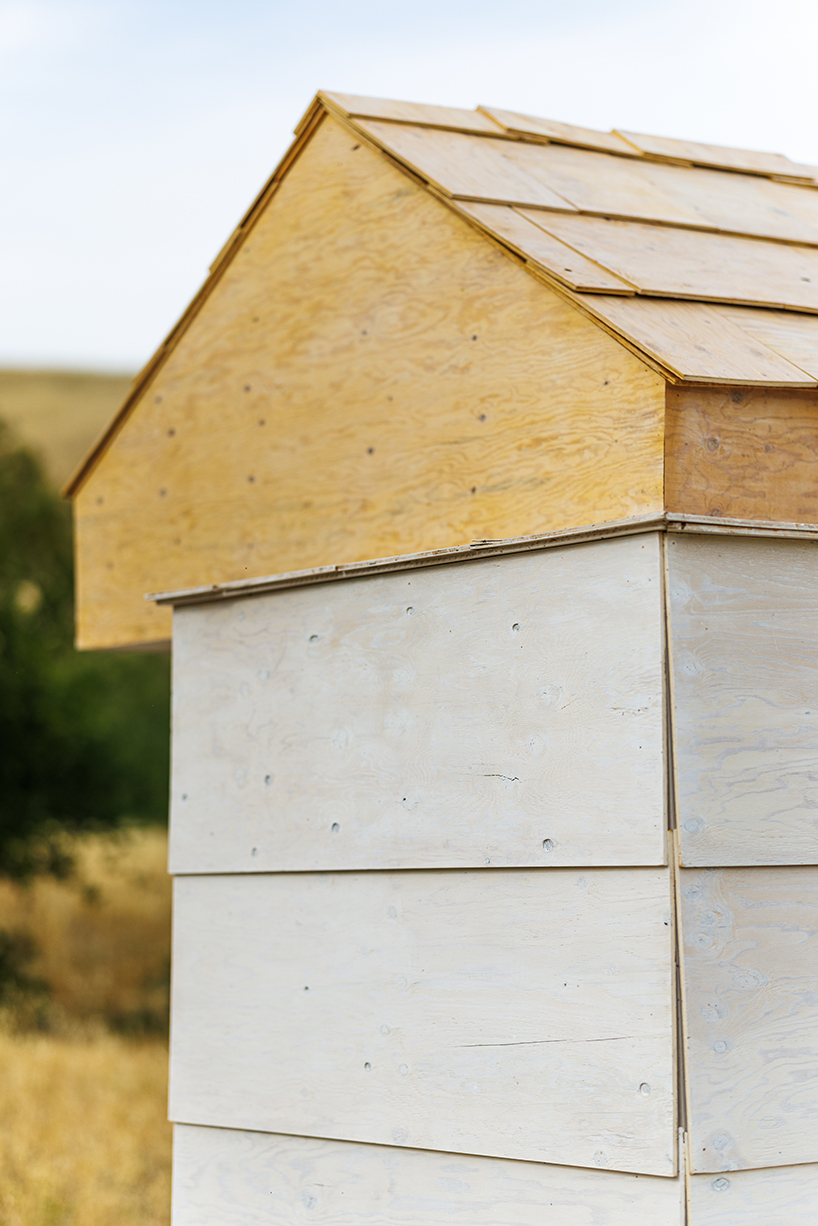 detail of pitched roof and asymmetrical overhanging eaves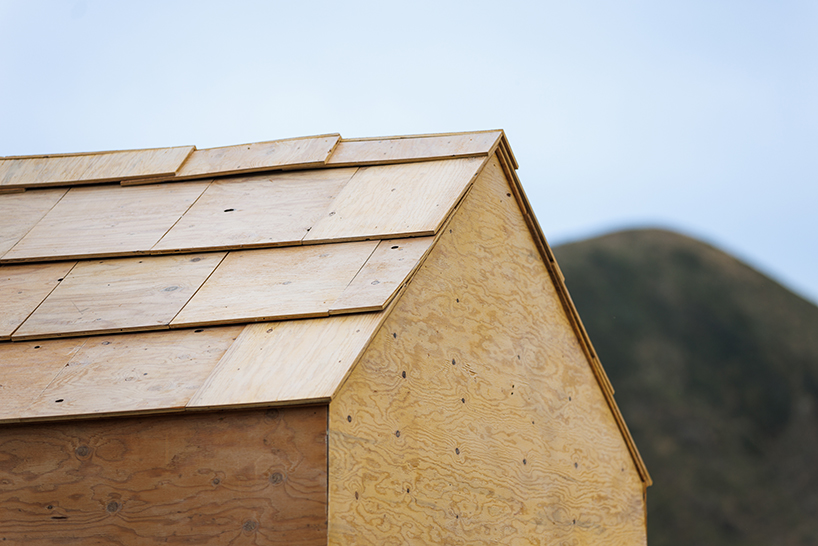 close-up of pitched roof