capturing the familiar friendliness of the white picket fence
Austin Maynard Architects completes the so-called Picket House, its latest residence in Melbourne which exaggerates the traditional vision of the suburban dream. The facade which wraps the home mimics the familiar white picket fence which was described by the Smithsonian magazine as 'a visual shorthand for the good life.' Suggesting at once security and friendliness, the fence has long been considered a reminder of the simpler times of the 'good old days.' The Australian architects translate this familiar element into a facade, shutters, and balcony handrail — all of vertical white slats, and all surrounded by a white fence of its own.
The architects write: 'The white picket fence is a relatable and easily identified element of the suburban landscape. A friendly device that defines the division between neighbours. The white palings at Picket House make it distinct from the old house but not a foreign object: an object clad in a suburban friendly coat.'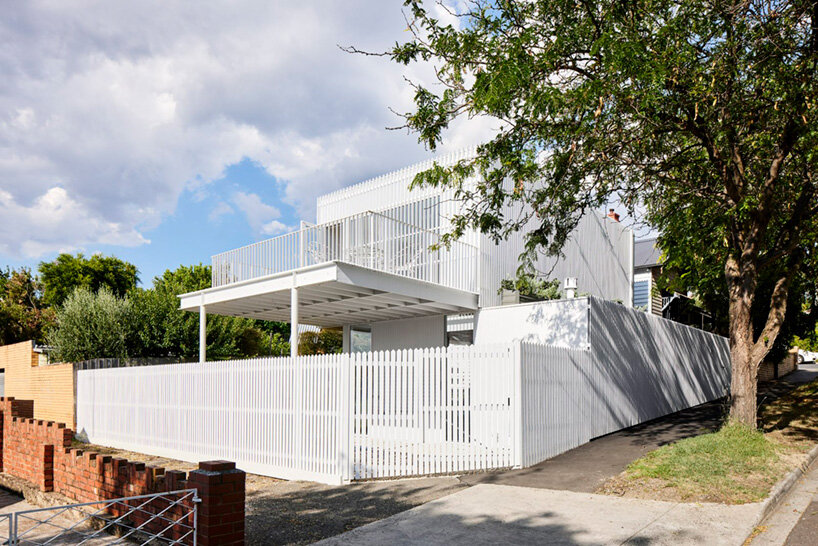 images © Tess Kelly | @tesskellyphotography
a thoughtful renovation by austin maynard architects
The design team at Austin Maynard Architects harnesses the image of the picket fence to harmonize the contemporary house with its suburban surroundings while maintaining the unique visual interest that characterizes the studio's larger body of work. The project stands as a two story renovation and addition to a pre-existing, early 1900s-era timber home located atop a hill in the suburban neighborhood of Northcote. The architects note that the original structure was a 'run-down share house with a wonky 70s lean-to,' before its transformation into the sunny and contemporary family home. 
The group describes the design process: 'Rather than adding a big contemporary box and high wall, a lighter approach was taken, sinking the new addition to reduce height at street level, while embracing the suburban language of the area with use of white palings and pickets.'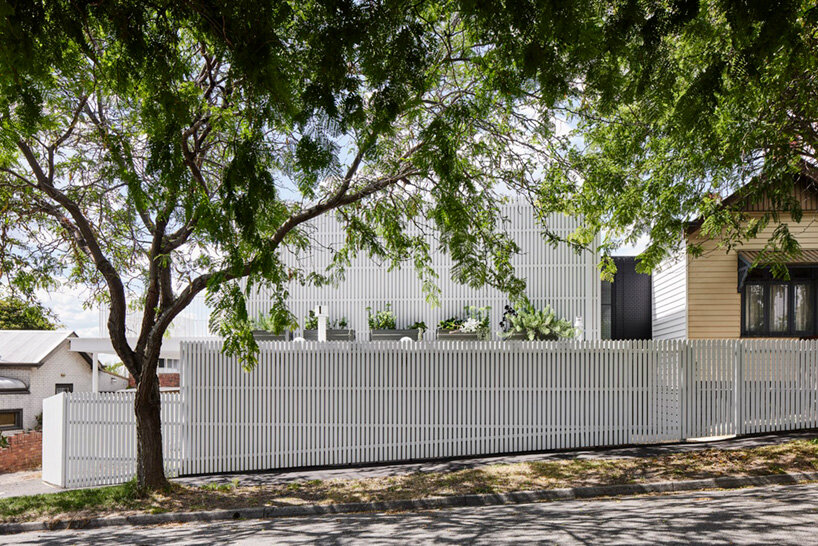 in celebration of the era
Zoe and Merez, owners of Picket House comment on the project by Austin Maynard Architects: 'We wanted to celebrate the architecture and the era of the original house, but make this new addition entirely different. I love how it became all about living, while the old part is dormitory. That's where the link between the old and the new is quite dramatic.
'It's not a huge space but having the light and the volume was so important. I love the progression of steps, coming down and seeing the levels and the light and the terrazzo. We just love this space. It's a joy to live in a beautiful designed home that works for us.'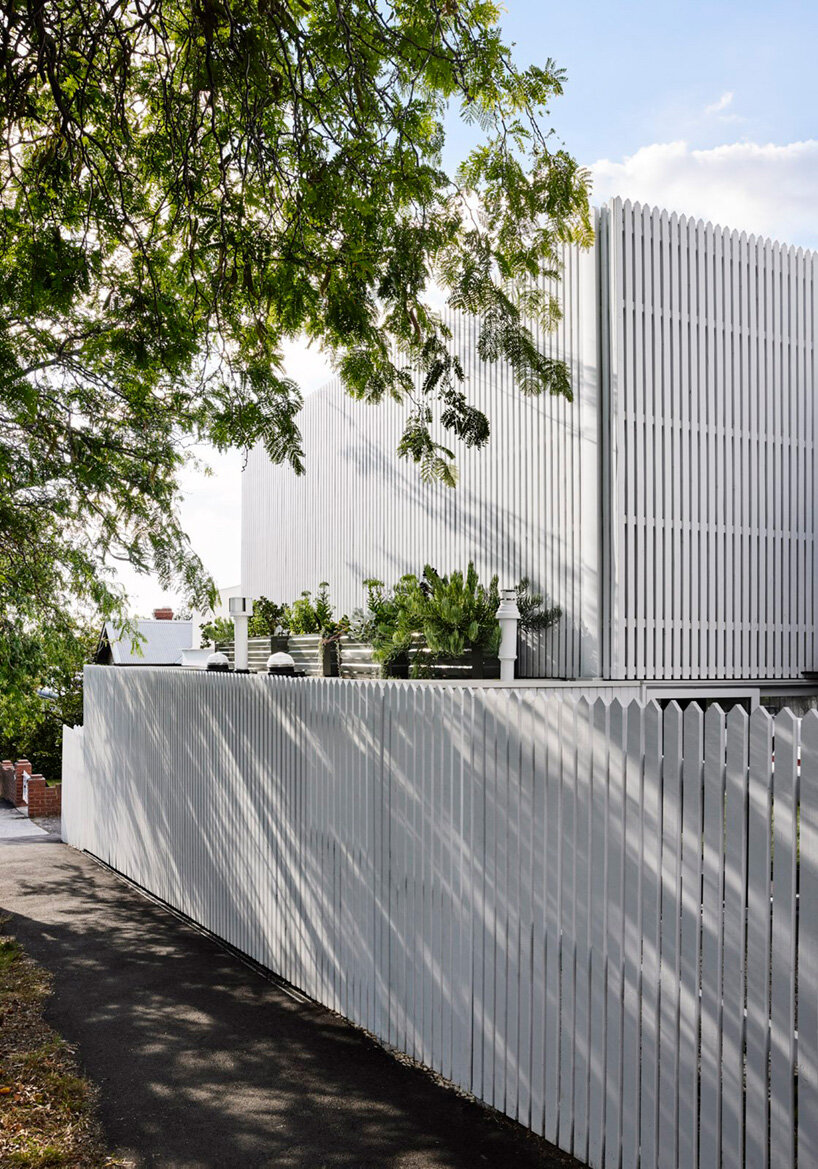 the white picket fence suggests security and friendliness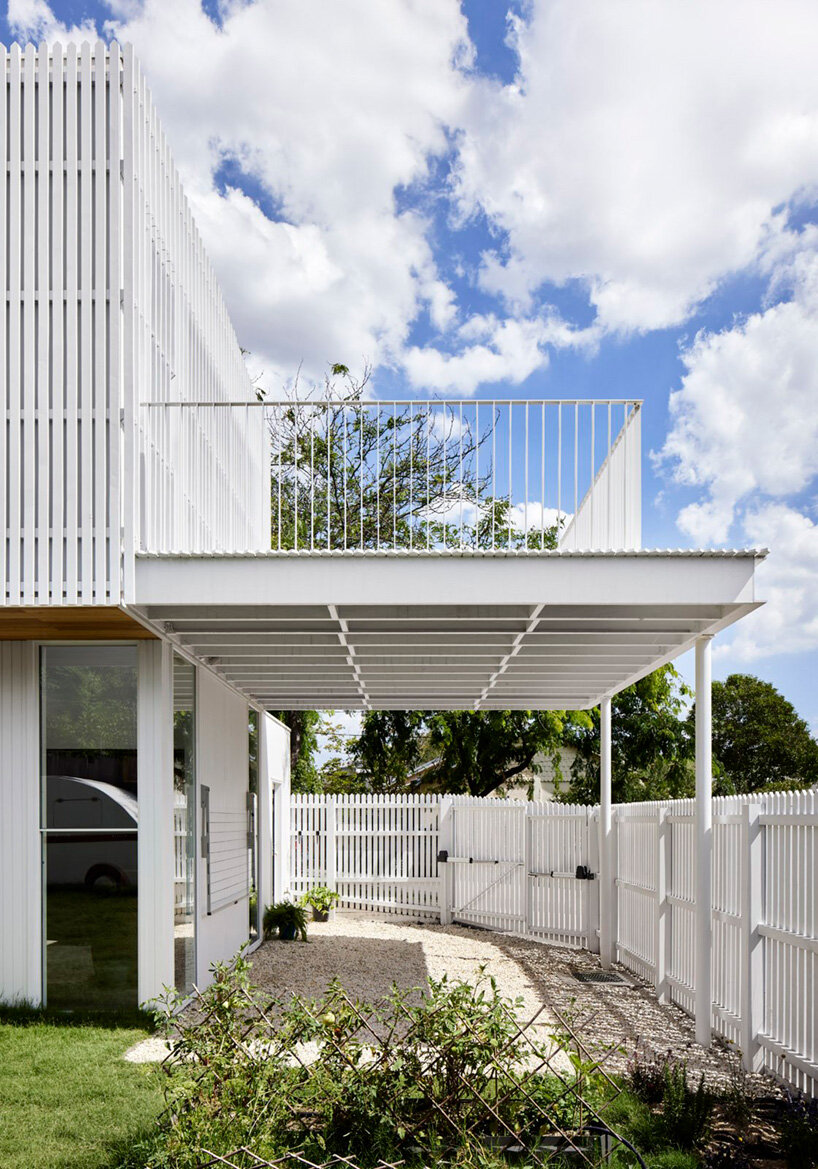 the familiar element is translated into a facade, shutters, and handrail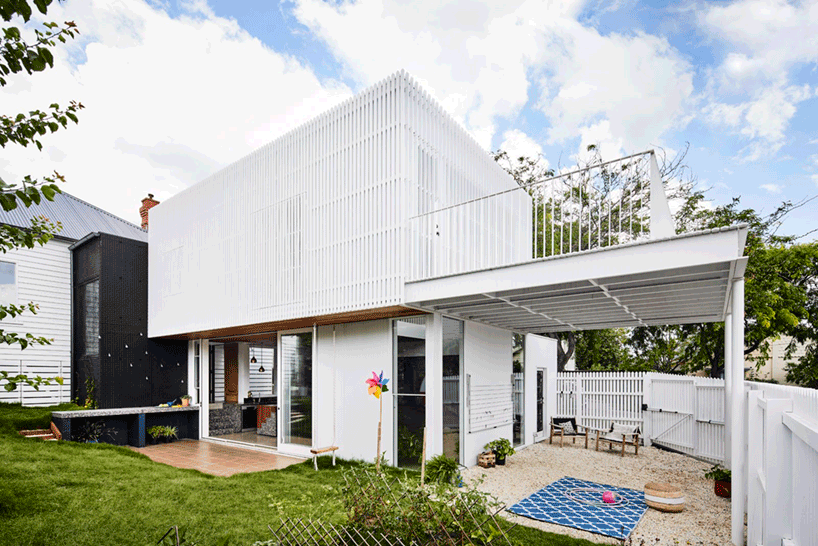 the house is a renovation and extension in Melbourne