Baptiste Debombourg presents sliced caravan at openart
On the occasion of the OpenART art biennial in Örebro, Sweden, artist Baptiste Debombourg realized a thought-provoking public artwork in the form of a cut-open caravan. In reference to the COVID -19 crisis, the work distorts the perception of space and home, calling attention to how the pandemic restricted people's movement and took away their freedom. Despite this, through its enigmatic form, the piece titled 'Amplifier' oscillates between demolition and transformation, preserving a glimmer of hope among the overall sense of destruction.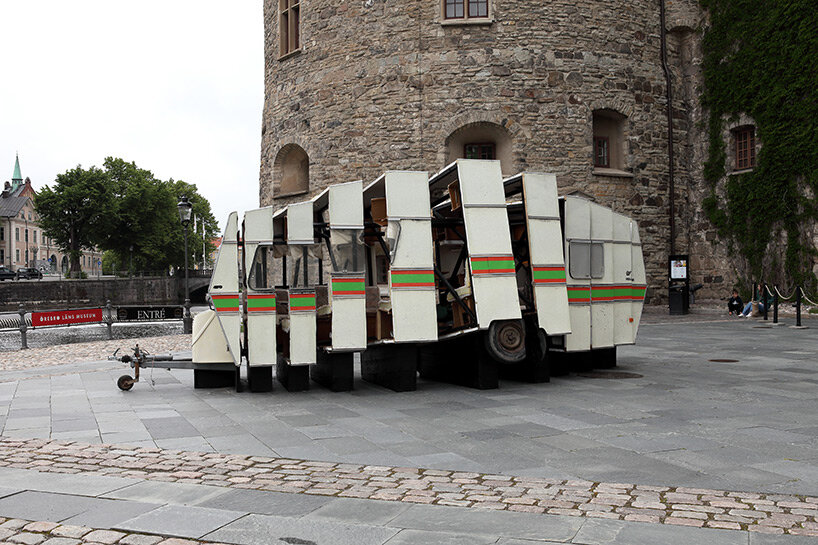 a lacerated symbol of freedom
Set right outside of the Örebro castle, 'Amplifier' builds and deconstructs perception to introduce viewers to the hidden layers of reality by altering the visual experience. The caravan, a symbol of freedom for many, is sliced up and displayed lacerated. Through the piece, Baptiste Debombourg shows that the chance to embark on an adventure has passed, as has the spontaneity to make our dreams come true and to direct the course of our own lives. The artist wishes to express how the pandemic disrupted communication and exacerbated the decline in freedom, highlighting the role of world leaders in the situation.
In this destructive spirit, there is still hope that something new will grow. The work alternates between destruction and evolution, culminating in a growing desire for freedom and independence. Despite its monumentality, the work's influence is found in its paradoxicality and vulnerability. In some ways, 'Amplifier' serves as a monument to destruction, incomplete repair, and even resilience. Like the majority of Debombourg's works, the piece is fueled by a reflection on time, history, memory, and dreams, as well as its ironic aspect.