Artem Smirnov unveils boomerang-shaped 'PIX-L7' electric vehicle
The development of new technologies, sustainability initiatives, and changing consumer preferences are just a few of the reasons causing tremendous change in today's economies. Like many other industries, the automobile sector is experiencing its own revolution as it enters an era of heavy influence from digitization, automation, and new business models. Results see a plethora of emerging technology-driven trends that focus on connectivity, diverse mobility, autonomous driving, intelligence, and electrification.
In light of this, Belarus-based designer Artem Smirnov has developed the PIX L7, a two-seater concept vehicle with a boomerang shape and a variety of potential applications. The new urban mobility concept features a futuristic design with a distinctive V-shaped body that can be used as a travel companion for two or for short hauls of cargo delivery thanks to its capacity to transform into a load carrier.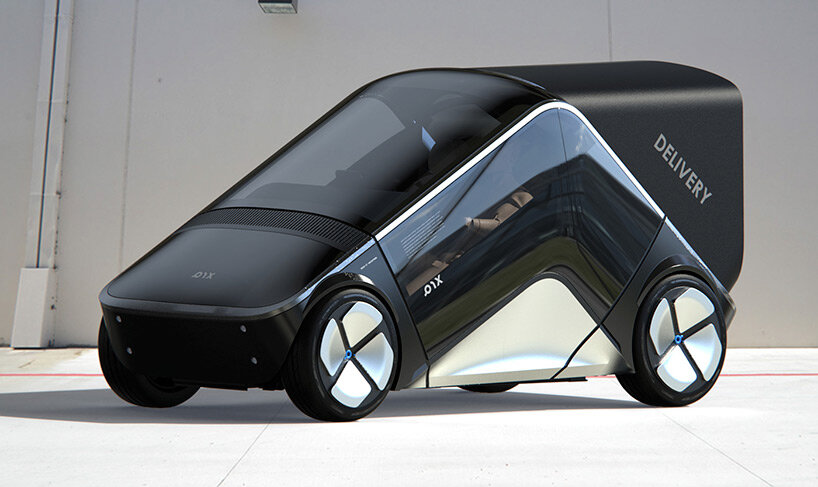 all images courtesy of Artem Smirnov
modular V-shaped body adapts to multiple use-case scenarios 
Designer Artem Smirnov (find more here) makes no mention of whether his idea will utilize green technology or come with a conventional powertrain. Nevertheless, taking PIX L7's overall future-forward character into consideration, it's safe to assume that the vehicle's clean mobility will be provided by either a battery-electric system or hydrogen fuel cells.
The PIX L7's boomerang-shaped body is effectively utilized in a variety of use-case scenarios. The vehicle's design, which heavily borrows from buggy design, has guard rails that span the length of the top body and panning fog lights on the front, which enable users to go off-road when necessary. As mentioned above, since the EV has the ability to transform into a load carrier, it can be used for short hauls of cargo delivery or as a travel companion for two during regular operations. The numerous modules offer flexibility, allowing the owners to transport a bicycle, delicate cargo, or just luggage for their next trip.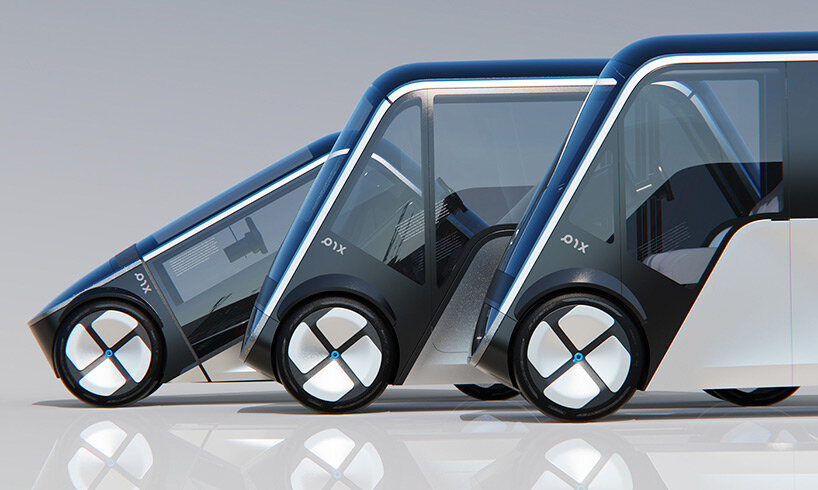 Thanks to its unusual design, the concept automobile presents a modern playful feel, but it also looks rather sturdy. The PIX L7 sports a two-tone motif which shows a black exterior with silver and neon yellow trims. The dimensions appear appropriate for confined urban locations, and the decent ride height provides assurance for quick excursions outside of the city. Providing adequate protection from bumps along the way are tubular bars that also double as a cargo rack. The hood features a mounting point for a shovel, while the top holds an LED lightbar.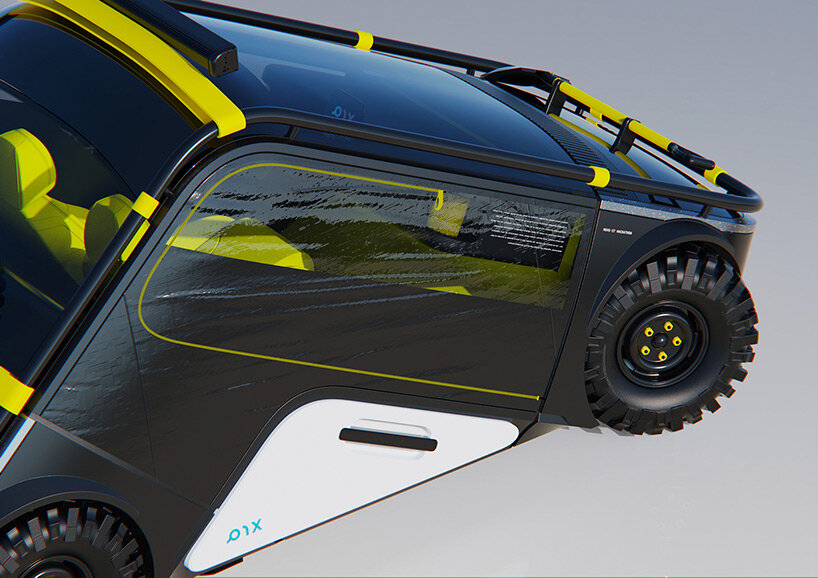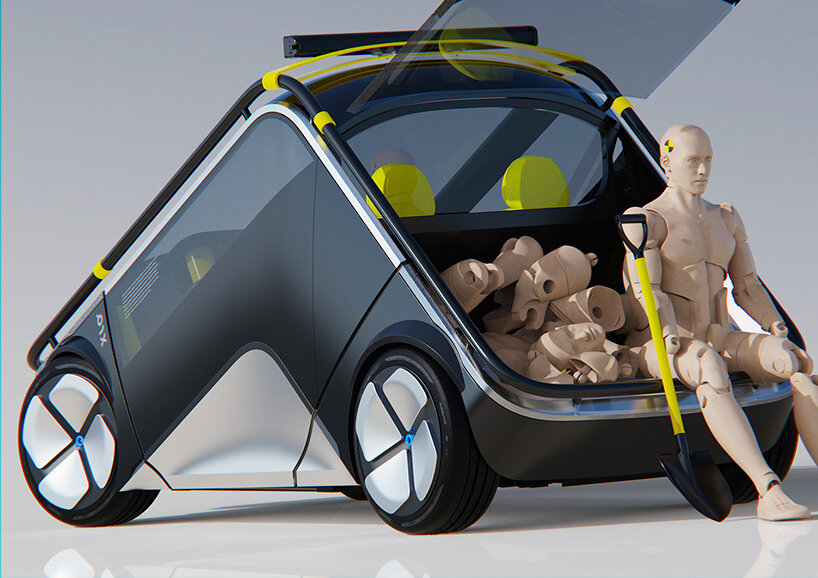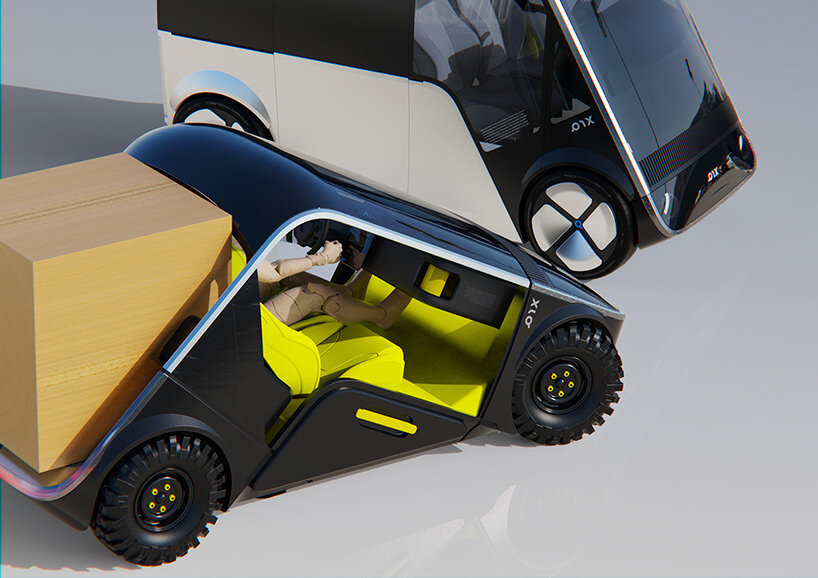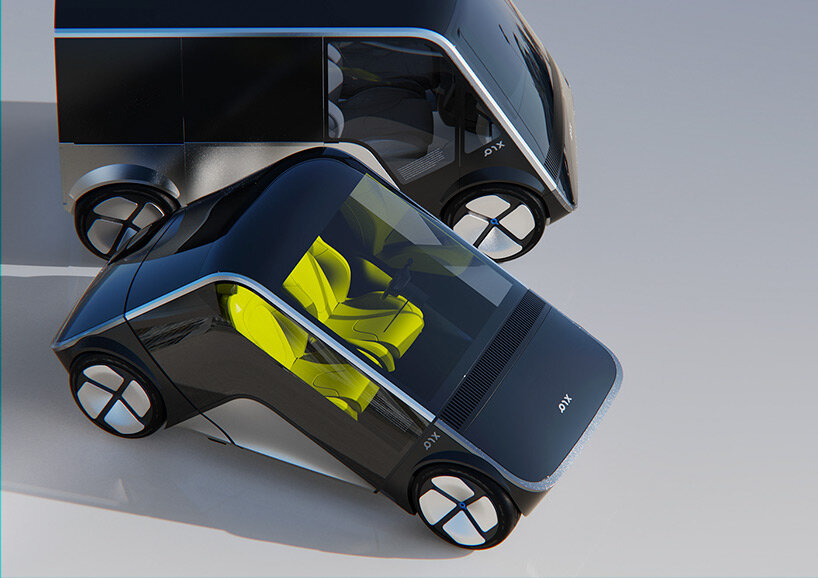 project info: 
name: PIX L7
designer: Artem Smirnov | @smartiom
myrto katsikopoulou I designboom
aug 10, 2022