an elevated house on the coast
Miami-based studio Brillhart Architecture builds its Stewart Avenue Residence in response to the environmental challenges of its coastal site. A work of elevated architecture in an extreme flood zone, the concrete house is built with the spirit of adaptation and resiliency. It occupies the site of the client's former 1923-built home which had suffered nearly irreparable damages due to hurricanes and flooding over a fifteen year span. Rather than continually patch the existing structure, the team opted for a new build — one that will withstand the harsh conditions of the area.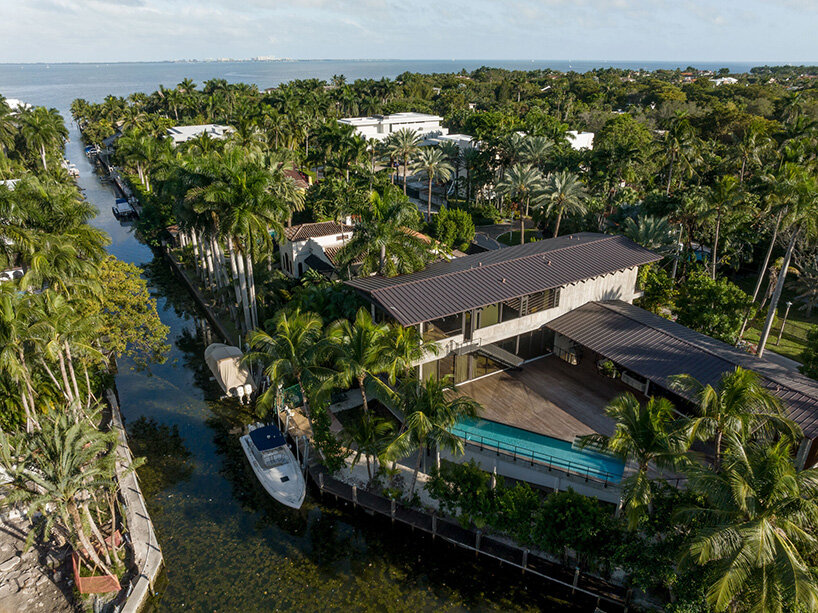 images © Stephan Goettlicher
stewart avenue's resilient and tropical residence
In accordance with regulations in the extreme flood zone, the design team at Brillhart Architecture elevates its Stewart Avenue Residence twelve feet above the ground atop an array of 'stilts.' The design responds to hurricanes, storms surges, flooding, and sea-level rise — all while introducing a welcoming, tropical atmosphere. In an effort to create an elevated dwelling that is unimposing, the massing of the house is broken up into an open, L-shaped floor plan, with large spans of outdoor space beneath the gabled roof.
The architects realize the project with a holistic design, considering the ground floor as thoughtfully as the living spaces above. The team writes of the typical 'house on stilts' strategy that is becoming commonplace across coastal areas: 'The typical construction essentially picks up a house that looks like it belongs on the ground and drops it on top of a series of columns, without regard for a design either on the ground floor or the habitable space above.'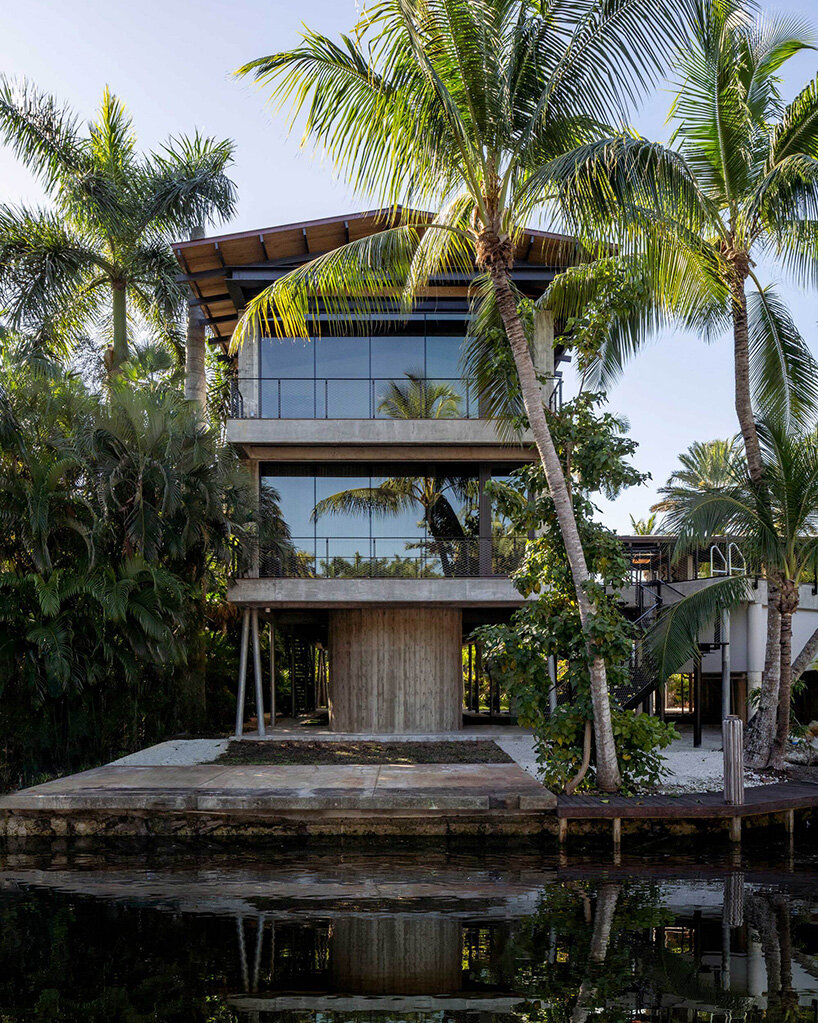 the house is sited along a canal which leads to the coastline
brillhart architecture makes its mark on miami
The client Brad Herman comments on the design by Brillhart Architecture: 'It just doesn't look like anything else in Miami, and the details and materials and thoughtfulness of the design are at the level of the PAMM museum.
'Now that it is complete, I have someone knocking on my door at least one-two times a week to ask me if I would consider selling. I've even had people who came to look at other houses in the neighborhood stop and say that they want to buy my house instead.'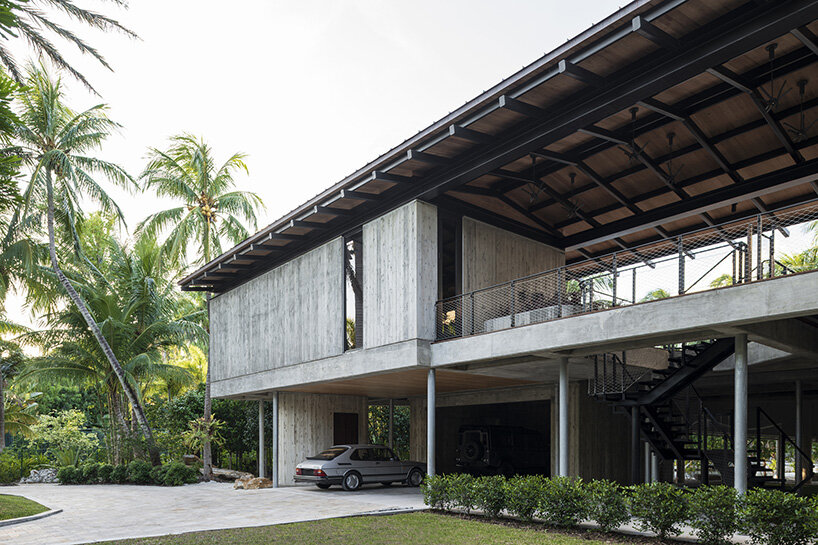 the architects incorporated elevated patios to avoid an imposing presence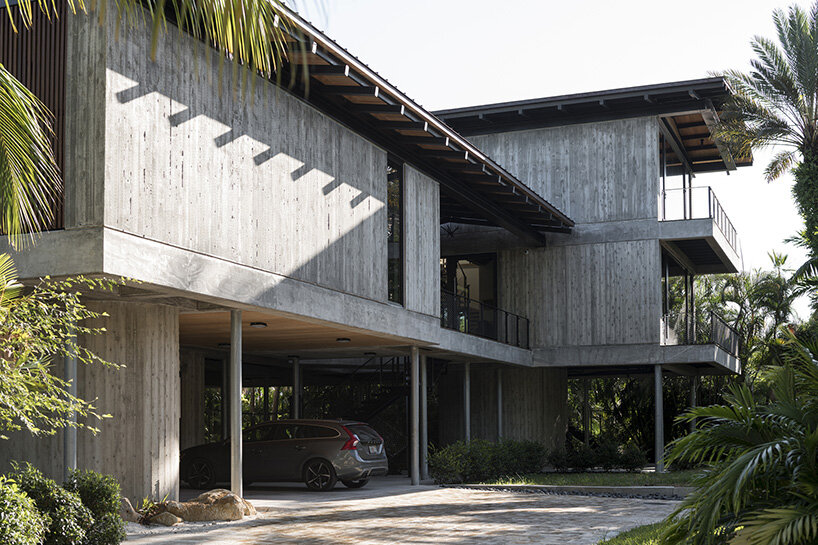 with its holistic design, the gardened ground level is not forgotten residual space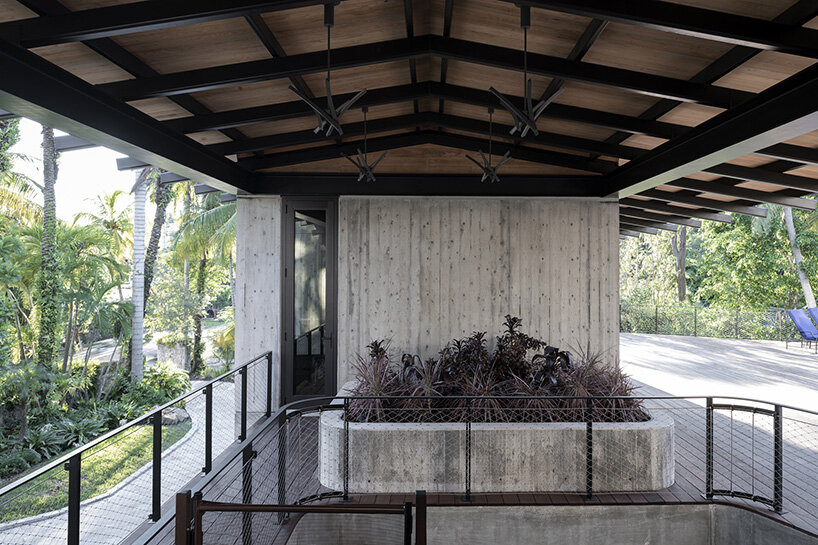 plant life is integrated throughout