F-CUT BY FREITAG FULFILLS DREAM BAG FANTASIES
Swiss bag manufacturer FREITAG, known for one-of-a kind products made of recycled truck tarps, is on a path to fulfill the wildest dream bag fantasies and out comes F-Cut. The service is basically a digital cutting table where customers can create their own, ultimately personalized truck tarp bag. Certainly unique, the product gets shipped right to one's doorstep.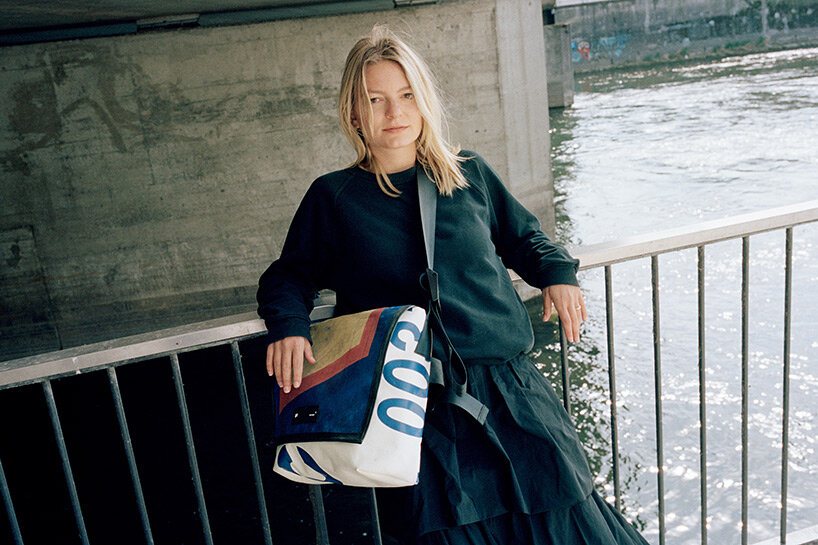 FREITAG's F-Cut service is basically a digital cutting table where customers can create their own bag | photo credit Simon Habegger
all images courtesy of FREITAG
F-CUT is inviting users to become bag design pros
Through the digital cutting table F-Cut, FREITAG is inviting users to become design pros. The Swiss bag manufacturer has always been producing one-of-a-kind items from used materials, offering a large variety of options. Following specific requirements and preferences from customers, the company decided to develop this customization experience, encouraging the fans to explore their creativity. 
'Can we make our one-off products even more individual, in addition to our existing in-store customization offers? Can we go one step further and offer our fans not only the selection, but also the creation of one-offs? Over the years, we had consistently been approached by some of our customers who had very specific preferences regarding colors, numbers, letters, and typography. Through this customization experience, we don't only want to encourage our customers to explore their creative sides, but also offer them a glimpse into our bag production process. When you can choose from many beautiful old tarpaulins right in front of you and create your own unique bag out of them, you will get a very direct understanding of how to give things a next life and how to keep materials in the loops,' says Anna Kerschbaumer, Project Lead of FREITAG.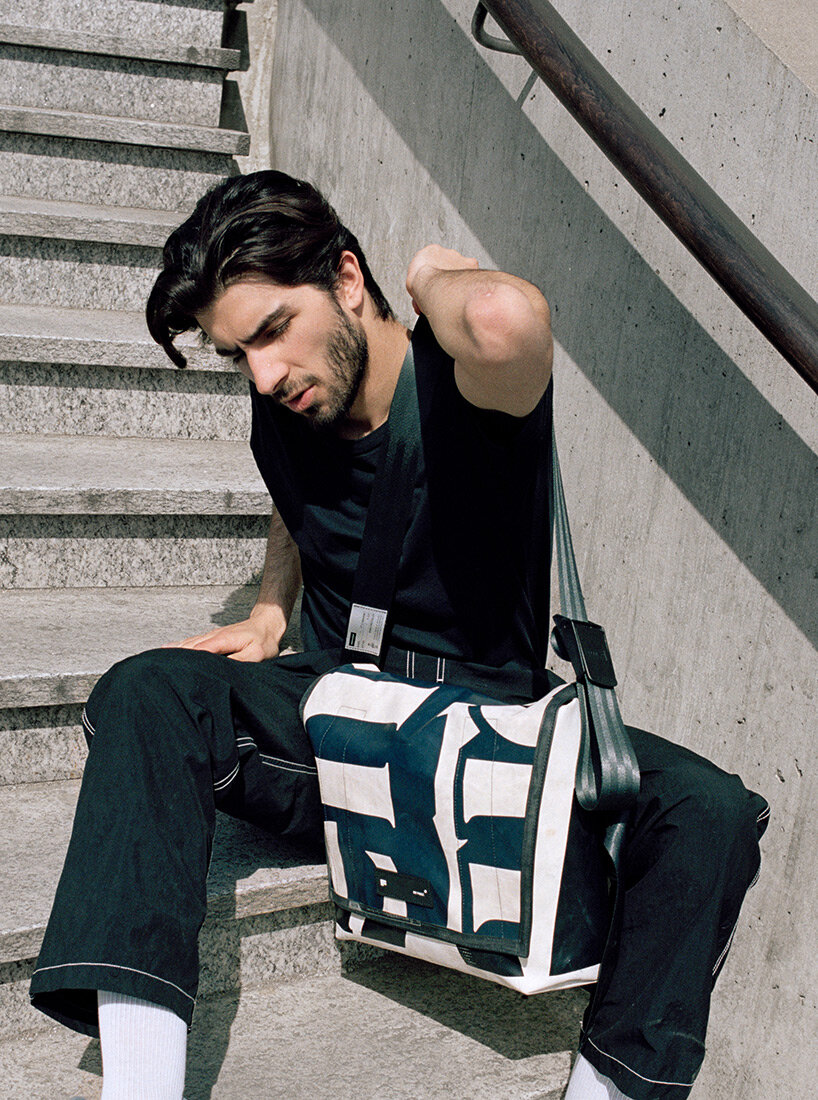 F-Cut allows for customization from the truck tarp colors down to the typography | photo credit Simon Habegger
'we upload a new selection of tarpaulins every week,' says FREITAG
Internal and external UX and bag designers, logistics specialists, bag-sewing and interface experts, and many other professionals were brought together to create this online customization platform. The whole development took about a year, which entailed a complete overlook of customer satisfaction. FREITAG needed to ensure that enough tarpaulins are available constantly as numbers of people wish to design their bag at the same time. For this to work out, a new selection gets uploaded every week regarding different colors and design options.
'The entire development of the F-Cut tool took about a year. The production and sale of one-off items is already somewhat more complex than simply producing and shipping bags in various sizes and colors. For example, making sure that the customer gets exactly the unique bag they want requires some additional interfaces compared to a 'normal' bag—i.e. if the bag first has to be cut out of the tarpaulins according to the customer's design, there are additional, complex steps throughout the entire production process. Another difficulty is to ensure that there are always enough unique tarpaulins available, as we cannot estimate exactly how many people will want to design their bag at the same time. Therefore, we upload a new selection of tarpaulins every week to offer as much color and design options as possible, varying according to the European truck tarpaulin fashions,' continues Anna Kerschbaumer.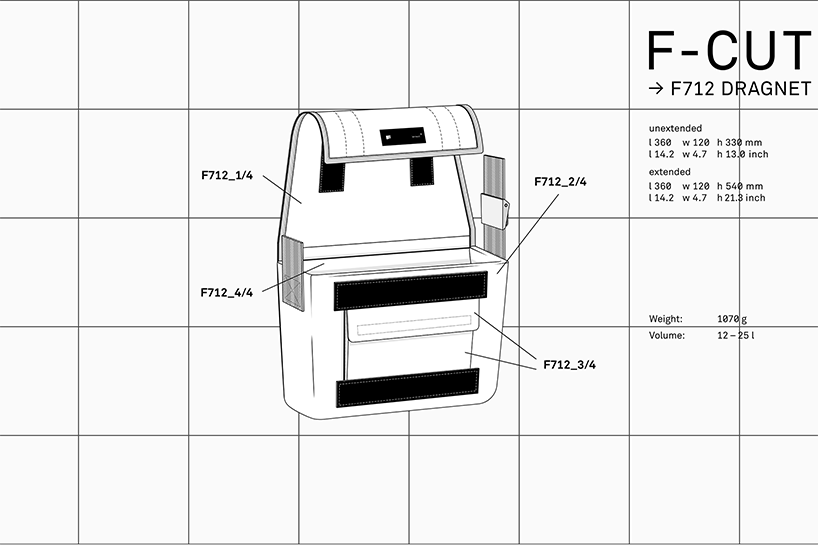 the service offers 20 to 50 different digitized truck tarps to choose from | credit Christoph Ohanian
F-Cut says it's your F-ault so no returns allowed
The sweet anticipation is followed by the sweeter delivery that only takes a few weeks to be completed. The proud designer gets the uber-unique bag at their door, real truck tarps, straps, bike inner tubes, buckles, and all. Just a small note, no personalized item can be returned: F-Cut says it's your F-ault. 
'With F-Cut, the new, exclusively online customization tool, all customers can design their bag beyond all FREITAG design guidelines, based on their own taste and then have it sent to their home. The four templates of the Messenger Bag, F712 DRAGNET, are available on the digital cutting table to be placed on the 20-50 different digitized used truck tarpaulins. Users can also choose to include the FREITAG standard logo or the F-Cut special logo which spells out, "MY FAULT." Through this innovative initiative, we hope this will not only encourage consumers to explore their creative sides, but also gain a new perspective and appreciation for how versatile recycled materials can be,' concludes Anna.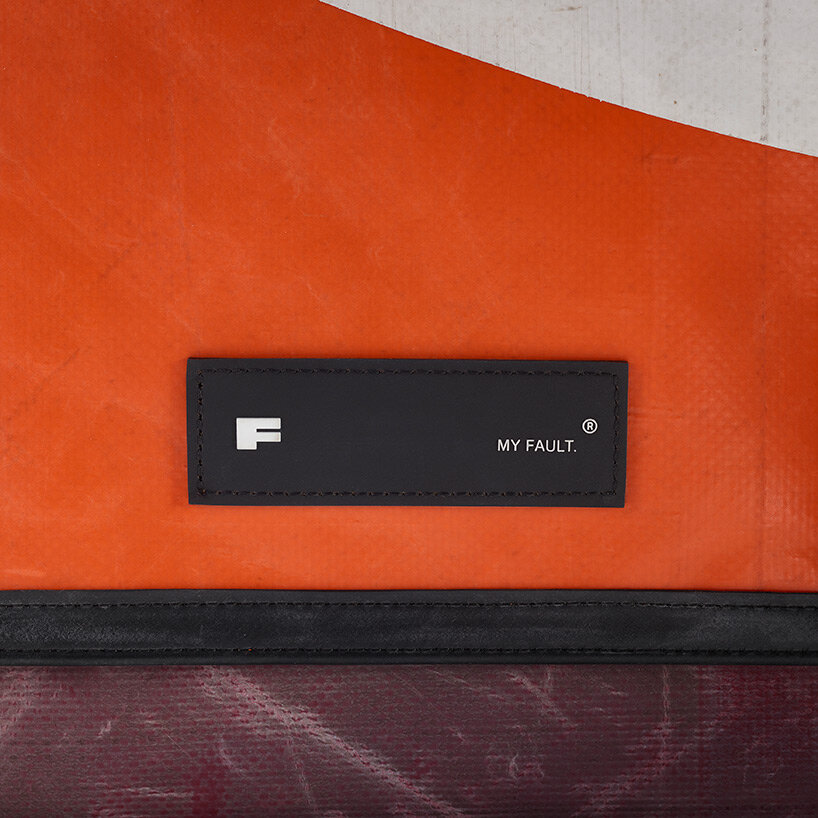 the F-Cut special logo spells out, 'MY FAULT' | photo credit Oliver Nanzig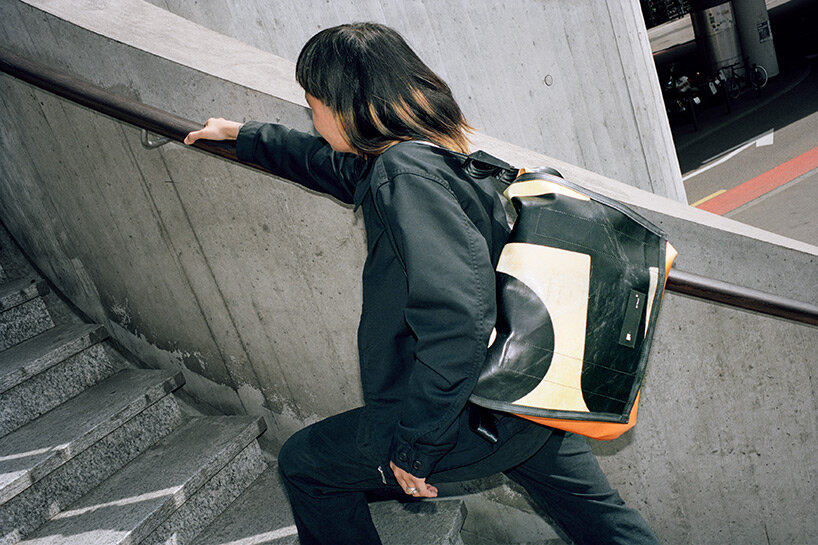 with F-Cut, all customers can design their bag beyond all FREITAG design guidelines | photo credit Simon Habegger