David Altrath captures brutalist MARIENDOM church in Germany
Since 1676, Neviges, Germany, has been a well-known destination of pilgrimage. The scenic area was home to a Franciscan monastery from 1675, which operated the pilgrimage until the end of 2019. In the meantime, a small new parish church was dedicated to the Immaculate Conception in 1728, but it became too small for the growing number, and after World War I, several plans for a new church were made but never implemented. Following World War II, 300,000 pilgrims a year began to arrive, occasionally 10,000 on a single Sunday. It was obvious that a larger church was needed. 
In 1963, German architect Gottfried Böhm designed a church for the Neviges site and entered the international competition among 17 other architects, but lost in the preliminary rounds. Due to the underwhelming quality of the other competition entries, Böhm was able to present a revised model to Cardinal Frings, who was then nearly blind but could experience the model by touch and eventually preferred it. Böhm won the commission in June 1964, and construction began in 1966.
More than 50 years later, photographer David Altrath captures the brutalist which is known as Mariendom and is regarded as one of the most important spatial creations of the 20th century. For his latest series, Altrath documents the structure emerging like a concrete mountain amid the town's picturesque surroundings, highlighting its irregular roof and forum-like interior.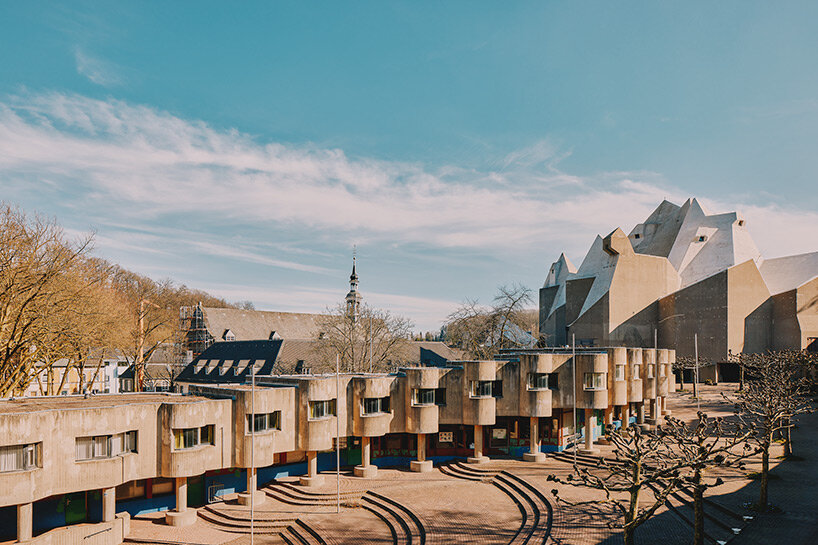 all images by David Altrath 
a distinctive sculptural roof with many nicknames
In David Altrath's series, Mariendom emerges as a brutalist-styled concrete structure with a solid roofscape rising above the nearby pitched-roof homes. The building has the appearance of several tents pressed together with their tops lifted to create peaks. The roof presents a unique folding shape that over time has earned it various nicknames and connections, including 'God's Rock,' the 'Virgin Mary's rose'. Many say it also looks like an iceberg or a crystal. German architect and Pritzker Prize winner Gottfried Böhm never explained why he picked the particular sculptural shape.
The Hamburg-based photographer captures Mariendom's sculptural monumental character and its abstract cubist forms, illustrating Böhm's conception of architecture, which merges artistic form and memorable imagery. The unique concrete structure over a free-polygonal ground plan spans a floor area of approximately 2,800 sqm. The interior is intended to resemble a marketplace, and is illuminated through large stained-glass windows. Multiple Intimate rooms are available for private devotion: the Gnadenkapelle (Chapel of Grace) with the image of Mary, the Sakramentskapelle (Chapel of the Sacraments), and the Unterkirche (Lower Church) below the main hall.