deutsche telekom creates fractal with layer
An infinite room of dazzling, dynamic magenta welcomed visitors to the Interni Design Re-generation exhibition during Milan Design Week 2022. Deutsche Telekom Design & Customer Experience invited awe-struck guests into the immersive installation, titled Fractal, created in collaboration with LAYER. The mirrored-space encouraged people to literally reflect upon how design and technology can enable a more sustainable future, aid everyday life using digital and physical solutions, and inspire a more connective, communal future.
'Deutsche Telekom Design & Customer Experience was present at Milan Design Week for its first time. The project's concept was discussed internally and with Benjamin Hubert and the LAYER team. We decided to prompt people in recognizing that we all have more personalities than we initially thought, as we all now live in a much more digital world. This has caused our personality to multiply many times. This provokes the impression that technology can add complexity to our lives rather than only simplifying it,' begins Monica Dalla Riva, Vice President Design and CX, Deutsche Telekom at Fractal during Milan Design Week.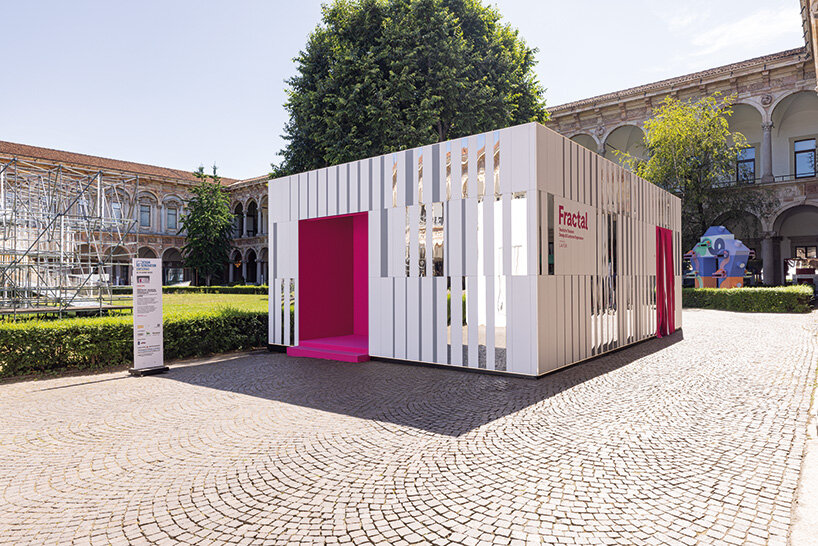 All images courtesy of Deutsche Telekom
Operating in over 50 countries and with approximately 248 million mobile phone customers for instance, Deutsche Telekom is one of the world's leading telecommunications companies. Such an international reach comes with equally as global responsibilities, including social, ethical and ecological concerns in technology. The Design & Customer Experience team, which has offices in both Bonn, Germany and Barcelona, Spain, experiment with new concepts applied to everyday life. The fusion of design and technology lends to the expertise of the strategic design agency LAYER, who have previously designed projects ranging from app design to wearables and smart domestic appliances. The two teams collaborated for Milan Design Week 2022 to question the role of technology and the services of the future.
'There were two parts to this project with Deutsche Telekom. The first questions how do we represent our multiple selves from a digital sense in a physical way, such as our avatars on social media? Fractal captured this idea of multiple selves within one place, ever changing, ever representing the opportunities of a digital life,' explains Benjamin Hubert, Creative Director, LAYER. 'By acknowledging that we rely on connectivity more than ever before, this transitioned into the next question of the project: what are the devices that enable this? Often these products are incredibly well engineered and high performing, but do not represent life values and a human quality, such as the sensuality, tactility, approachability and the informative and intuitive. We analysed these simple devices and introduced a new range of connectivity products that are more human.'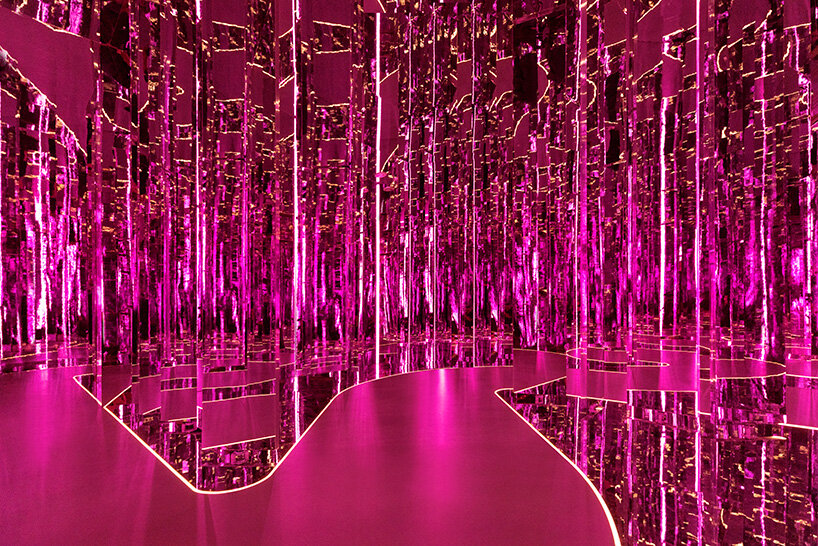 magenta-mirrored room awaited milan design week visitors
Opened during Milan Design Week 2022, Deutsche Telekom Design & Customer Experience's Fractal installation took visitors on an inner journey exploring the concept of connectivity. Through the entrance corridor, visitors were greeted by a room spiralling with magenta-colored mirrors, slanted, reflecting, and multiplying infinitely. It questioned people's role as part of a whole rather than as an individual. It was also an allusion to the mutual influence between communities and digital spaces we live in.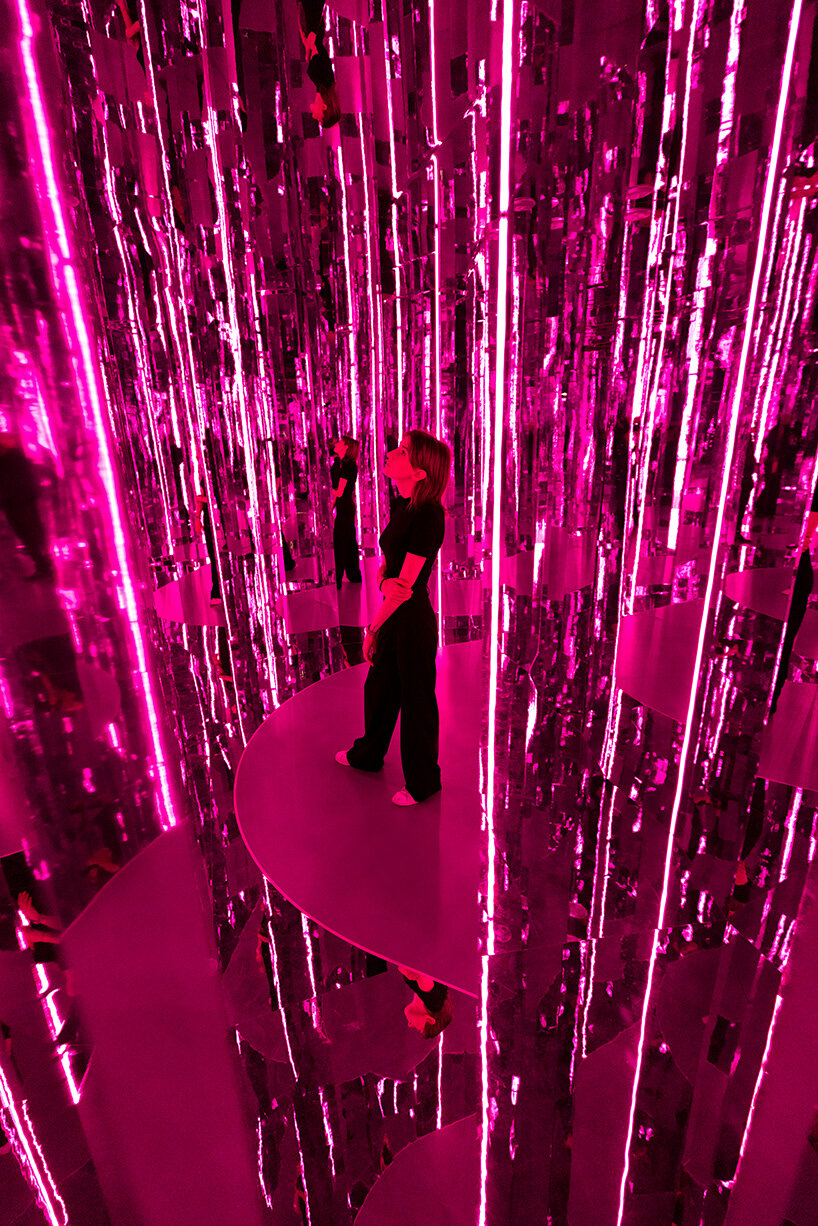 Like a fractal, the design reflected a never-ending pattern of geometry. There was a perpetual tension as it strived towards something new, endlessly renewing, and simulating nature. The mathematical concept's mimicry searches for self-reflection on sustainability, connectivity, and the approach of technology to enable this future. It is a metaphor for Deutsche Telekom's approach in a new design culture, as a company that has been innovating digital solutions for a sustainable future for over a decade.
'In my respective lifetime, I have never seen more factors that drive change than presently. Creators and companies always say we design for humans and we design with humans, but I think to a degree the questions are around humanity: how can we be more humane; how can we build closer communities; and how do we break down the boundaries that have been established, whether through travel or conflict. We also need to be more humane to the planet around us. I think as consumerism drives humans to create more, we forget about the Earth that facilitates that. We have this really delicate balance. As designers, we have a mandate to create services or products that enable us to be more humane to each other as well as to the planet,' continues LAYER's Creative Director.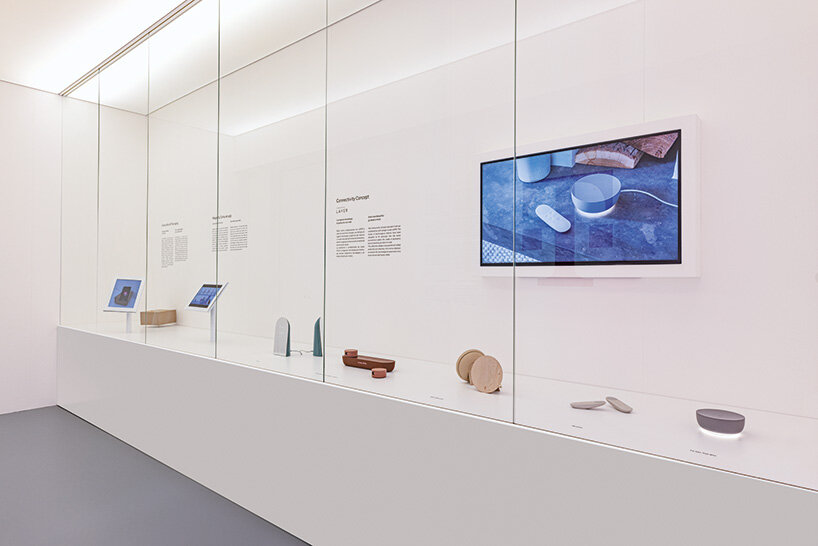 collection of connectivity concepts
In the second space of the installation, the work of Deutsche Telekom was proudly on display. Projects showcased experimental solutions that shift the perception of an electronic device to an interior design-led object. A collection of connectivity concepts, created in collaboration with LAYER, debuted during Milan Design Week 2022. Each reinterprets a technological product with new shapes and materials, from the use of wood to mirrored effects. Simple lines characterize the shapes and interfaces are designed discretely. In total, the suite comprises a router, mesh repeater, set-top box, soundbar with webcam, and remote control.
'Sustainability is not a nice design addition or considered as a separate part of a project any more; it is a core responsibility. We really care about sustainability at Deutsche Telekom. Our Design & Customer Experience team drives this point at the company. For example, we were able to deliver a router that uses 90% recycled plastics as well as a huge reduction of packaging and printing. It proves how designers can be responsible for driving positive change,' notes Monica.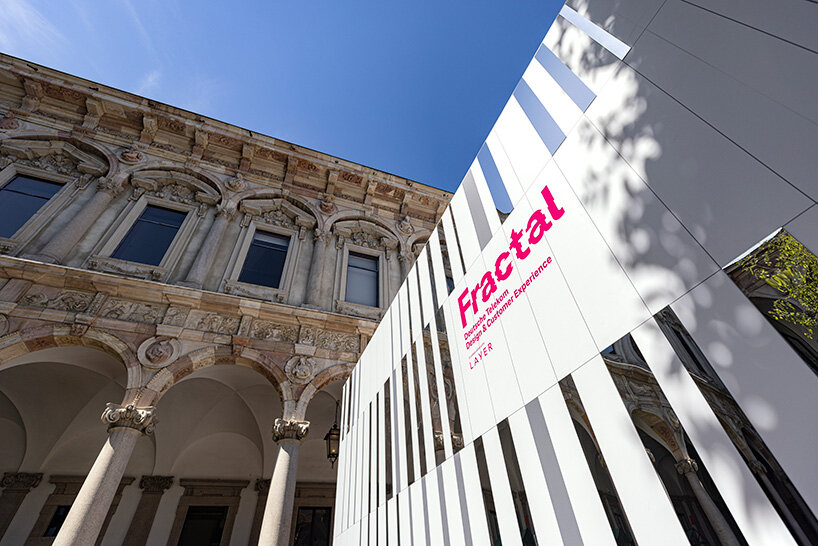 augmented reality packaging for future
The final area envisioned one such designable experiential, sustainable solution. The augmented reality packaging concept rethinks packaging – an object solely used to protect the content – and transforms it into a tool. The design has a unique QR code that, once scanned with a smartphone's camera, can be used to check the contents, download the user manual, note features, initialize it, and download updates. This is all without printing anything on paper. It sent visitors away with new perspectives on how technology can enable a more conscious production in the future.
'The Deutsch Telekom Design & Customer Experience team drives this sustainability mandate through the company and its products. The AR packaging impressively introduces more function without more physicality,' adds Benjamin.