a sensitive architecture in the mountains
Argentina-based practice DMA Studio presents its Ranchera Serrano with photography by Gonzalo Viramonte. The dwelling is perched among the remote landscape of the Cordovan mountain range, a place which is currently undergoing rapid growth with the introduction of touristic villas due to its natural beauty and proximity to Córdoba.
The architects comment, 'Urban problematics are transferred to this original environment, progressively.' With the native forests the most affected by fires, livestock, and real estate development, 'its sustained devastation, today reached the critical survival of two percent of the original forest.'
With this in mind, DMA Studio took a sensitive approach with its residential intervention. The clients called for a mountain ranch to share with their sons, grandchildren, and friends on the shores of the Yuspe River. The resulting house stands as the gathering place for three generations.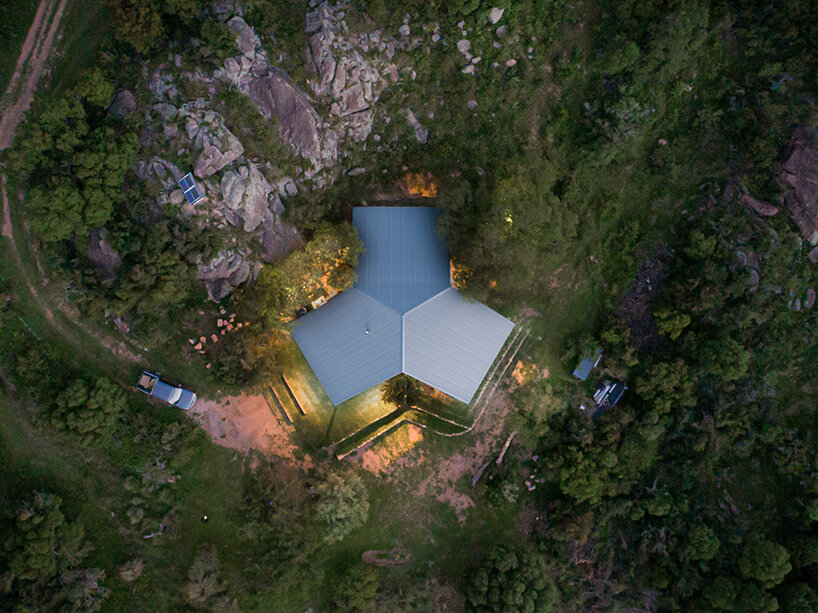 images © Gonzalo Viramonte | @gonzaloviramonte
the flexible rancho serrano
The architects at DMA Studio embarked on the design of the Rancho Serrano with a flexible organization which may change throughout the day to host as many as twenty beds. The shelter is laid out with an open central space that 'articulates the intensity of life with the environment, merging margins between nature and domestic daily life.'
The familiar ranch style takes shape with a simple construction and functions as a refuge in the mountains, sheltered from the elements. The design team reimagines the simple layout with a series of mezzanines and integrated furniture to add space and flexibility.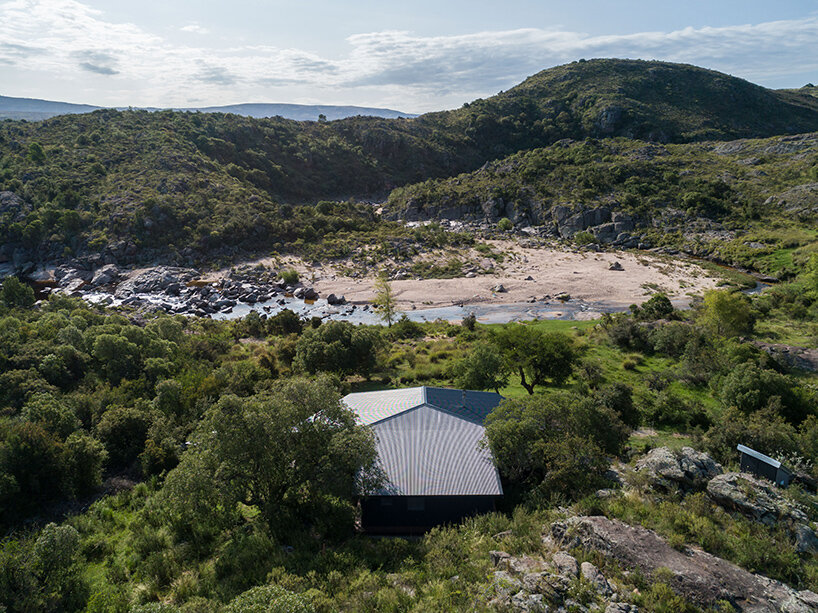 dma studio navigates the trees and rocks
To responsibly site its Rancho Serrano, DMA Studio surveyed the site, demarcating the trees and granite rocks which are embedded into the ground and submerged in shade. The group selected a clearing among nine native trees located just beyond the river's flood line and protected from the strong winds that commonly sweep through the area.
The footprint of the house is thus informed by this cluster of preserved trees. The architects explain: 'The space is ordered from that resistant shape and connects three modules of identical composition.' The structure is subtly elevated above the ground by an array of low bases, minimizing the impact on the landscape and maintaining the topography. This strategy further allows for the continued growth of roots, and for the natural drainage of water down the slope.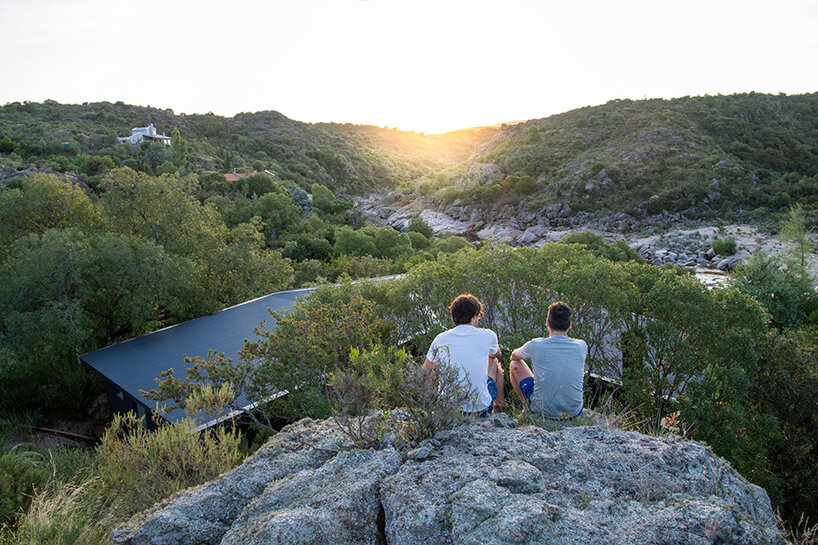 learning from the remote site
With the remoteness and inaccessibility of the site, the design team was forced to optimize the build process for ease of construction. To achieve this, a heavy metallic structure and steel frame were prefabricated and transported to the site, then further assembled in place.
To harmonize the architecture with its rocky natural context, the house is wrapped in a 'rustic and resistant mono-material shell, made of gray sinusoidal sheet metal,' a material which is further expected to withstand erosion. In contrast, the interiors are finished with a material palette of warm wood, creating a welcoming atmosphere and evoking the surrounding forests.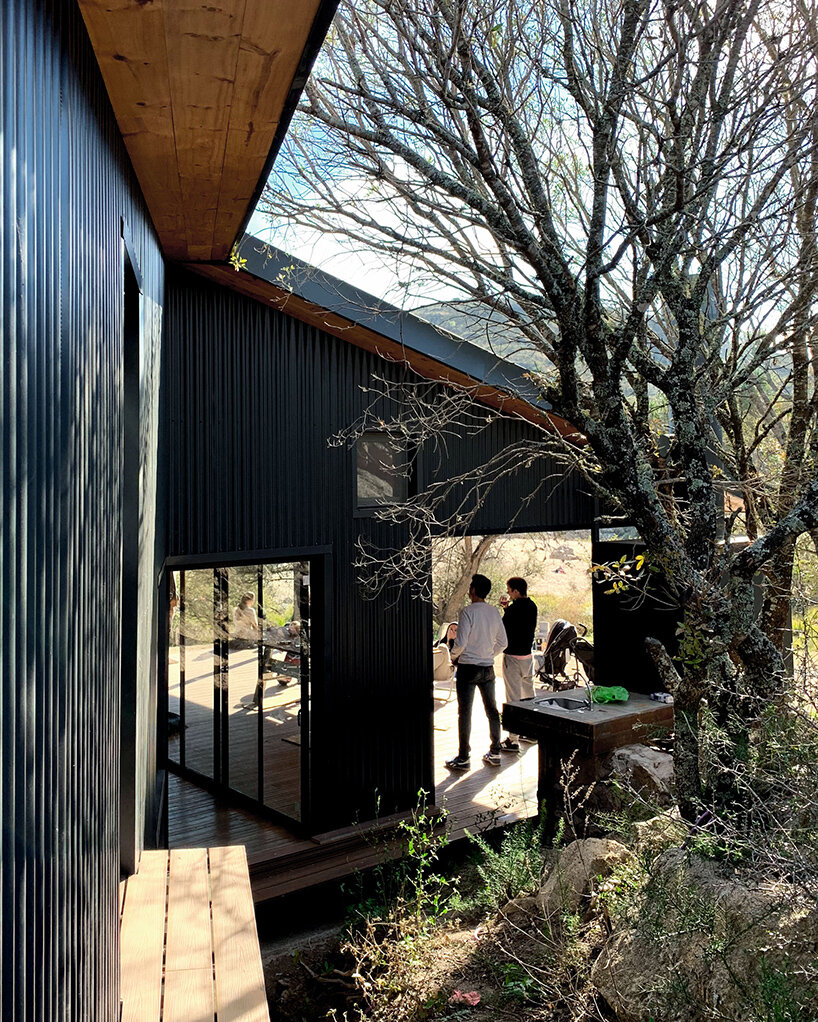 the house is wrapped in a 'rustic and resistant mono-material shell, made of gray sinusoidal sheet metal'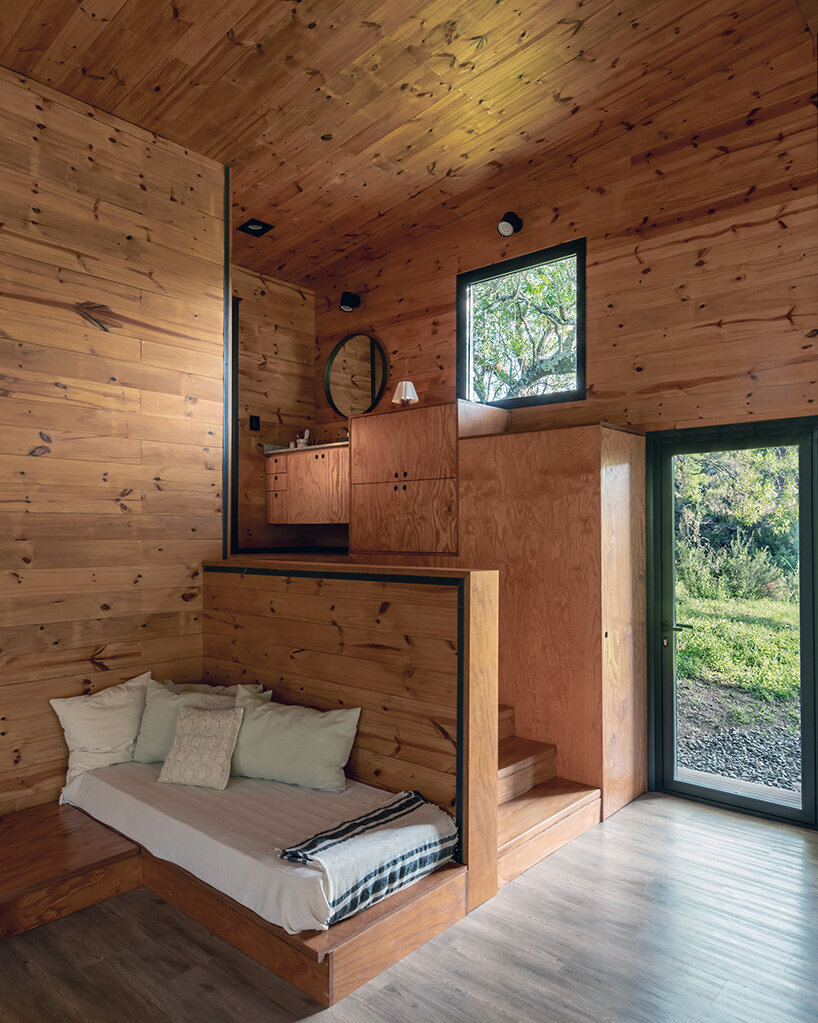 integrated furniture elements allow for as many as twenty beds