IKEA ÅBÄCKEN as a water-saving solution
Over the last two years, IKEA product design engineer René Marienfeld and his team have been trying to find cost-efficient ways to reduce water consumption at home. They landed on a small-sized tap nozzle named ÅBÄCKEN that they developed with Swedish company Altered and an IKEA supplier in Spain. As the product design engineer reveals, the design stemmed from an observation in households and personal experiences.
Taking a shower means cold water runs first before warming up, immediately wasting the first water drops. In René's home, a bucket accumulates the cold shower water, and the design engineer recycles the water to clean his fish tank and replace its murky liquid. Instead of splashing the old one in the tank down the drain, René uses the tank water for his plants, completing his personal water-recycling system. From his experience, a desire to create a water-saving solution came up. 
The ÅBÄCKEN water nozzle works the way the team envisioned it. The team assures that the black-colored, small-sized nozzle can fit most standard bathroom taps available on the market. What makes it help customers reduce water usage lies in its nozzle that has two modes – mist and spray. These modes help reduce the amount of water used for the most common and frequent activities in the bathroom, such as washing hands, face, and brushing teeth.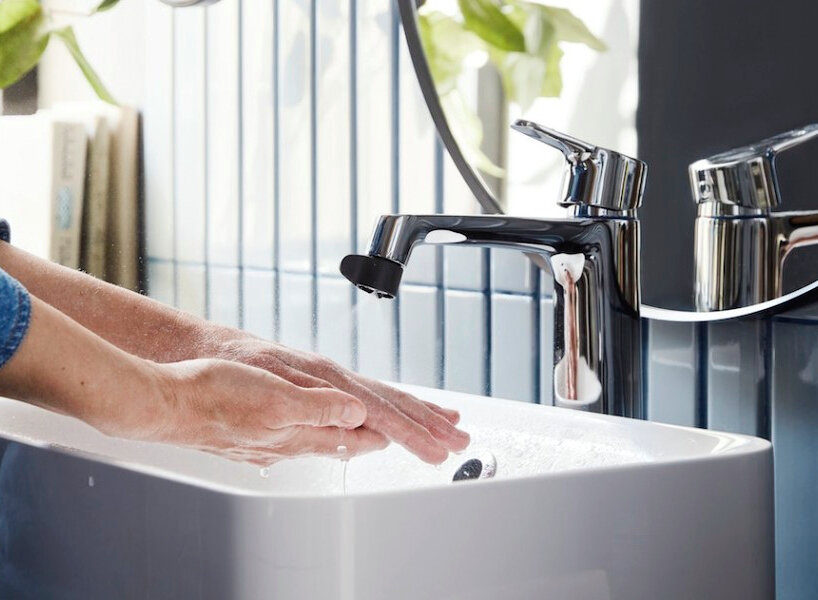 images courtesy of IKEA
Limiting water flow to 0.25L and 1.9L per minute
The team shares that when fitted to a tap, the ÅBÄCKEN water nozzle can lower the water flow to 0.25L per minute in mist mode and up to 1.9L in spray mode from the regular taps that have a water flow of about 5.7L per minute. As the IKEA team writes, the ÅBÄCKEN water nozzle can save up to 95 percent water in mist mode and 66 percent in spray mode. René considered what people might usually do in the bathroom.
'It is mainly things like washing your hands, your face or brushing your teeth. You are not filling any vessels, so you do not need a high amount or flow rate for the water. We evaluated this and saw the need for something that delivers just the right amount of water for the right application,' he shares.
From this thought, the idea of a dual-mode nozzle surfaced. The spray mode provides water at a specific flow rate and force that can be used for cleaning activities such as scraping the bristles of the toothbrush after using it or washing off dirt on the hands. If the activity only requires lighter washing, the mist mode comes in as it vents airy droplets enough to moisten the skin and an object's surface.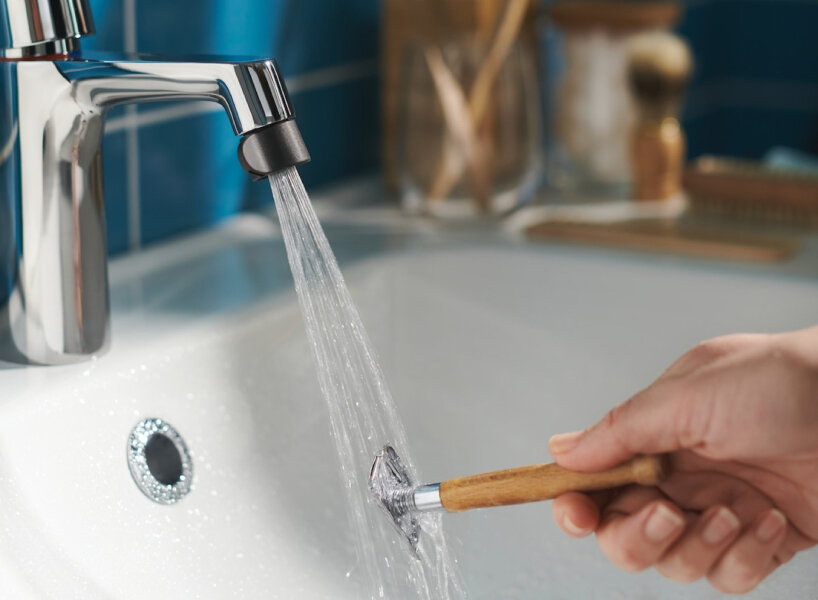 spray mode of IKEA ÅBÄCKEN
Inspiration from a patented technique
The idea of the ÅBÄCKEN water nozzle came about from Altered's patented brass nozzle with the same dual-mode offer. Both companies agreed to use Altered's patented technique, and one of the main aims of the partnership was to create a nozzle at a price point that would make it accessible to many people. IKEA writes that, typically, such nozzles are made of metal and could cost upwards of 30 Euros, so IKEA wanted it available for everyone across the globe. 
The teams looked at various materials to create this nozzle and zeroed down on plastic, but share that it was not as easy as it seemed. 'It was a logical step to try to do it in plastic because if we could use a certain amount of recycled plastics, we could achieve a low cost, with the right functionality. However, due to the model's size, it is extremely compact. It has a lot of technology inside. We ended up with a quite difficult and complex construction, and after we got the first prototypes, we were not happy with things like the spray pattern,' says Rene.
From here, the IKEA supplier in Spain stepped in, and they developed the water nozzle that uses approximately 40 percent recycled plastic material and 60 percent virgin materials – mainly ceramic materials and engineered plastics – for all parts, including the five adapters and the aerator key tool. IKEA shares that the water nozzle's design enables a long life span, with a 3-year guarantee, in line with the warranty on IKEA hand and head showers.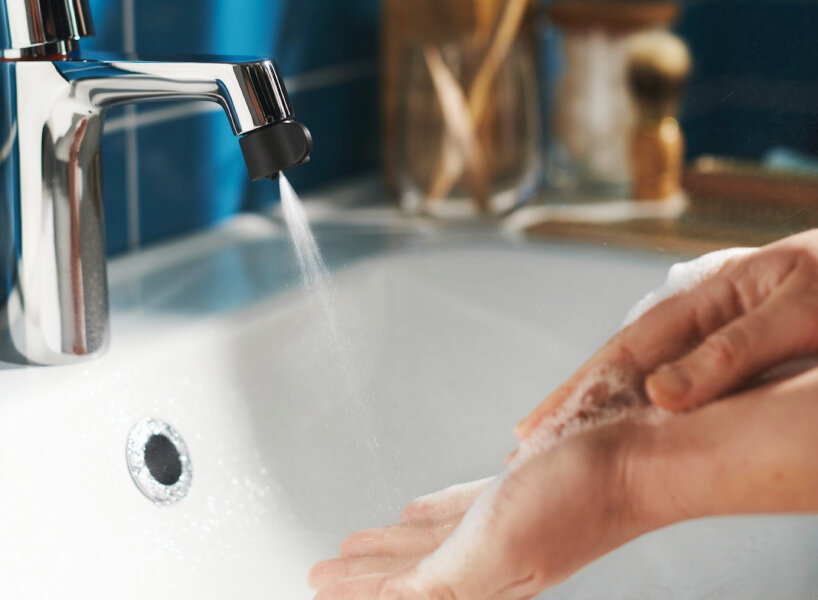 mist mode of IKEA ÅBÄCKEN