'dune' table by duffy london explores new 3d-printing possibilities
Pushing the boundaries of what's possible, innovative design studio Duffy London exclusively unveils its newest sculptural furniture piece, the 'Dune' coffee table, 3D-printed using black quartz sand. Following on from its hand-sculpted and CNC'd marble table designs for Civilization and Monument Valley, this is the studio's first foray into large-scale 3D-printed sand furniture, created in partnership with the German manufacturer Sandhelden. Like many Duffy London designs, the result is a thought-provoking, visual statement piece that truly captivates the essence of the desert with its incredible fluidity and movement.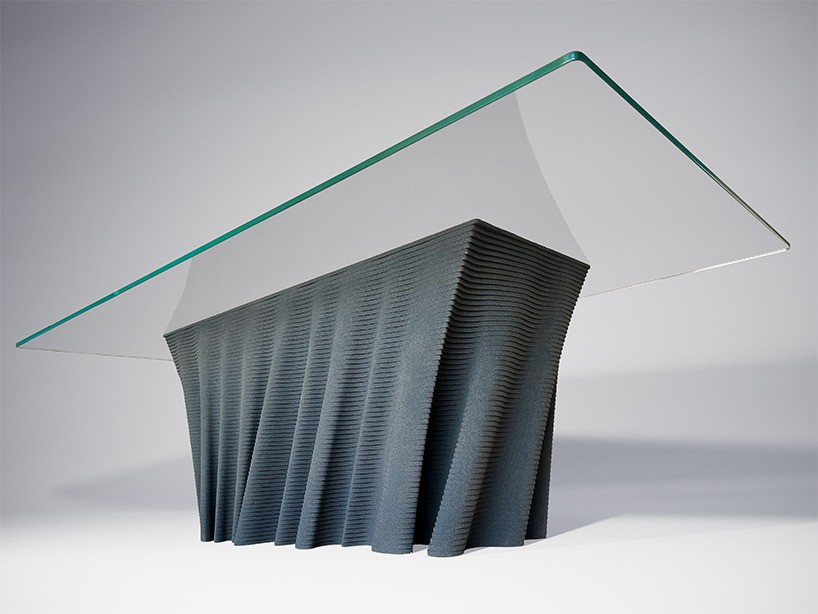 Duffy London's 3D-printed 'Dune' coffee table
Inspired by the wave-like patterns of sweeping sand dunes, the table is brought to life in a rough black or natural sand textured finish, paired with a thick glass tabletop to give a sense of grandeur to the final piece. For designer and founder Christopher Duffy, discovering this brand new premium material was incredibly inspiring as 'the very touch and feel, not to mention the surprising weightiness of this medium is similar in some of its qualities to marble.'
With many of the free-flowing twists and distortions of the table base proving difficult to achieve in other manufacturing processes, he and the design team required a premium material and manufacturing process that could match the artistic, concept-driven designs.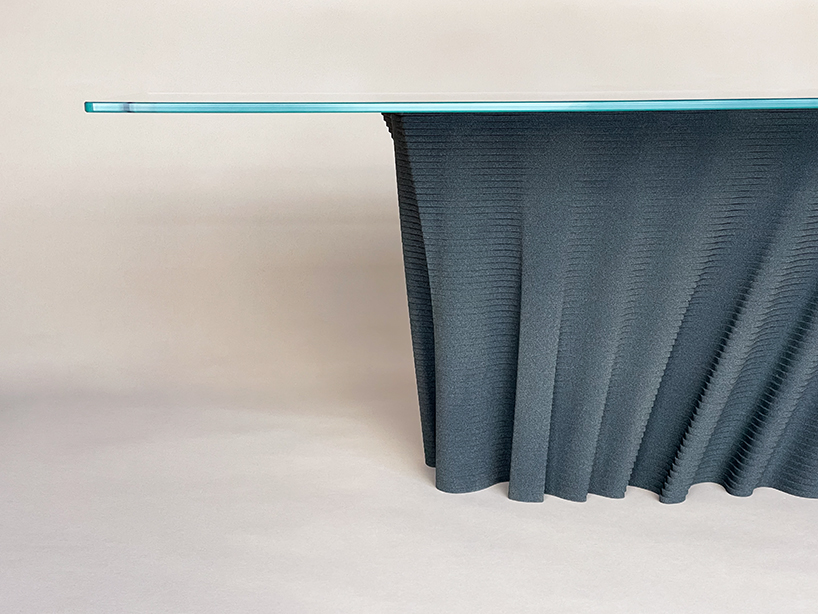 the rough surface, fundamental to the properties of sand, creates a positive association with the material
'We are passionate about discovering and working with new mediums, so we are thrilled to reveal our new 'Dune' table. Working with Sandhelden, we've been able to understand the beauty and versatility of 3D printing with sand. Our designs can be twisted on their heads, scaled up, and formed as larger furniture pieces and sculptural forms. It looks alluring, captivates, and feels weighty and tactile to the touch. We are already starting to explore future concepts and special editions, so this is only the beginning…' comments Christopher Duffy.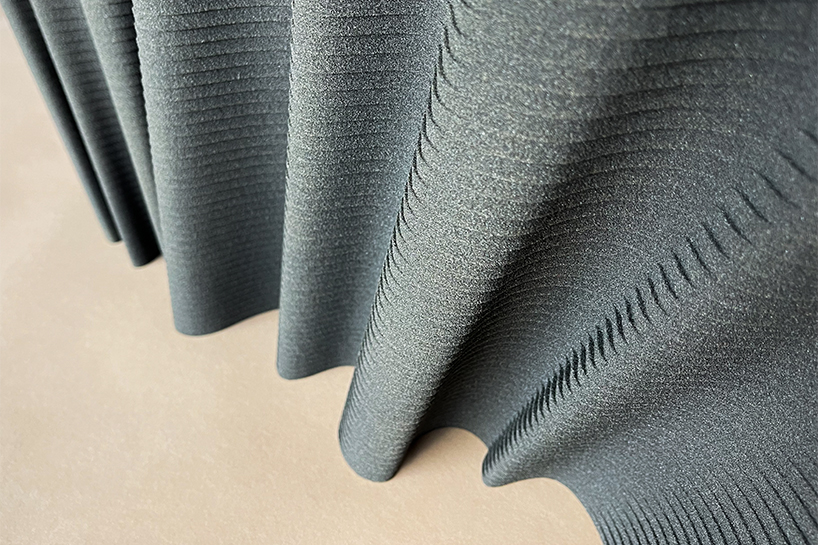 using a 3D-printed sand approach for total flexibility and enabling a consistent, free-flowing design 
using sand for a free-flowing, textural pattern
Using a 3D-printed sand approach enables total flexibility and allows for a consistent, free-flowing design to emerge, all while using a premium quality material that couldn't be more in line with the table's original inspiration. 'Having the ability to achieve the finest details, down to the millimeter, and watching a permanent form emerge from a great mound made up of millions of sand particles was so inspiring to me.'
With so many design concepts often compromised due to the lack of material or inefficient manufacturing process to create them, 3D printing in sand opens a new realm of possibility for Duffy and the team. 'I love all aspects of innovation in design and manufacturing, and this is no different. By 3D printing in actual quartz sand, we are getting as close as we can be to mirroring the concept for the 'Dune' Table. Discovering this new process is really exciting to us as a studio as it completely blows apart the design brief,' continues Duffy.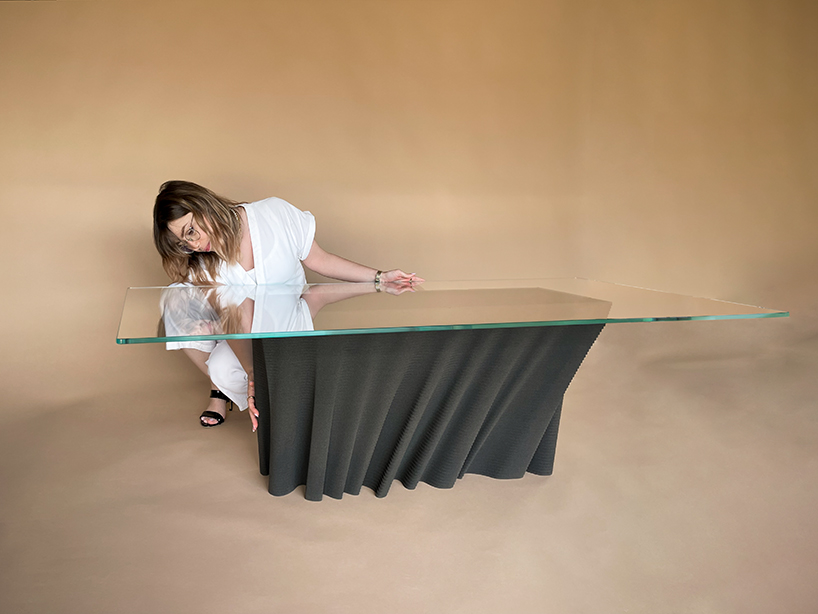 as well as rectangular and circular editions, bespoke pieces will be offered on request
The precision level even allows Duffy London to incorporate features into the design, such as the inlay for etched stainless steel authenticity plates and smaller inlays for the placement of rubber dots supporting the tabletop. 'It's just the beginning. We intend to offer special editions of some of our existing catalogs in this finish as we like it so much – imagine an Abyss made of sand.'
minimizing carbon footprint 
Sandhelden's 3D printing technique includes binder jetting, which uses locally sourced quartz sand from Bavaria. As its grain shape is edgier, it allows the binder to pass smoothly through every layer of sand. 40% more economical than other processes, excess unbounded material is reused, and binders are also made from locally sourced renewable materials including corn husks, rice hulls, sugar cane and biomaterials, with a sustainable manufacturing model too.
'In our general production, we use quartz sand as a natural resource. Additionally, we have a very strong focus on regionality. Our production facility, main partners, and suppliers are all also located in Bavaria, Germany. We even source our quartz sand from regional sources to minimize the carbon footprint,' shares Laurens Faure, CEO at Sandhelden.
The studio offers a rectangular and circular variation of the coffee table design for sale; it will also create bespoke versions for clients as 'this is a concept that really works and which we can twist over and over again.'