cryptopunk pendants under NFTiff
Tiffany & Co.'s entrance to cryptocurrency and NFT comes through custom-designed CryptoPunk pendants under the company's NFTiff collection and in partnership with blockchain software solution provider Chain. NFTiffs represent a collection of 250 digital passes, which may be minted when purchased and redeemed by CryptoPunks holders. The buyers are entitled to the creation of a custom-designed pendant and an NFT digital artwork that resembles the final jewelry design. The pendant will be designed and crafted by Tiffany & Co. artisans and inspired by the CryptoPunk owner's Punk NFT. The jewelry company says that there will only be 250 NFTiff passes available for purchase only by CryptoPunk holders with each customer allowed to buy a maximum of 3 NFTiffs priced at 30 ETH or around 50,000 USD.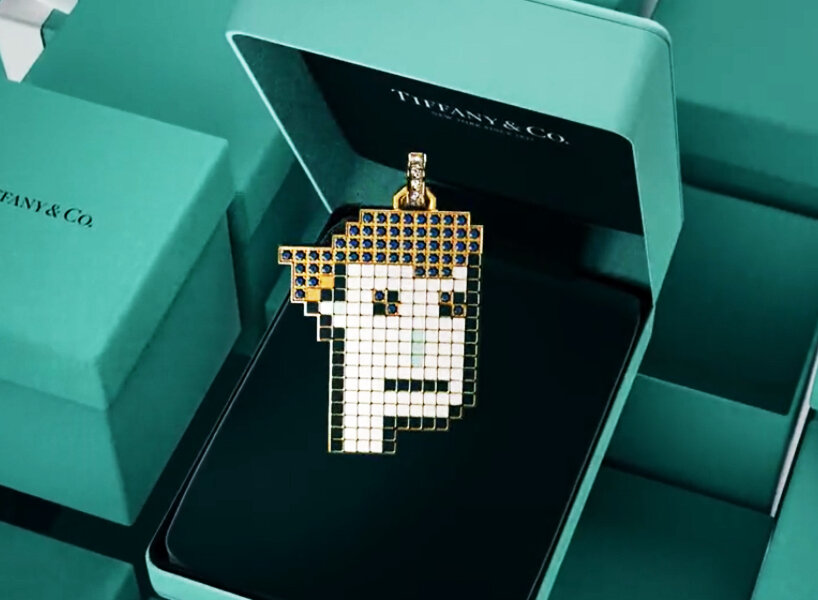 image courtesy of NFTiff
At least 30 gemstones and diamonds
Each piece of the pendant will use at least 30 gemstones and/or diamonds to resemble its original NFT art which ranges between sapphire, amethyst, and spinel. The pendant will be in 18k rose or yellow gold based on the color palette of the NFT, complementing the base color of each punk type, and the carat weight per piece will vary based on the attributes of the materials. The jewelry company shares that most designs will include bead set round-cut pave diamonds and/or gemstones. For example, to create the 3D glasses of the CryptoPunks, Tiffany & Co. designers will employ baguette stones. Each NFTiff that costs 30 ETH will include the price of the NFT, the custom pendant, the chain, and shipping and handling.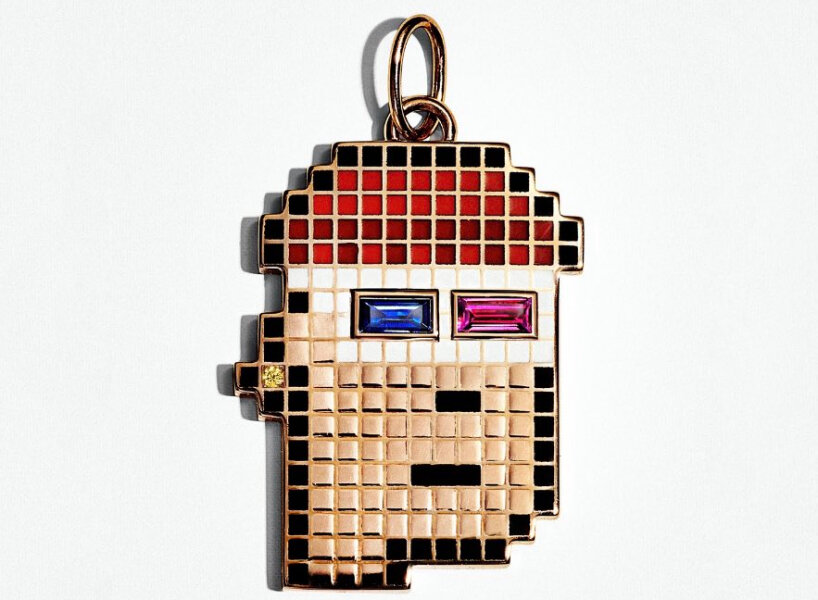 image courtesy of Alexandre Arnault
No returns or exchanges allowed
Alexandre Arnault, the Executive Vice President of Product and Communication at Tiffany & Co., expresses how excited he is for the debut of NFTiff which will offer the clients the opportunity to turn CrypoPunks into custom Tiffany & Co. jewelry designs with a fully digital experience. On April 7th, 2022, he shared the sample of a CryptoPunk pendant on his Twitter, a rose gold and enamel CryptoPunk with sapphire, Mozambique baguette ruby glasses, and a yellow-diamond round earring. 
The jewelry company says that by October 2022, the clients will receive a render of their piece, without the ability to chime in the design process or even offer feedback on the render. They just take the result as it is. There is also no personalization allowed due to the delicate nature of enamel, and all products are final and cannot be returned or exchanged. As of publishing the story, CryptoPunk holders have three days and three hours to purchase their customized pendant on NFTiff.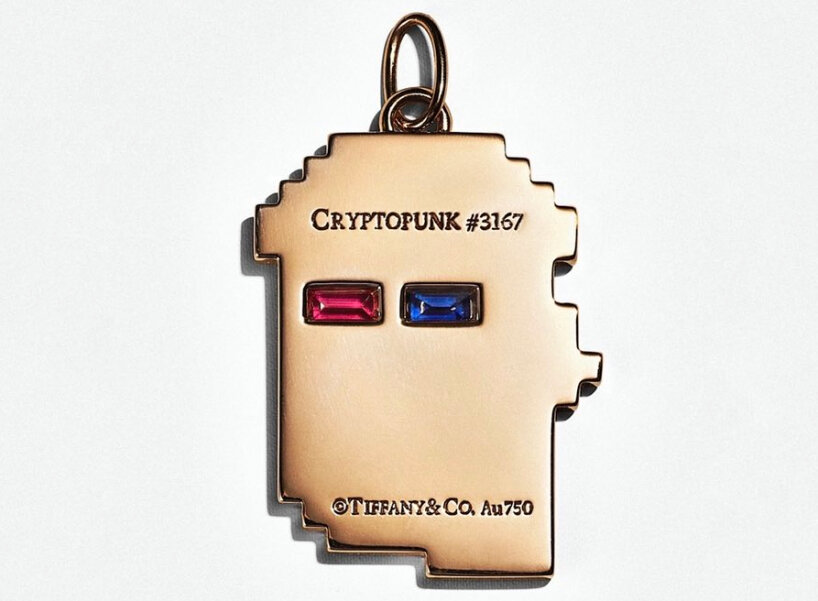 image courtesy of Alexandre Arnault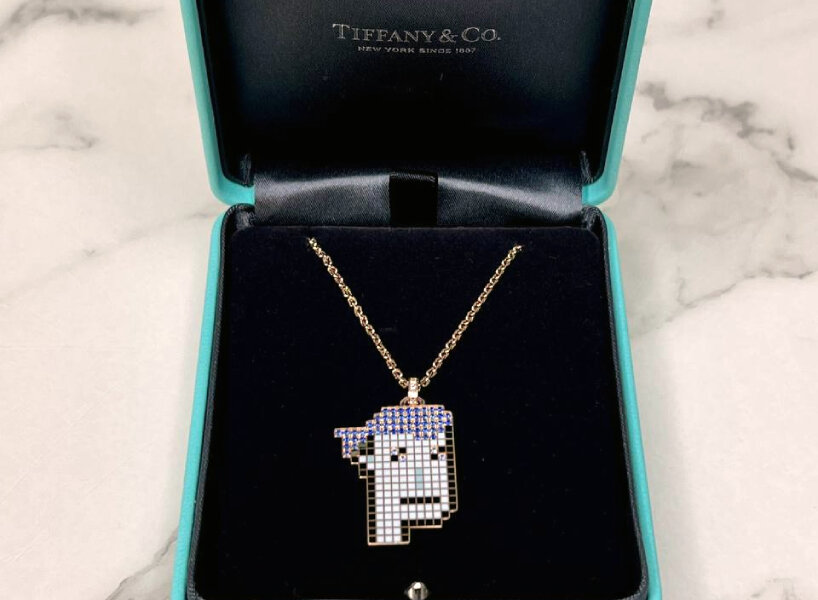 image courtesy of Deepak Thapliyal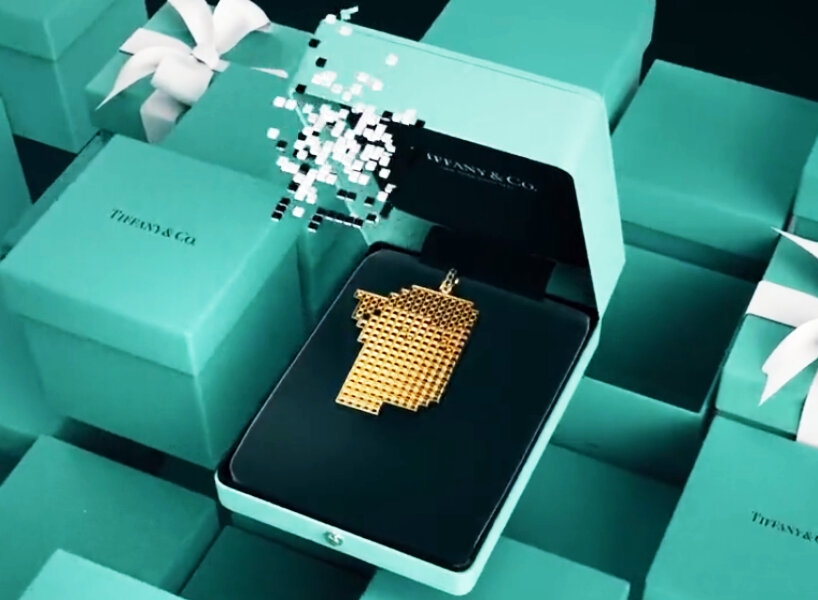 exclusive CryptoPunk pendants by Tiffany & co. priced at 50,000 USD
project info:
name: CryptoPunk Pendants
companies: Tiffany & Co., Chain
collection: NFTiff
matthew burgos | designboom
aug 02, 2022