federica sala's happy hammock cradles the inner child
Geometrie Da Compagnia, a product design studio helmed by Barcelona-based architect and designer Federica Sala, presents the Happy Hammock, an ode to fond memories and emotions and the designer's longstanding love for hammocks. With its red hammock hanging between a minimal black metal frame appearing like a content, smiling face, the intriguing design is conceptualised as part of Federica Sala's new collection of large interactive kinetic sculptures entitled 'Playground'. Synthesising an eternal fondness and her sculptural language, the Happy Hammock is a functional sculpture, conceived as the edifice of peace and joy. Harnessing the time and space that the pandemic brought with itself, the designer sought to redesign this beloved, familiar object, ornamenting it with her personal vision, artistic essence, and experience.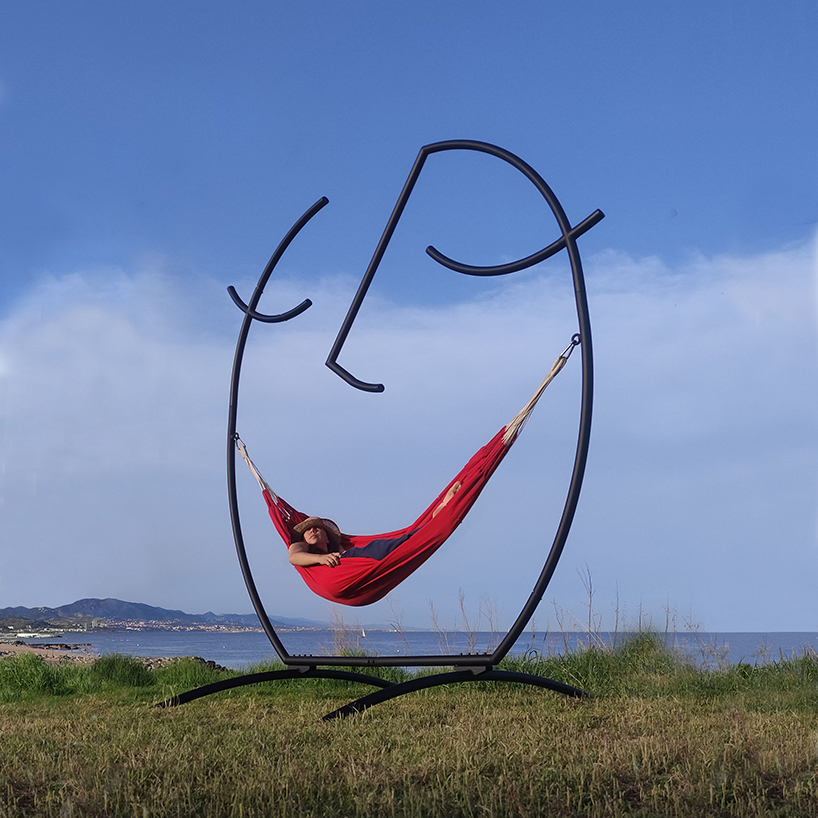 the Happy Hammock is an ode to Federica Sala's love for hammocks
all images courtesy of Graziana Saccente
the functional kinetic art sculpture smiles at users
After having worked in the realm of kinetic art for quite some time, Federica Sala's current artistic quest involves reinterpreting and translating mundane objects in a sensitive and anthropomorphic way. Her sculptures, without compromising their authentic functionality, are a window to human emotions. With the Happy Hammock, the Italian architect and designer's unique approach is what transfigures a simple red hammock into a giant smile to rest, an empathic object that embraces the dormant inner child and welcomes the user to enjoy, unwind and reflect at the same time.
For the past two years, Federica Sala has probed a variety of techniques and materials for creating kinetic sculptures and developed an oeuvre focused on mobiles. Her work is an enticing display of the dialogue between dynamics and equilibrium, guided by the environment's energetic fields – such as thermal and aeolian forces. Balance, movement, human silhouette and interaction are the ingredients that interweave allowing the designer's works to represent universal concepts in which any onlooker can recognize themselves.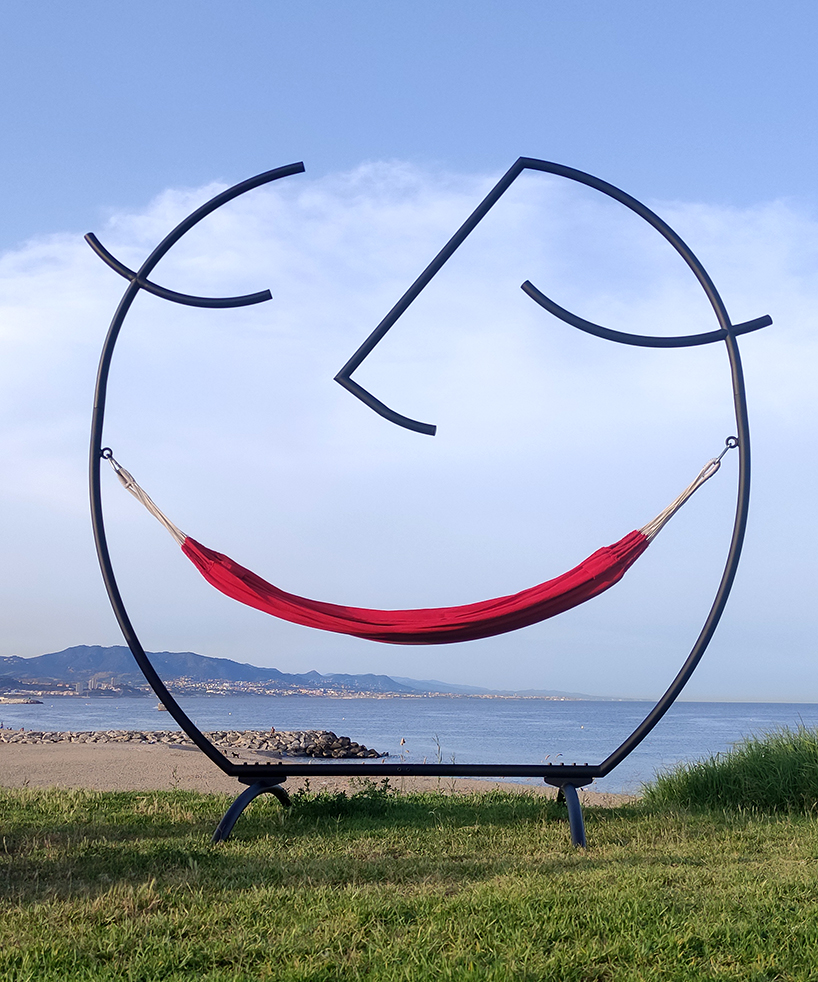 the sculpture welcomes the user to enjoy, unwind and reflect at the same time
A nostalgic ode to childhood memories
'In childhood, love, wonder, curiosity, and bliss abound unapologetically. Things that we grew up with immense admiration for, activities that rendered us ecstatic and the seemingly indelible memories that we 'outgrow' imperceptibly fade into oblivion.' One such thing for Federica Sala was hammocks. Hitting the nostalgia button, she recollects deeply embedded vivid memories of days spent at the beach house; the garden vivified by an array of hammocks. 'There are things that I loved a lot as a child that I rediscovered when I had a son," says Federica. 'Hammocks are among those because what is more beautiful than the feeling of flying? For a child (and for me) there is nothing more magical' she adds. The designer carried and preserved this souvenir of the past through her youth to design the Happy Hammock, an ode to memories and emotions that soften the frown lines and efface the near perpetual worries.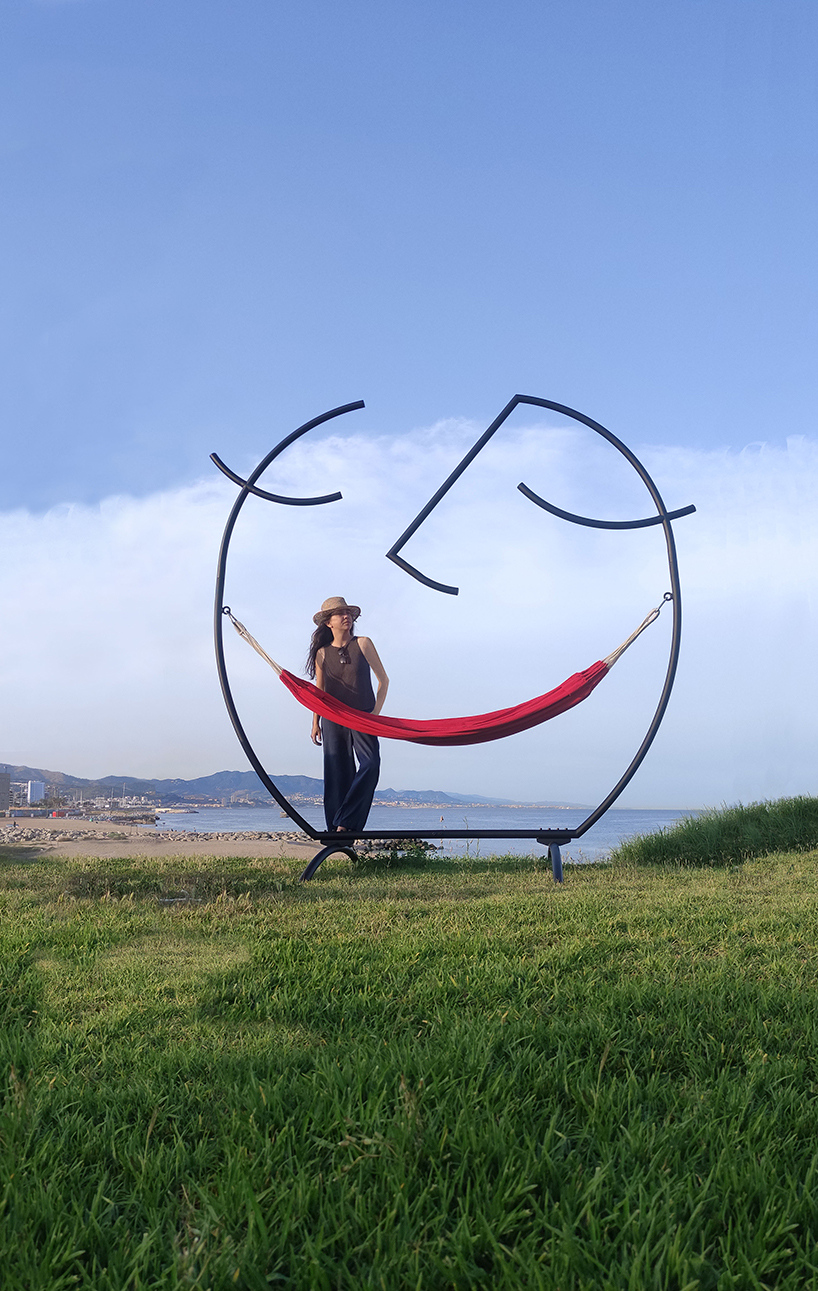 the kinetic sculpture is an enticing display of the dialogue between dynamics and equilibrium