'the cloud' prototype by ensamble studio at BAP! 2022
Ensamble Studio has built a prototype for its sculptural proposal dubbed 'The Cloud', which will soon be built as a 3,800 sqm museum in the outskirts of Seoul, creating a spectacular scenery called 'Les Jardins de Médongaule.' The project was part of the second edition of the Biennale d'architecture et de paysage (Bap!) that took place at Versailles from May 14 to July 13, 2022.
Draping and folding over thin rods, the installation represents a fragment of the overall architecture — an offering of a petal 'transplanted' from South Korea to France to connect both cultures through their historical and spiritual appreciation for landscapes and garden design.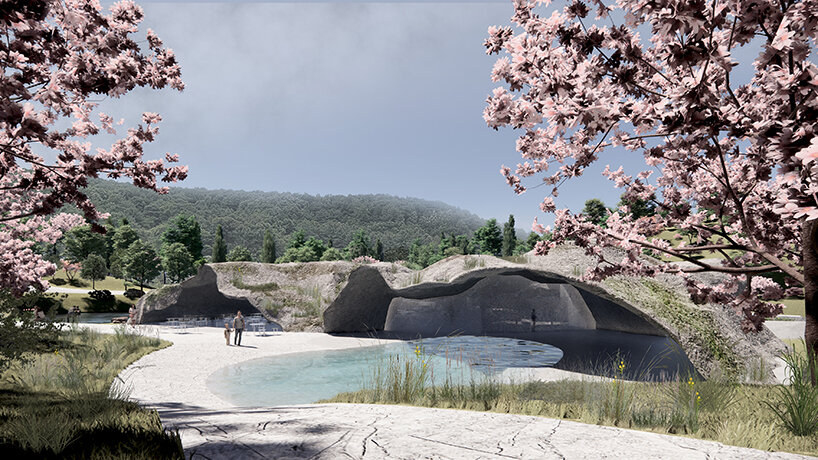 'The Cloud' proposal | Les Jardins de Médongaule, South Korea
all images © Ensamble Studio
Beyond celebrating a cultural love for the natural world, 'The Cloud' prototype by Ensamble Studio (see more here) physically reflects the vision behind BAP! 2022. This edition explored the ever-changing relationship between land and cities through nine exhibitions scattered across ÉNSA Versailles. Specifically, the team participated in the 'Visible-Invisible' show curated by Nicolas Dorval-Bory and Guillaume Ramillien, focusing on developing new materials, construction techniques, and languages that deal with the visible and the invisible matter of architecture.
'The 21st century is the century of global environmental and biological awareness, in which all humans recognize for once that we can and must act together and have a mission to protect the earth. More than ever now, the garden is the representation of our life. With regard to this sensitivity, 'Les Jardins de Médongaule' brings together a history of these gardens in a unique natural environment in the outskirts of Seoul,' write Antón García-Abril and Débora Mesa from Ensamble Studio.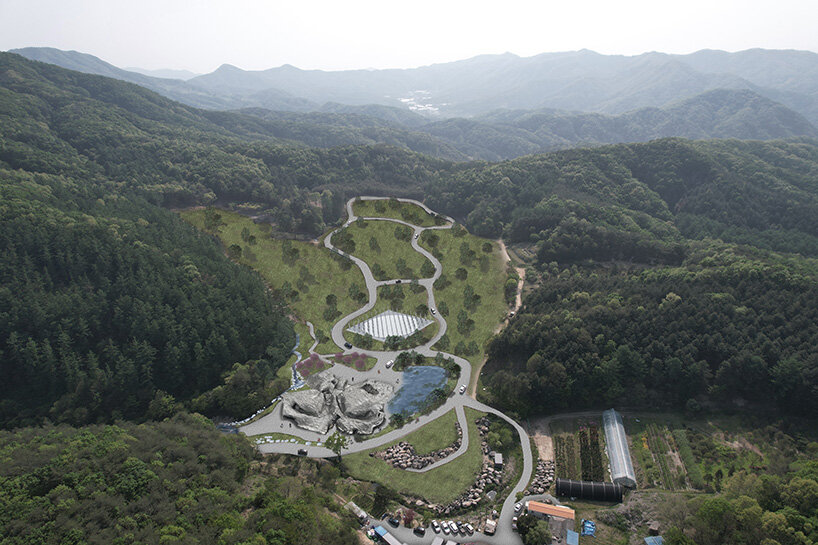 bird's eye view of the museum complex at the outskirts of Seoul
a terrain-inspired volume molded like a flower petal
The proposed museum arises as an unearthed topography, levitating above ground to offer a continuous and fluid space underneath it. The exterior skin is envisioned as a mineral and organic layer where a wild ecosystem can flourish, while the underside is a textured geopolymer that will sustain imprinted 'nerves' circulating across the ceiling and walls. Finally, below the terrain-like roof, a spellbinding and light-filled space will take over — expressing energy and extraordinary material quality.
Through a mix of earth and contemporary technology, 'The Cloud' by Ensamble Studio will be molded onto a container resembling the petal of a giant flower. Delicate and translucent in appearance, the final design will also be waterproof and durable.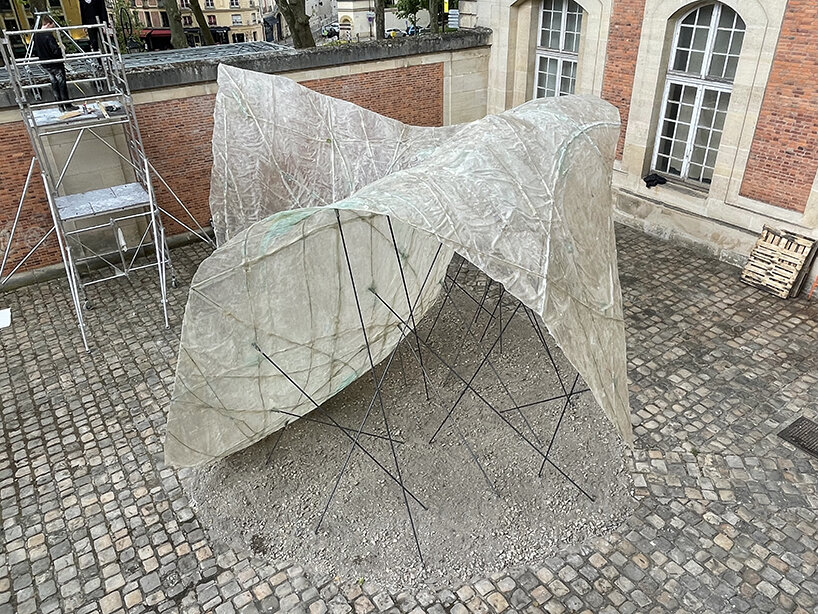 prototype of 'The Cloud' by Ensamble Studio at ÉNSA Versailles 
'And this mold, the invisible part of the construction process, is later transformed into the different parts of the building; its envelope, walls, and ceilings, evidencing different uses in its material cycle. So now the building and the garden are expressed in unity, responding to the architecture of the earth,' concludes Ensamble Studio.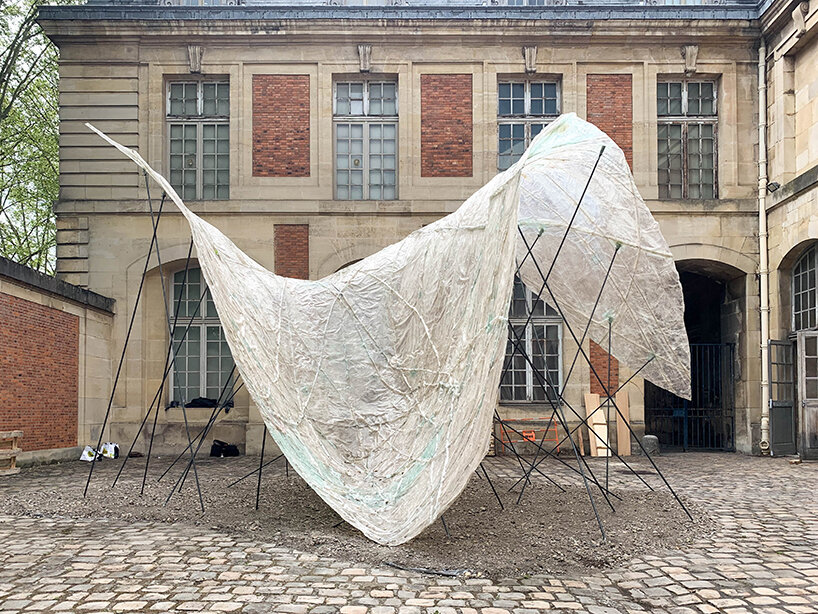 folding and draping over thin supporting rods