'Furla Progetto Italia' by GEZA: pairing with nature 
In the Florentian town of Tavernelle Val di Pesa, at the heart of the Chianti region, emerges Italian luxury brand Furla's new headquarters completed by architecture studio GEZA. Spanning 18,200 sqm, 'Furla Progetto Italia' carefully embeds itself into the rural Tuscan landscape, 'resulting in an environment celebrating individuals' well-being in the workspace,' writes the brand.
Balancing between black and white surfaces, the design presents itself as an industrial-like complex with a striking composition of different shapes set at various altitudes visible from the highway. Explaining the decision behind the final layout, GEZA co-founder Stefano Gri says: 'the landscape […] sets out, delineates and lays down the rules for the design and construction of the architectural volumes'.
As for the choice of colors, given the highly texturized and colorized context, the architects couldn't see the complex coated in anything other than black and white. For one thing, the rhythmic layout of white sun-shading louvers across the entrance volume creates a sense of immateriality amid the very tangible flora. On the other hand, the black surfaces turn different shades once the sun shines, uplifting the overall design with elegant chromatic contrasts.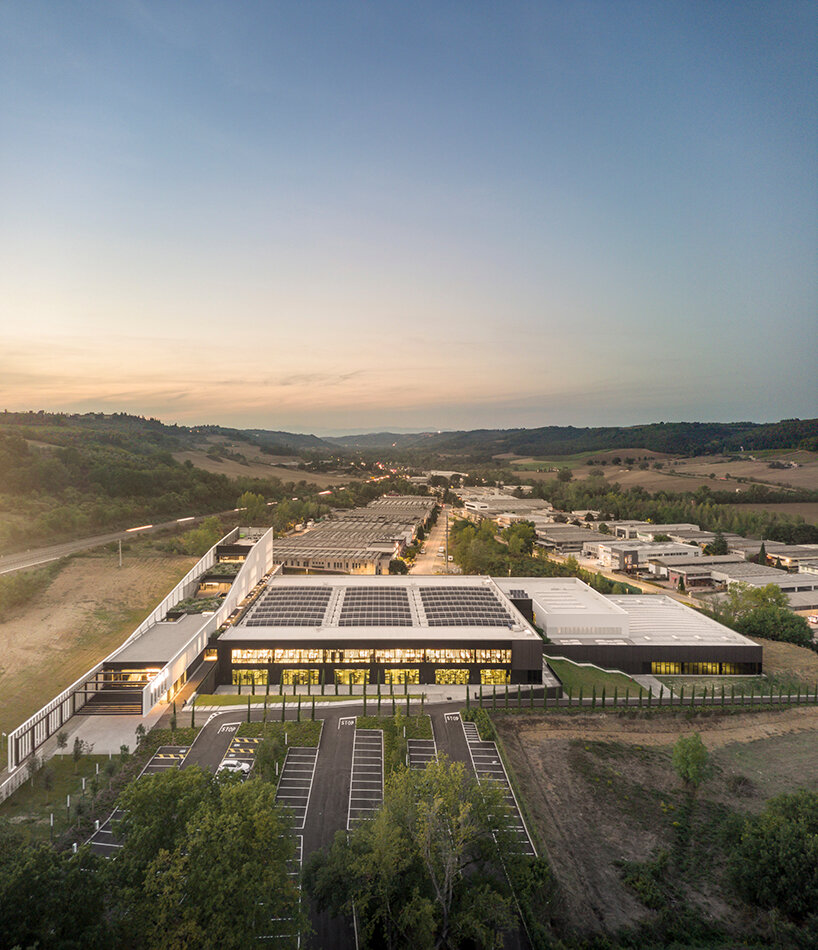 all images © Fernando Guerra – FG+SG fotografia de arquitectura
rhythmic patterns, generous glazing, and scenic views 
The 'Furla Progetto Italia' by GEZA (see more here) comprises three main blocks: one for offices, and two for laboratories and logistics, all designed to integrate into the landscape in the least invasive way. The main entrance, where the brand logo stands tall and proud, recalls the Tuscan villa archetype with its ordered row of cypresses that welcomes visitors and defines the access path. This rhythm repeats onto the facade of the buildings, with black and white lamellas filtering natural light into the workspaces. Complementing the fully opaque material is a generous distribution of glazing across all three blocks. 
Thanks to a system of patios and green roofs installed atop the entrance block, visitors and employees get to enjoy stunning views of the sceneries ahead while nature gently finds its way into the architecture.'Building a large volume like this one that is so lightweight as to fit effortlessly with the sky because the building is really made out of sun-shading louvers and glass is to, in fact, create a filter,' comments GEZA's second co-founder Piero Zucchi.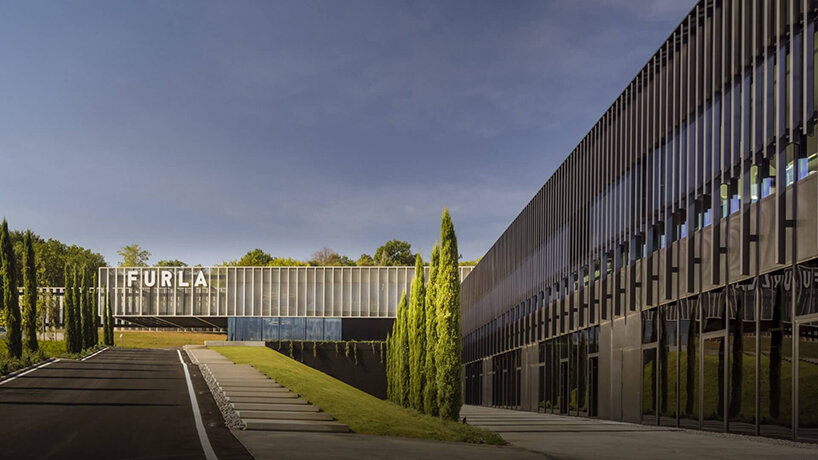 'Furla Progetto Italia' reveals a pure, black and white color scheme 
'Anyone, even the construction guys or the person who works from the most stunning office, literally any staff member can be enlighted by the view of the Chianti landscape that faces the building. Here you see the seasons colors, from any office, from any area of the building,' he continues.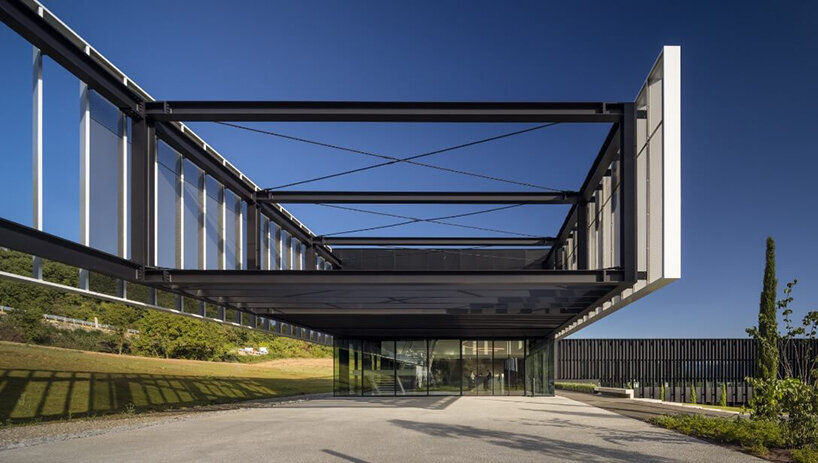 bold architectural movements set against the rural Tuscan landscape