gonzalo viramonte's tour of the unusual house in Córdoba 
Photographer Gonzalo Viramonte shares his latest photo series of a house in the suburbs of Córdoba, Argentina, clad in a peculiar brick and stone pattern. Designed by architect Valentín Bautista Brügger (vbrügg) for an older couple, Dani and Luis, the residence sits on a trapezoidal plot of land facing a ring road, resulting in an equally unusual spatial layout. 
For one, Brügger spread the indoor program — social and private — symmetrically across two rotated wings, creating a sequential order distorted by the shape of the site. Towards the ring road, a continuous, 4-meter-tall solid wall defines the facade and delimits the domestic space. 'For its morphological configuration, it curves twice following the municipal limit,' explains Viramonte.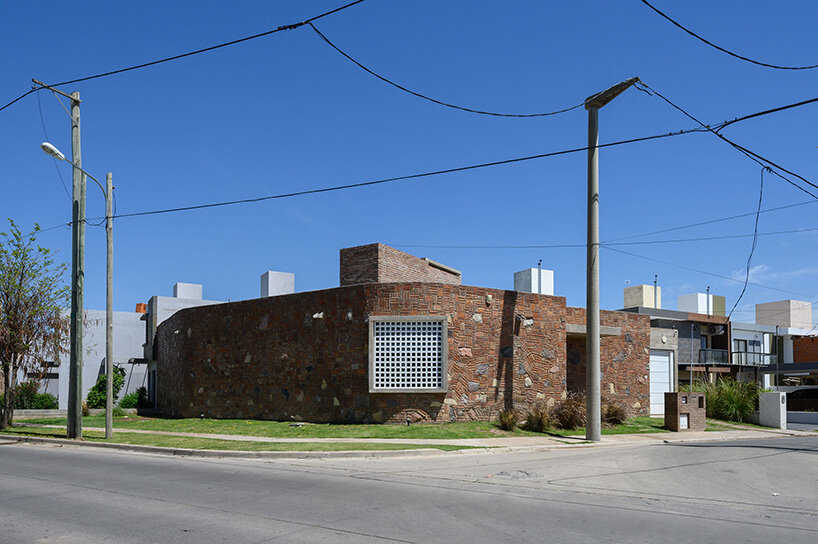 all images © Gonzalo Viramonte 
creating depth, dynamism, and clear continuity 
The main curve of the residence is extruded and perforated, making room for a large window overlooking the ring road. Meanwhile, an entrance door is cut out on the inner street section, and at the fold, Brügger (see more here) added a rectangular, perforated window that visually links the kitchen with the neighborhood. These architectural 'movements' guide the owners throughout the interior space — giving it depth, dynamism, and visible continuity.
Additional features, documented by Gonzalo Viramonte (see more here), elevate the unusual and warm-toned interior design. On the one hand, the skylight running across the main corridor illuminates the brick-and-stone wall to emphasize its textural richness. On the other hand, towards the living room, architectural tension arises from the main window that interrupts the solid wall surface, opening onto the ring road and capturing its 'kinetic' landscape.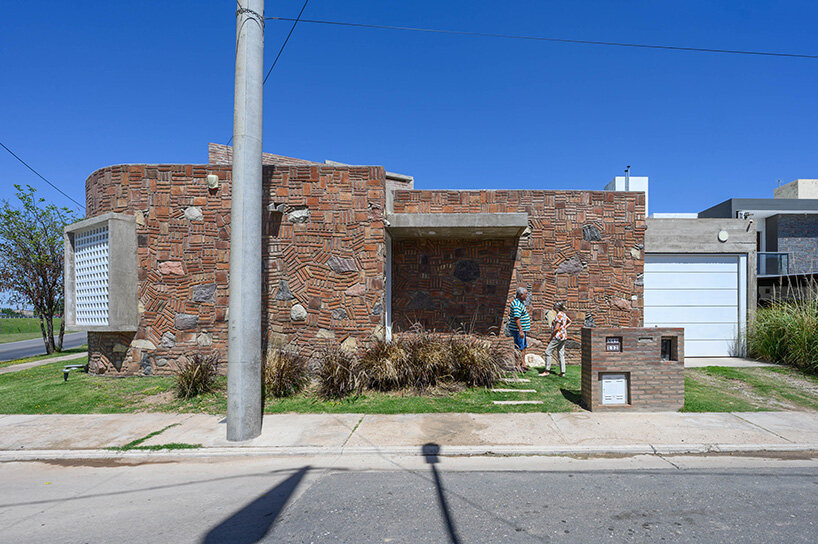 entrance facade
brick and stone: reinterpreting local traditions 
Speaking of material expression, the images precisely capture how Brügger has preserved and creatively reinterpreted a local Jesuit brick-and-stone construction tradition. The photographer explains: 'The position of the stones regulates the direction of the bricks, which straighten up as they disappear. The composition of bricks, vaults, and baked bricks — dyed and twisted –constitutes a comprehensive whole with continuous variations in which the basic unit, brick, is always recognizable. The construction itself is the material expression of the house, and its brick interior walls give it a terracotta hue, creating a rustic and warm atmosphere.'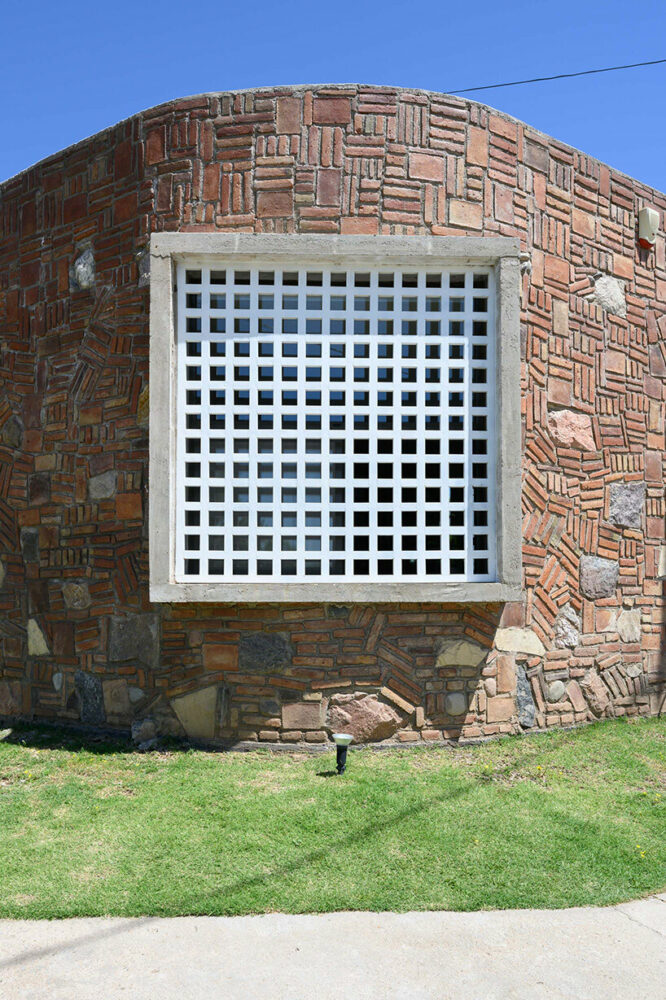 close-up shot of the brick-and-stone construction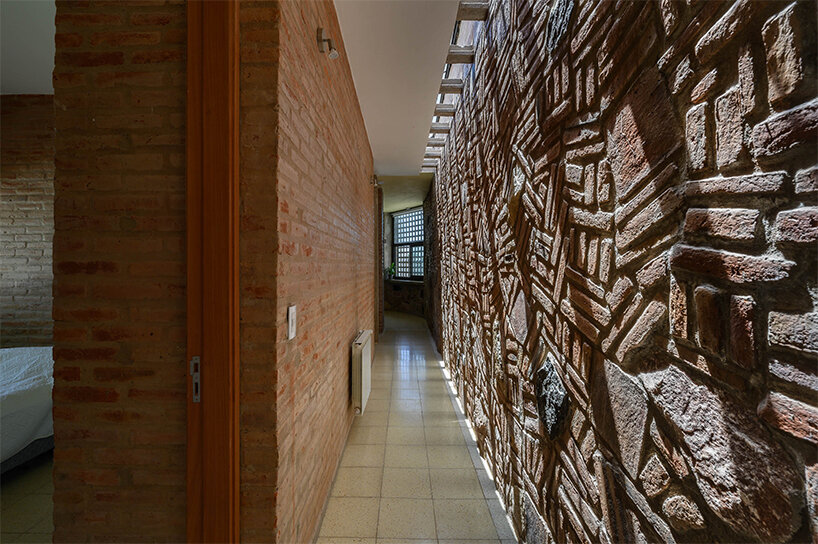 a skylight, filtered by joists, illuminates the corridor wall, texturizing it further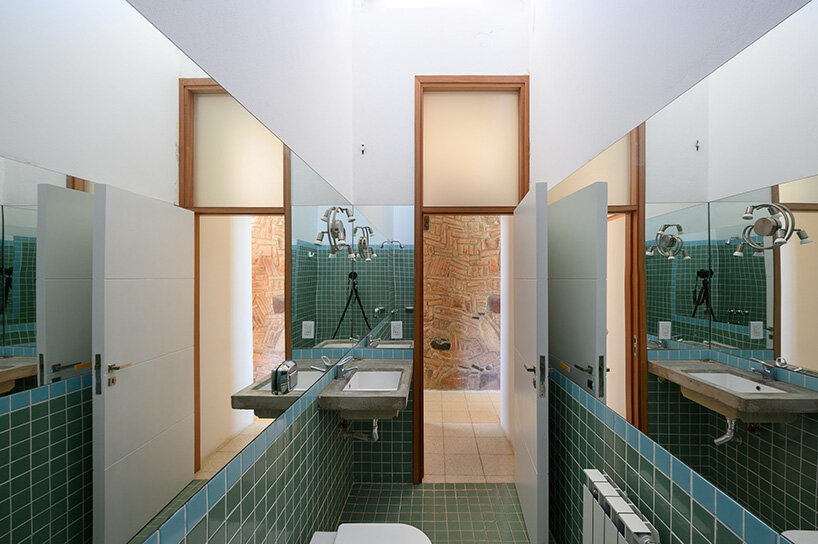 bathroom