a gallery within an idyllic landscape
Herzog and de Meuron and landscape designer Piet Oudolf reveal the design of the Calder Gardens, an idyllic gallery space dedicated to the works of Alexander Calder. The project will be sited in downtown Philadelphia, the city in which three generations of Calders were born, all of them sculptors — the iconic bronze statue of William Penn which famously tops Philadelphia City Hall was created by the modern artist's grandfather. Now, this newly unveiled gallery space will be dedicated to Alexander Calder, who is considered to be one of the most influential artists of the twentieth century. Calder Gardens is scheduled to open in 2024.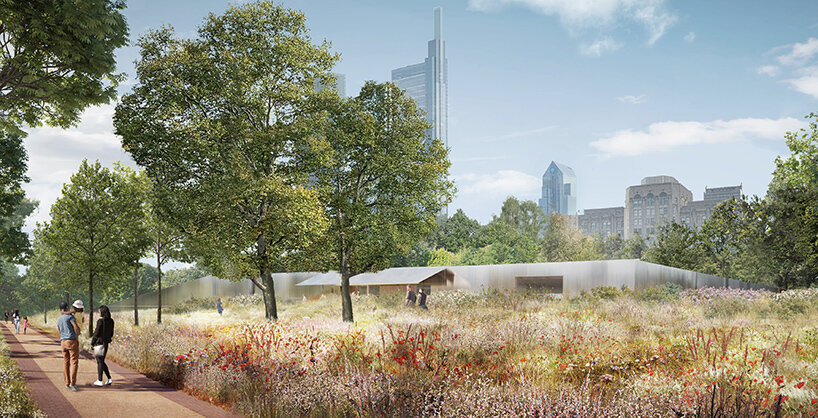 herzog & de meuron's architecture in a piet oudolf garden
The galleries of Herzog and de Meuron's Calder Gardens will be flooded with natural light, and will be immersed in a flowering landscape. A rotating selection of masterworks from New York's Calder Foundation will be displayed, with pieces including mobiles, stabiles, monumental sculptures, and paintings. These pieces will be installed both indoors and outdoors, always in dialogue with the ever-changing seasons and the 'living sculptures' which are Piet Oudolf's landscapes.
The team comments: 'Calder Gardens will provide the public with a singular place for contemplation and reflection, as well as abundant opportunities for learning and community building through a schedule of inclusive public programs and special events.'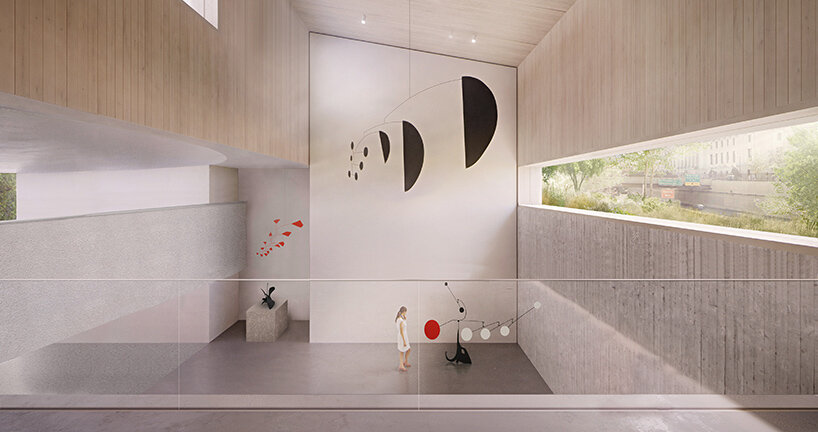 inspired by the forms, colors, and movement of calder's art
Jacques Herzog comments on the design of the garden gallery: 'Form, color, movement are the most obvious of many outstanding aspects in Calder's Art. We wanted to therefore avoid rather than adopt the use of those as possible design elements when beginning to conceive an architecture for the presentation of his work.
'Since the given site between the Vine Street and the Benjamin Franklin Parkway does not have much charm, we felt that plants and gardens could help transform it successfully and turn itself into an attractive place for the people of Philadelphia, rather than simply adding another museum building to the already impressive collection of museums which are lining up along Benjamin Franklin Parkway.'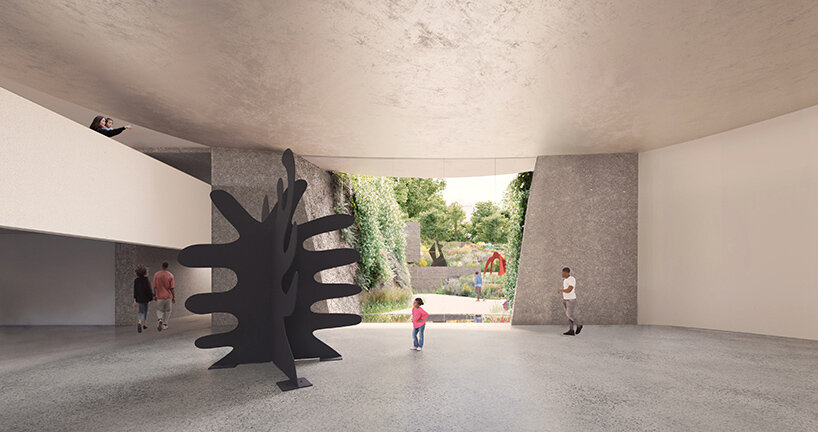 The architect continues: 'All of that strongly impacted our design – which was actually an open-ended process rather than a finished concept based on a fixed program. A kind of conceptual path which made us carve out the ground rather than build forms and volumes above — we were looking for space to present Calder's work in a new and unprecedented way.
'That space in the making eventually grew into a whole sequence of different galleries and also rather unexpected spaces, niches and gardens; such as the apse and the quasi- galleries or open plan gallery, the sunken or remnant gardens. And not only galleries in the classical sense, but every corner and angle, every stair and corridor should be offering itself up as a place to put art.'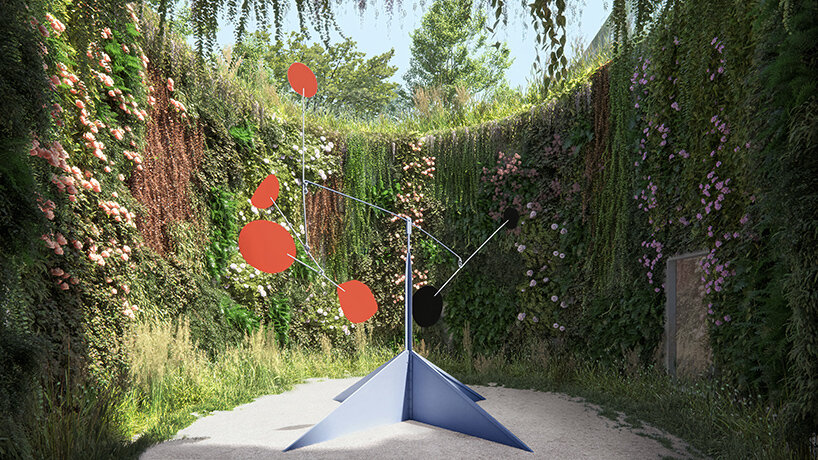 the gallery and artworks will be ensconced in a flowing landscape
'We could only do this through a close dialogue with a client who was asking for such a new type of place for being with art: an interplay between art, architecture and people — challenging but with rich potential for the curators to display Calder's incredibly multifaceted work in ever new and unexpected ways.'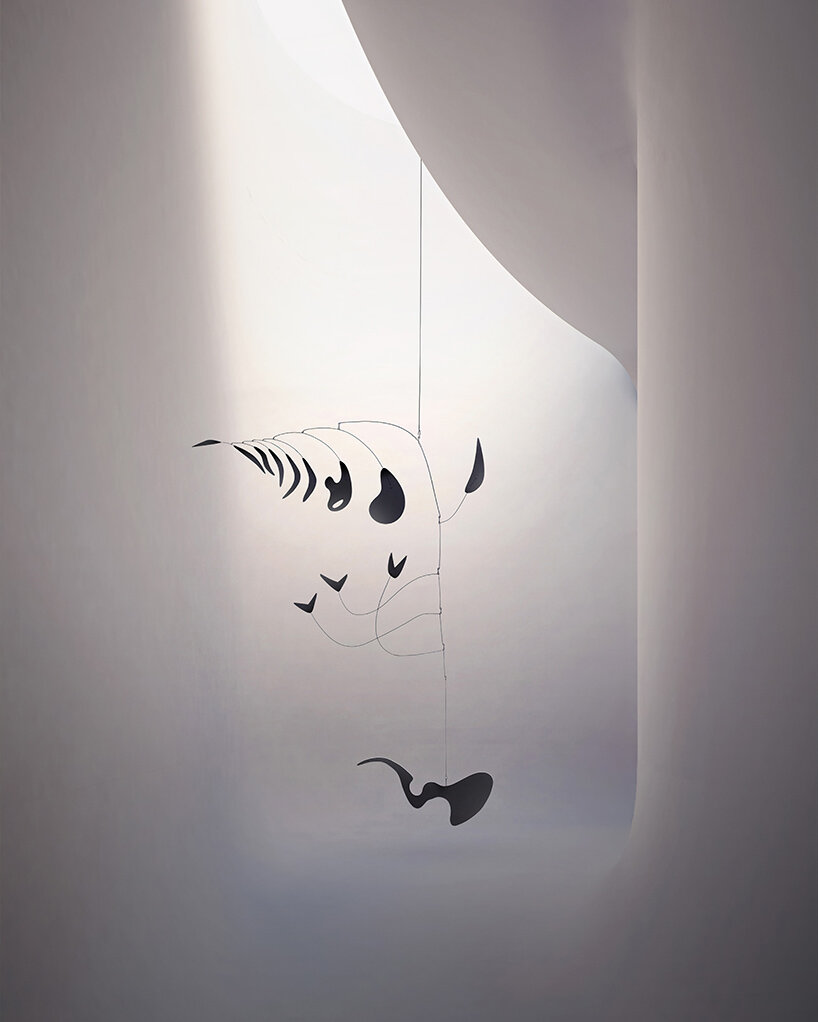 the gallery will become a place for reflection, contemplation, and learning
Piet Oudolf writes: 'I see my gardens as living sculptures where change is constant. The site is like a canvas to work on, and each plant has a personality that must work with the others. The composition of the garden is variable and will evolve through the seasons.
'For Calder Gardens, the horticultural design must also serve the works of art. My hope is that people will take the time to stand still and think here, to fully experience these elements together and have an emotional reaction that stays with them long after their visit. It's not about what you see, but what you sense.'