Nanzuka Underground presents 'Darkest Hour' by Hiroki Tsukuda
from June 18 – July 17, 2022, Tokyo-based gallery Nanzuka Underground presents 'The Darkest Hour', a collection of dystopian installations, figurines, and collages by Hiroki Tsukuda. The exhibition reflects the contemporary artist's candid impressions of the present world, war, poverty, and social unrest. Drawing from various media franchises such as Star Wars, Gundam, Monster Hunter, etc, Tsukuda creates intricate works made of miscellaneous found objects, as well as new mix-media paintings that incorporate elements of ink, silk-screen, and acrylic.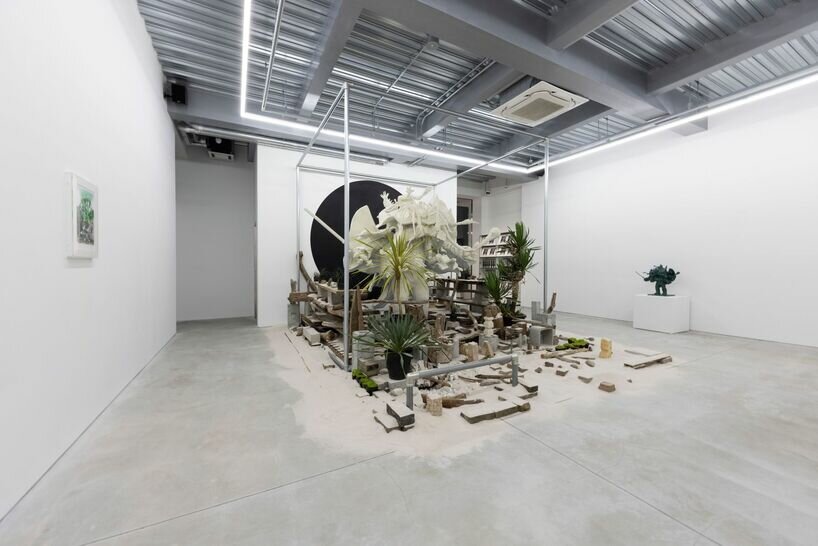 all images courtesy of Nanzuka Underground
drawing from fictitious dark futures
The influence of science fiction video games, cartoons, comics, and manga is evident in Hiroki Tsukuda's work. From his childhood, the contemporary artist, who grew up in Japan during the 80s and 90s, found himself interested in films, novels, and movies that portrayed a dark future. 
The exhibition, 'The Darkest Hour' exemplifies Tsukuda's views on the current state of the world, where issues like the war between Russia and Ukraine, the simmering conflict between China and the United States, and the social unrest brought on by the growing wealth gap have become more prominent. The projects could possibly be seen as a manifestation of a different 'reality' created through a complex synthesis of the imagery that the artist is currently exposed to, as well as the knowledge that he has recorded and remembered throughout his life to date.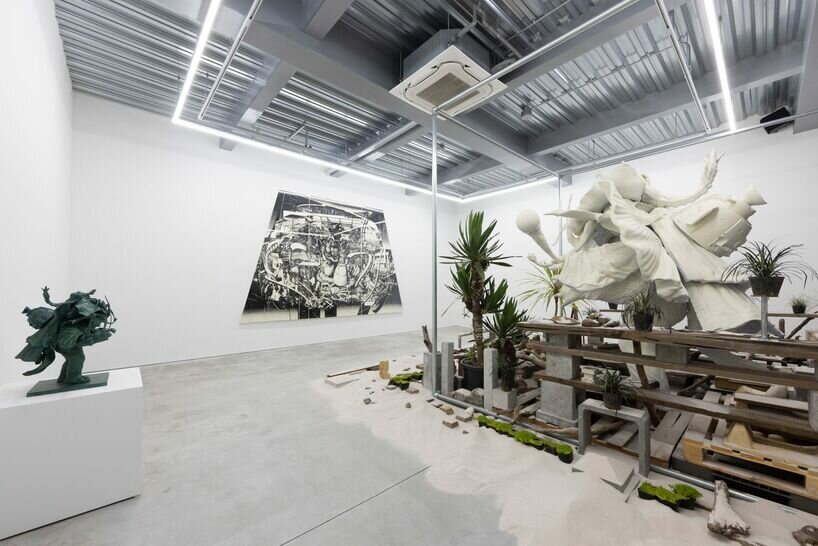 In 'The Darkest Hour', Nanzuka Underground (see more here) exhibits a variety of three-dimensional 'collages' made from the small figurines that Hiroki Tsukuda (see more here) has collected over many years, as well as an installation made up of various found objects, and mix-media paintings that he has independently developed by skillfully fusing elements of ink, silk-screen, and acrylic.
Though melancholic, the show still gives a glimmer of hope that happier, better days are on the horizon. 'The darkest hour is before dawn. I believe in these words, and believe that the dawn will come.' the artist shares.