introducing the electric 2023 living vehicle model
Founders Joanna and Matthew Hoffmann from luxury electric trailer company Living Vehicle have just launched their most self-sufficient house on wheels to date — moving closer to achieving their Net-Zero goal. Specifically, their 2023 model integrates a ground-breaking 'solar water generation technology' that creates an endless water supply, making off-grid living more sustainable and durable than ever before.
Living Vehicle blends autonomous technology and enduring, sustainable power with stunning, functional architecture to push the limits of modern nomadic living. The 2023 model is the most powerful trailer currently on the market and boasts luxe furnishings, gourmet appliances, seemingly endless storage space, and spa-like bathing. […] With more solar power than most traditional homes, this technologically independent trailer is the epitome of luxury unplugged™ with a robust LVEnergy power system, offering complete energy independence to power all onboard equipment,' writes Joanna. 
water-from-air technology creating 24/7 supply
For their 2023 Living Vehicle model, the Hoffmanns partnered with Israel-based Watergen — a company specializing in technologies that capture humidity from the air to produce quality and mineral-rich drinking water. The team set up the system by linking Watergen's generator to the trailer's water tank, several power sources, energy storage packs, and other off-road features — designing a 24/7 mechanism that makes off-grid living in remote locations incredibly comfortable. More importantly, this localized, nature-sourced technology eliminates single-use plastic and reduces the owners' carbon footprint. 
'Producing enough water for an entire family, the technology saves storage space, allows for ease of preparation for travel, extends the time one can spend off-grid, and eliminates the hassle of finding water sources en route. The system requires minor maintenance and provides up to 5 gallons of clean drinkable water per day,' continues Hoffmann.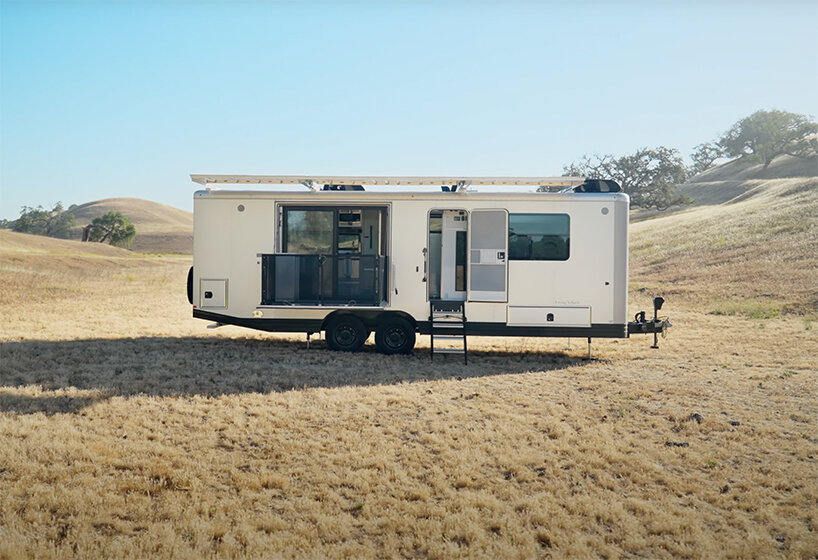 all images courtesy of Living Vehicle
'The Most Powerful Off-Grid Office' 
Thanks to its upgraded solar power system, the 2023 model is also equipped with a state-of-the-art workspace dubbed the 'Living Vehicle Creative Studio' and fitted with configurable hardware from Apple. Offering such advanced technology gives professionals running tech-heavy jobs the freedom to take their work to the most remote locations without missing a beat. 
As a base, the 'Creative Studio' includes either Apple's Pro Display XDR with a 32-inch Retina 6K screen or its Studio Display with a 27-inch 5K Retina. 'To power the studio, options include a 16-inch MacBook Pro with M1 Pro or M1 Max, which delivers game-changing performance and battery life, and features a stunning Liquid Retina XDR display, a wide array of ports, a 1080p camera, industry-leading studio-quality mics, and a high-fidelity, six-speaker sound system. For the ultimate dream studio experience, the Creative Studio may be configured with the Mac Studio with M1 Max or M1 Ultra, the world's most powerful chip in a personal computer,' elaborates Joanna. 
The Hoffmans offer two options for mounting the workspace: either above an 80″ walnut office one or a two-person desk that can be lowered into a queen-sized Memory-Foam bed.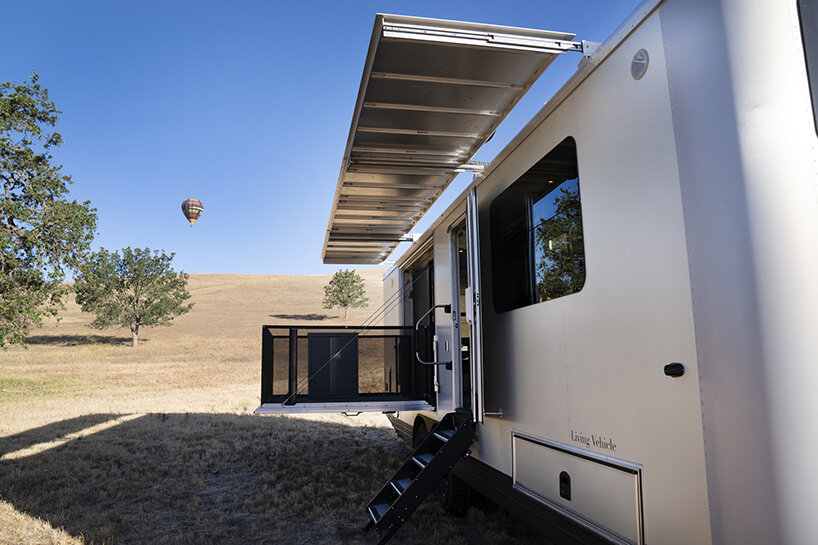 2023 Living Vehicle model is the most self-sufficient trailer to date
The 2023 Living Vehicle is available for purchase in three different model (CORE, MAX, and PRO) starting at $339,995. Each model includes specific capabilities and amenities — from storage to power and tech capacities. Lead-time to customize orders is anywhere between 10 to 12 months.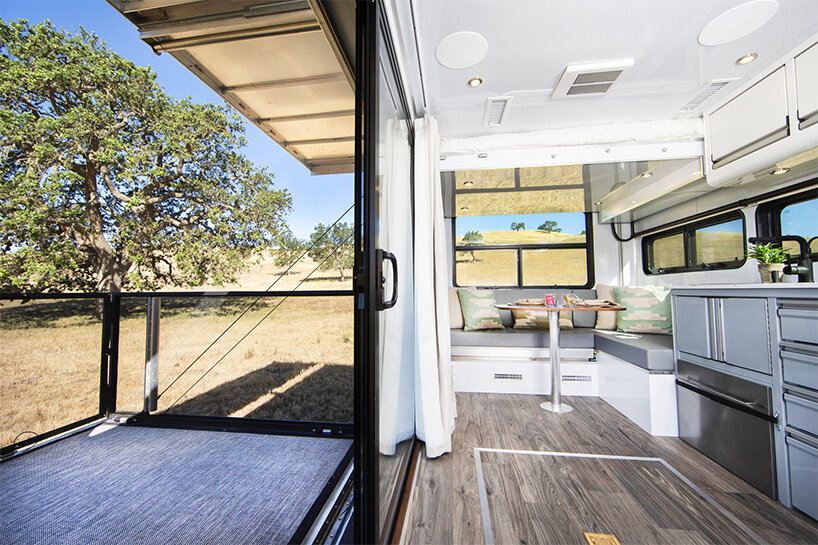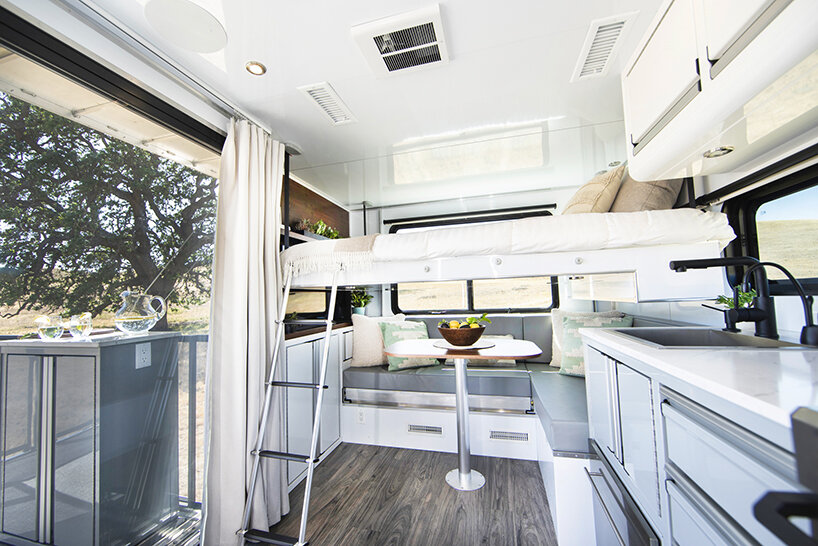 expanded spaces for the ultimate luxury living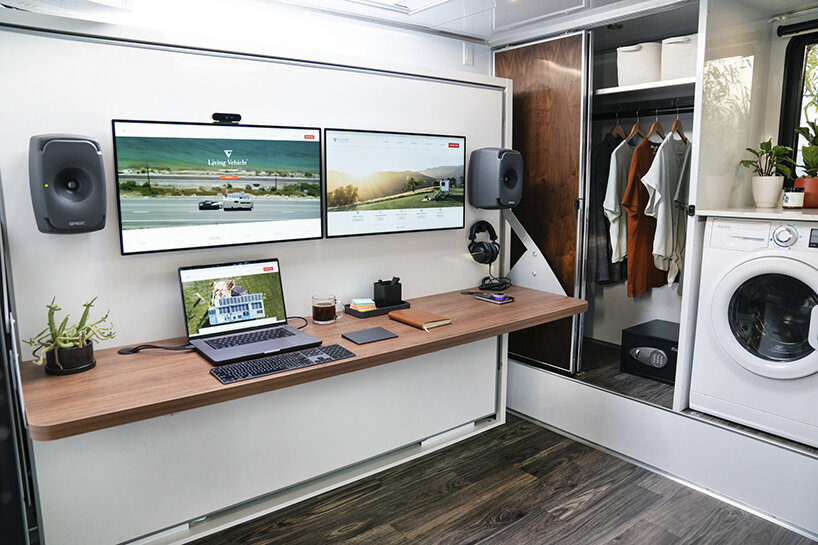 Living Vehicle Creative Studio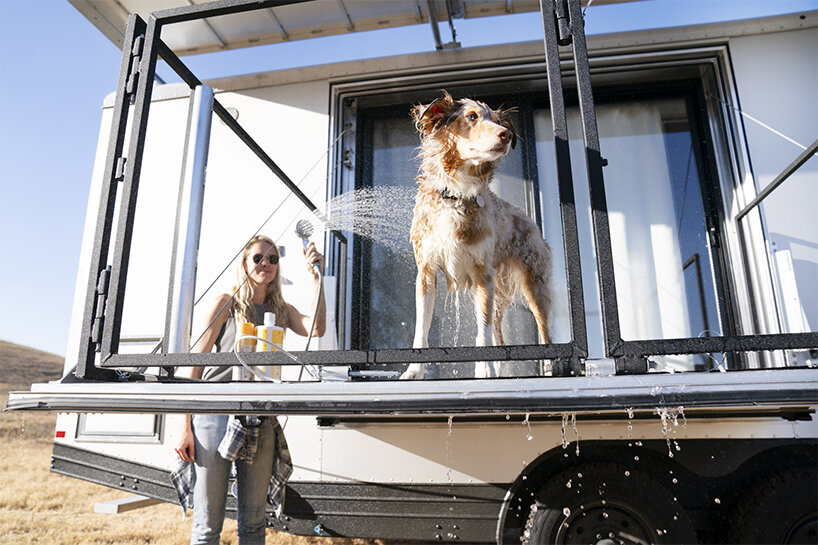 24/7 water supply for any kid of activity