las marías house unfolds among lush vegetation
Santiago Viale and Associates has completed 'Las Marías House', a residential project that winds around its pre-existing copious tree vegetation. As the plot is located in an area once determined as the green belt of Cordoba city in Argentina, the design team sought to form a structure that preserves the surrounding nature, thus achieving the least possible environmental impact. To meet these ambitions, they started the design by tracing the voids formed between the trees.
The lines of the building were conceived delimiting these potential spaces that either embrace the existing trunks or are pierced by them. The resulting organic zones serve as social areas of the house, where inhabitants gather, interact and enjoy the lush green, while the rest private areas were developed as rectangular boxes to the north of the building.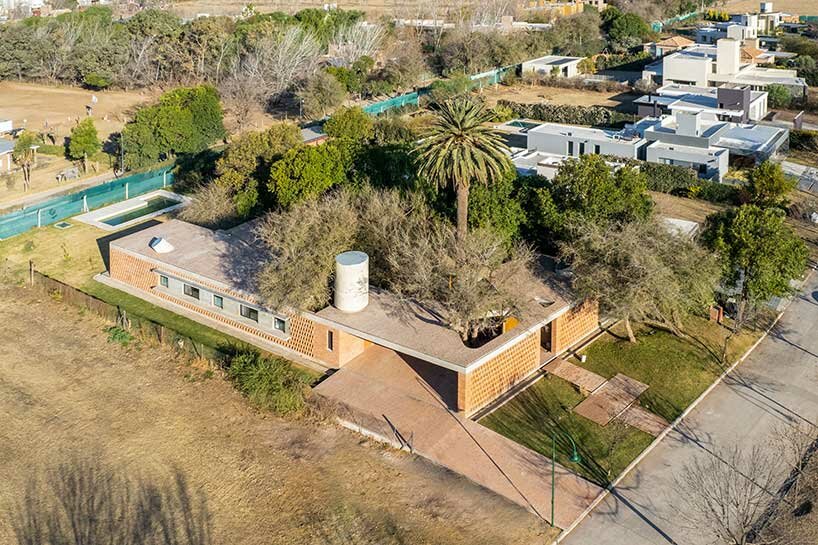 all images by Arch. Gonzalo Viramonte
natural solar protector
For 'Las Marías House', the Argentina-based architecture studio set as a priority the preservation of the existing trees. Although it initially seemed impossible, they successfully managed to fulfill this requirement, developing a functional living space. The resulting structure unfolds around several intermediate spaces that tie together the private and common spaces. By preserving the trees, the architects succeed in optimal thermal conditions, with the volume of vegetation functioning as the elemental solar protector. 
All the private areas were placed in a north-facing block, topped by concrete eaves that allow a maximum contribution of natural light during the winter and full protection in summer. The design team applied further construction elements that adapt to the solar conditions. These include skylights that take shape as extruded geometrical pieces, letting plenty of natural light injected into the interior while reducing energy consumption. Their bold form adds to the otherwise horizontal architectural language of the building, and from inside, they offer stunning views towards the blue sky. Following the materiality of the building, a brick screening was installed on the facade facing the street, serving as a filter for the strong afternoon sunlight.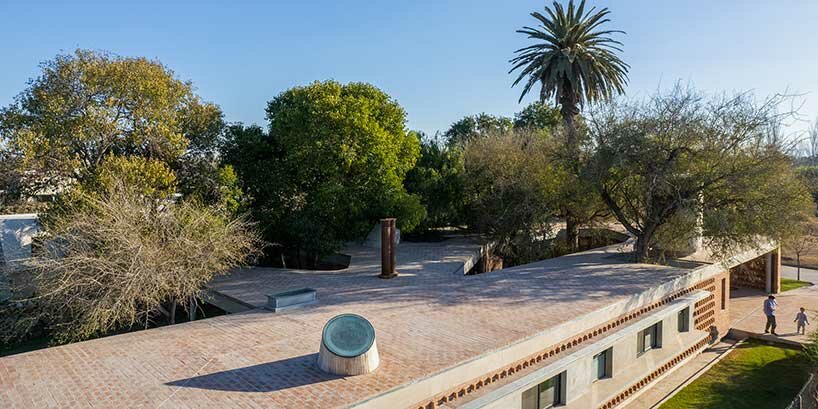 All the private rooms are accommodated on the north side of the building, taking shape as separated zones. To connect all these areas, the architects opted for a central courtyard that offers air circulation and visual communication between the different functions. The slab on the back of the lot was extended, developing a covered gallery that opens onto the rest of the property, where a pool was formed. To achieve the desired thermal transmittance coefficient, the architects added an extra layer with glass wool and a half-plaster wall on the interior side of the structure. Furthermore, they opted for columns to support the entire system instead of having a continuous foundation that would cut the tree roots. This concept automatically became part of the architectural language of the project.
'I have always related sustainability to common sense, to fair judgment. That is why I believe that sometimes with extremely simple actions, it is possible to be sustainable, avoiding therefore the use of astonishing devices or needless accessories.'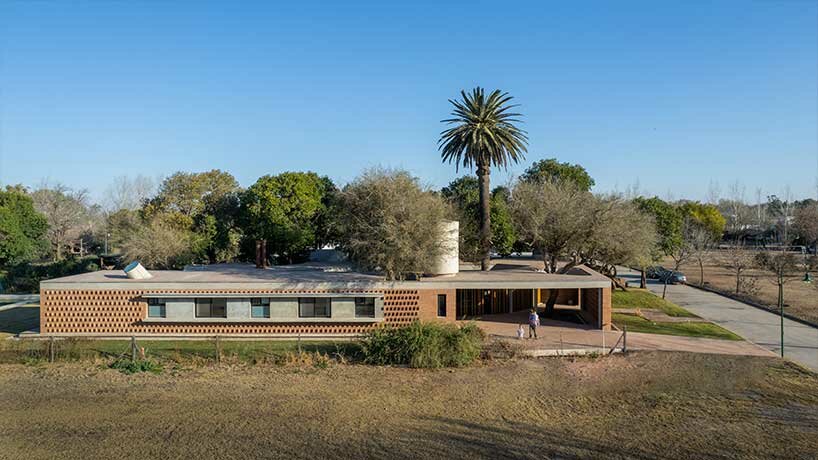 the structure is supported on piles to avoid continuous foundations that could affect tree roots