rustic artists residence 'Casa Atelier' by LOMA Architects
Surrounded by native flora and fauna in San Lorenzo, Córdoba, Argentina, Casa Atelier by LOMA Arquitectos is a rustic residence created for an artist-designer couple. The design is focused on maintaining a connection to the natural environment and creating a strong bond between the wild surroundings, the house and the residents. Regional low-maintenance materials such as locally made brick, concrete, and wood complete the project's materiality while contributing to its energy efficiency.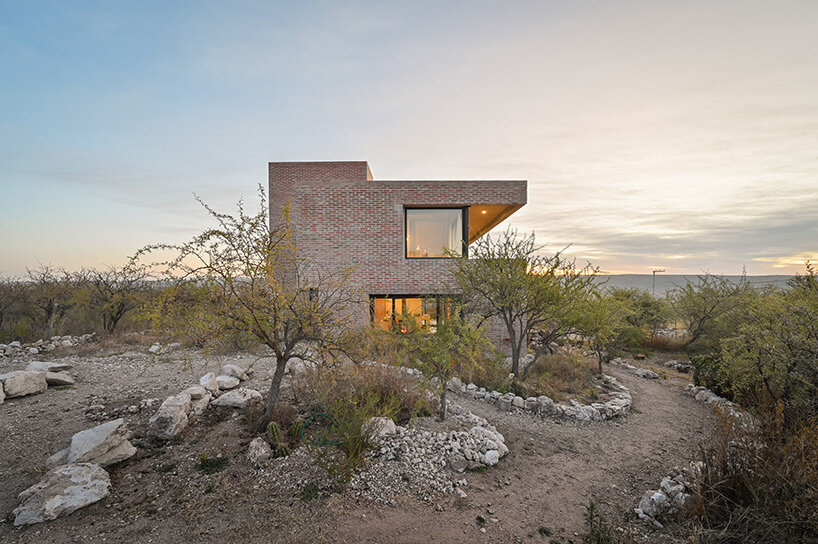 the residence is constructed with locally made brick, concrete, and wood
all images courtesy of Gonzalo Viramonte
local materials conveying creative inspiration
LOMA's design ensures that the natural habitat is not just a backdrop, but is inseparable from the house and part of the life and artistic production of the couple that inhabits it. Thanks to the palette of colors and materials, the atmosphere of the house, both inside and outside, conveys creative inspiration for the artistic development of its owners.
The architects have used rustic, regional materials such as locally made bricks melted at high temperature in clay ovens, combined with reinforced concrete and the warmth of wood. Energy-efficient and low-maintenance materials were used, carefully selected after an extensive climate study. The large windows covering a large part of the north facade allow wide views of the surrounding natural landscape and absorb heat in winter.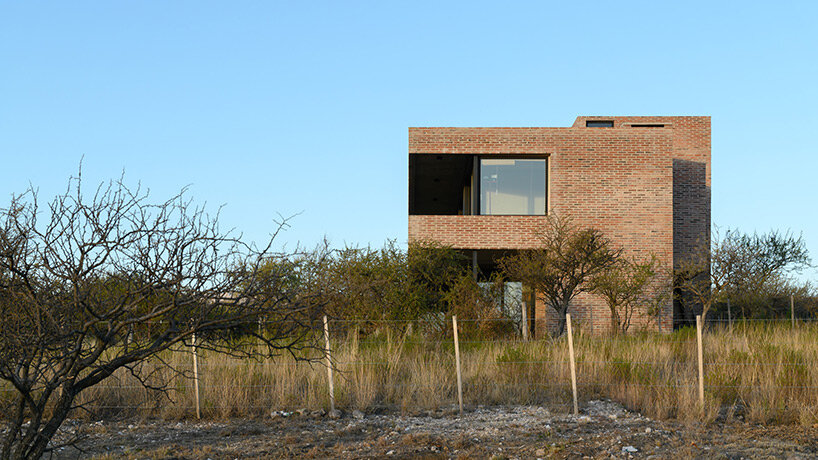 the design blends traditional craftsmanship and regional materials, but in a contemporary and minimalist way
The house conceals structural complexity and achieves maximum aesthetic simplicity thanks to its pure morphology and clean surfaces constructed by traditional craftsmanship and regional materials, but in a contemporary and minimalist way. The house is built on two levels: Common spaces on the first floor and studios and private spaces on the upper floor. On the north facade of the house there is a connection between interior and exterior, both on the first floor with the entrance gallery and on the upper floor with a balcony. In this way, the two studios located to the east and west and the central bedroom are all connected to each other. 
The common space is structured around a double-front fireplace that defines the central meeting point. On one side is a quiet and warm living room, and on the other, the kitchen and dining room. Both are divided by a double-height central open space that functions as an interface between the main entrance, living room, kitchen, dining room, and the private space on the upper floor.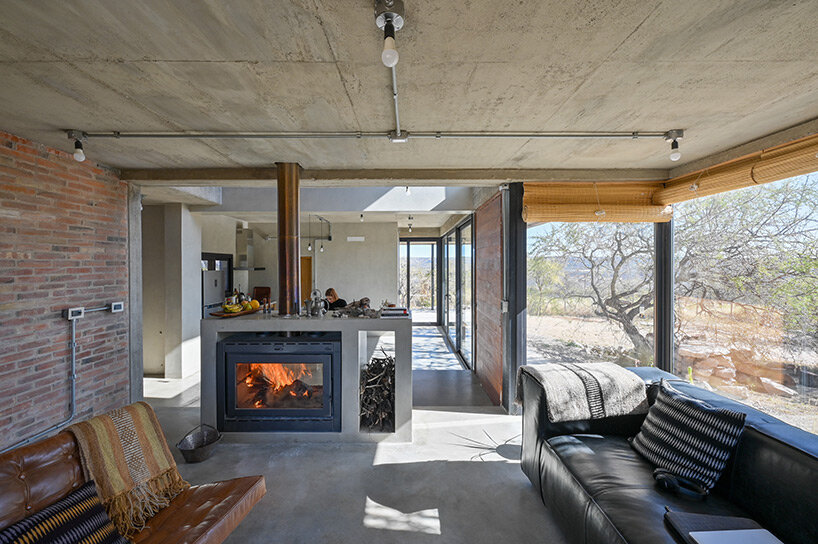 the common space is structured around a double-front fireplace that defines the central meeting point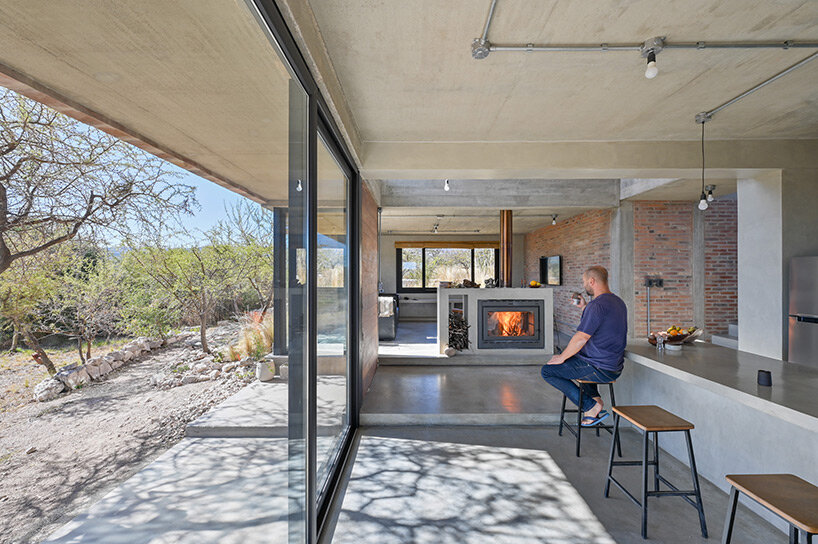 large windows allow wide views of the surrounding natural landscape and absorb heat in winter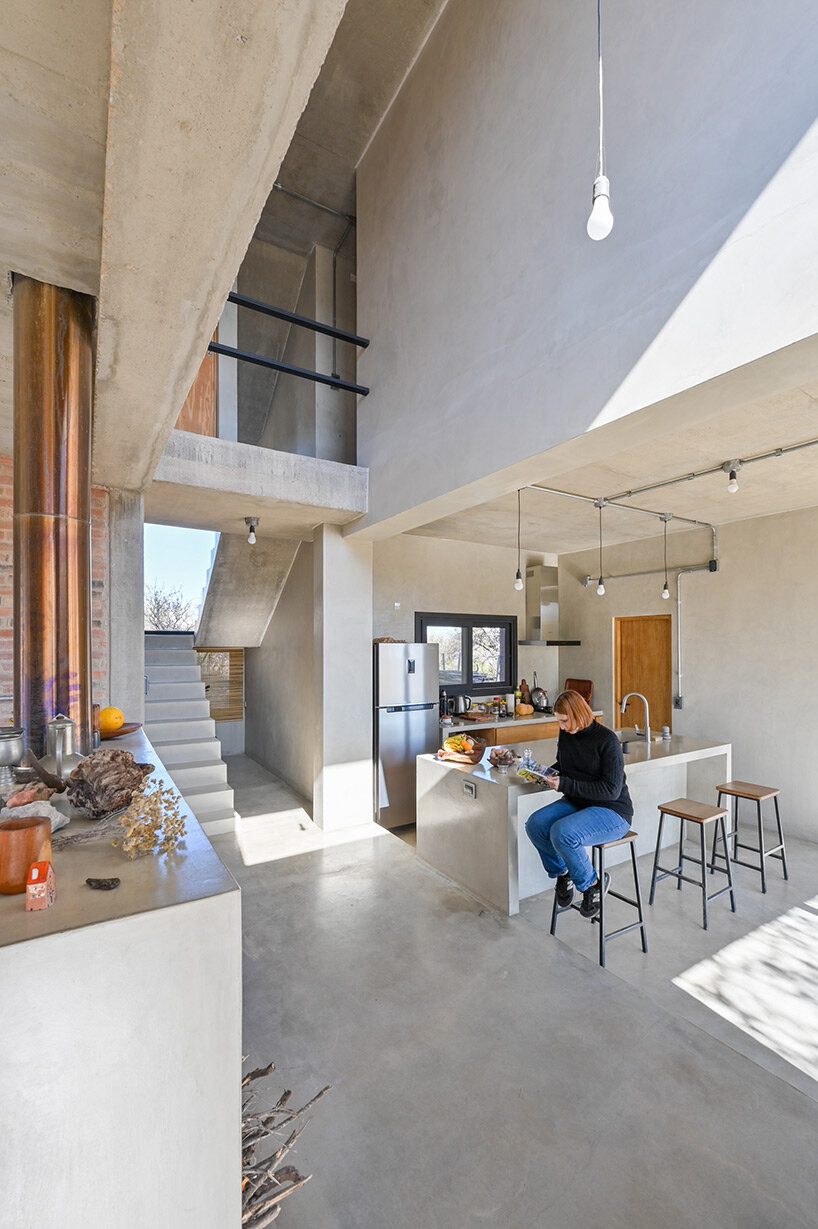 a double-height central open space functions as an interface between the living room, the kitchen and the private space on the upper floor