MacIver-Ek Chevroulet's 'deliberate leak' installation
As Laureates of the Swiss Art Awards 2021, Neuchâtel based architectural office MacIver-Ek Chevroulet has been invited to design an installation for this year's Basel Art Week in Switzerland. Their new project, titled Deliberate Leak, is a reaction towards the exclusive nature of the event taking part in the iconic Messe Basel, allowing the city to 'leak' into the building. The exhibition and congress center is located in the heart of the city and yet completely detached from it. MacIver-Ek Chevroulet's installation reconciles the architecture with the city and its people, disrupting the flat glazed façade of the exhibition hall, which feigns transparency though constantly reflects its surroundings, recomposing the elements and perforating the building. The new intervention invites guests to access the exhibition through a window cleaning platform thus creating a direct link between the city and the event.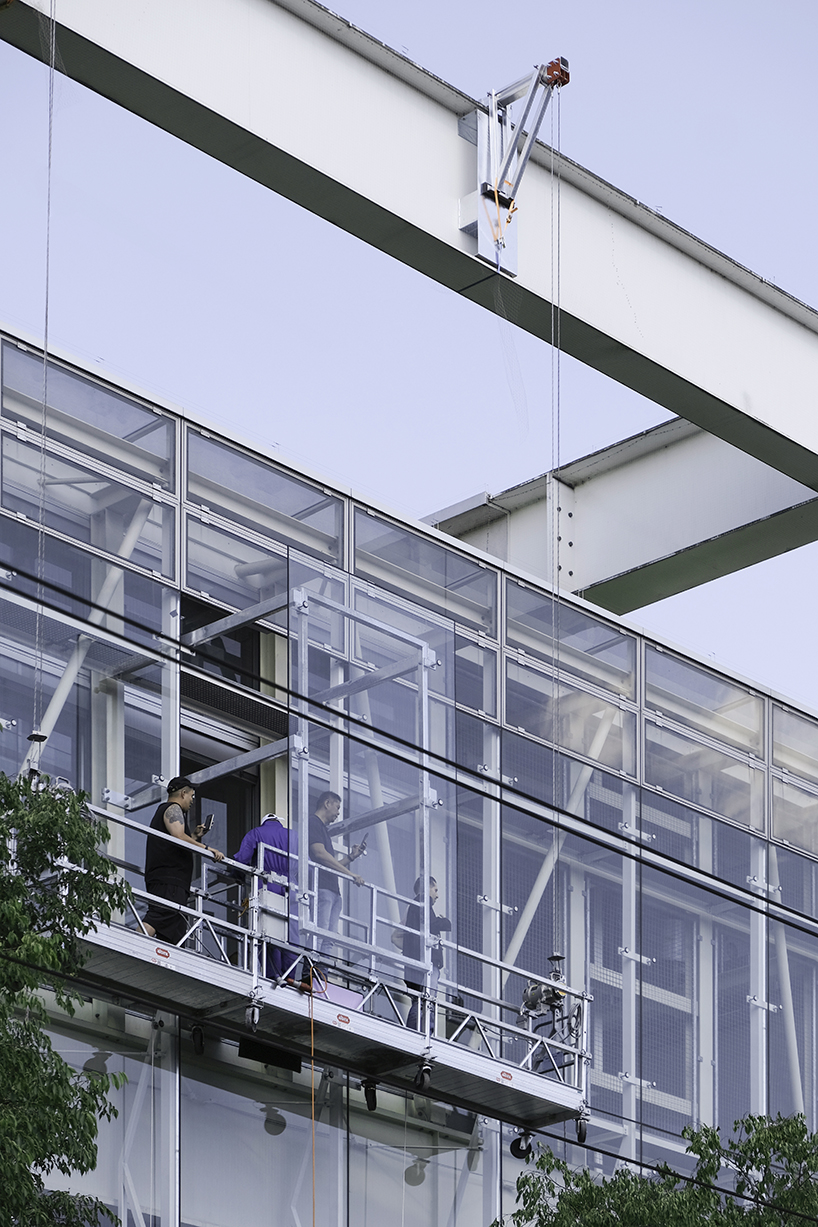 MacIver-Ek Chevroulet's installation perforates the facade to 'leak' the city into the building
all images courtesy of the author
recomposing messe basel, switzerland
About moving rather than adding, the architects state that Deliberate Leak's minimal intervention 'winks to Lucius and Annemarie Burckhardt's principle of the minimal intervention: design is replaced by observation and matter by precision'. A careful re-composition of the existing layers of the facade turns the building around, opening it towards the city, and allowing the city to leak in. MacIver-Ek Chevroulet projects one of the 3.5 x 2 meter window panes of the half kilometer-long glass façade outwards, suspending it in the air by steel clamps. Meanwhile, a window cleaning clamp is hung from the existing monumental steel beam crowning the building.
Curious passersby traversing the streetfront are invited to hop onto the platform, experience the installation, and enjoy the view of the neighbourhood as they smoothly ascend. As the city starts to leak into the building eleven meters above the ground, passengers enter the building through the small gap of the displaced window, appearing as performers of a show to unassuming visitors inside the exhibition. In between rides, a few disruptions took place at the installation, such as a ping pong tournament, a candlelit dinner and a spontaneous concert performed by students of Basel's renowned jazz school. Throughout the week-long art fair, which took place from 13 to 19 June 2022, several thousand visitors entered through this Deliberate Leak, ranging from art aficionados to locals unaware of the event taking place inside.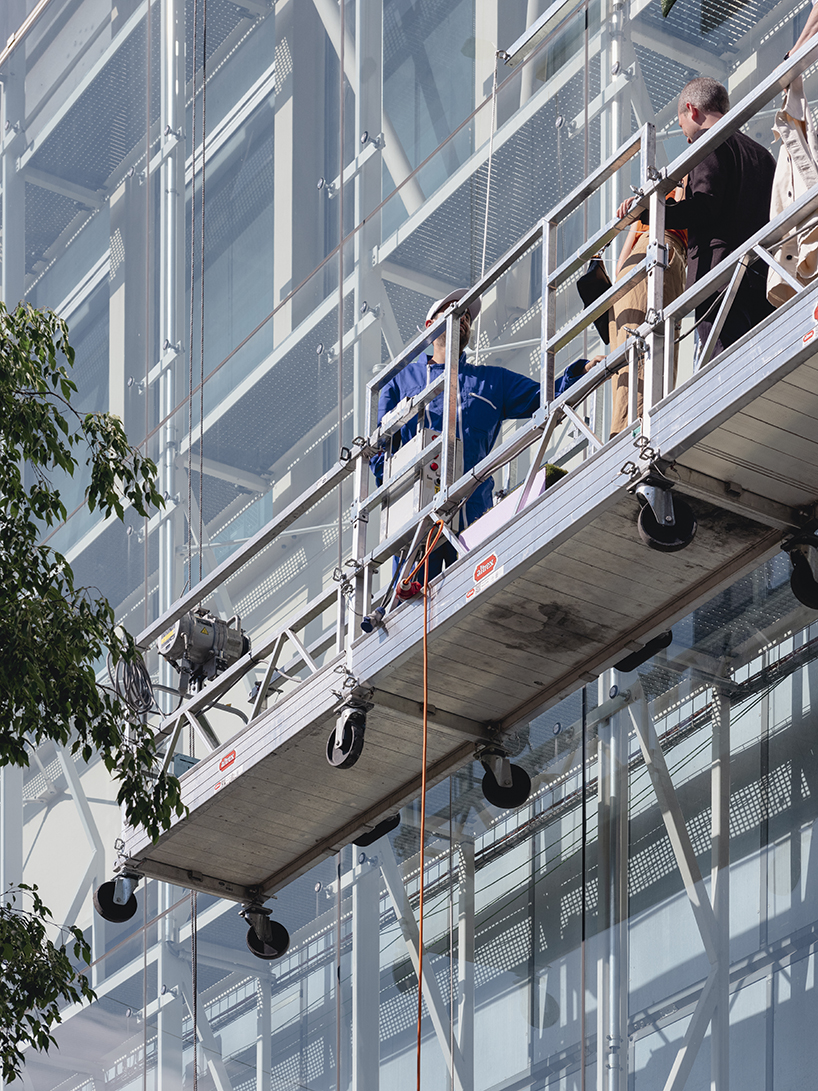 the journey takes around 1 minute and 30 seconds to reach the exhibition hall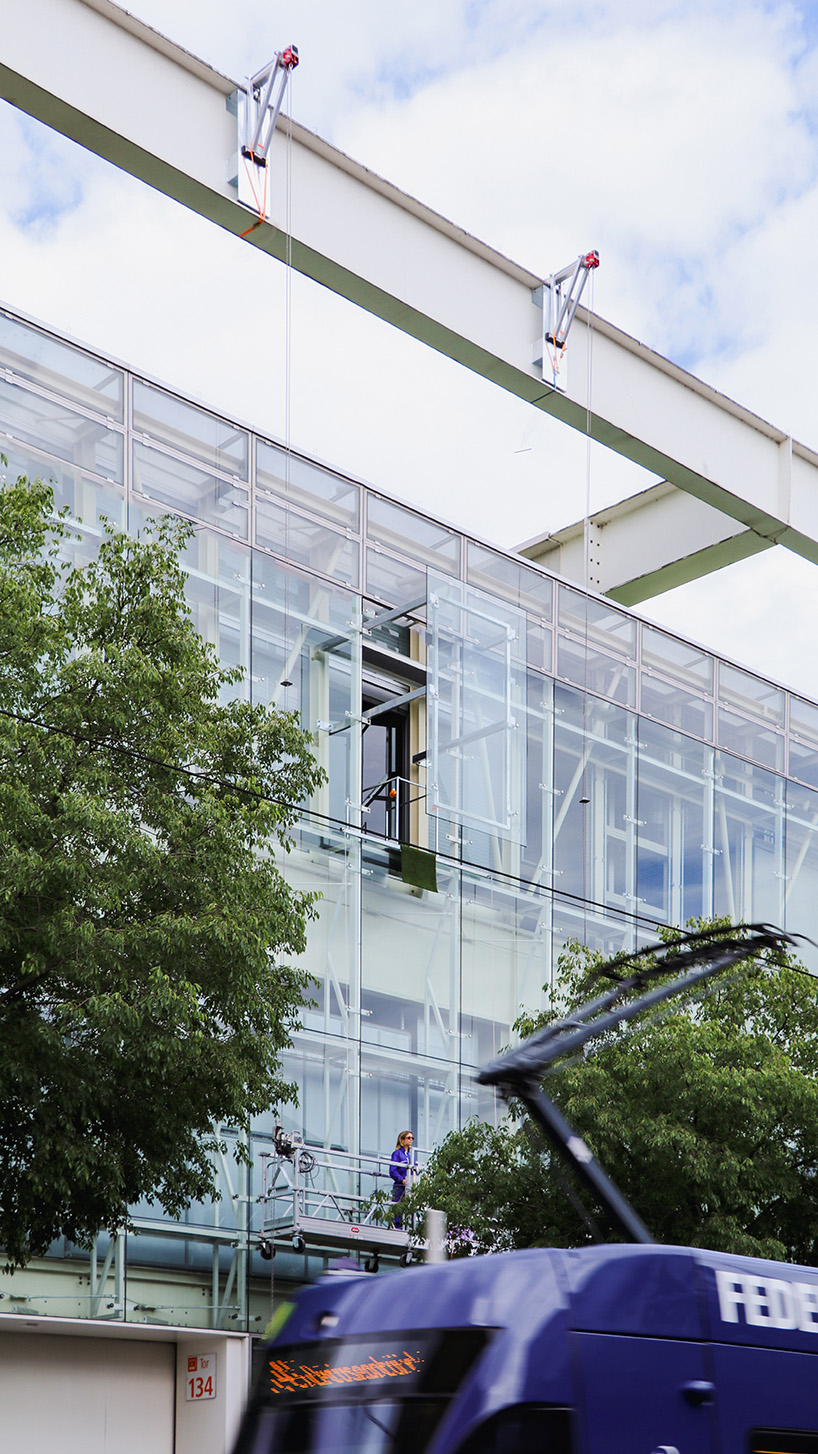 the installation's cleaning platform hangs from the monumental white steel beam