celebrating the site's heritage
Matt Gibson Architecture + Design presents its Fitzroy Bridge House, a thoughtful renovation of an historic terrace house sited in Melbourne's South Fitzroy Heritage Precinct. The dwelling punctuates a row of four houses, and has been shaped by a 'checkered history.'
The architects designed the contemporary intervention for a young family who hoped to celebrate the history and legacy of the original brick building. Thus, the design process employs 'creative adaptations' to preserve the house's authenticity while enabling responsive family living, all along a challenging site.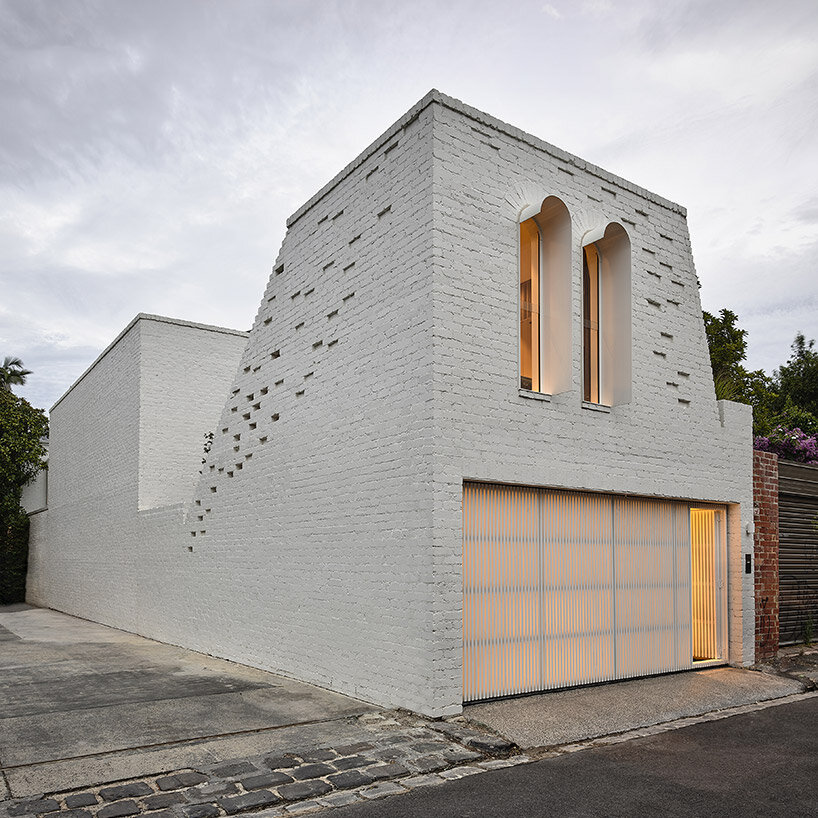 images © Derek Swalwell | @derek_swalwell
the light-filled south fitzroy bridge house
The residential renovation by Matt Gibson Architecture + Design was informed largely by South Fitzroy's position as Melbourne's earliest suburb. The suburban fabric of the area is characterized by attached Victorian era housing, brickwork, chimneys, corbeled details, along with a 'high solid to void ratio, distinctive rear service lanes with substantial boundary walls, and stable or loft structures.' Rather than introducing a newly attached contrasting addition, the architects craft a series of separate 'Mews,' or stable-like buildings, separated by courtyards.
With this strategy, the team seeks to ensure natural sunlight light and ventilation reached the center of the long, narrow site. The connection between the old and the new is thoughtfully crafted so as not to compromise movement and light into these central spaces. While the project achieves this quality of openness, the light-filled spaces maintain privacy from neighbors peering down.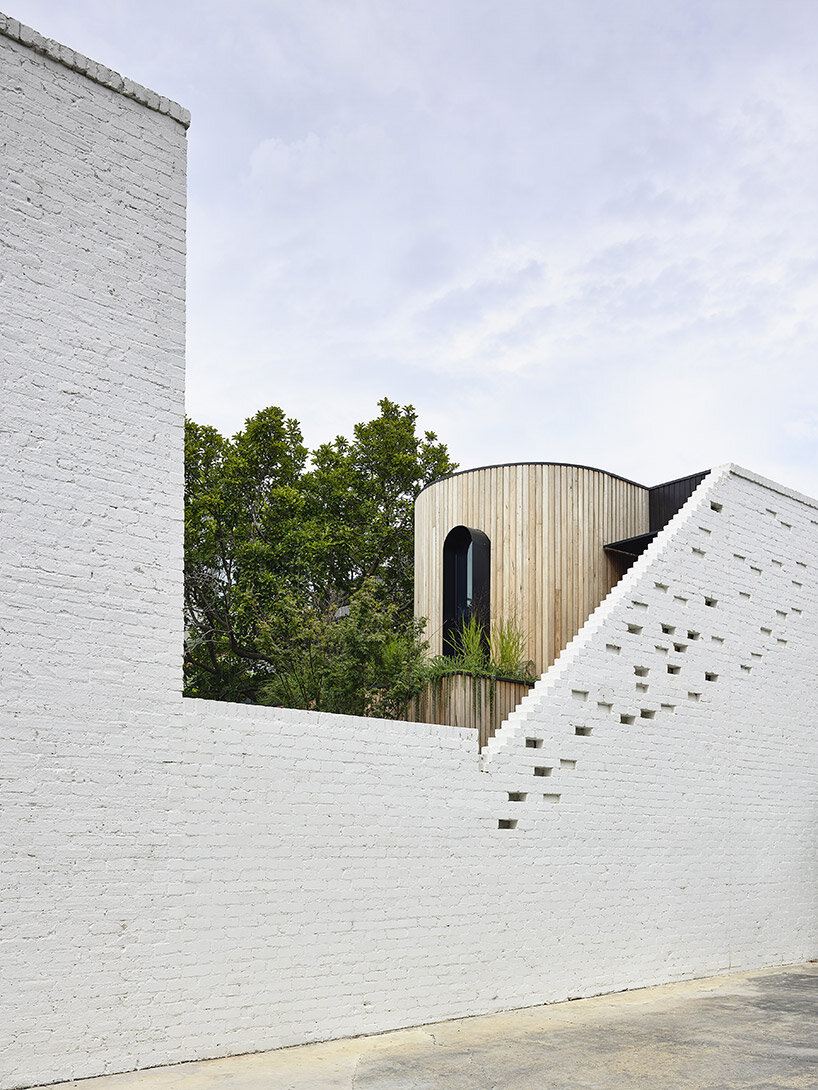 a novel massing strategy by matt gibson architecture + design
Matt Gibson Architecture and Design new massing of the Fitzroy Bridge House is novel to the historic neighborhood. The team notes: 'Reinterpreting this massing — character not unknown to this site in earlier times — the programmatic objectives are similar with a series of three-by-two story buildings housing sleeping quarters above, with a linked open 'living' breezeway beneath containing flexible living spaces that straddle two internal courtyards.'
The main courtyard is flooded with sunlight by way of an elevated, glass-bottom bridge along with a walkway enclosed by a glass roof. The team writes: 'Somewhat unconventional, this move unlocks the courtyard providing equal ability to aid privacy as it does aid solar access and a borrowed amenity between levels as one looks down over a manicured garden below inspired by the heritage of its owner.'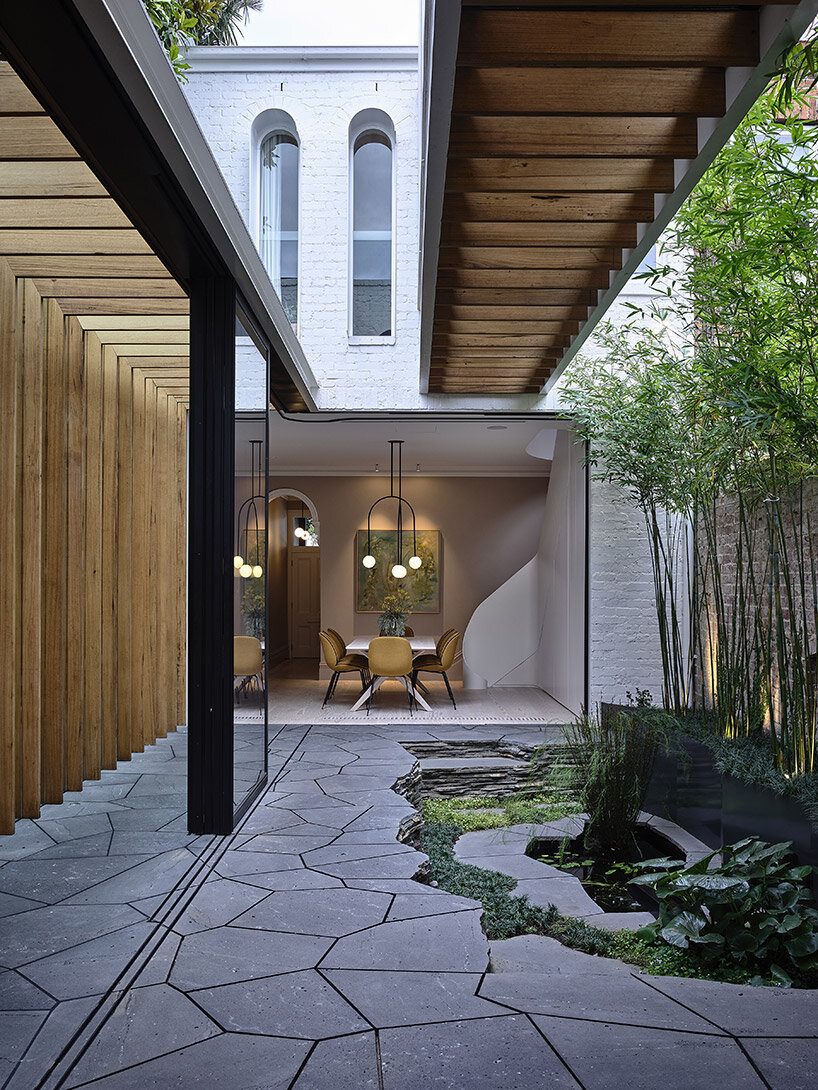 new work coming from the old
The project sees the preservation and restoration of the original street-facing brickwork façade. While the rear wing was demolished, all of its removed bricks have been salvaged and reused for the construction of the rear 'pavilions' to ensure that 'any new work came intrinsically out of the old.' From the perspective of the side street, the three buildings are viewed in combination, unified by a ground-level wall, as well as by their textural materiality, color, and solid expression.
The group continues: 'The gesture of repeating a set of arched windows at the ends of each building (with expressed blinker hoods) are suggestive of traditional & local architecture, aiding in a consistency and connection between the buildings that is in-keeping with the character of the neighborhood.'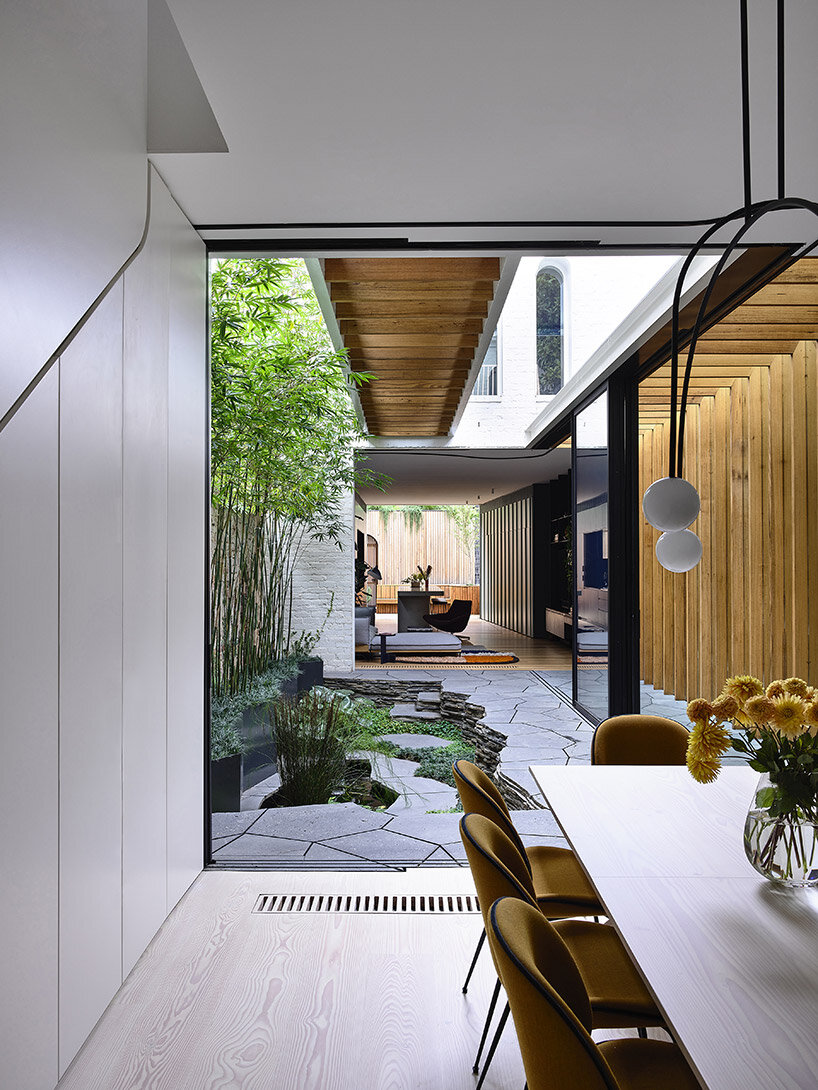 the renovation takes shape as a series of new massings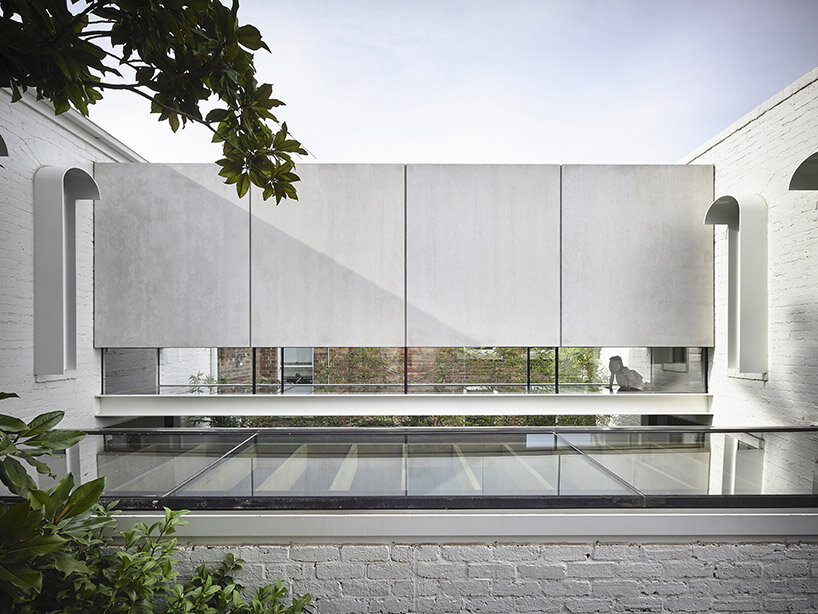 a glass-bottomed walkway ensures sunlight reaches the central courtyard