DESIGN IN DIALOGUE: MATTIAS SELLDEN
On April 1, 2020, New York gallery Friedman Benda initiated a series of online interviews aimed at connecting individuals across the world with leading voices in the creative field. Design in Dialogue is a conversational program hosted alternately by curator and historian Glenn Adamson and designer Stephen Burks that engages with designers, makers, critics, and curators as they reflect on their careers and creative processes. Against the backdrop of COVID-19 and global lockdowns, the conversations are held virtually on zoom for 1 hour for anyone in the world to tune in to, and include a participatory Q&A with the audience in attendance. Friedman Benda has since presented more than 90 episodes, each offering unparalleled insight into the sensibilities, musings, and memories of today's creative protagonists. See our recent feature of Misha Kahn on combining technology and handcraft and Chris Schanck on his otherworldly alufoil creations.
Design in Dialogue returns for a conversation with the Swedish designer-maker Mattias Sellden, whose work is featured in an ongoing exhibition at Friedman Benda in New York. Interviewed by co-hosts Glenn Adamson and Stephen Burks, Sellden shares an overview of his creative practice, with a focus on his sculptural furniture pieces of remarkably animated character. His polychromatic objects are made of different kinds of wood, intuitively arranged into compositions that maintain the planks' natural topology and features. Each composition results in a unique piece, whose form is developed in response to lengths of timber.
Watch the full video interview above, and learn more about the work of Mattias Sellden and his ongoing exhibition at Friedman Benda below.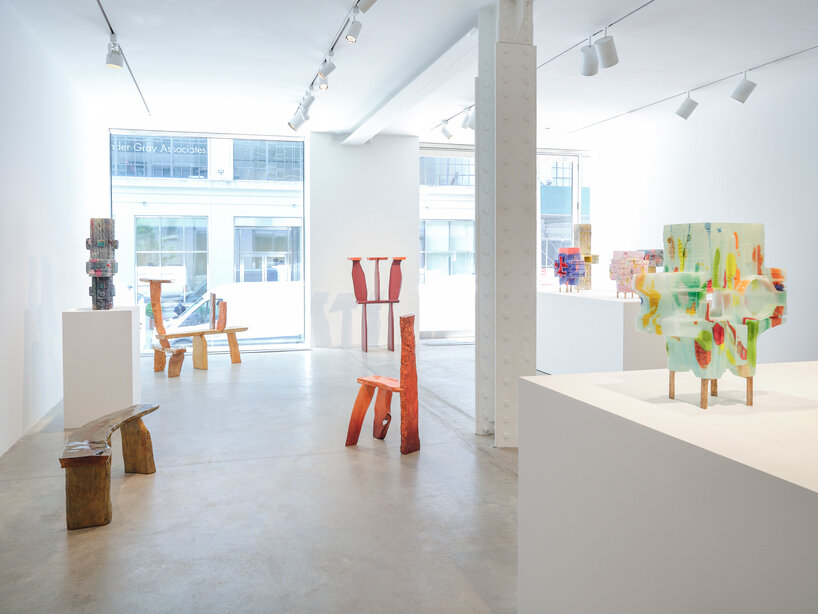 all images courtesy of Friedman Benda and Mattias Sellden, unless stated otherwise | all exhibition photography by Daniel Kukla, courtesy of Friedman Benda, Mattias Sellden, Thaddeus Wolfe
Mattias Sellden | Thaddeus Wolfe Exhibition at Friedman Benda
Until August 12, 2022, Friedman Benda presents a joint solo exhibition of work from artists Mattias Sellden and Thaddeus Wolfe at its New York gallery space. At the intersection of art, craft, and design, Sellden and Wolfe create one-of-a-kind, angular, geometric pieces that pair traditional process methods with radical, out-of-the-box approaches. Both artists elevate their chosen material by embracing its irregularities and emphasizing its features through an explorative and playful application of color. With no formal urgency to be pushed into any typological category, both artists' work presents an opportunity to renegotiate value systems in the field.
Mattias Sellden's materially-led, technique-driven and completely hands-on process transforms pieces of wood into intuitively arranged compositions, with each form fixed using relatively simple joinery. Applying variously opaque or transparent paints, instinctively guided by what feels right, the resulting, animistic sculptural furniture compositions are imbued with Sellden's humanizing sensibility. In producing the works for the exhibition, Sellden has increasingly leant into Andrea Branzi's neoprimitive style and his postulations about objecthood post electronic revolution as noted in his 1985 book, Domestic Animals. At once seemingly ancient and alien, Sellden's works can be found at the intersection of sculpture and furniture. Sellden himself states that he 'makes dysfunctional furniture that easily could be mistaken for sculpture. Or maybe it's the other way around? Very capable sculpture that could be confused with a coatrack if you were in a hurry.'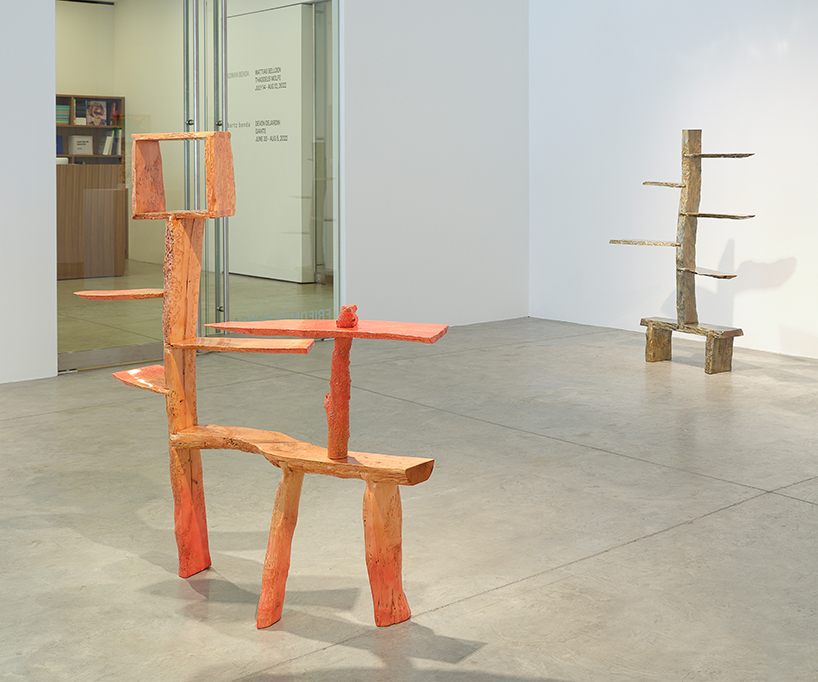 installation view of Mattias Sellden | Thaddeus Wolfe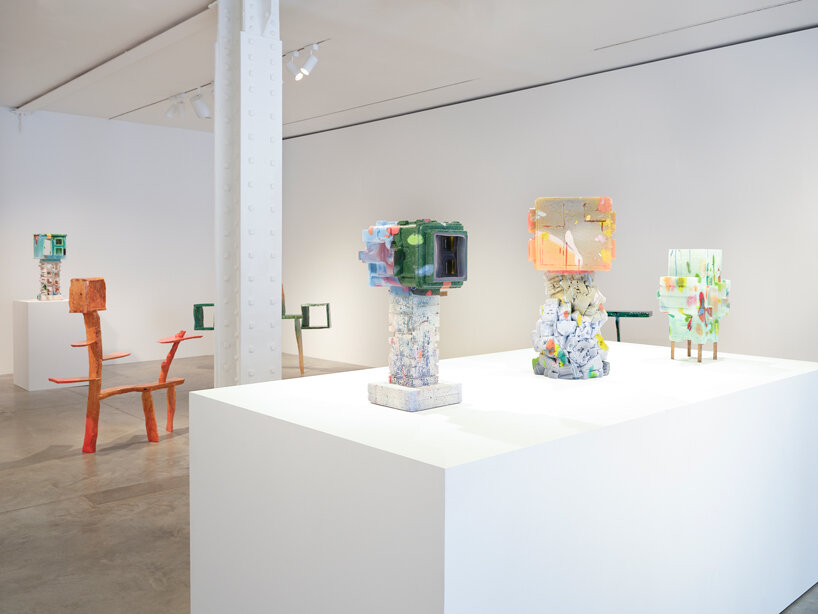 installation view