a new highway for los angeles
Michael Maltzan Architecture celebrates the completion of its 'Ribbon of Light' viaduct in Los Angeles, a work of infrastructure which aims to elevate the humble typology with its sinuous design. With work beginning in 2016 (see designboom's coverage here), the concrete and steel structure now stands as the replacement of a 1932-built 'Sixth Street Viaduct' which had over the years seen irrecoverable deterioration.
Ten pairs of arches fluidly rise and fall alongside the 3,500-foot long tied-arch bridge, each tied with a diagonal web of tensioned cables. The tallest pair of arches rises 60 feet over California's LA River, the same place where those of the original bridge were located. In this way, the design team pays homage to the history of the site while reviving it through a contemporary lens captured in this photographic series by Iwan Baan.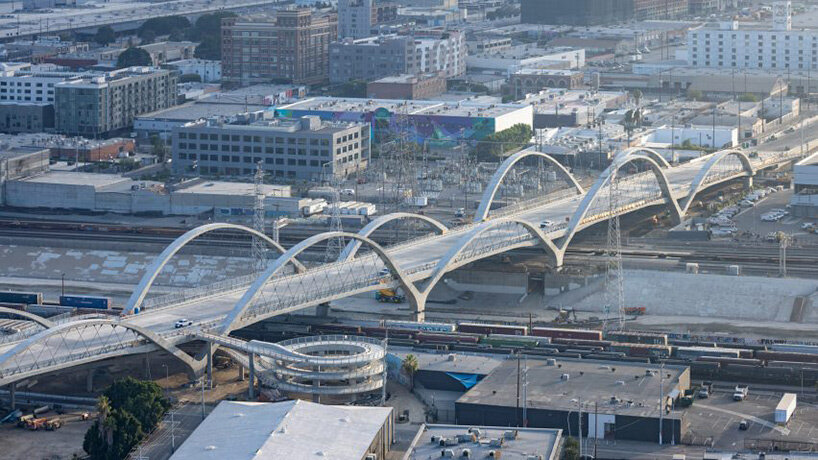 image © Iwan Baan | @iwanbaan
the dancing arches along the 'ribbon of light' viaduct
LA-based Michael Maltzan Architecture instills its Los Angeles viaduct with a dynamic fluidity, not only through its irregularly-proportioned arches, but through their tilted angles which appear to embrace the deck. The architects achieved this effect by working closely with engineers of record HNTB, elegantly blending function and form. The resulting architecture suggests a dancing ribbon which, when lit up at night, fulfills its title as the Ribbon of Light.
The viaduct connects the city's Downtown area and Arts District with the Boyle Heights neighborhood. Beneath the newly completed bridge, a new 12-acre public park designed by Hargreaves Jones Associates will ensure that no space is wasted.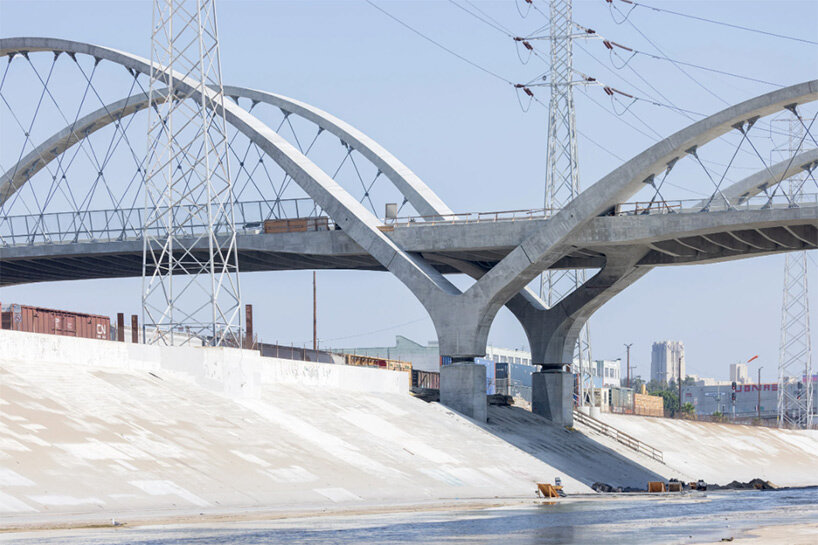 image © Iwan Baan
michael maltzan's future-oriented infrastructure
While the city of Los Angeles is often identified by its complex and overwhelming highway systems, Michael Maltzan Architecture's completed viaduct marks an important nexus. The project spans not just the river, but the six-lane I-101 freeway, and eighteen rail tracks.
Meanwhile, the Ribbon of Light is open to cars, pedestrians, and bicycles alike — unlike the original roadway which was reserved for cars only. In this sense, the viaduct is future oriented. With its broadened size at 100 feet across, the road integrates protected outer lanes on either side designated for pedestrians, along with separate lanes protected for cyclists.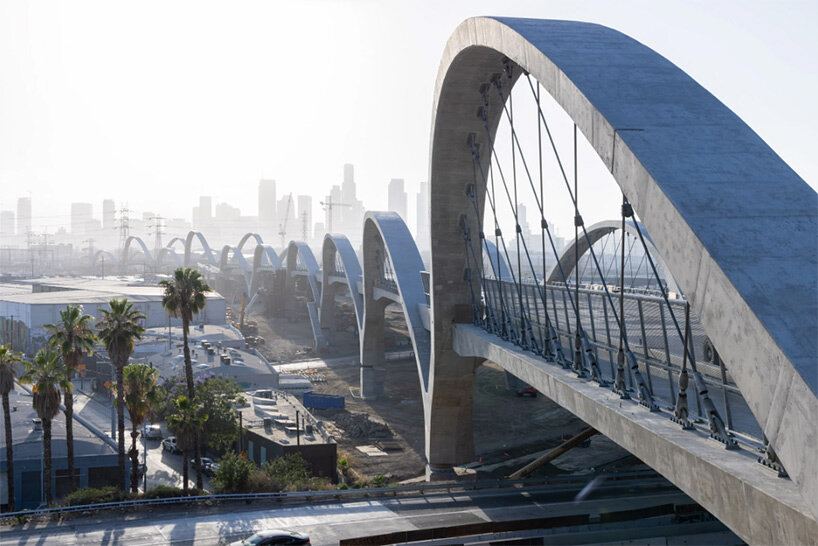 image © Iwan Baan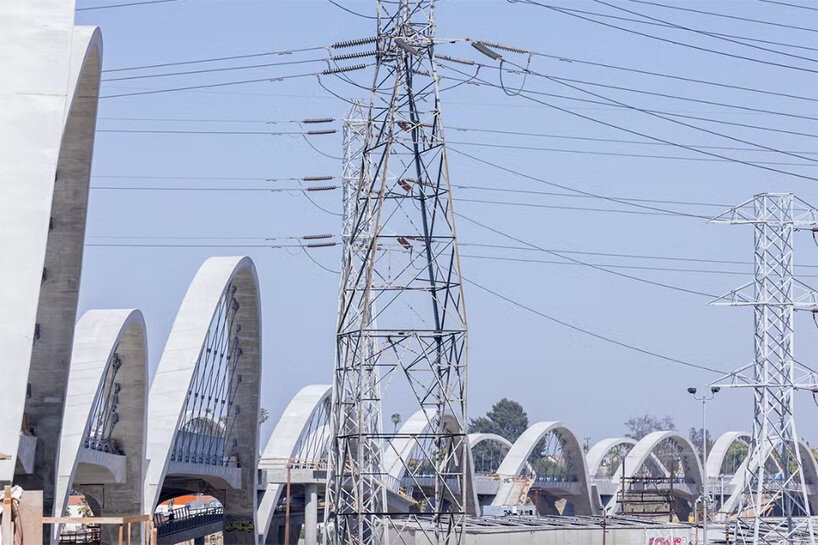 image © Iwan Baan