'Murakoshi House' by S Design farm is a peculiar sight in tokyo
'Murakoshi House' by S Design Farm is a peculiar, three-story residence built on a pentagon-shaped site in a busy neighborhood of Tokyo. Displaying windowless facades, the monolithic volume is wrapped in metal panels supported by a concrete foundation.
This somewhat futuristic design responds to several site conditions. The first one is privacy; as the house sits in a crowded district, surrounded by people, cars, and buildings, the owners preferred limiting the windows to the outer walls mostly and setting up a large opening in the exterior atrium that leads to the courtyard on the first floor.
Light and wind come next in line; to counteract the 'heaviness' of the windowless facades, the architects have carved out a planar and cross-sectional 'hole' at the ground floor level to deliver plenty of light and ventilation inwards while securing a flow of people and cars coming in and out of the house. Beyond serving as a garage/house entrance, this street opening can eventually serve as a public/gathering point.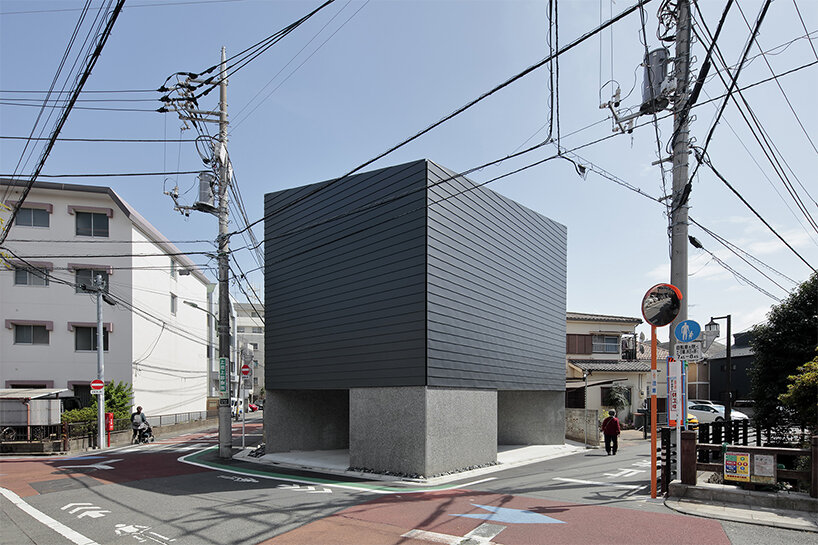 all images © Koichi Torimura
working around restrictions 
Third, the team at S Design Farm had to adapt their design to local regulations and site restrictions. For example, to maximize the building coverage ratio, the architects opted for a cross-sectional configuration on the second and third floors with a pentagonal plan matching the shape of the site — all while considering height restrictions, fire prevention regulations, and structural planning. Furthermore, given the risks of floods in the city, a high foundation was set up on the first floor to minimize water damage should a severe storm occur.
Finally, considering running costs and environmental impact, the 'Murakoshi House' is fitted with high-performing insulation, thus reducing the need for heating to an impressive level.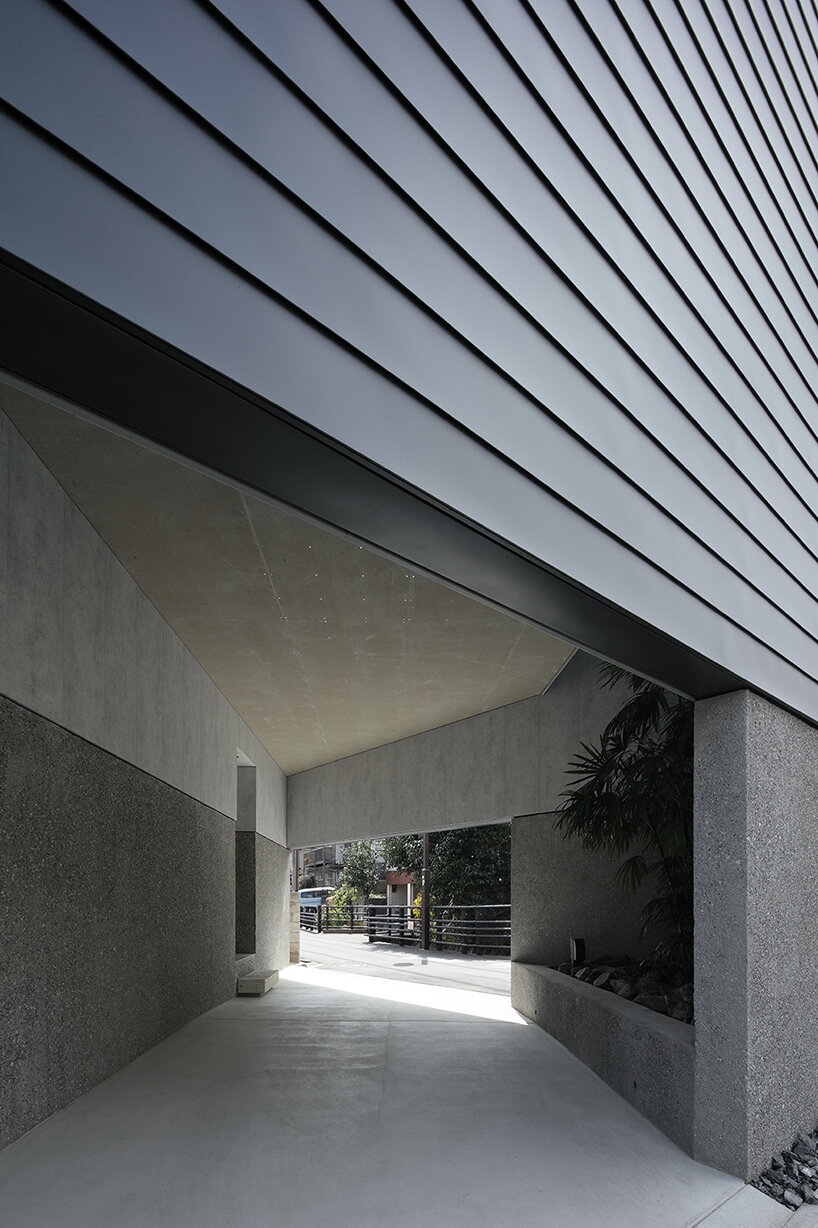 the entrance space enables a flow of light, air, people, and cars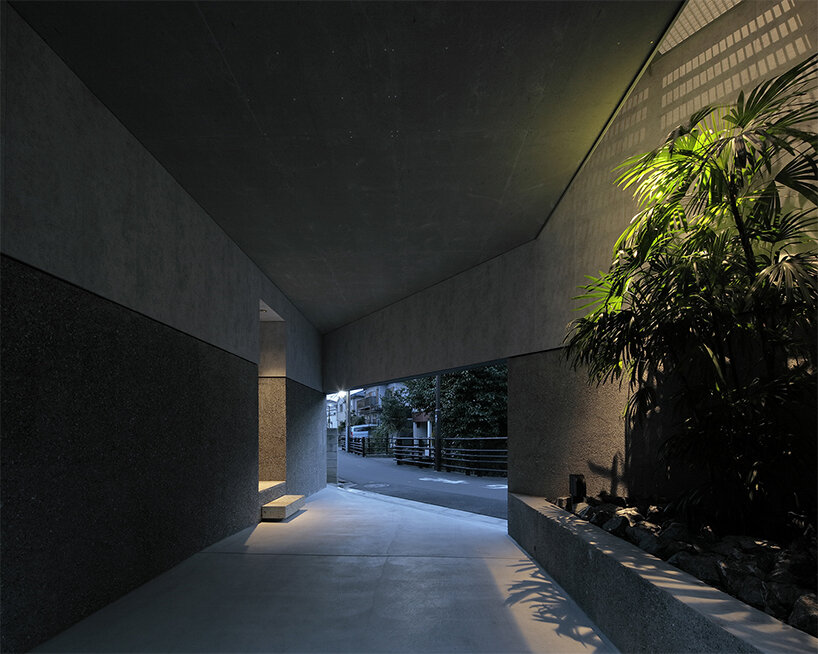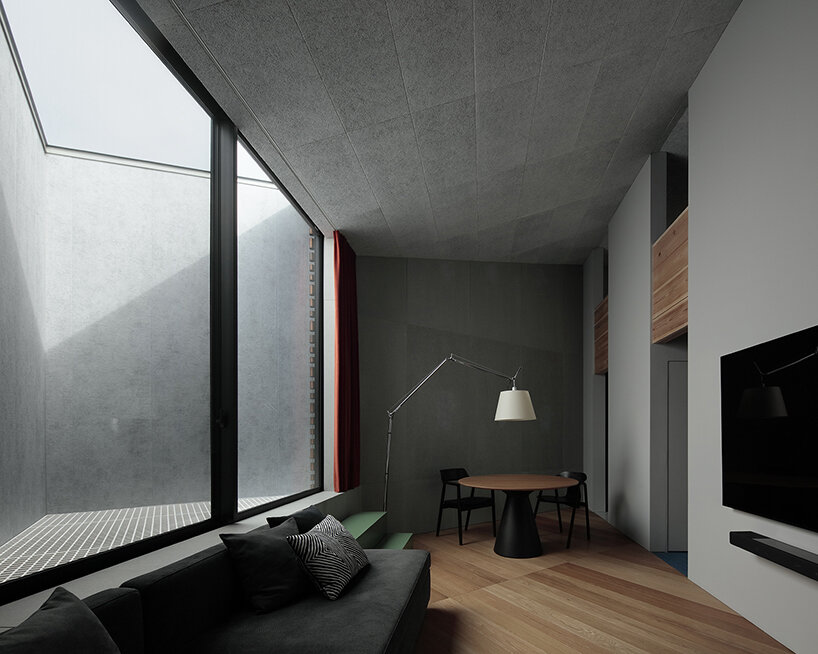 trapezoidal living and dining room, inducing a visual sense of spaciousness and depth.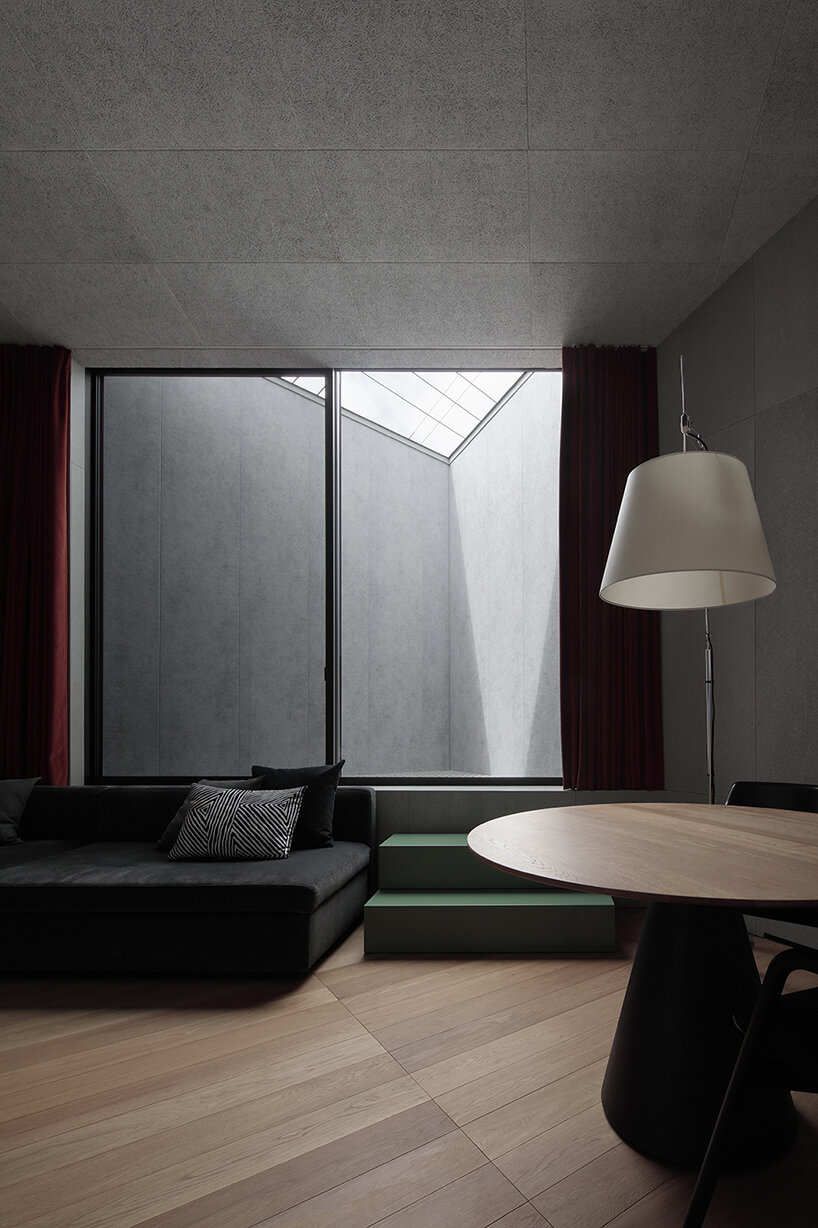 a skylight in the exterior atrium helps balance between privacy and need for ventilation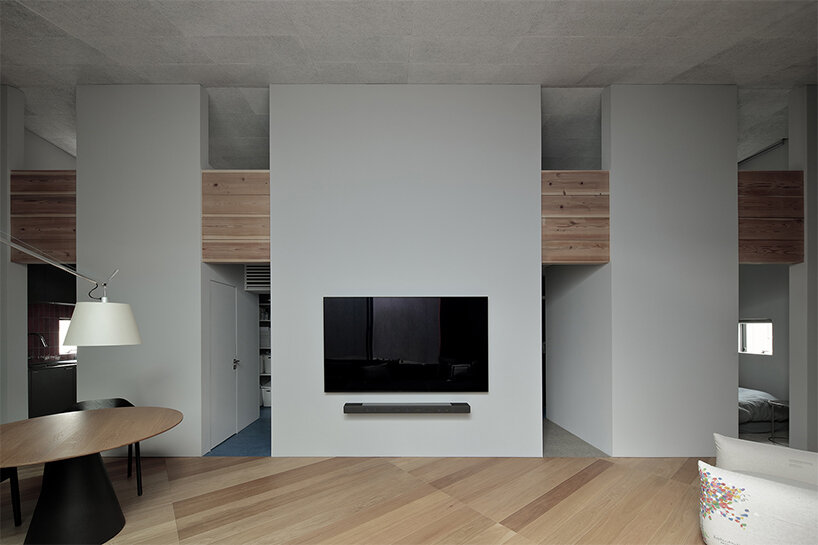 unlike the cold-colored exterior, the interior spaces are punctuated by wooden accents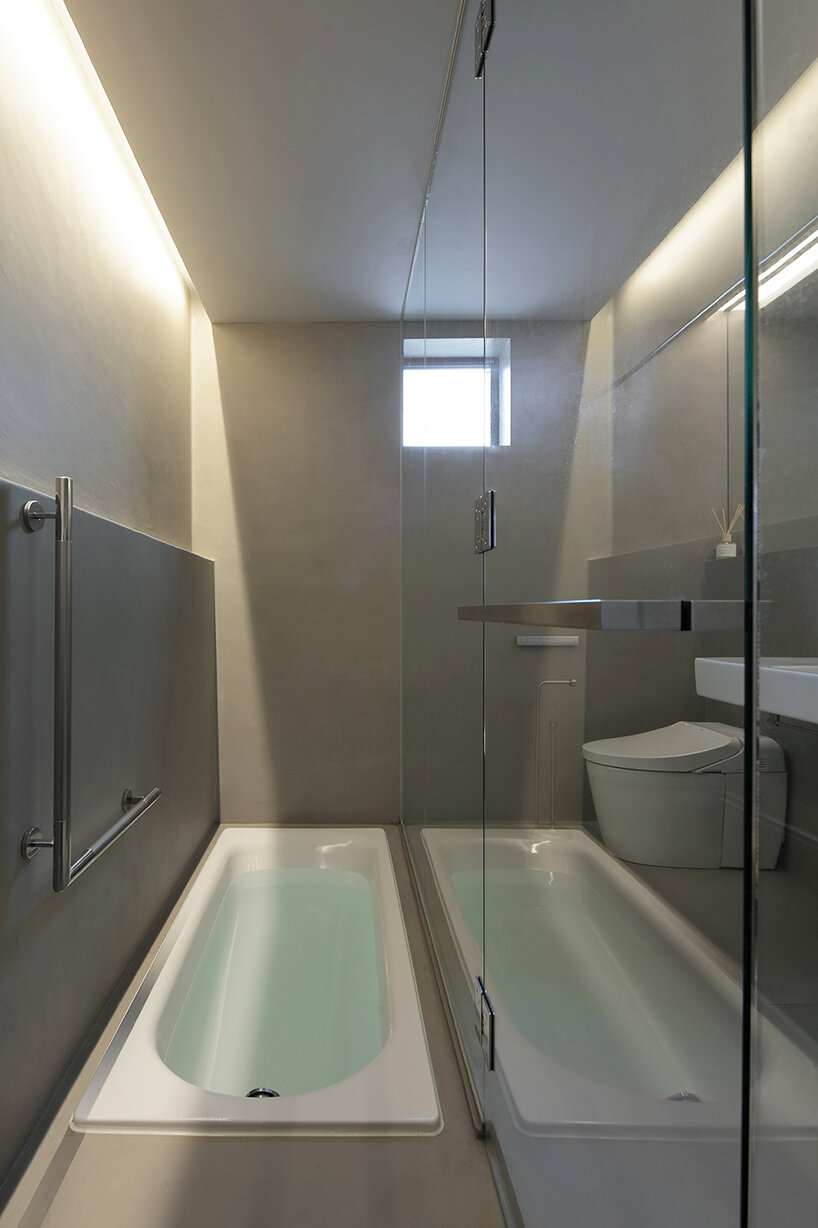 working around restrictions — bathroom 
project info:
name: Murakoshi House 
location: Ota Ward, Tokyo, Japan
land area: 73.92 sqm 
built area: 51.08 sqm
total floor area: 122.36 sqm
completion date: December 2021
design timeline: November 2020 – April 2021
construction timeline: May 2021 – December 2021
architecture: S Design Farm
lead team: Yuki Watanabe, Ken Shikauchi
structural design and panning: Tetsuya Tanaka 
performance calculation: Kizuki Takehiko Koizumi
construction: Enaka Construction / Eiichi Ikeda (site supervisor), Kentaro Ito (estimator)
carpentry: Koten Takei, Daichi Shirai
electrical equipment: Noriyoshi Ohno, Yamazaki Sangyo, Satoshi Iyano, Iyano Denko
water supply: Hiroki Takamoto, Nikka Equipment Industry Co., Ltd., Hideki Nakata, Eikei Equipment Co., Ltd.
gas equipment: Kando Kozo Takeda
air-conditioning gas equipment: Kenta Kubo, Capty Co., Ltd.
sheet metal: Best Work Masaru Mizushima
plastering and tiling: Morita Kogyo / Takeo Morita
wooden fittings: Nagai Kenzo Co., Ltd / Koji Nagai
metal fittings: Yasuyuki Hatori, Jonan Kenzo Co., Ltd.
kitchen: Kitchenhouse Yoshiaki Wada
furniture production: Taichi Sawazaki, Gamma Co., Ltd.
furniture coordination: Cassina IXC., arflex
planting: SOLSO HOME / Akari Nishizawa
photography: Koichi Torimura