the new sveltia quarters by eeg exude clean + simple aesthetics
Photographer Gonzalo Viramonte takes us on tour inside the new offices and logistics center of Sveltia, a medical product company based in Argentina. The working hub, completed by EEG Arquitectos, is a two-story building in Cordóba, spanning 637 sqm, with a clear and sober design accentuated by plenty of natural light pouring in.
The main entrance to the new office quarters stands as a double-height glass box, with a green doorway that projects its vibrant tone across the glazed structure. Complementing the glass box on the ground floor are common rooms, bathrooms, a dining room, a meeting room, a commercial area, and a double-height open floor plan with its own entrance.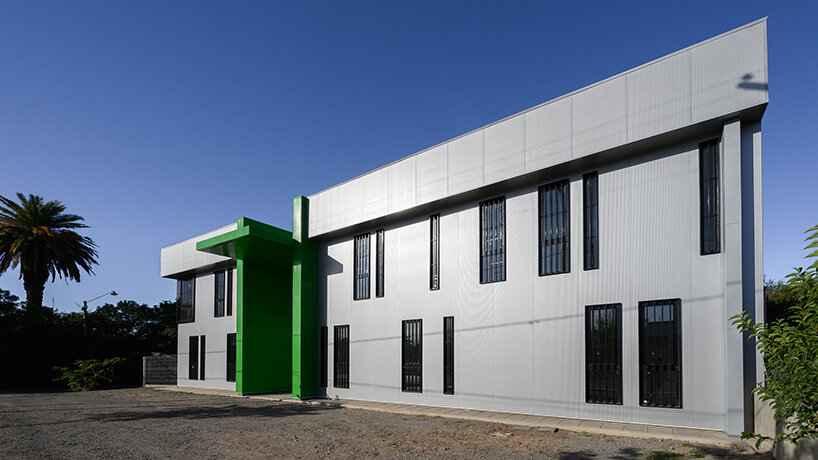 all images © Gonzalo Viramonte
Meanwhile, the team at EEG located the human resources, administration, and management areas on the first floor, where a combination of translucent and opaque glass panes with dividing acoustic Durlock partitions creates a more corporate feel that responds to each sector's functional needs and privacy.
Structure-wise, the foundation of the new Sveltia offices is entirely metallic, featuring various columns and beams that make way for great lighting without needing extra support. This facilitates internal distribution while maintaining construction quality and structural safety.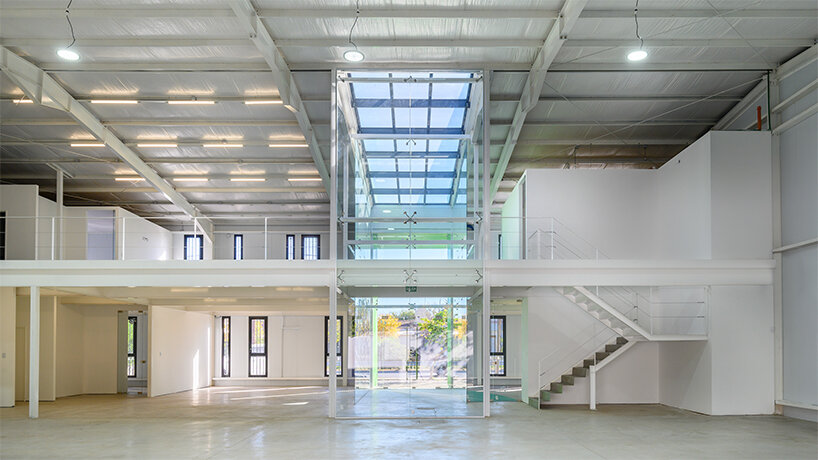 a clean and sober interior design
promoting energy-saving performance 
As for the facades, the architects used concrete blocks for the south front, and polyurethane cored metallic panels for all three others. Such a combination translates into excellent thermal and acoustic insulation, fire resistance, low maintenance, and extended durability.
On the other hand, openings are strategically oriented to capture the most sunlight and optimize ventilation. Each one is composed of an aluminum framework with hermetic double-glazed panes that help regulate indoor temperature, thus considerably reducing air conditioning costs.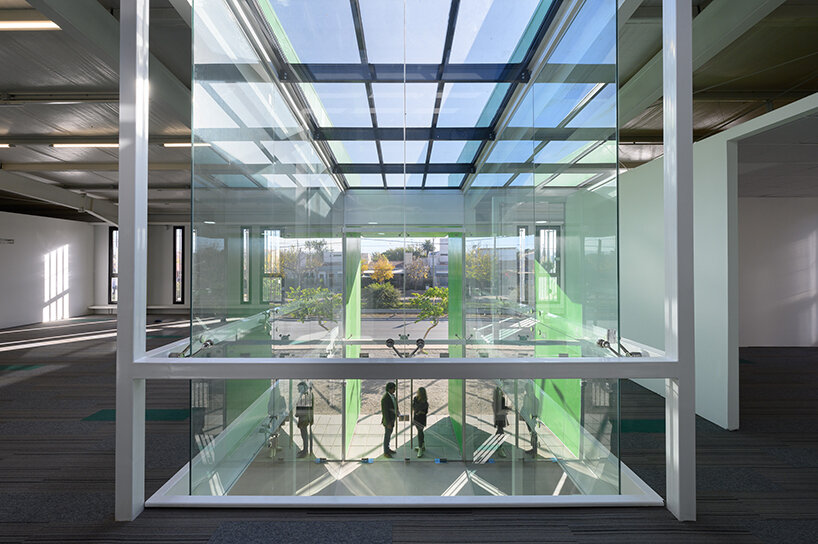 the main entrance is a double-height glass box with a bright green doorway 
To create the lighting scheme, EEG resorted solely to LED technology, an ideal choice for low-heat emission, brighter and sharper lighting, longer lifespan, and saving energy. Indoor conditioning will be powered by a last-gen individual inverter AC, which allows for regulating frequency and electrical cycle. Finally, a double installment will be set up for gray water collection, storage, and reuse for irrigation.