labri house: a sheltered garden home
Nguyen Khai Architects & Associates constructs a garden home called 'Labri' for a retiring couple in Huế City, Vietnam. The breezy space occupies the edge of a pond overgrown with algae and lily pads, with serene views opening up through lush vegetation along the waterfront. While the area is otherwise characterized by its dense residential fabric, the new architecture aims to offer a peaceful retreat for the couple, emphasizing quiet nature over bustling urban life.
The Labri house takes its name from the French l'abri, which describes a secret shelter. The design team harnesses the spirit of this name to craft a home with a facade of glass to suggest a hidden greenhouse taken over by nature and lost among its surroundings.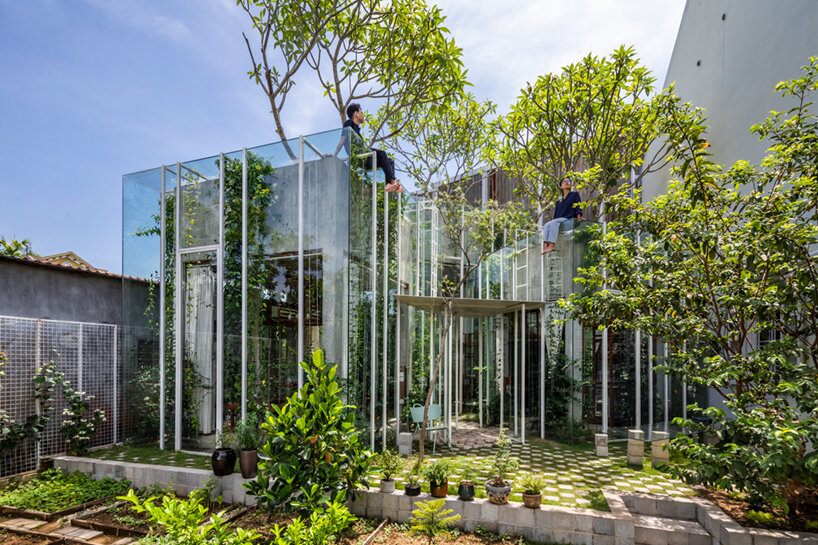 images © hiroyuki oki
a living greenhouse facade
Building its Labri House, the design team at Nguyen Khai Architects & Associates suggests a hidden space which has been lost to time. The structure appears to have been discovered 'randomly growing up as naturally as the tree coming out of the ground.'
The house takes shape as a cluster of four boxes, each enclosed by three layers comprising concrete, vines, and glass, with flowering frangipani trees growing atop their green roofs. This assemblage creates a facade which acts as a greenhouse, the vines enclosed in glass and open to the sunlight. The team notes that this living shelter invites a new ecosystem of birds and butterflies, while the vines filter the sun and freshen the air.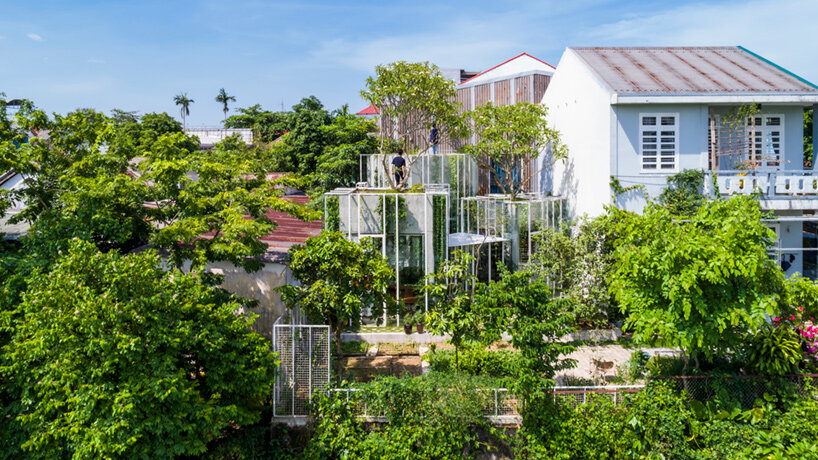 four transparent boxes blend together
The four glass boxes which make up Nguyen Khai architects' Labri house are oriented at seemingly random angles. Each angle is informed by pre-existing elements on-site including small trees and neighboring buildings. The volumes each rise to a different height, so that 'taking a walk on the top of the house is like walking through the rolling mountain range.' With this reference to a mountain range, the architects describe the interior spaces of the home as four caves, cool and safe, and full of natural sunlight and breezes.
The boxes are organized by program, with a living and dining block, kitchen block, bathroom block, and sleeping block. While built as distinct volumes, occupants can gaze through each transparent box into the other so that every space is visually connected — this includes the courtyards and rooftops with their lush frangipani trees. Thus, the interiors blend together and exterior boundaries become ambiguous. The team comments that residents can 'watch the moon and stars in bed at night, or raindrops slip on the glass on rainy days.'