Transporting goods with 'ouca' cargo bikes
Versatility and flexibility reflect the design of Ouca's heavy-duty cargo bikes which can transport goods up to 180 kilos and can even ride three or four children in its spacious carrying pod. Designed and manufactured in Finland, the company's pledge to install supreme performance and ease of use to its cargo bike design stems from the harsh conditions of northern Finland people may experience. Coupled with their observations that other residents weather the same extreme weather – making their deliveries and goods transport extra challenging – Ouca steps in to offer its scooter-like, robust, and ecological solution for carrying goods, people, and tools, built from the ground up and long-lasting quality in mind. Whatever riders want to transport, Ouca assures them they can get their products and objects safely and securely to their destination.
Ouca may be classified as a bicycle (or an electric scooter from its design), but the company sets up an automatic transmission into their bikes paired with a powerful motor unit from Revonte. As the company puts it, the e-motor is custom-built for the bicycle's robust body and cargo bay, a feature that allows it to maximize its carrying capacity. Through this element, there is no need to change gears or worry about the steep incline that presents itself on the rider's route. The motor and gearbox rev to get the hard work done for the rider. Ouca also shares that in case the rider takes a wrong turn or ends up in an alleyway, there is a reverse gear that helps them get on track.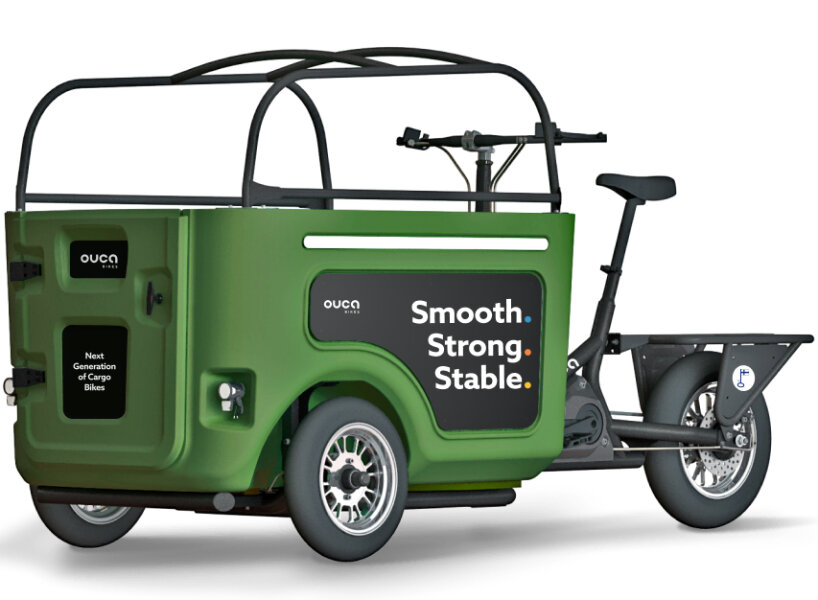 images courtesy of Ouca Bikes
'ouca' cargo bikes come with transmission and motor
Since the harsh weather conditions take the spotlight during the conception phase, the resulting strong frame and cargo pod are designed to withstand the best and the worst conditions and roads. Depending on the model and options the rider chooses, Ouca can carry up to 255 kilos in addition to the driver. If the rider needs more space, say for eight children, the company says they also have models that can provide such a setting. The features that mark Ouca cargo bikes also include its low center of gravity, wide track, and long wheelbase, the company's recipe for stability, security, and smoothness in riding.
Every Ouca comes with the same standard features which are the wide all-season tires, automatic transmission, and powerful motor. Every model can also be fitted with an additional battery for extra range and with a rear rack for extra carrying capacity. 'We have also designed dedicated areas for stickers, so you can easily brand it your own or customize the look,' says Ouca. The company also offers a cargo lid for delivery and parcel riders to protect the goods in the pod. The cargo bay lid provides 300 liters of additional space to increase the sheltered capacity to 870 liters. Both the lid and the front door are lockable, so the rider can leave the bike unattended for a moment if needed. With the optional rear rack, they can also increase the capacity up to 75 kilos with a container of their choosing.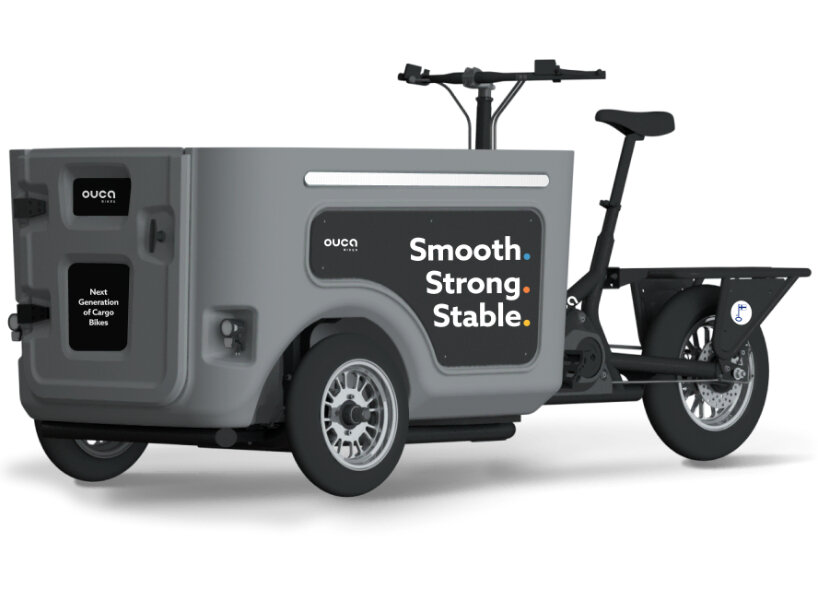 cargo bikes 'Ouca' can transport goods up to 180 kilos and double as a kiddie bus
cargo kiddiebus from ouca
The use of Ouca's cargo bikes tests the limits of the rider's imagination. If a co-worker or children want to tag along or be transported – standing or sitting in front of the rider as if they were o a roller coaster ride – Ouca offers seats with a configuration for one adult and three or four children, so the bike can be used as a resort bicycle to provide anyone – including tourists – a way to see the road sights and landscapes in a fun way. Another variation called Ouca Kiddiebus is designed especially with daycare and pre-schools in mind as this model can carry eight children in safety and comfort through the hooded, open frame that locks them in during the ride.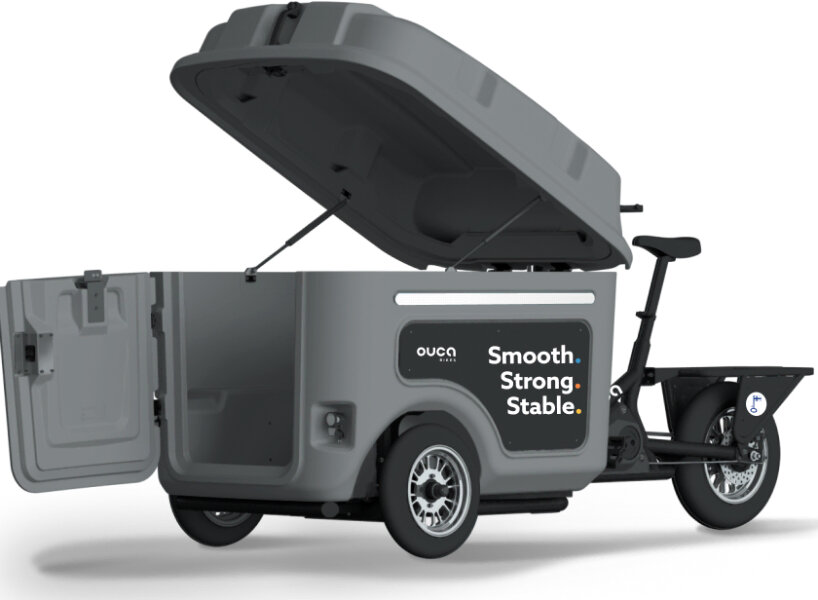 the lid of the Ouca cargo bikes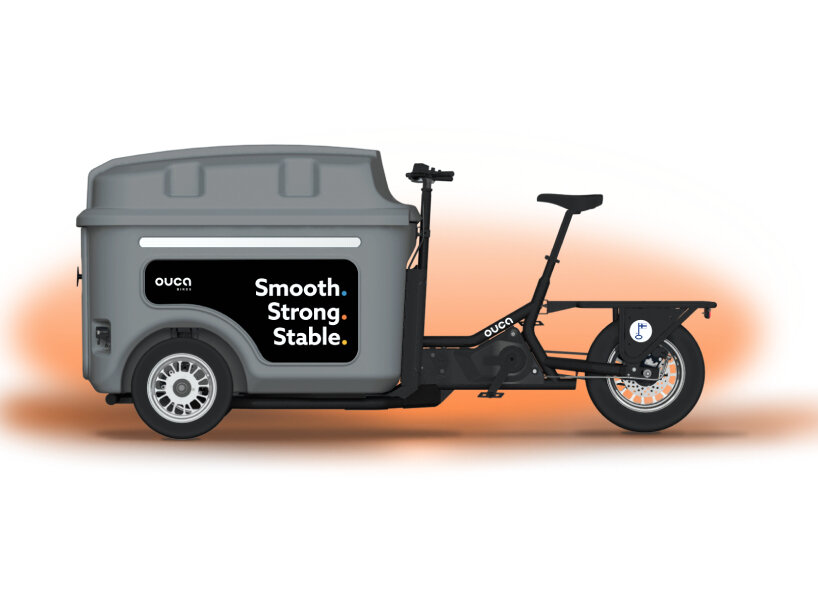 the company believes its products are smooth, strong, and stable