'Pingli No.3 Kindergarten' by dika design 
Completed by dika design, 'Pingli No.3 Kindergarten' is a colorful school campus located in the Chinese province of Shaanxi. Pingli County Education Bureau commissioned the practice to build the kindergarten, with an aim to push forward basic education, convey multi-dimensional concepts and methods, and revitalize scattered communities through better learning environments and opportunities.
The resulting architecture spans 4,041 square meters, combining the shape of the 'Mobius Loop' with the infinity symbol to evoke the concept of 'from zero to one, one is infinity.' The first half of the loop sits at higher levels, hosting a green rooftop playground, while the second half is built around ground level with a gentle sloping motion.
'Between the flow of light and shadow, we leveraged the powers of art, design thinking, and innovation to create a campus life with infinite possibilities, where spontaneous curiosity and a desire to explore are constantly bred in the children's hearts,' comments dika design.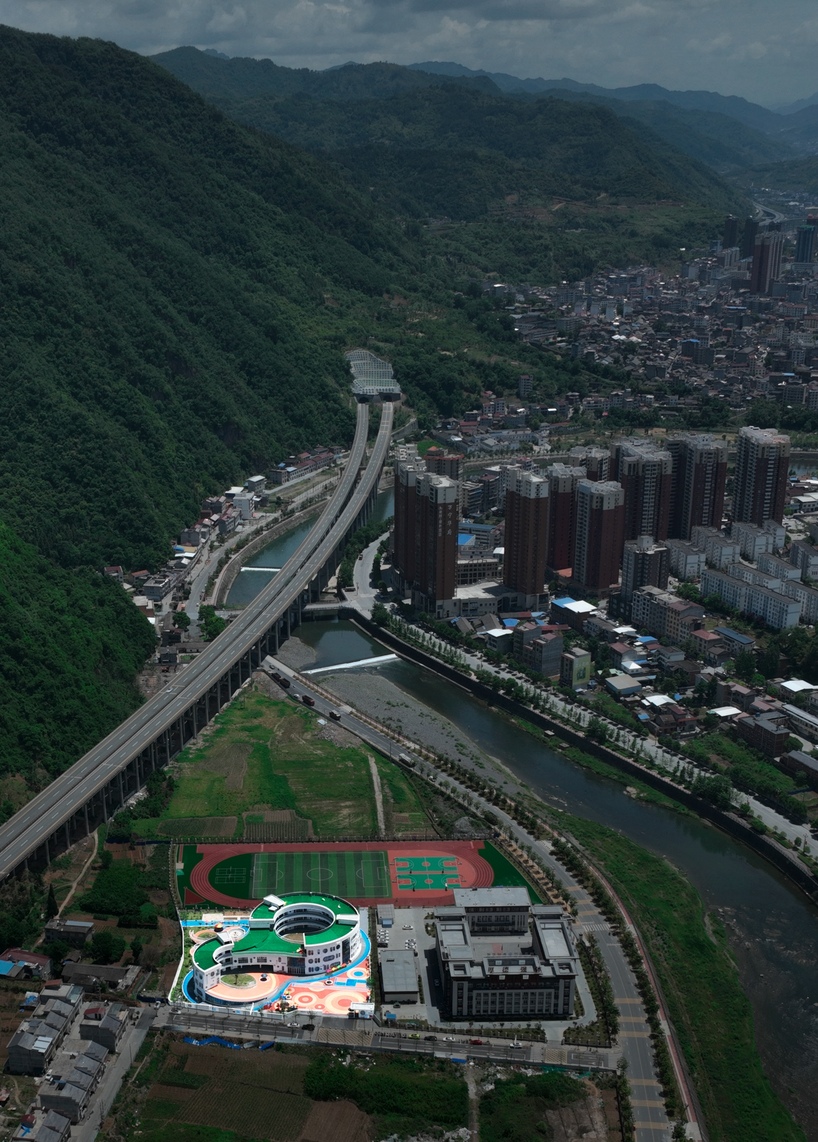 all images © Leon
recreating the infinity symbol with a multi-leveled design
The exterior of 'Pingli No.3 Kindergarten' reveals a dynamic, streamlined, and multi-leveled design. Specifically, the layout takes the shape of a playful landscape, bursting with colors and game corners of different scales and heights, creating versatile hubs for after-school activities. 'The height differences also generate a three-dimensional order through rhythmic falls, guiding students through the space while embellishing the site,' writes dika design (see more here).
More importantly, the main looping structure gives way to an 'infinite' circulation experience that offers children the freedom of running around as they please. From the southwest to the northeast, the continuous ring corridor even joins the seemingly independent functional spaces into a coherent system.
Meanwhile, the inner building circles evoke the childlike instinct for physical rhythm and contact. Highlighting a sense of movement and intimate guidance, they offer an evolving spatial experience and diverse lines of sights.