SM House by Rakta Studio
Indonesian architecture firm Rakta Studio has recently unveiled their new development SM House, a modern tropical dwelling perched on an idyllic lakeside in West Java, Indonesia. A sophisticated sanctuary by the lake, SM House is composed of luxury materials, finishes and accent lighting to exude a sophisticated, yet warm ambience. With a rear elevation defined almost entirely by expansive glass panels and a protruding infinity pool, inhabitants of SM House are offered uninterrupted panoramic views of the tranquil Indonesian landscape.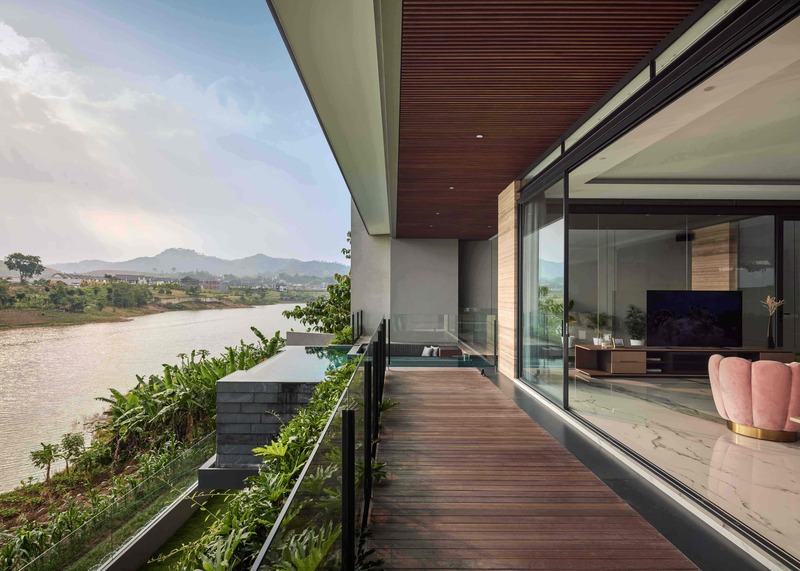 all images courtesy of Rakta Studio
A sanctuary by the lake
Located in the quiet, lakeside residential area Kota Baru Parahyangan, the front street facing elevation ensures privacy for the house's residents. Rakta Studio defines the façade with a floating off-white box, tilted timber planes and travertine stone finishes, illuminated by the warm glow of narrow, recessed lighting. Overlooking the lake and distant rolling green hills, the rear elevation is composed of expansive glass panels, allowing inhabitants to seep in panoramic views of the picturesque natural landscape.
Around the centre of SM House, the Bandung-based studio places a semi-outdoor inner court garden and foyer – a typical architectural feature of tropical homes. With a timber deck connecting it to the inner living area, travertine stone walls, and a green garden, the inner court is partially enclosed. Its central location creates optimal air circulation for the adjacent open plan living room and ensures plenty natural lighting seeps in. Rounding the corner of the foyer and garden, an infinity pool with an attached sunken lounge area slightly juts out from the volume and overlooks the lake and hills ahead. These semi outdoor spaces, spaces for the inhabitants to unwind and relax as they take in the views, are partially covered with a pergola timber ceiling.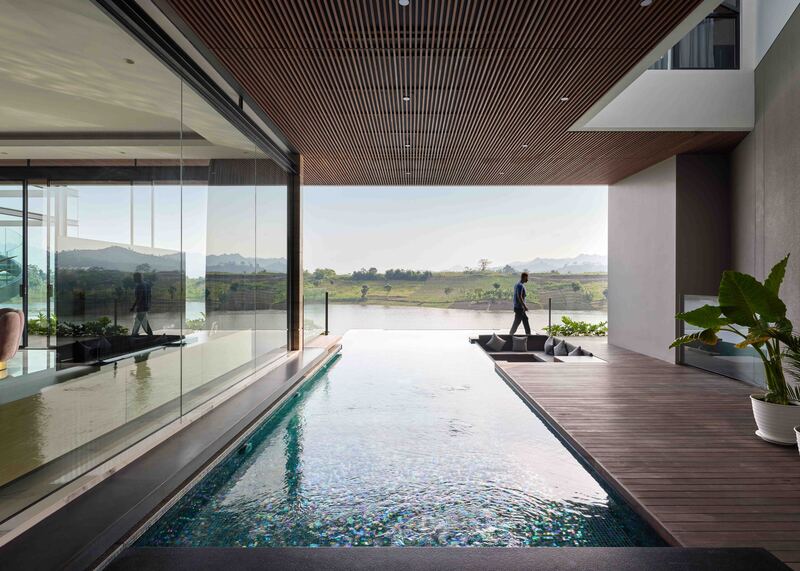 the overhanging infinity pool offers serene views of the Indonesian landscape
A modern tropical dwelling in Indonesia
Utilizing luxury materials, finishes and accent lighting, Rakta Studio's SM House exudes a sophisticated and warm ambience, embedded into the soothing, natural atmosphere of the site in which it sits. Upon entering the space through the ground floor foyer, on one side is a guest bedroom, while on the other side is a large, open plan living area. The architects devise a fluid spatiality which connects the living room, dining area and pantry area together in a large, illuminated space. LED lights arranged in a starlight pattern line the living room ceiling, while a statement spiral staircase winds to connect the ground floor and first floor. Delicate and elegant, the main structure of the staircase is made of steel while double laminated glass is used for the steps. Indirect LED accent lights illuminate the steps with a modern and somewhat futuristic glow, establishing the sculptural staircase as a focal element in the living room.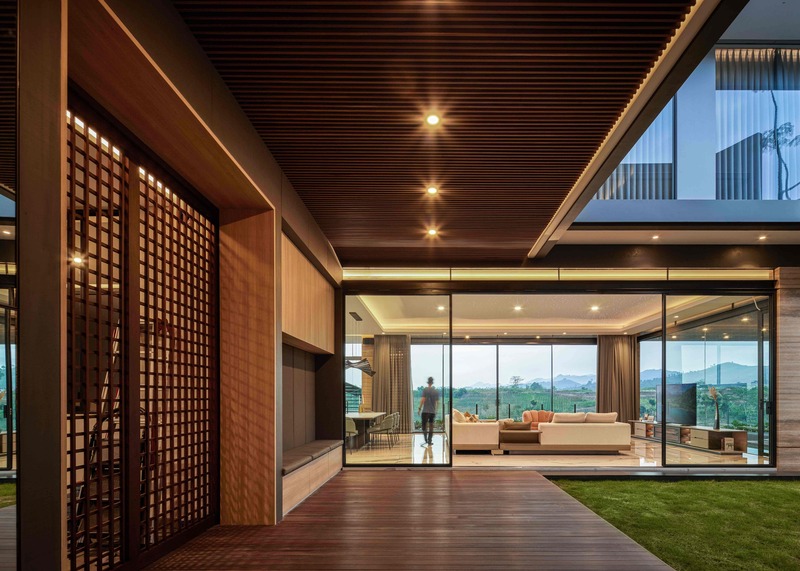 inner court foyer provides air circulation and natural lighting for the home