rcr arquitectes reveals resort villa in portugal
RCR Arquitectes' new luxury villa at the Palmares Ocean Living & Golf Resort in Portugal integrates harmoniously with the tones and textures of the encompassing natural landscape of the western Algarve. The residence is part of the resort's masterplan, including various apartments and villas, five-star hotels, and a variety of sports, leisure and wellness facilities, all designed by the Catalan studio. This new red concrete show home embraces its context and mirrors the hues and textures of the encompassing coastal shoreline, topography and vegetation. Fostering a relaxed living ambience rooted in nature, the architects equip the villa with a private pool, and spectacular sea and nature views. The minimalist interior, filled with plenty natural tones, textures, and light, along with the elevation, strikes 'the perfect balance between exceptional architecture and interior design inspired by the natural environment in which it is situated.'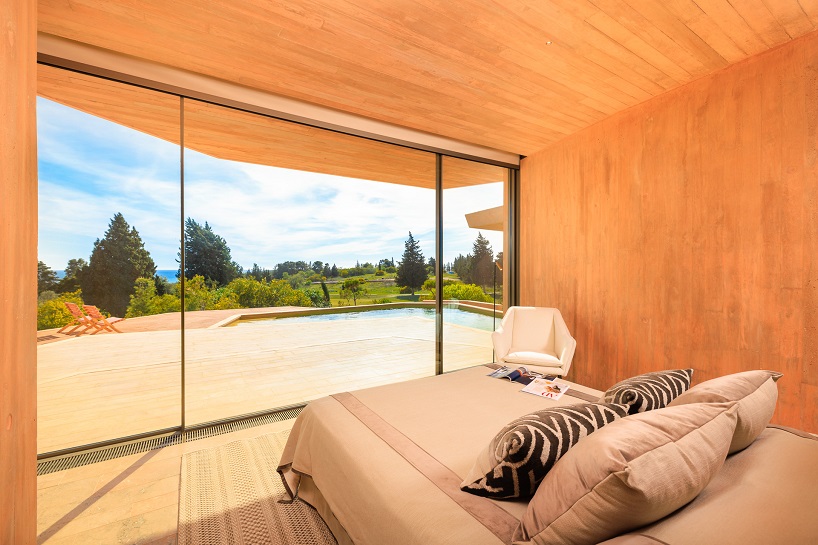 all images courtesy of the author
the villa echoes the hues and textures of the algarve
Teaming up with Kronos Homes, owner and operator of the Palmares Ocean Living & Golf Resort, the Pritzker Prize winning architects conceived their design with environmental integration and sustainability at the forefront. Drawing on the colors and textures of the surrounding environment, the villa translates and echoes the Algarve's natural landscape. Taking into consideration the specific nature of the site for each development, RCR Arquitectes harmonizes both the structures and their interiors with the outdoors, offering a naturally immersive living experience for residents through the villa's tones, materials, and vistas.
The facade of the new villa reflects the sandy shoreline which it overlooks, and the orange and brown hues from the topography and shades of green from the encompassing vegetation. An angular configuration of red pigmented concrete planes forms the villa's walls and roof, which retain an organic feel. The overhanging concrete roof is supported by multifaceted columns, jutting over a glazed facade that offers panoramic views of the idyllic Algarve coastline.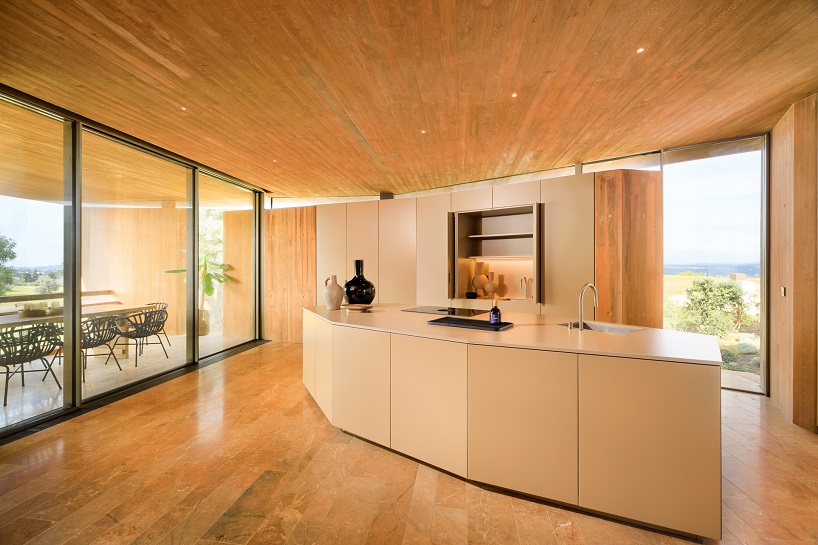 RCR Arquitectes' villa boasts a minimalist interior filled with natural tones, textures and light
an infusion of natural tones and textures
RCR Arquitectes' resort structures are positioned conveniently in a natural amphitheatre overlooking the estuary of Alvor. This four-bedroom, turnkey villa houses its own private pool, which runs through and divides the program, and offers spectacular sea views. Inside, a sense of relaxation flows throughout the home. Styled by an established Iberian interior designer, the villa boasts a minimalist interior infused with natural tones, textures and light, featuring a blend of older, reclaimed furnishings and new pieces, all chosen for the grace of their design.
The bedrooms, bright and elegant, feature a varied mix of textures, with linens, velvets, cushions and plaids all playing a role, along with the upholstered bases of the beds. The light and natural tones are reflected in all details, from the wall surfaces, down to the light rug that perfectly finishes the space and draws everything together. Each bedroom features a seating element, be it an armchair, chaise lounge or bench at the foot of the bed, accompanied by a floor lamp to create a relaxing reading corner. Specially curated ornamental touches such as black vases, books, candles and sculptures provide contrast and enliven the space with a unique character. Pillars topped by sculptures and vases frame the spectacular views of the surrounding greenery and coastline from the villa's windows. Leaving the walls unadorned and in a minimalist expression, paintings rest on the floor, furthering the sense of harmony between the villa's striking architecture and its sophisticated interior.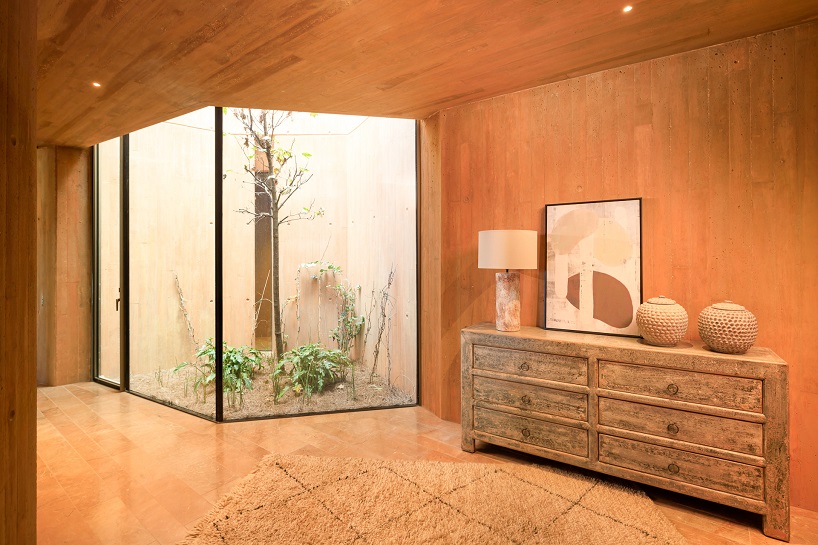 a blend of older, reclaimed furnishings and new pieces, are chosen for their graceful designs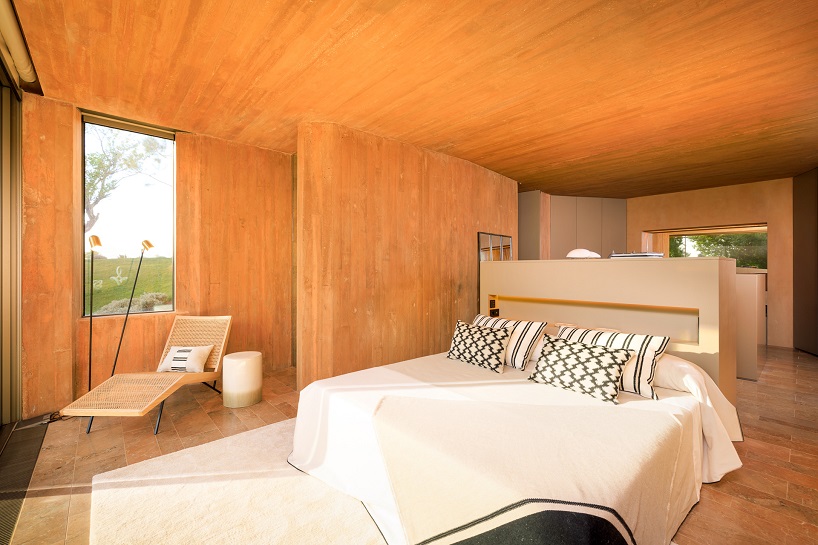 each bedroom features a seating element and a floor lamp to create a relaxing reading corner