six hectares of land reclaimed from the mediterranean
Italian architect Renzo Piano takes to the Mediterranean shores of Monaco with his latest residential development, 'Le Renzo.' The sweeping coastal principality along the French Riviera has long been renowned for its glimmering and legendary decadence. Being nearly half the size of New York's Central Park, this exclusive appeal has led to a land scarcity that has resulted in the area's unique relationship with the sea. 
So far, nearly twenty percent of Monaco's existing land area is artificial. It has long been expanding into the Mediterranean with first efforts beginning as far back as 1865. The most recent expansion has been underway for over a decade under the watchful eye of Prince Albert II, and has so far led to the construction of the Odeon Tower, Monaco's tallest building with forty-nine floors (see designboom's previous coverage here).
The latest expansion effort will see the reclamation of six-hectares of land from the sea, an area to be called 'Mareterra.' Renzo Piano has been called to design the building dubbed 'Le Renzo' on this new site to 'celebrate the spirit of the Mediterranean.'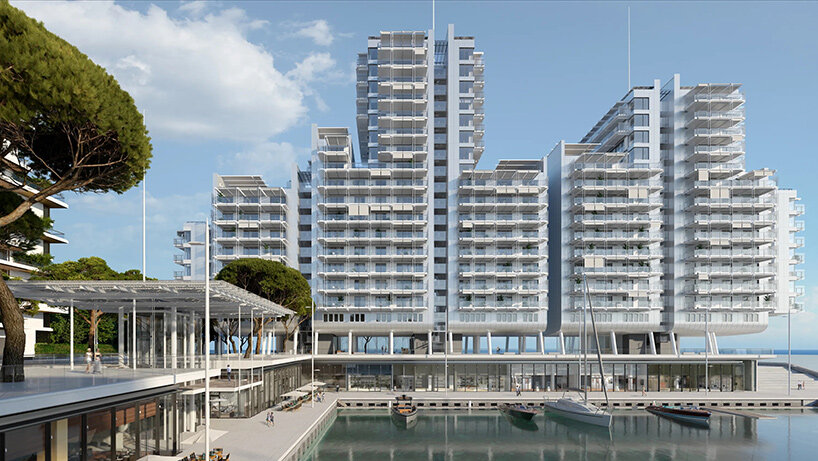 images 
'le renzo' tower on monaco's mareterra
Renzo Piano's 'Le Renzo' will occupy the newly reclaimed Mareterra — named by the Prince of Monaco as a threshold between the sea and land. Meanwhile, the overall masterplan is designed by Paris-based architecture firm Valode & Pistre Architectes.
The building will introduce 120 residences to the growing coastline, including four townhouses, ten villas, and 106 main residences. The project will not only be enjoyed by residents — public programming will comprise a seaside promenade, retail shops, and restaurants. What's more, the architects boasts a public plaza that will showcase a restored sculpture by Alexander Calder. This plaza will be nestled among 110,000 square feet of park space  designed by landscape architect Michel Desvigne.
The development is expected to complete by 2024, at which point it will become the largest structure built on newly reclaimed coastline.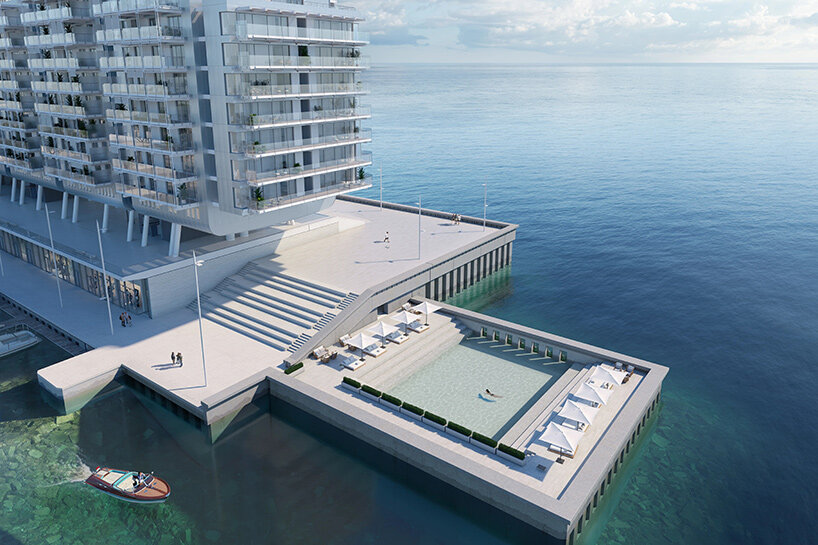 artificial reefs: keeping nature in mind
As part of the Mareterra masterplan, the Prince and the design team hope to restore the ecosystems along Monaco's coast. The land expansion efforts presented an opportunity to salvage the sea life living in the disrupted waters. Experts have been invited to develop two artificial reef villages which mimic a coral environment. While luxury homes have been constructed above, marine life has already begun moving into the newly created underwater habitats.