JUST 1.75 MILLIMETERS THICK
Richard Mille and Ferrari have taken the world's thinnest mechanical watch record from Bulgari (read more on designboom here). The partnership, which began last year, has unveiled the RM UP-01 Ferrari.  At just 1.75 millimeters thick, the watch constitutes a triumph of technical prowess, breaking with the brand's established stylistic codes, whilst remaining faithful to its identity and spirit.
'Even in the realm of extreme flatness, we were determined to make a watch that met the same validation requirements as all our other models,' said Richard Mille and Ferrari. 'In this quest for absolute flatness, we had to offer a watch that, far from being a 'concept watch', was up to the task of following a wearer's daily life.'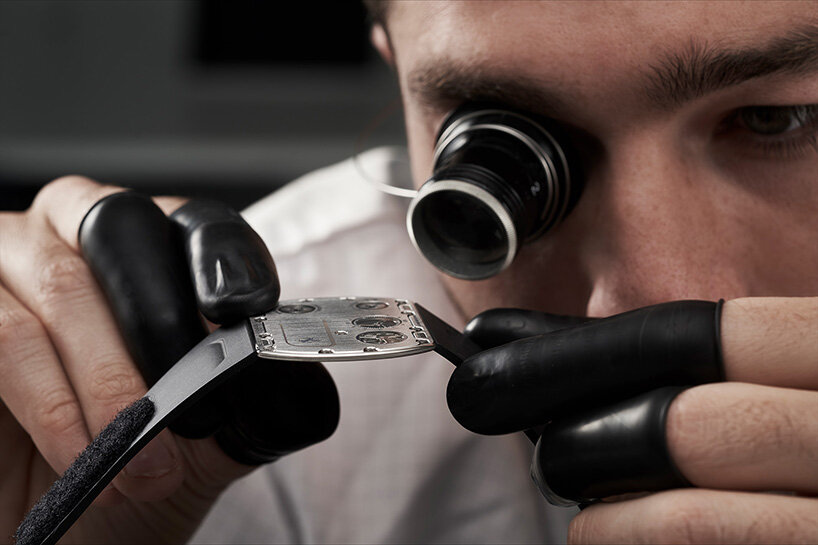 THE RESULT OF A COLLABORATION BETWEEN RICHARD MILLE AND FERRARI
The RM UP-01 Ferrari comes after many years, dozens of prototypes and more than 6,000 hours of development and laboratory testing. Limited to only 150 pieces, it features an ultraflat manual winding movement with hours, minutes and function selector.
The baseplate and bridges of the RM UP-01 are crafted of grade 5 titanium, a biocompatible, highly corrosion-resistant and remarkably rigid alloy, which enables the gear train to function effortlessly. The alloy is 90% grade 5 titanium, 6% aluminum and 4% vanadium. This combination further increases the material's mechanical properties, which explains its frequent use in the aerospace, aeronautics and automotive industries.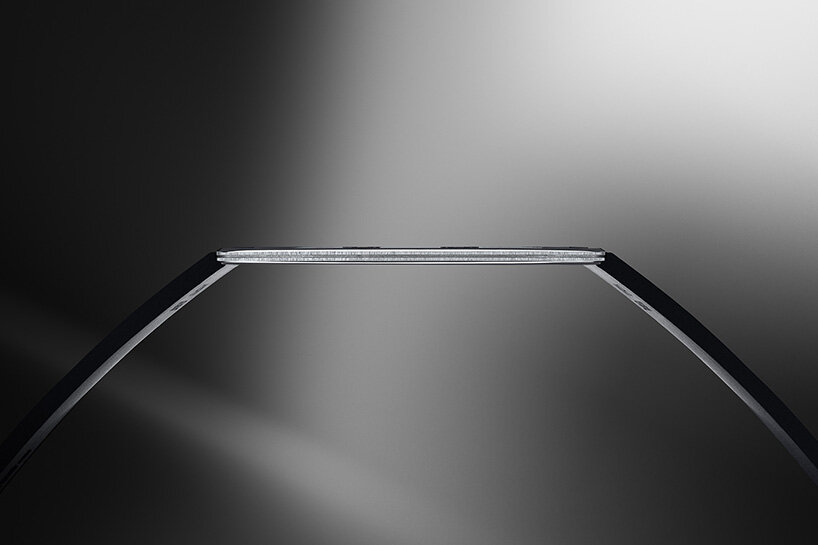 The function selector has been integrated into the bezel, located between 10 and 11 o'clock. It allows users to select the winding (W) or the hand-setting (H) function by just rotating the crown. Setting the time or winding the barrel is then possible by turning the second crown, located between 7 and 8 o'clock.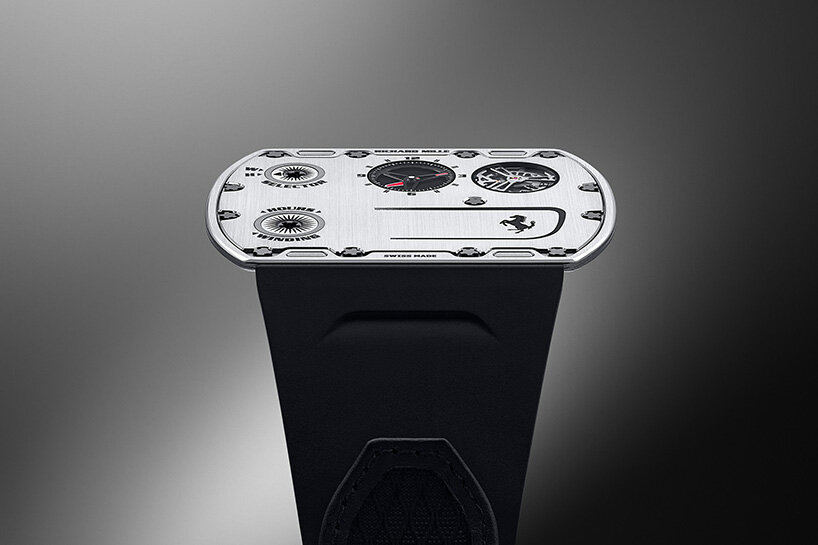 'With the RM UP-01 Ferrari, Richard Mille is proud to present an ultra-flat watch just 1.75 millimetres thick. This mind-blowing technical feat owes as much to approaching watch mechanics with fresh eyes as it does to reframing design methods in ways that make the spectacular available for use in everyday situations. For such a project, it was necessary to set aside all the knowledge we had amassed over years of practice, and every conceivable standard of watchmaking. This is precisely what we did throughout our collaboration with the laboratories of Audemars Piguet Le Locle. Shaving off those last hundredths of a millimetre of depth was an extremely demanding and lengthy process.'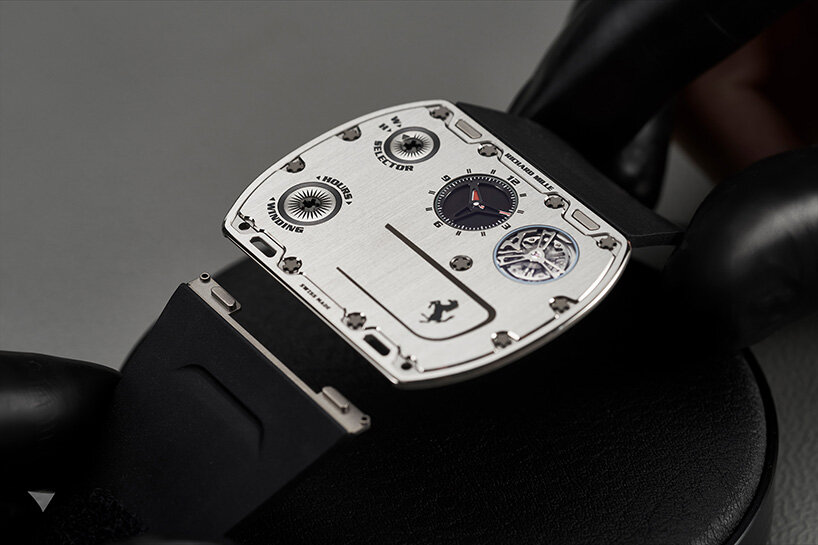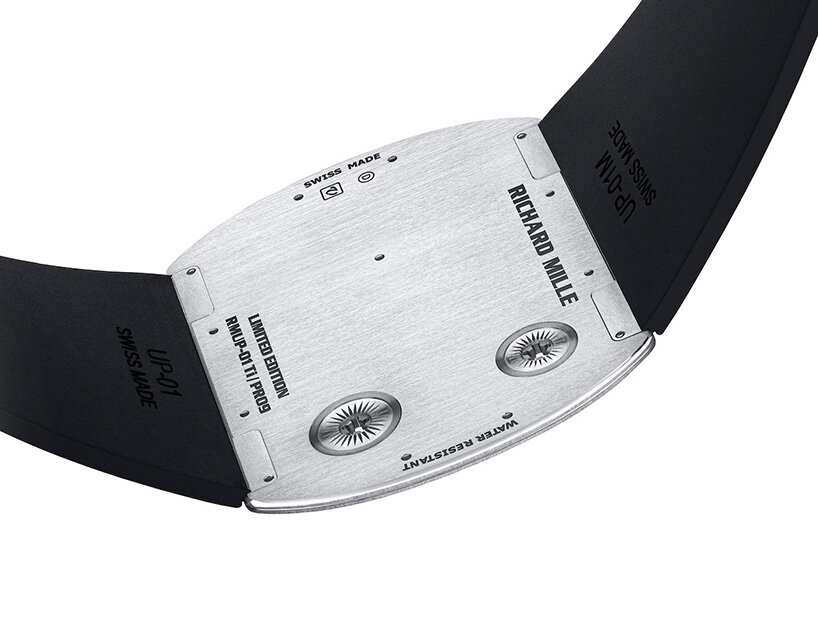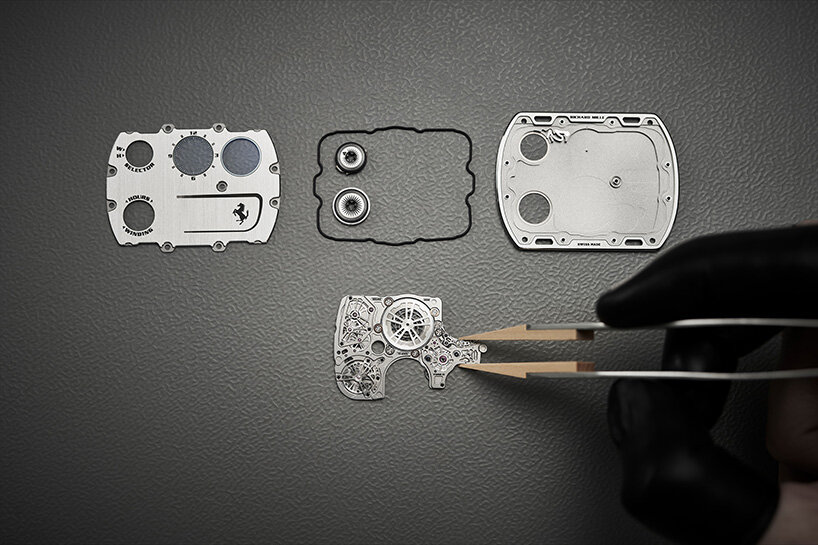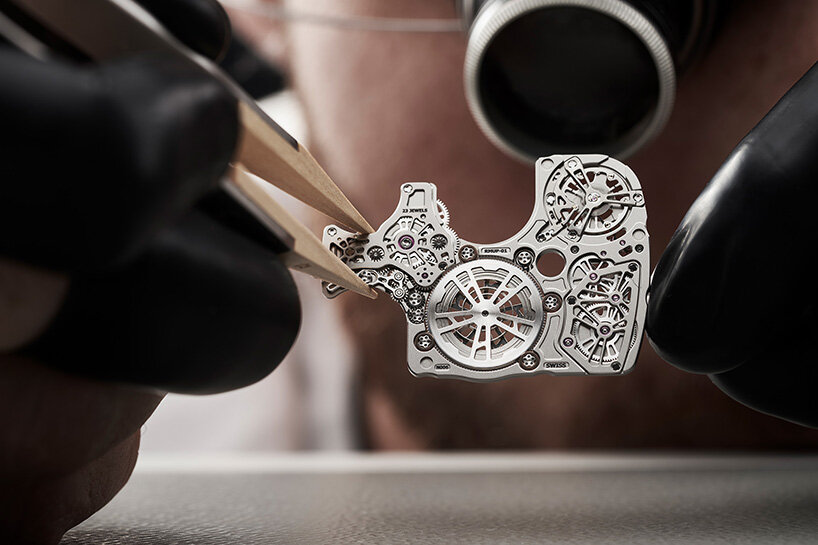 project info:
name: RM UP-01 Ferrari
company: Richard Mille and Ferrari
limited to: 150 pieces
juliana neira I designboom
jul 07, 2022