a house on a loop
Rojkind Arquitectos presents its Casa Pasiddhi, a dwelling located in the Hacienda de Valle Escondido neighborhood of Mexico's Ciudad López Mateos. The project translates traditional residential programming into a 'meandering discovery,' where everything occurs along a circulation system contained within a solid concrete volume. The route takes shape as a 'semi-dark passage' and is primarily illuminated with overhead skylights during the day and with subtle down-lights in the evening. The architecture faces inward, away from its modern, country-style neighbors, expressing itself from the street as a solid and brutalist stone volume.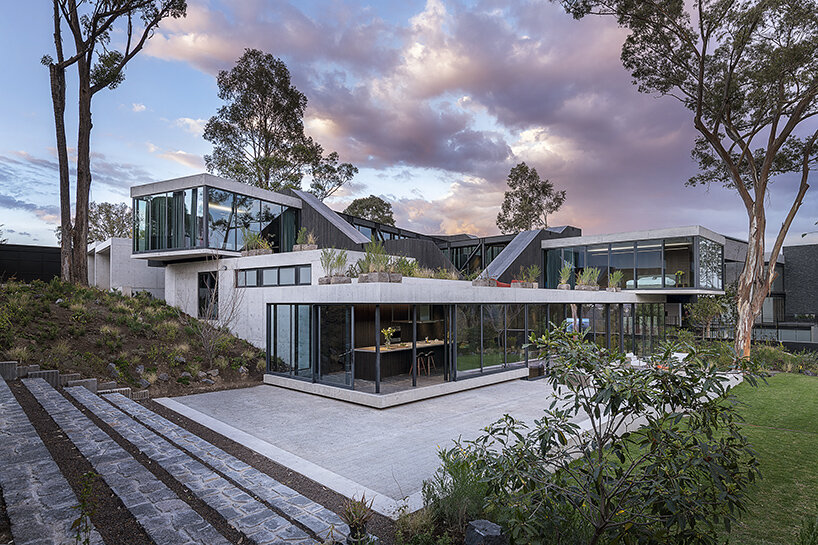 images © Jaime Navarro courtesy Rojkind Arquitectos
casa pasiddhi shelters a hidden garden
The team at Rojkind Arquitectos wraps the exterior street-facing walls of its Casa Pasiddhi in a simple lattice of vertical woods slats. Upon entering, the house opens up in fluted black concrete, expressing its circular organization like an abstracted diagram. The architects note: 'The volume rises, freeing the garden and showing different areas of the house amongst the abundant and wild vegetation.' This snaking house encloses a centralized 'contemplation patio garden.' The private rooms and gathering spaces hover above this patio and look downward into it. The house functions as a protective wall, sheltering the hidden garden from the street.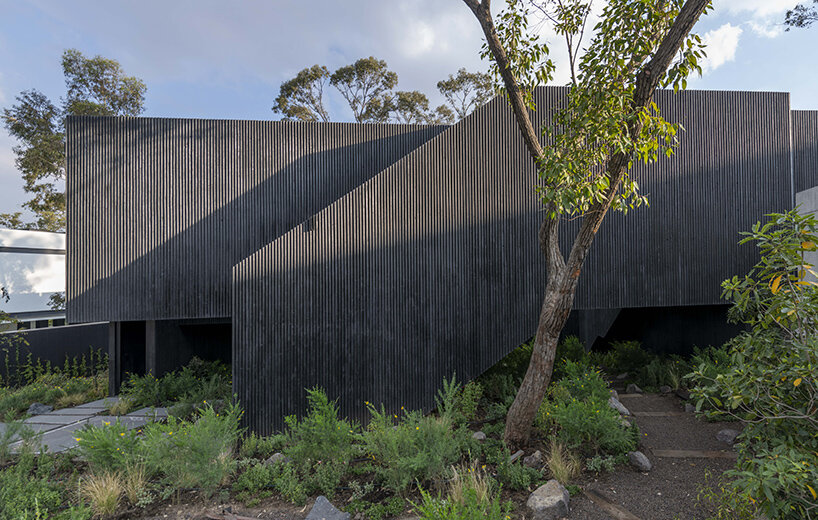 dark passages and bright rooms by rojkind arquitectos
Rojkind Arquitectos curates the experience of its Casa Pasiddhi to shift from semi-dark circulation spaces to wide, open views. These moments of relief take shape with bright floor-to-ceiling glass that furthers the connection between the interiors and the plant-filled garden. The home's exterior presents a largely contrasting language. The group explains: 'the spaces that are delimited, framed, or covered by the volume that rises and winds, create multiple experiences within a garden that invites you to visit it and discover the different areas of the house.'
The team makes use of only three materials — concrete, wood and glass — in the design of the house. The concrete is expressed with two colors and textures. Gray concrete creates a smooth finish along the walls of the service elements and slabs, while dark concrete is manipulated with a zigzag finish to demarcate the project's embracing gesture.