garage house in hokkaido by Ryuji Yamashita
Japan-based Ryuji Yamashita Architects has completed a residential project in Hokkaido for a family of four incorporating a garage structure. As the plot is located in a low-density neighborhood in a small town named Namporo, the aim of the architects was to form a building that operates in harmony with its setting. Thus, they opted for a structure that makes the most of the surrounding nature but also fulfills the requirements of security and privacy. 
The brief was to design both a house and a garage space, including storage, as the husband of the family is a vehicle enthusiast and desired a place where he could engage in his hobby in his free time. Another requirement was to be able to see the car from inside the house. To accomplish this, the architects decided to split the building into two functions — providing a separate residential and garage structure — while by aligning the two buildings, the visibility of the vehicle can be achieved from anywhere in the house.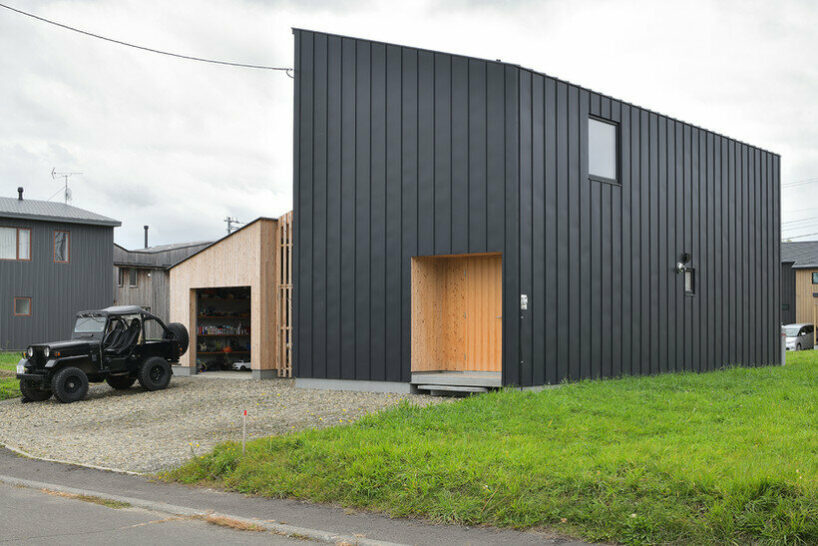 all images by Ryuji Yamashita Architects
a deconstructed house for a family of four 
The two volumes designed by Ryuji Yamashita Architects (see more here) share a common side, giving the impression from afar that it's a united structure. In fact, between the two buildings, a tiny semi-outdoor courtyard is formed as a buffer space. This area is topped by a transparent roof, while thanks to its louver doors that pierce the walls, it serves as an intermediate area between the two volumes. However, all of the structures feature a separate entrance, maintaining privacy and security. By separating the functions, the cost of meeting the requirements for heat insulation and seismic performance was reduced. 
During the summer, the family can enjoy a barbecue time in the courtyard, while during the cold months, the walls are wrapped with a film. Thus, the yard can double as a greenhouse space where one can enjoy the nature of Namporo. By doing this, the interior spaces can be ventilated with the circulated warm air trapped in the greenhouse space, whereby an energy-saving effect can be expected. Apart from the ventilation flow through the interior, the buffer area allows natural light to penetrate the interior, generating a well-lit and intimate environment.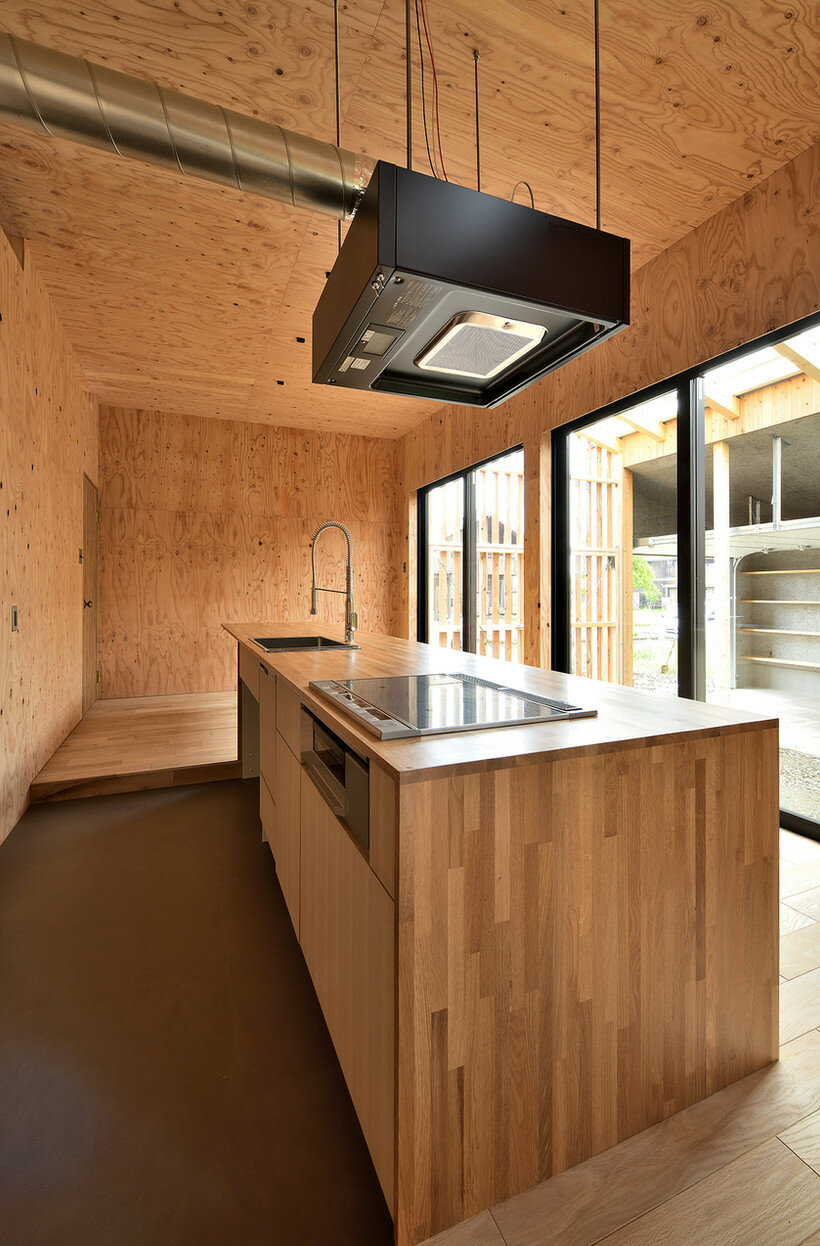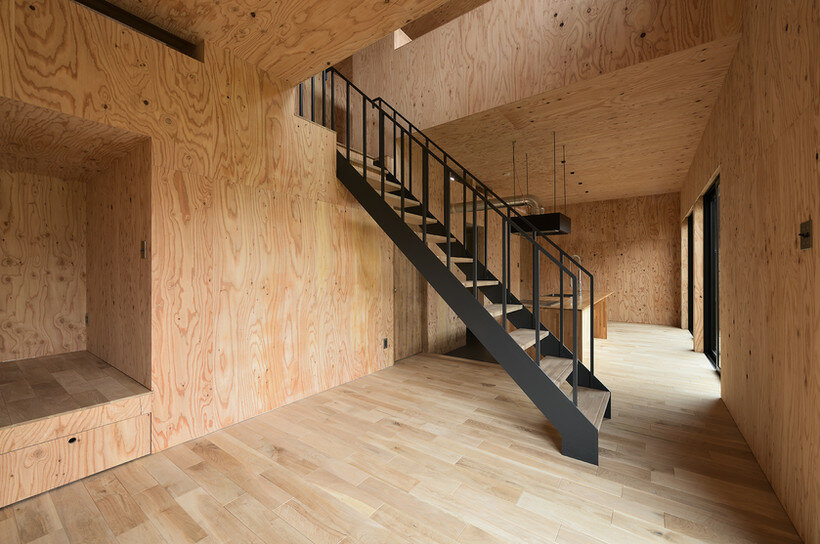 the interior is dominated by wooden accents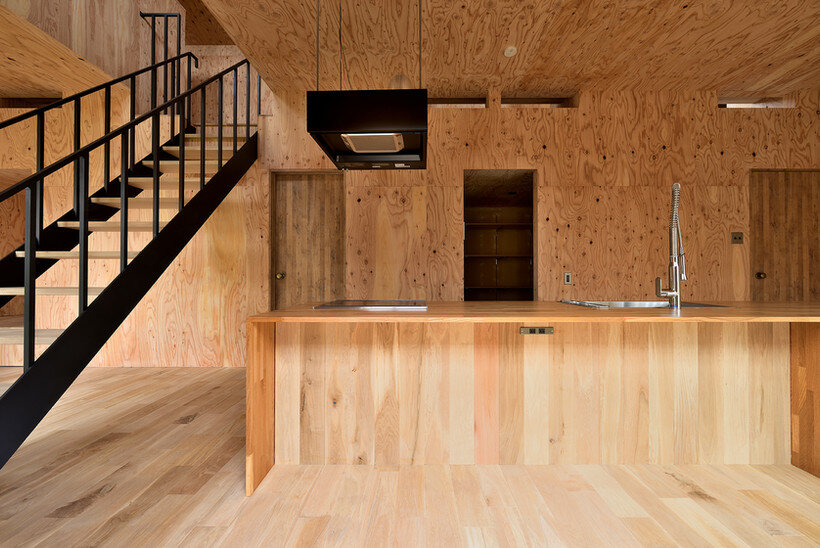 a metal staircase leads the residents to the second level of the house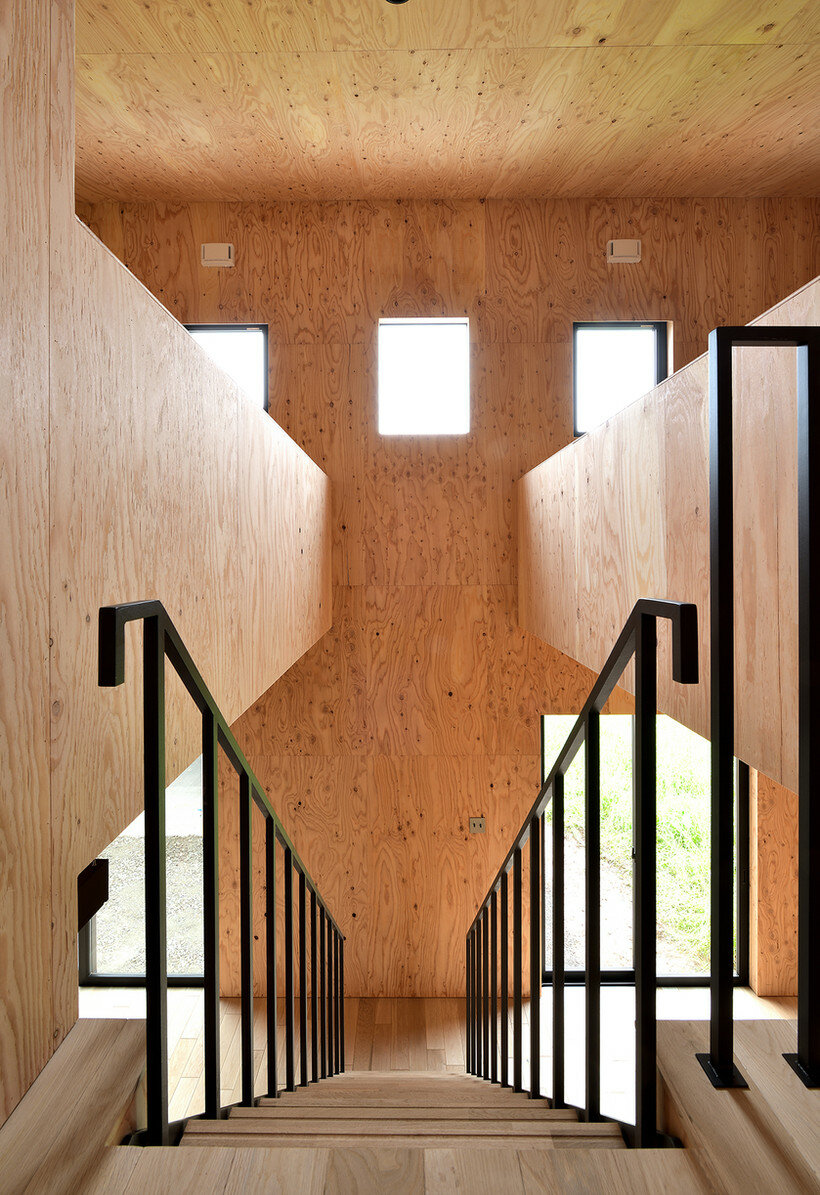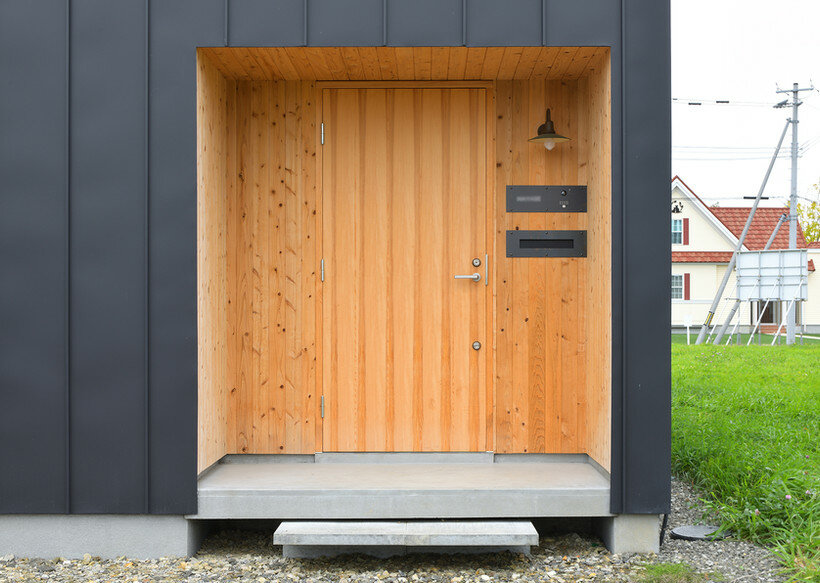 the main entrance of the house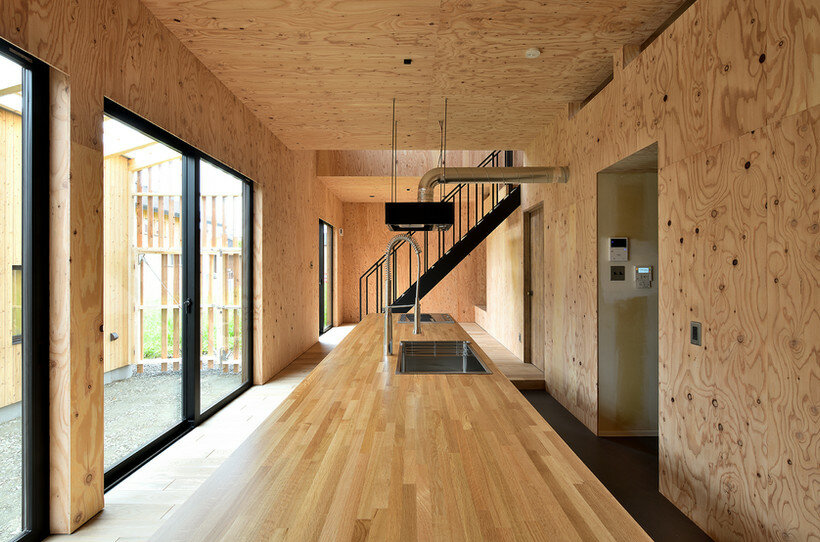 floor-to-ceiling windows allow natural light to enter and air circulation to run properly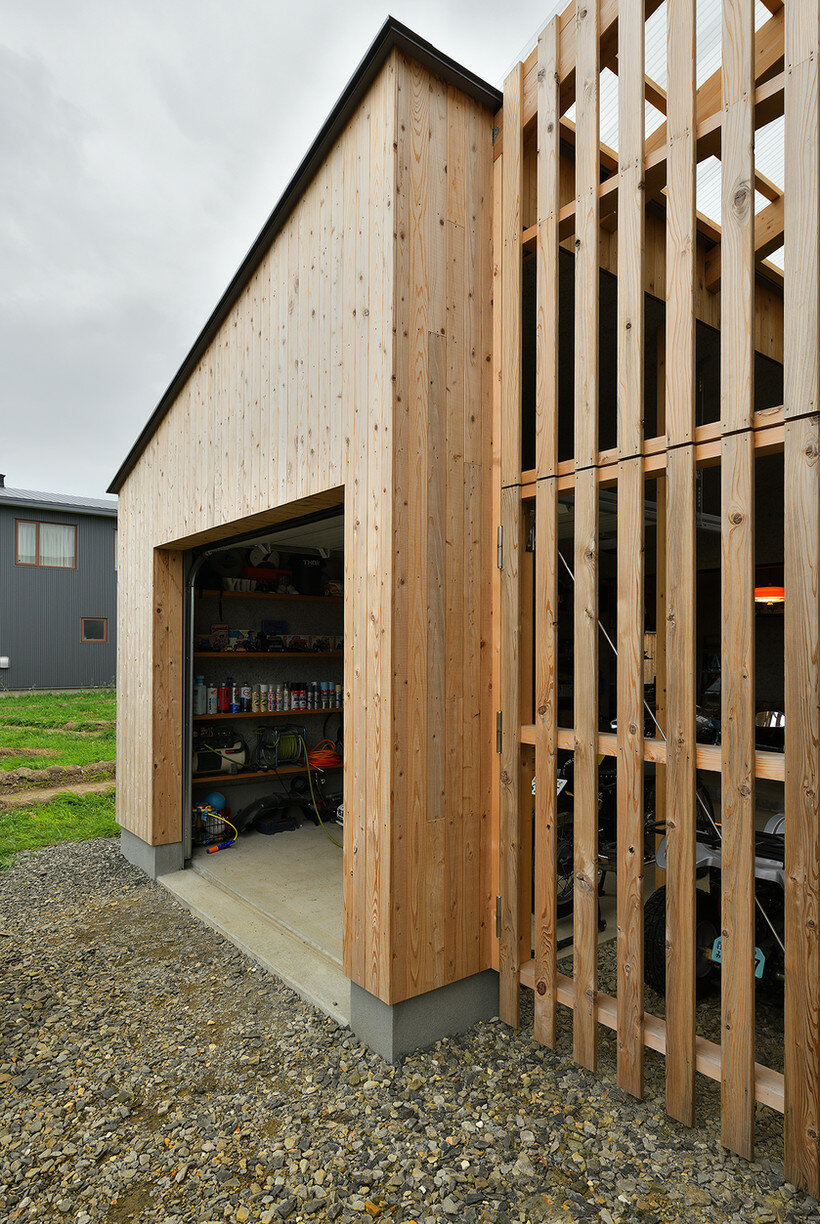 each volume contains its own entrance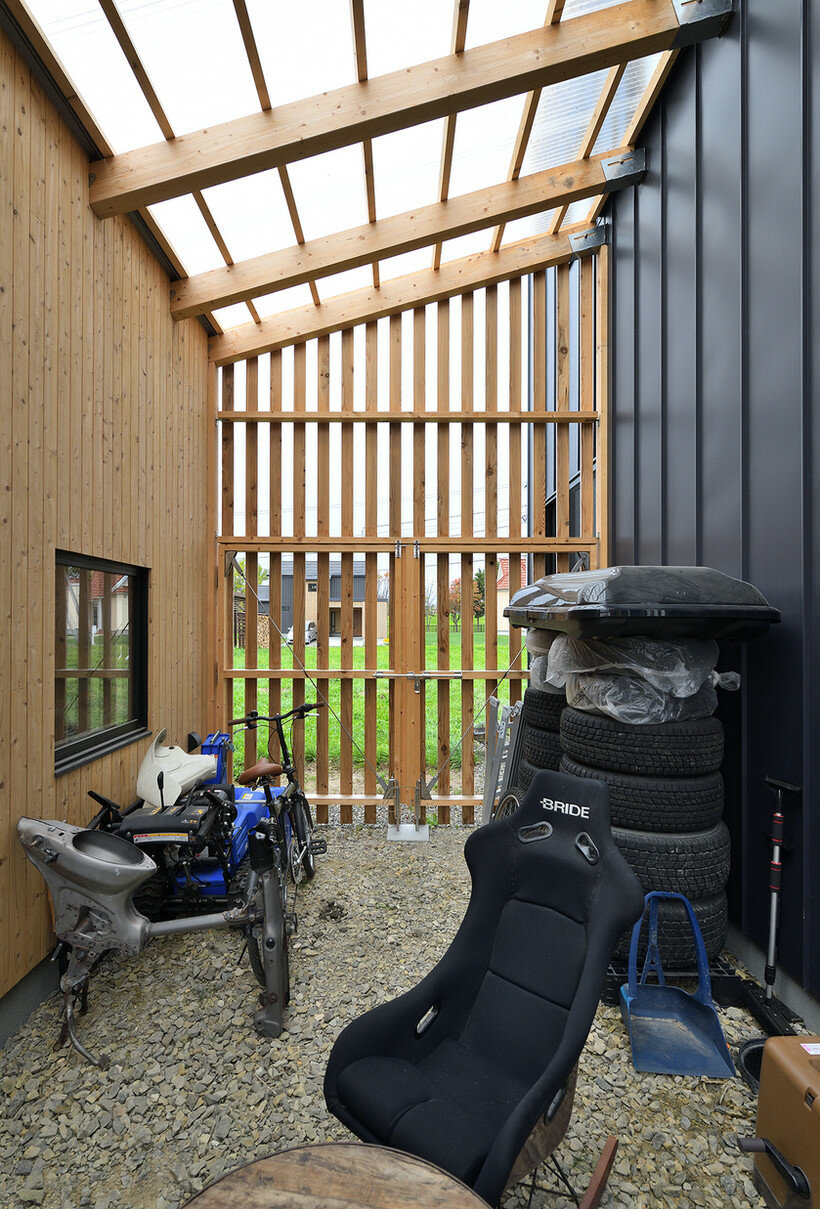 a transparent roof tops the courtyard, and the wall is pierced by louver doors to create a semi-outdoor intermediate area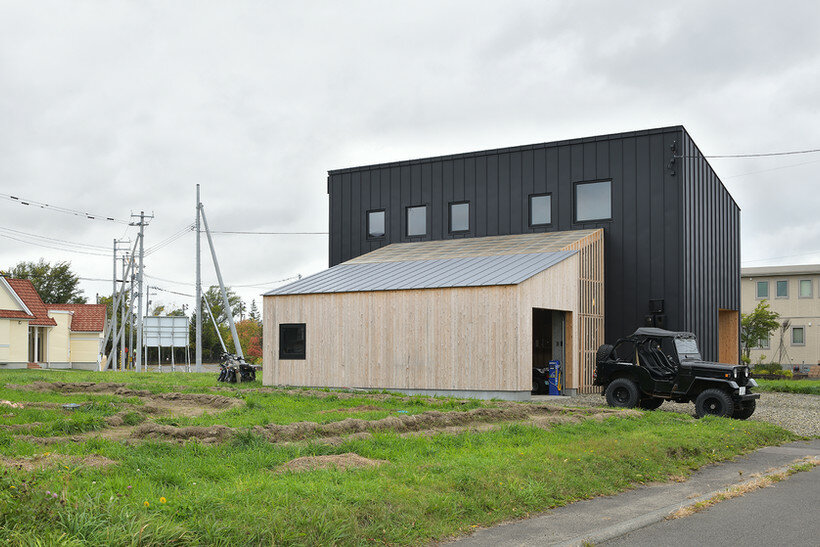 the vehicle blocks the line of sight of the neighborhood
project info:
name: garage house in hokkaido
architects: Ryuji Yamashita Architects
location: Namporo-cho, Sorachi-gun, Hokkaido
structure: J Building System Co., Ltd.
construction: Okuno Komuten Co., Ltd., Rinoa Co., Ltd.
building area: 101.86 sqm
total floor area: 153.65 sqm
completion: June 2021​
northern housing: 2020
christina petridou I designboom
aug 25, 2022