Mechanical pocket watch based on math
The idea for Mecascape watch brewed in the mind of Claudio D'Amore, founder and CEO of CODE41, but he did not materialize it until having produced six collections and dedicated five years to developing his product. He calls his 7mm-sized mechanical pocket watch an ambitious and daring project, a translation of his vision and challenge. The team designed Mecascape based on the mathematical language of the Golden Ratio 1.618 and the Fibonacci sequence. At a first glance, the mechanical pocket watch might fit one's fashion style – if carried in their pockets – or home along with the smart home technology that carpets the space.
The outcome gifts main hour, minutes, and seconds counters and a second time zone with the representation of a world map in the heart of the GMT disc. The two small knurled crowns on each side allow the user to set the time and the Mecascape to be wound mechanically with a small push button on the side to the date. From the complex-looking mechanism to the thin aesthetic, Mecascape emphasizes structure, functions, lines, and curves, offering complements and contrasts to the timepiece as a whole.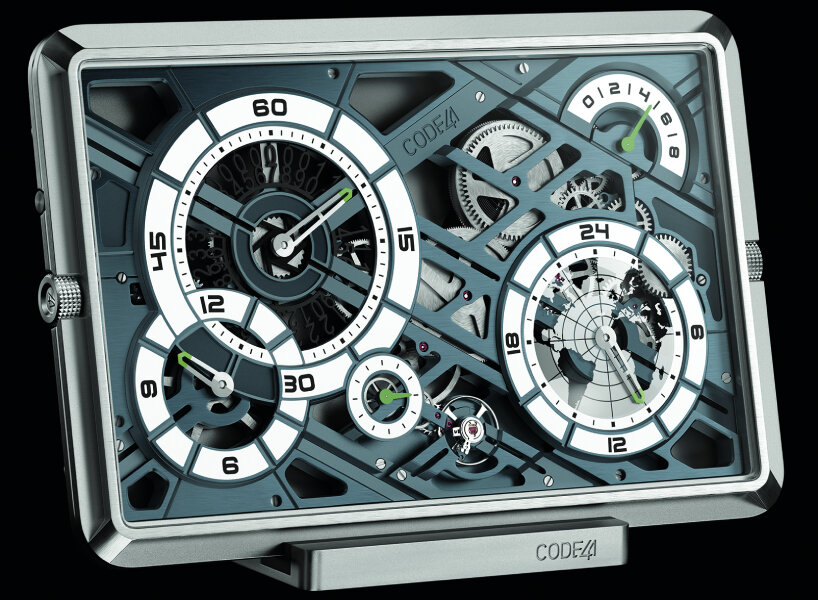 images courtesy of CODE41
the contraction of 'mechanical' and 'landscape'
The team of CODE41 imagined a balanced, modern, and geometric watch and derived their design foundations from their in-house algorithms. Strength and originality came forward as secondary elements to making their clockwork mechanism work. They wanted a visually appealing product that would fall in sync with its components, shape, movement, and exterior while being so slim that it could be easily slipped into a jacket pocket.
Mecascape came out as the result, the contraction of 'mechanical' and 'landscape'. The team has revised the original design to cater to the needs and challenges of the watch including the use of scratch-resistant sapphire with anti-reflective treatment for ideal reading of information and the increased size of the side crowns. As the company puts it, the watch anchors spatial volumes that are loosened and de-contracted, 'becoming more generous than those afforded in a watch or a clock, which in turn requires a skillful capacity to adapt.'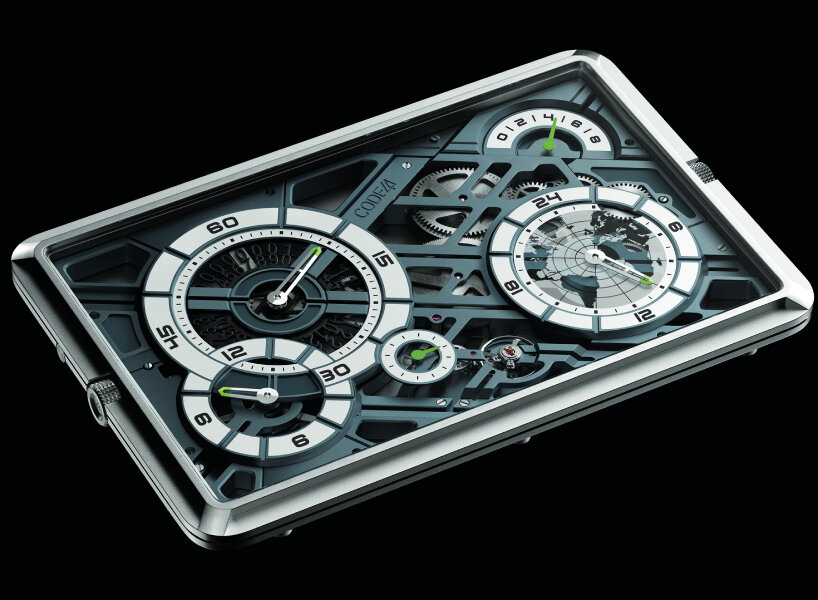 mechanical pocket watch 'Mecascape' by CODE41
Cut from grade 5 titanium
The entire landscape of the Mecascape is protected by an anti-reflective sapphire crystal. Its solid Grade 5 titanium case and cut protect it from possible twisting and ensures a solid structure. Its small opening affords some of the movement's gears, and the solid back also allows the Mecascape to be placed vertically on a piece of furniture or a desk, thanks to its metal support provided for this purpose.
As a result of CODE41's collaboration with the Cercle des Horlogers, an independent Swiss watchmaking workshop located in the Canton of Neuchâte, the Mecascape has overcome technical challenges, starting with its dimensions and the complex calibration of the machines and its structural integrity.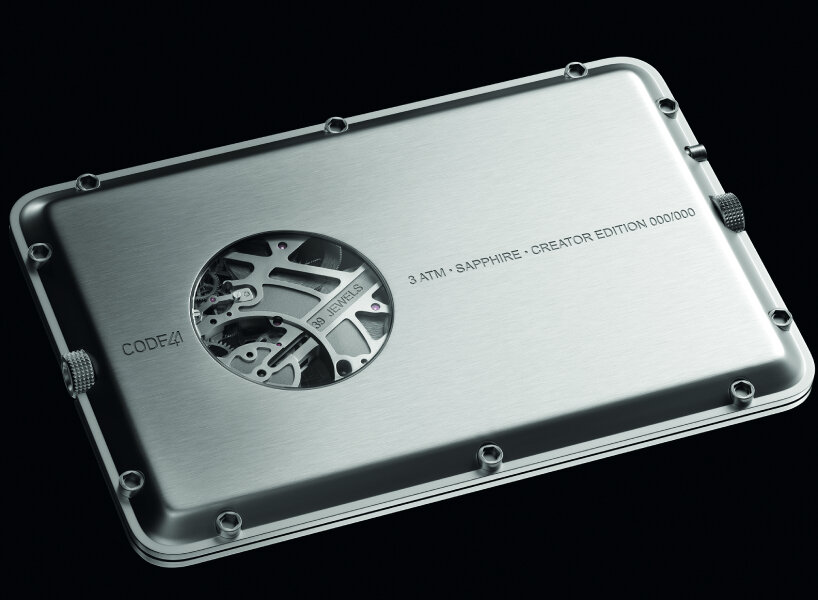 titanium-cut back part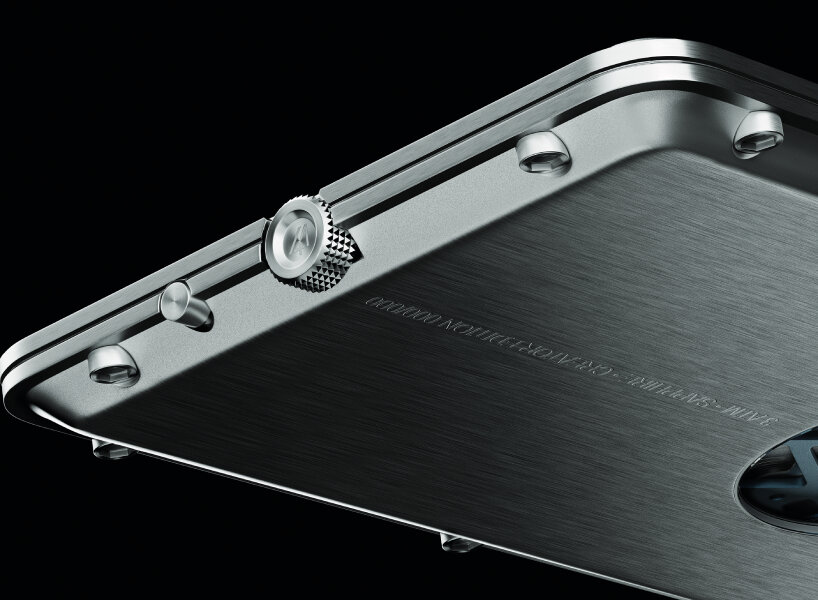 side knobs