coop himmelb(l)au takes to venice, california
Viennese studio Coop Himmelb(l)au present the Tectonic House, its first residential project built in the United States. The private residence takes shape as a dynamic urban intervention in Venice, California, and an exploration of the 'functional constraints to construct a complex sculptural form interwoven with an apparatus for living.' The house can be found just a short distance from the vibrant Abbott Kinney Boulevard as well as Venice Beach. Now complete, the residence has been listed on the market with real estate advisory Engel & Völkers Santa Monica for $5.8 million.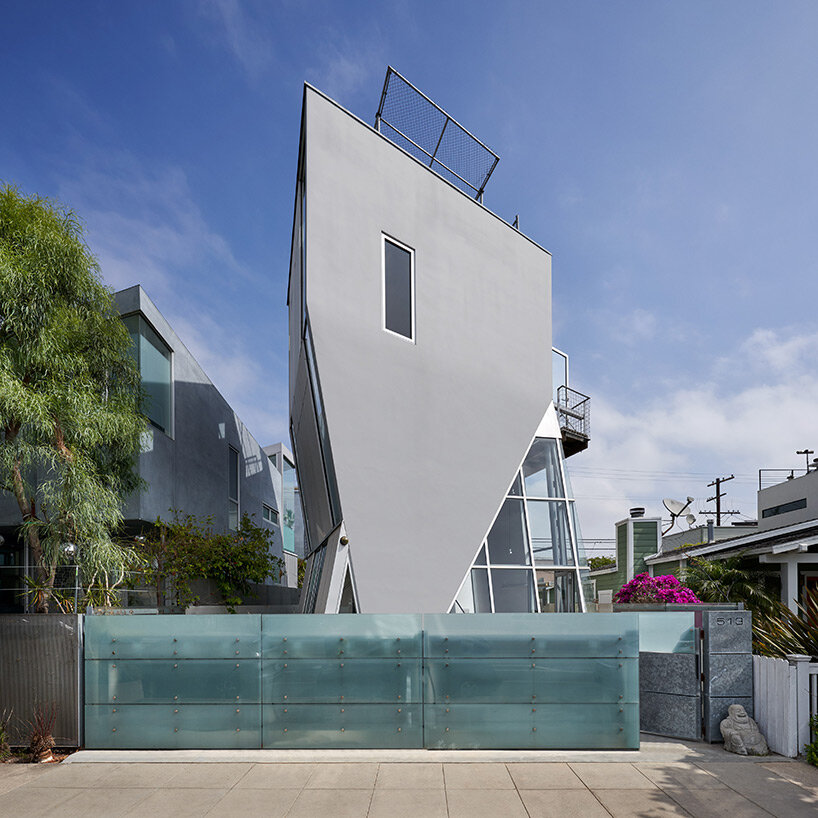 images courtesy Coop Himmelb(l)au
the breezy beach house
The architects at Coop Himmelb(l)au design the Tectonic House to reflect the 'diversity, vivacity, tension and complexity of Venice.' Covering 2,522 square feet across three levels, the four-bed, 3.5 bath house take shape with the torqued geometric shapes and folded planes that have become signature to the Austrian firm. The vertical home faces the sky with two steel-framed towers, linked by an upper level bridge and wrapped in corrugated steel and cement board.
This unique vertical tower structure performs as a chimney, drawing in air from the base of the building which is then vented through the open roof. Together with its location so close to the ocean, the need for air conditioning is eliminated all together.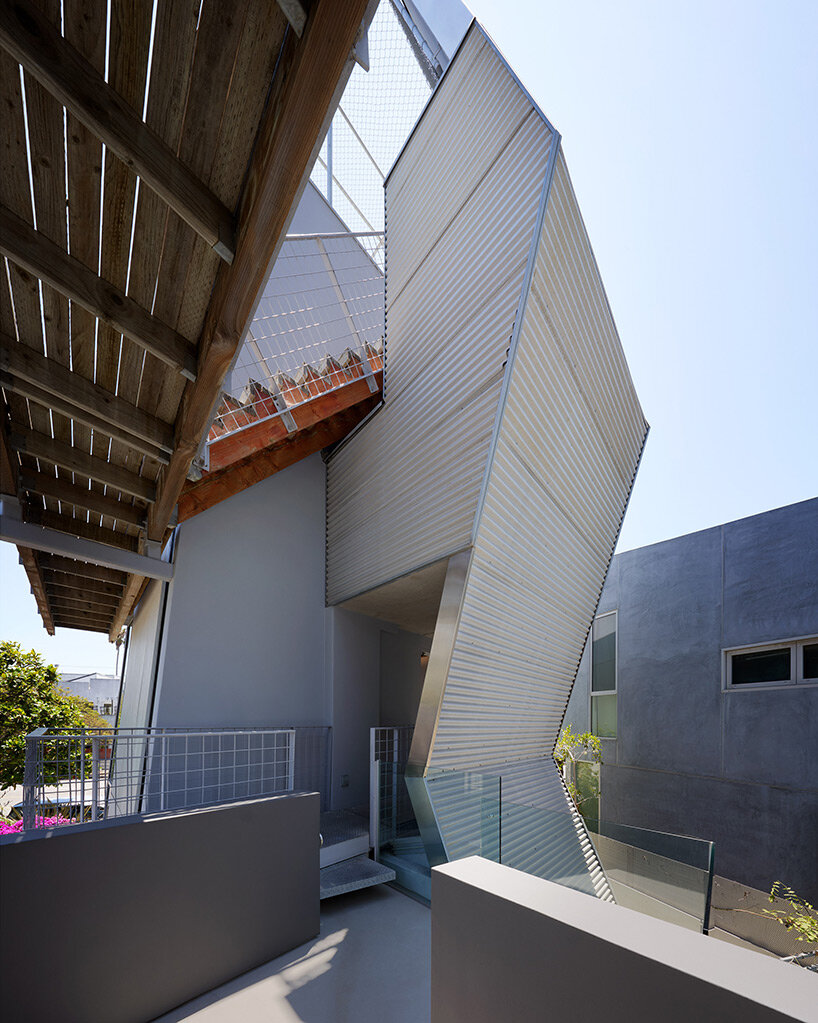 the sculptural interiors
Inside, the Tectonic House shows unique, sculptural spaces built in concrete, glass, and structural steel. These expressive interior elements are tempered by an open floor plan, so that each space acts in direct connection with the landscape, wood ceilings, and natural light. The team continues: 'The stark metals alongside natural materials are used throughout both the interior and exterior of the residence to create moments of complimentary dialogue with 'Ex Machina'-like elements.'
'Perhaps one of the most distinctive additions the current owners, renowned screenwriters J. Stewart Burns and Lillian Yu, made to the residence was Parasite, a plywood art installation starting on the floor and weaving up the walls to follow the sharp angles of the home. The installation, like their lives, showcases an evolution and attachment within the space.'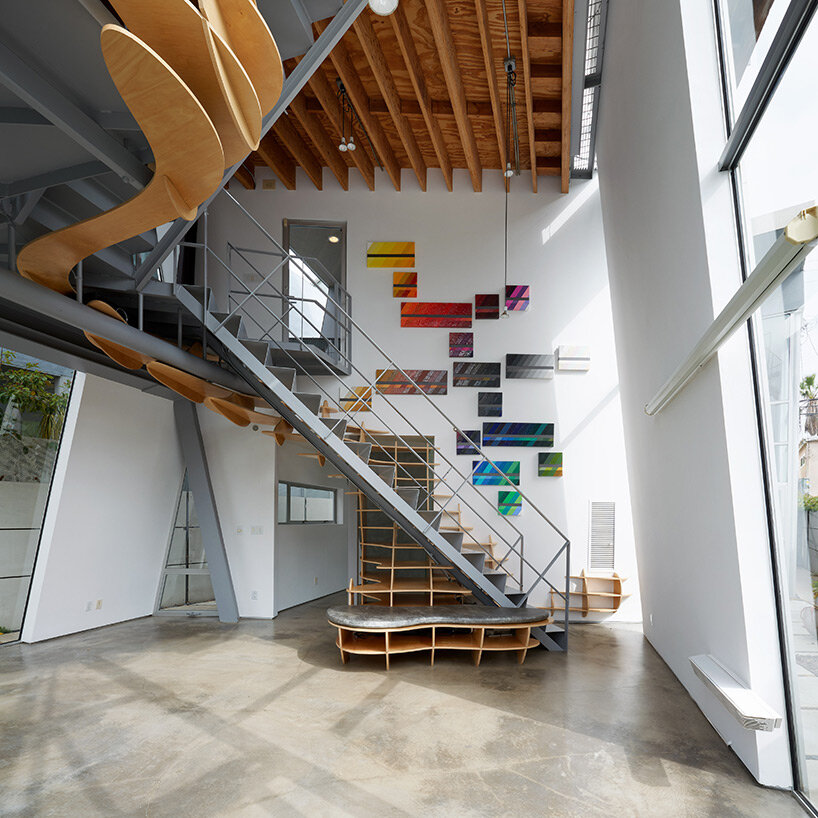 activating the tectonic house
Between the Tectonic House's listing and its sale, the property will host to a series of 'innovative experiences' by Idea Parade. Dubbed 'UnReal Estate,' this series will highlight the art, architecture, and design of this rare space. Guests, media, and potential buyers will mingle with compelling lifestyle brands and thought provoking installations that pair well within the space.
'The experiences will showcase what life is like at a property prime for art, gathering, and possibility. Past events in this series have taken place at unique homes like Invisible House and Radius House.'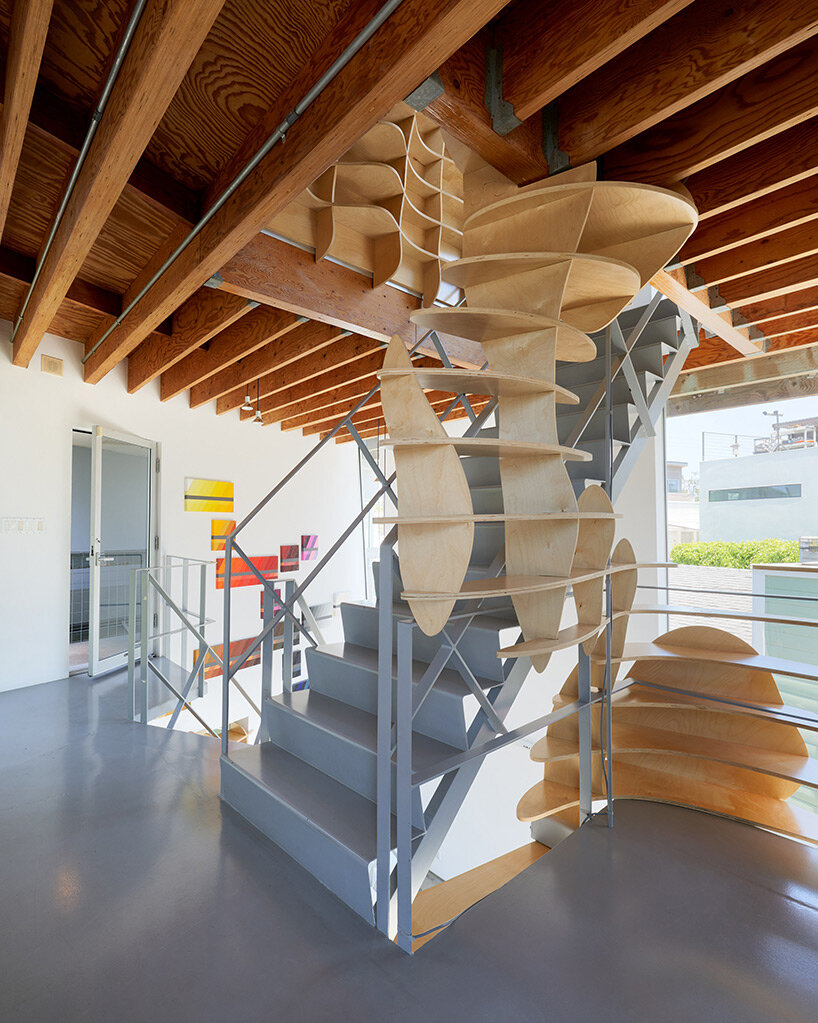 a complex sculptural framework is interwoven with the architecture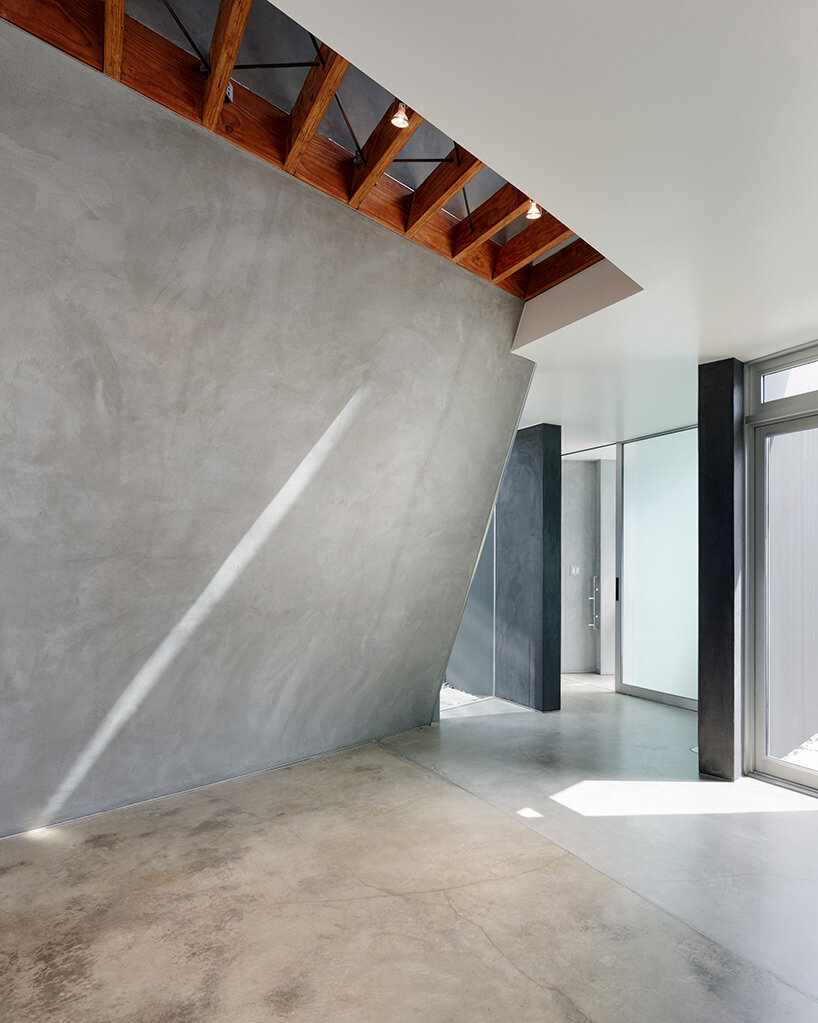 the Tectonic House takes shape with the studio's signature torqued geometries