'Studio N' launched as an extension of Grün Canggu resort 
'Studio N' is the latest living concept launched by Stilt Studios, the company co-founded by Alexis Dornier and Florian Holm. Built as an extension of the existing Grün Canggu resort in Bali, the design reveals a spacious one-bedroom unit, constructed in a series of four buildings on an otherwise narrow and tricky 745 sqm site.
Stilted and elevated 40cm off the ground to minimize impact, the structure juxtaposes wooden elements with massive sliding window panels that frame views of the rice field and sunset, making it the ideal spot to pause, unwind, and relax.
Staying true to its core vision to 'tread lightly on earth', Stilt Studios built the one-bedroom unit as an improved reiteration of its 'Tetra Pod' model. This project perfectly utilized prefabricated building elements, took a conscious approach to selecting responsibly-sourced materials, and focused on saving time and minimizing the carbon footprint during construction.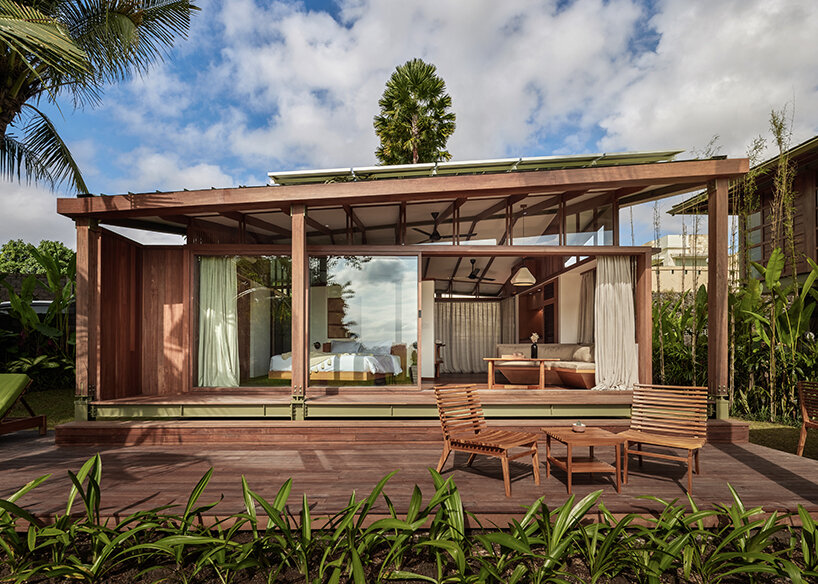 all images © KIE Arch 
a playful and harmonious indoor-outdoor living concept 
'The whole ambiance is largely inspired by the tropical pavilion concept, with its calm color tones and open layout allowing air to circulate throughout the unit. For this site, we wanted to emphasize the surrounding landscape and how the indoor-outdoor living concept brings nature inside', says Cokorda G. B. Suryanata, Product Design Lead at Stilt Studios.
Elaborating on Suryanata's words, the experience at 'Studio N' is heavily curated through a playful harmony between furniture, interior, and architecture. Stilt Studios achieved the indoor-outdoor living concept by seamlessly extending the living area outwards. In between, large glass sliding doors open up the interior to an extensive wooden decking, BBQ area, fire pit, plunge pool, garden, and outdoor lounging area.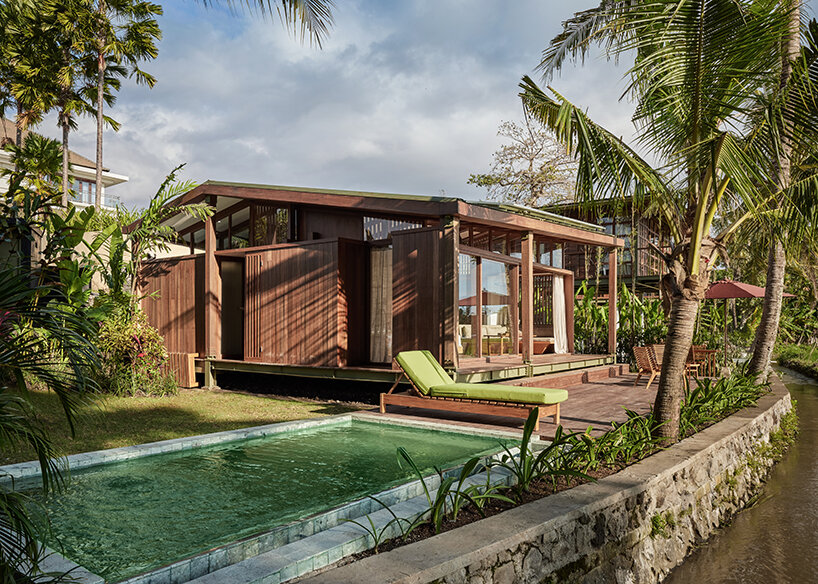 the one-bedroom unit is an extension of the Grün Canggu resort in Bali 
Furthermore, the open layout creates an efficient interaction between the sleeping area, separate bathroom, and adjacent lounging area, which can be used for both working and dining. 'Studio N' is also equipped with a full kitchen for longer-term stays.
For 'Studio N', the team has also collaborated with different vendors, including Inecosolar for solar panels, Kaltimber for reclaimed ulin wood decking, and Sungaiwatch for recycled river plastic bathroom panels. A total of 5.4kW solar panels are installed on its roof, powering this unit and the three neighboring buildings as well.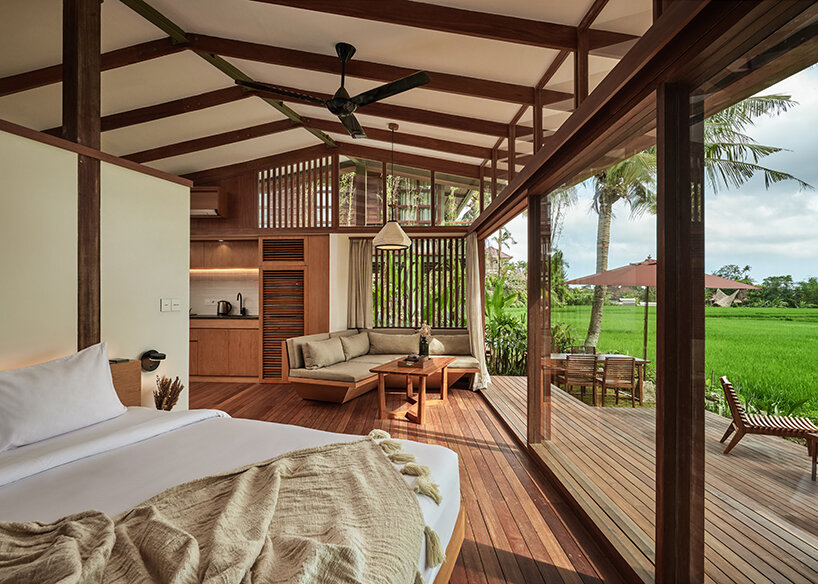 view of the rice fields from the bedroom area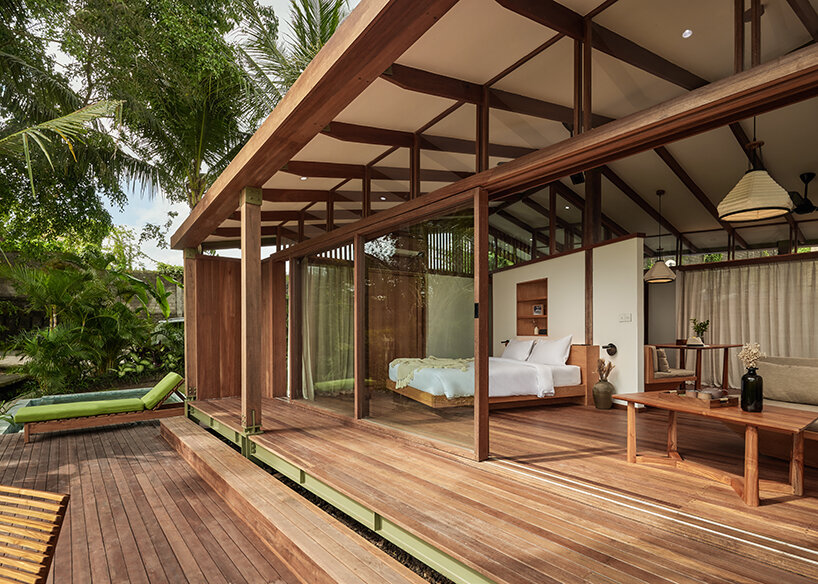 the structure juxtaposes wooden elements with sliding glass door panels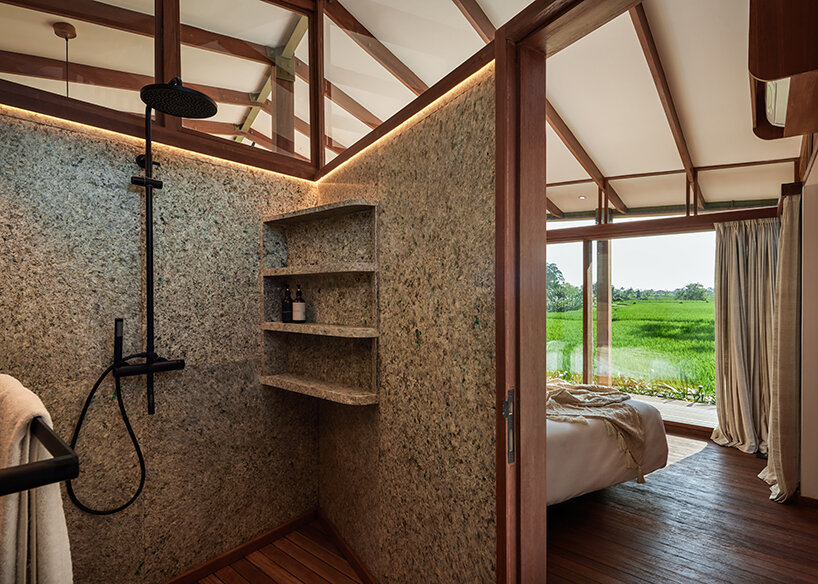 a flowing interaction between different rooms