eleven cabin retreats for leisurely paradinha
Portuguese architecture studio Summary scatters a collection of eleven cabins across the sloping landscape of Paradinha. The remote area is characterized by its nearly untouched nature, with a once-abandoned village occupied by a small group of people seeking a quiet and leisurely lifestyle. The architects at Summary introduce the tiny, prefabricated dwellings as a hotel retreat for visitors to experience this idyllic place.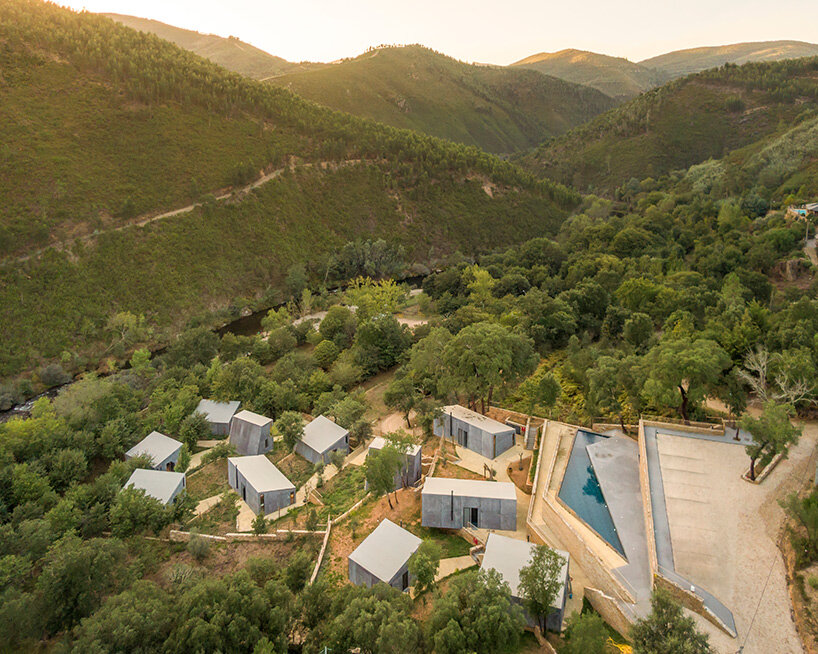 images © Fernando Guerra | @fernandogguerra
a simple design for a complex site
During the early design stages of the Paradinha hotel retreat, the architects at Summary opted for a cluster of small cabins over a single building. This decision was driven primarily by the dramatic slope of the mountainous landscape. To further minimize cost and effort during construction, each cabin was prefabricated off-site, then efficiently dropped onto the plot. The team tells designboom: 'Resorting to prefabricated structures was not just a choice, but the only efficient option we had to simplify the building process within such conditions.'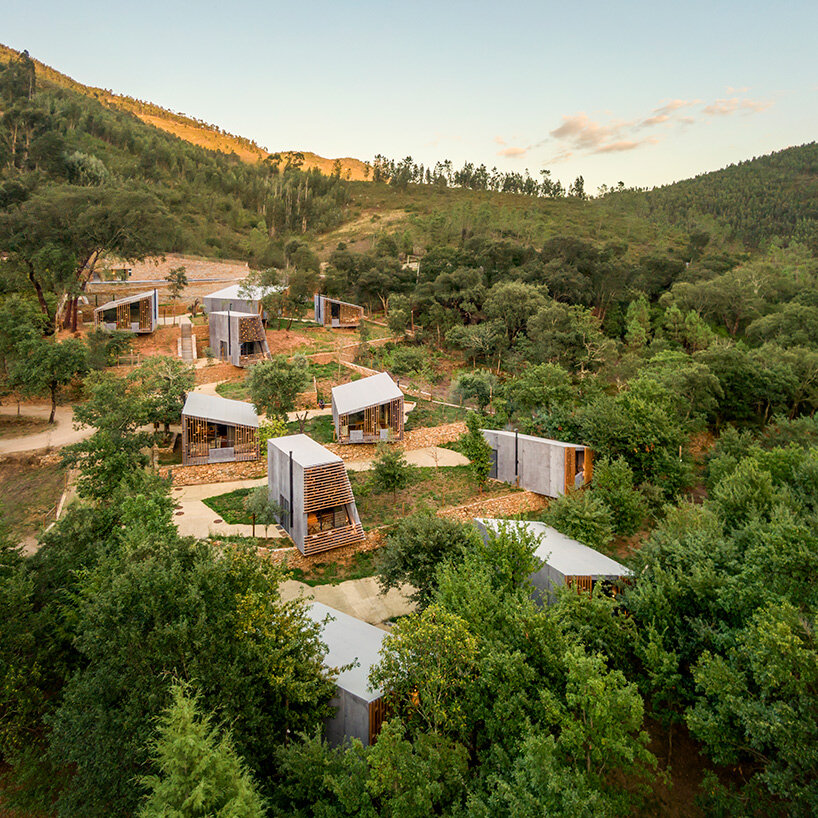 Summary learns from the topography
While the cabins at Paradinha were planned with efficiency in mind, Summary architects maintains diversity in their design. The eleven structures comprise four different typologies, their built areas ranging from from 28 square meters (300 square feet) to 58 square meters (625 square feet). Aiming to disrupt the terrain as little as possible, the orientation of each cabin is carefully informed by the natural slope, the existing trees, and the pre-existing stone walls which had once organized the site into terraces.
The architects comment: 'Combining this apparently arbitrary positioning with different orientations allowed the houses not to block each other's views.' Opening up through timber screen facades, these views include the forested valley and the river below.