Hidden Sound 360-degree audio experience
When Igor Radojević, Vesna Jelovac, and Jovan Jelovac thought of curating a sound experience, the idea of creating HiFi-producing speaker design came to mind. They spent five years materializing the concept, driven by experience, research, and attention to the materials used for both the speakers' sound and built. During Milan Design Week 2022, the trio and their team introduced Hidden Sound, a series of thin speakers that aims to reinvent Hi-Fi sound for audiophiles. Designed by sound forms the philosophy of the team, and it guided their direction to unveiling two devices, Hidden EVO and Hidden ECO. 
Both speakers benefit from having a Swiss-quality, hand-crafted approach to their production and pride themselves on being manufactured using sustainable materials. The 4mm-sized first layer of the speakers comes from balsa wood harvested from reforested plantations that generates micro-vibrations for optimal sound and is covered by an engineered, second layer of 4mm thin, acoustic foam. The 8mm thin frames of the speakers double as a tabletop or bookshelf stand that is created from machined, hard-coat anodized, recycled aluminum.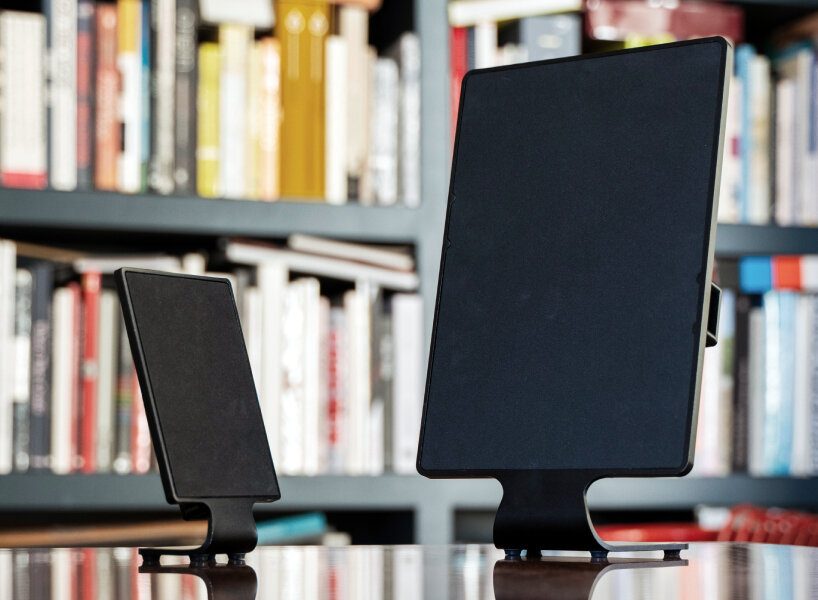 images courtesy of Vladimir Miladinović and Hidden Sound | header image (left to right): founders Igor Radojević, Vesna Jelovac, and Jovan Jelovac
Lean looks, big sound
The team says that the speakers can also be accompanied by accessories including floor, wall, and ceiling stands with integrated cable management. Hidden ECO has a size of a smartphone and weighs around 100 grams while Hidden EVO resembles in size and appearance of an A4 piece of paper and weighs around 200 grams. Their scaled-down proportions are intentional, so audiophiles can fit them in the space they want. 'Lean looks, big sounds' speak of the team's introduction for Hidden Sound. They even quoted Nikola Tesla when he said 'if you wish to understand the universe, think of energy, frequency, and vibration,' a statement the team resonated with when they created their speakers.
The Hidden speakers produce 360-degree sound as omnidirectional as its accompanying two six-inch bass woofers. Their sound system has a room-filling sound across a full frequency range, featuring a high homogeneity of the sound field, that creates well-rounded sound from every angle, balanced at any volume. The HIDDEN sets also feature the latest Bluetooth wireless technology to enable multi-room functionality, sets pairing and wireless streaming, played with one click via Bluetooth from a smartphone, CD player, mixer, or TV, and even from a classic stereo record player with a DAC. Users will soon be able to tailor equalization levels and other settings using a Hidden app.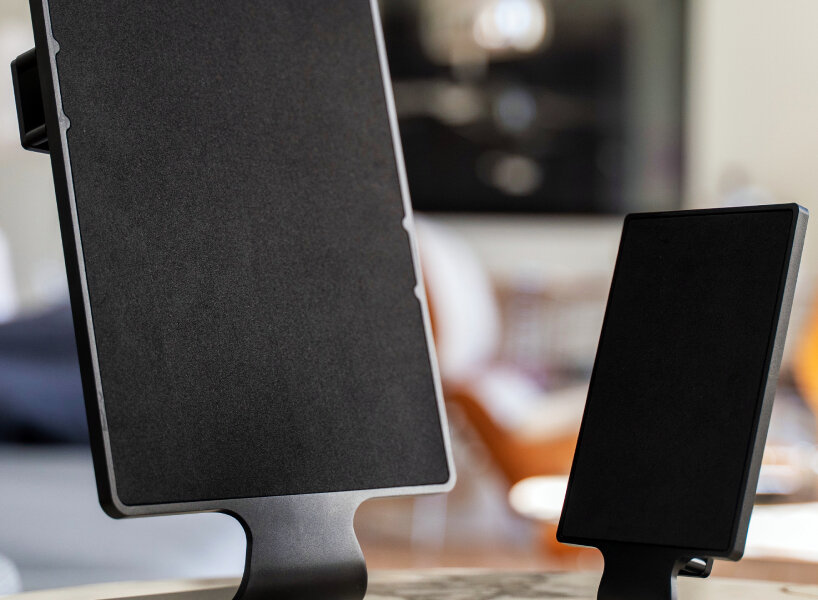 super thin speakers 'Hidden Sound' produce hifi audio for a 360-degree sound experience
Affordability of Hidden Sound
The Hidden Sound team believes that their next-generation acoustic technology is built to last and that their products create no listening fatigue with a depth of high fidelity. They were informed by leading figures of design – such as Dieter Rams who stated that constant design innovation is less important than focusing on the development of simple products that are made to last – when they conceptualized their products. They related this ethos and quote to their pricing, which they deem as accessible since Hidden ECO's set starts from 800 EUR while Hidden EVO's sets start from 1,400 EUR. They consider this as total democratization of high-end sound that owes its roots to the shifting and developing technology and production process that now enables the affordability of HiFi.

Hidden ECO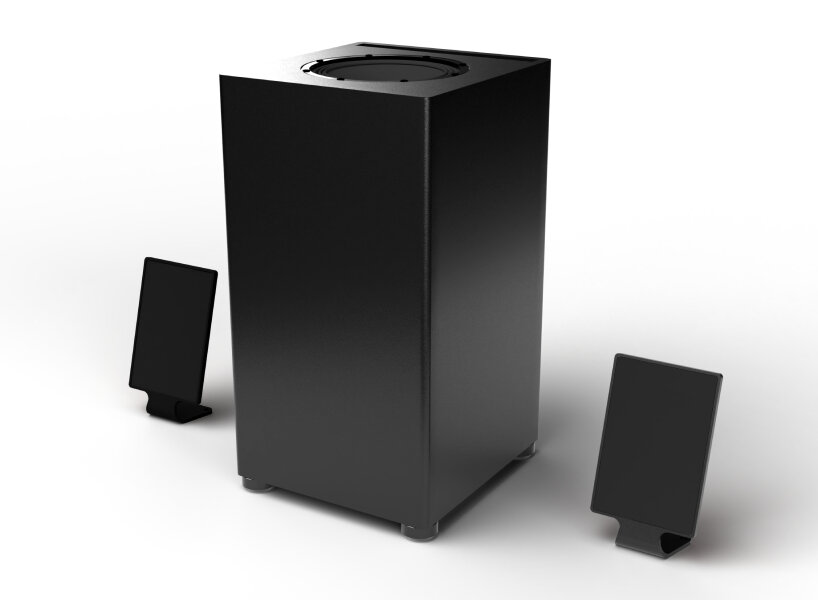 Hidden ECO with Hidden CUBE