learning from miami
Kengo Kuma & Associates reveals one of its latest project — the Aman Miami Beach Residences — which blends the vibrant spirit of the city with serene natural harmony. The beachfront tower is designed for hospitality brand Aman, whose line of luxury hotels already occupies stunning locations across the world. Once completed, the project will stand as the architect's first residential tower in the United States.
The residences by Kengo Kuma will mark one of two developments by Aman along the beachfront area — just next door an historic Art Deco building will undergo a restoration led by Jean-Michel Gathy of Denniston to become the Aman Miami Beach Hotel. The team at Kengo Kuma & Associates notes the influences of its Art Deco neighbor on the design of the condo tower. The project draws from the style through a contemporary lens, while celebrating harmony with nature with material palette of natural timber.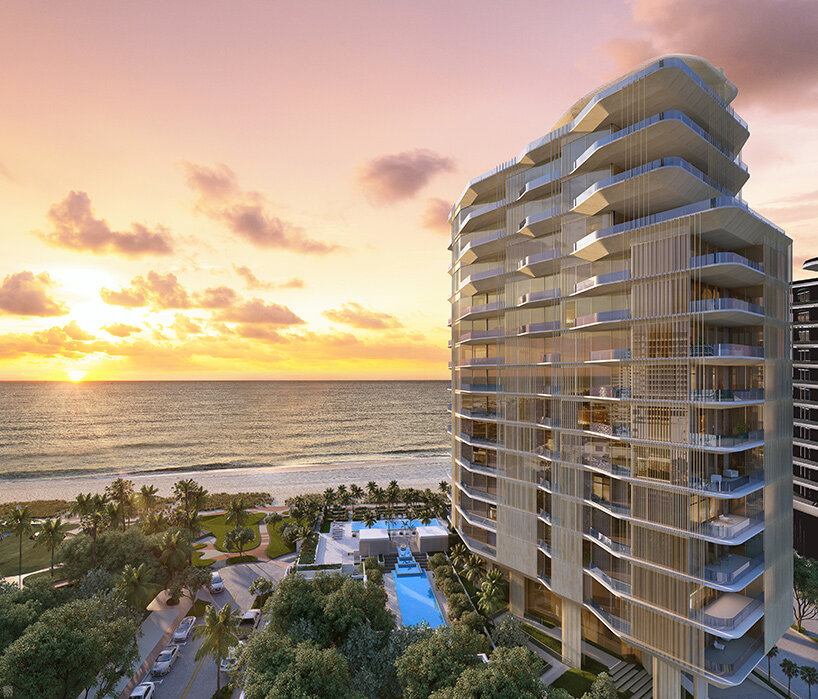 images courtesy Aman
the floating tower by kengo kuma
The Aman Miami residential tower (see here) embodies a lightness which at once exemplifies Kengo Kuma's inimitable style and draws from the coastal site. The building will be elevated three stories above the ground atop a set of pillars which, finished with vertical timber slats, seem lightweight and suggest a set of stilts. These elements are more than just an aesthetic choice — by elevating the tower, a decision common in a coastal context, the architects hope to preserve ocean views for neighbors further inland.
Above, the building rises eighteen stories above the shore and takes shape as a stepping volume with softly curving edges. The transparent facade shows ethereal louvers of vertical timber fronting full-height walls of glass opening onto to spacious, wraparound balconies. The project will introduce twenty-three fully serviced private, Aman branded homes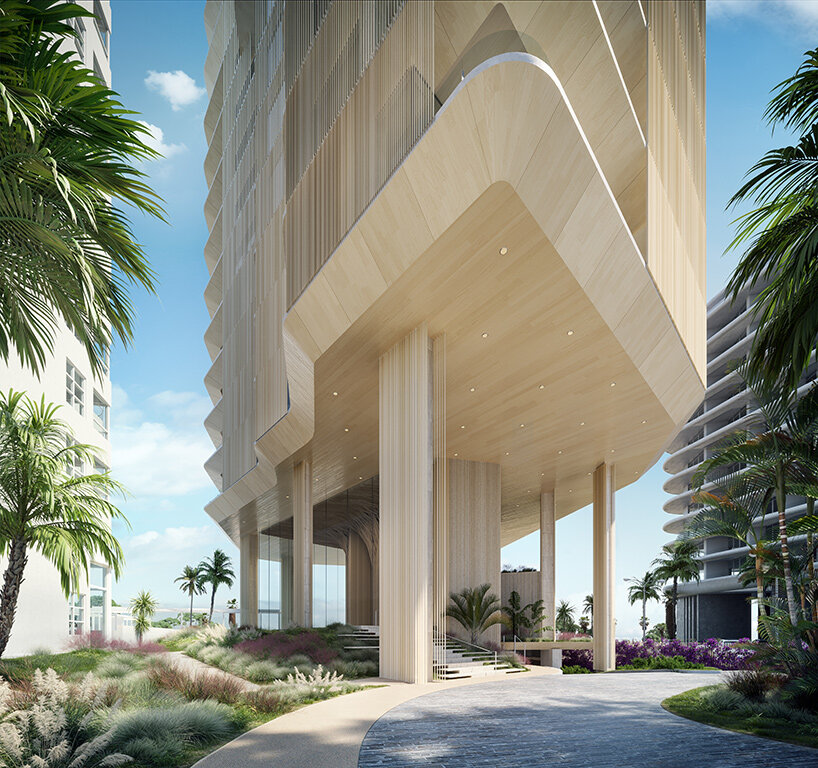 harnessing the subtle serenity of aman
Inside the main atrium of Kengo Kuma's Aman Miami tower, occupants are greeted by a parametric 'flying tree' canopy of custom wood latticework. The expressive element exemplifies Kuma's harmonious meld of traditional materials with modern technologies. Overall, the architecture will be subtle, serene, and 'rooted in the Japanese philosophy of wabi-sabi and wisdom found in natural simplicity.' The team notes that this vision mirrors Aman's ethos of 'uncomplicated serenity, stillness and wonder.'
Visible throughout the project will be the architect's familiar approach of 'sensitivity to place.' The structure's wooden louvers connects floors from base to tip, while the knife-edge slab at each level will suggest movement and rhythm. These angled slabs will partially shelter the wraparound terraces and floor to ceiling windows from the permeating sunshine of Miami.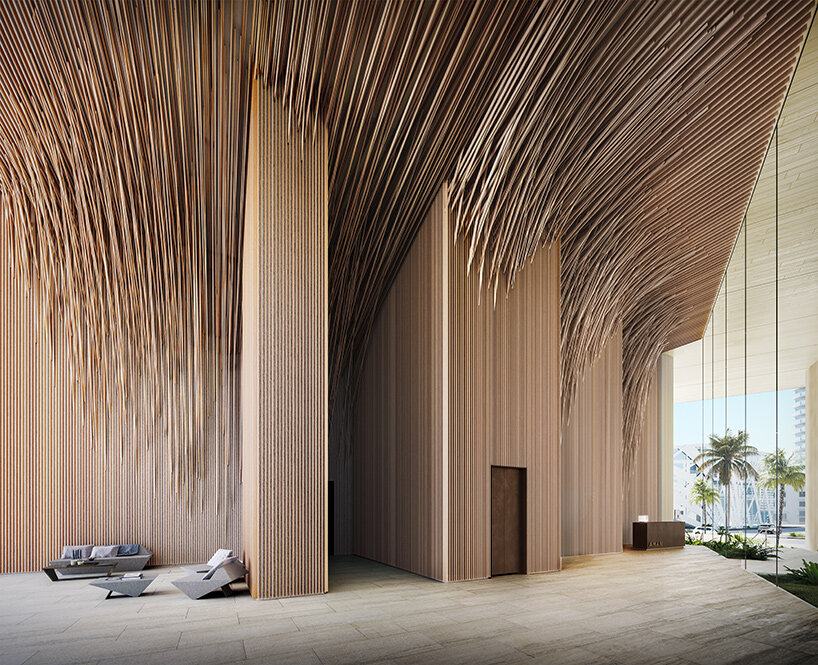 the three-story lobby features a parametric 'flying tree' canopy of custom wood latticework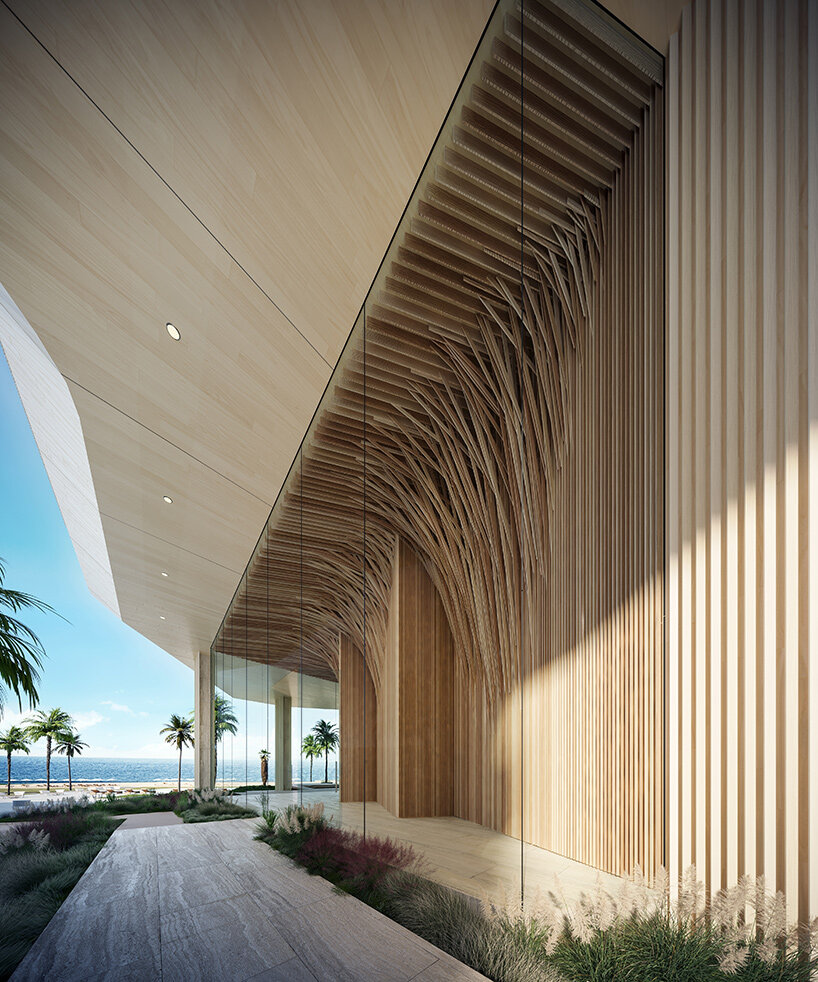 the team works to preserve coastal views by elevating the tower