1995 Craig Craft 168 Boss: a Porsche boat
For those who are wondering what a marriage of a 1990s Porsche and a boat would look like, the Craig Craft 168 Boss is the answer. Finished in lemon yellow and black splashes, its chubby silhouette incorporates Porsche-style design cues, including taillights, circular headlights, side mirrors, fenders, and the brand's logo. The fiberglass hull features a four-seat cockpit with matching interior trim: front and rear bucket seats are clad in intense yellow with black accents upholstery to meet the overall style of the vehicle.
Further features that add to the boat experience include a center console with cupholders and a storage cubby, a Boss stereo in a Scosche waterproof enclosure, Kenwood speakers, rear cupholders, Porsche and Boss dashboard decals, Boss-branded carpet floor mats, and a ski pylon for water adventures. 
Not to mention, the characteristic laminated glass windshield is not missing from the design, while the vehicle is also equipped with a front storage hatch, Perko stainless steel cleats, recessed latches, navigation lights, and underwater LED lighting.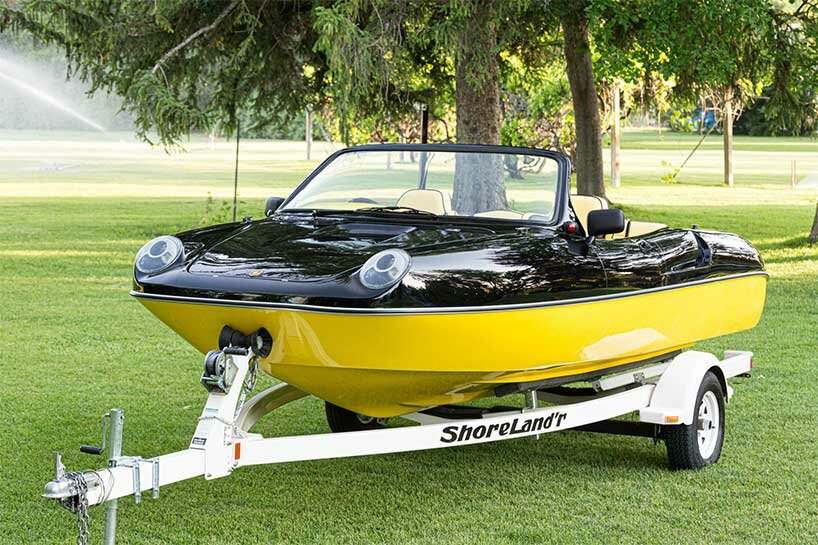 all images by Bring a Traile (BaT)
a half-boat half-car vehicle 
This 1995 Craig Craft 168 Boss is a 16′ speedboat powered by a GM-derived 4.3-liter V6 that was installed in 2021 and is paired with a Berkeley Jet Drive model 12JE with a hydraulically-actuated reverse bucket. It is said that the boat has been stored for 27 years and was acquired by the seller in 2015.
The cockpit features a three-spoke steering wheel and accommodates an 80-mph speedometer, a tachometer, and gauges for oil pressure, fuel level, coolant temperature, and voltage. Switchgear and a gas fume detector are installed under the radio. 
The unique piece is now on auction sale by BaT, with a current bid of 16,750$, which ends in three days. The vehicle is offered with a single-axle trailer for transportation.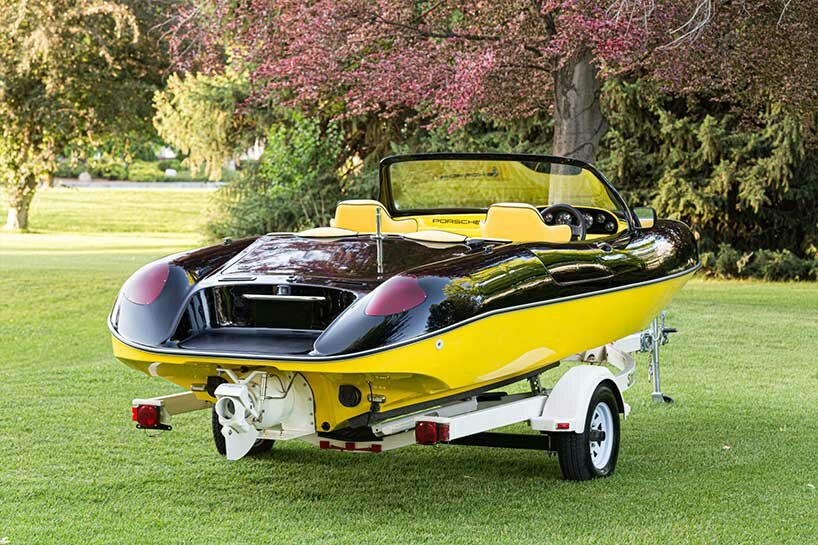 the included white single-axle Shore Land'r trailer features a rolling tongue jack, a hand winch, plastic fenders, and matching 13″ steel wheels with 175/80 Hi-Run LQ229 tires