'the flower clouds' | Zhengzhou metro line-7 stations 
MASK Architects and Jiang & Associates Design (J&A) have joined forces to propose a spellbinding installation inside the Zhengzhou metro line-7 stations in China. Titled 'The Flower Clouds,' the conceptual design is envisioned as a cluster of flower petals emerging from the ground like translucent canopies fitted with lights that will pulsate throughout the structures, interacting with the subway, music, and movement unfolding in real-time.
The project is part of the first phase of the Zhengzhou Rail Transit Line 7, currently under construction and expected to be operational in 2023. Spanning 26.82 km, the line begins at Dongzhao Station and ends at Nangang Liu Station. It holds two floors — one for arrivals, one for departure — with a total of 20 stop points, including 11 transfer stations.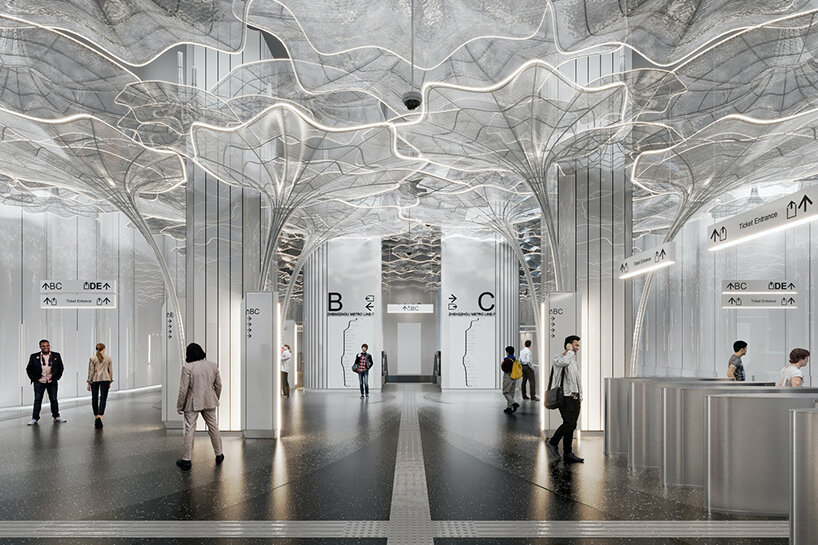 all images courtesy of MASK Architects 
 enlivening daily commutes with pulsating, flower canopies
Explaining their vision, Öznur Pınar ÇER and Danilo PETTA, founders of MASK Architects, write: 'Our new generation concept for a metro station in China is inspired by how commuters interact with the space and how they feel within [it] on their daily routes. We know that sometimes this daily journey or commute can be very dull and boring, almost an unconscious journey that we don't really focus on too much.'
'[…] We have created a concept for commuters to feel like they have transited into a new world. […]The environment will be welcoming, elegant, light, and warm. A place where all pressure and stress will be reduced, where your mind becomes open and active instead of tired and sleepy. We wanted to create a social space, in which the commuters can engage with the surroundings and the environment.'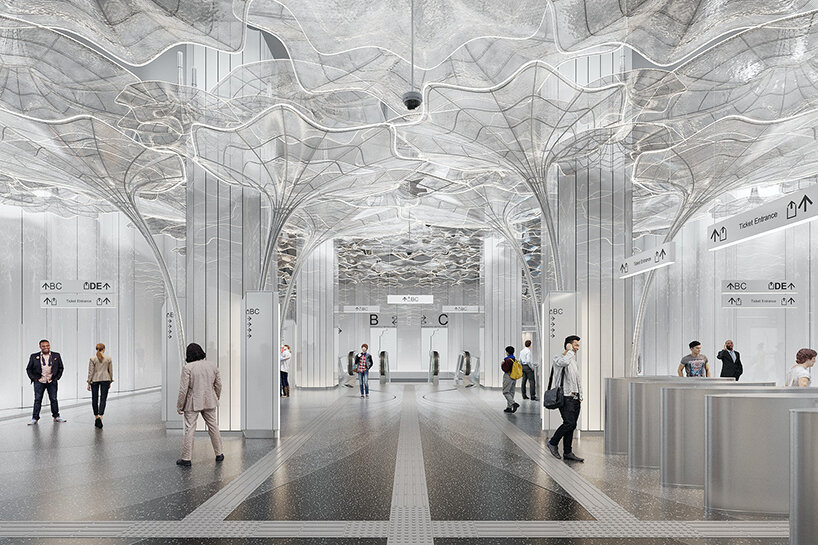 'The Flower Clouds' is part of the Zhengzhou Rail Metro Line-7 stations, currently under construction 
transparent steel mesh meets gradient terrazzo flooring 
MASK architects and the team at J&A looked to Nanhuan Park in Zhengzhou for inspiration, a place renowned for its flowers and roses. They wanted to inject that natural spirit inside the subway, creating a flow that gently connects the outdoors to the indoors and uplifts the overall mood of a daily commute. As such, 'The Flower Clouds' installation operates as an expandable, mobile, and modular set of flower-like structures that can be organized in various patterns. 'We can create different systems in which the perspective can be changed and can create different flows of avenues for people to explore or be directed to their platforms,' continues MASK architects (see more here).
For transparency effects, the 3D bespoke structures will be built using 0.1 mm stainless steel mesh. The team chose the material as it's easy to mold and sculpt into different shapes and curves. Lighting, meanwhile, will be embedded in multiple sequences and patterns that will beam and pulsate across the ceiling, from petal to petal, like the ripple of a wave. 'The Flower Clouds' installation at Zhengzhou metro line-7 stations, therefore, acts as a sort of light show, transforming the typically dull and mechanical features of a subway into a spellbindingly 'natural, nourishing, flourishing, and refreshing space.'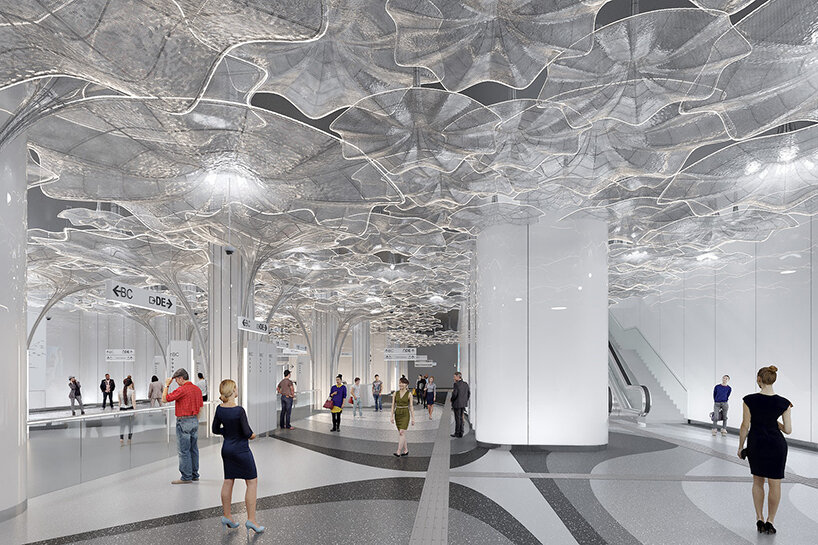 using gradient terrazzo flooring as directional guides for commuters 
Complementing the translucent lower canopy installation is a grayscale flooring pattern made of gradient terrazzo on vinyl. Fitted on both floors of the subway interior, the design will reveal an intersection of line flows — from dark to light gray — acting as directional signs to help guide commuters to their designated stations.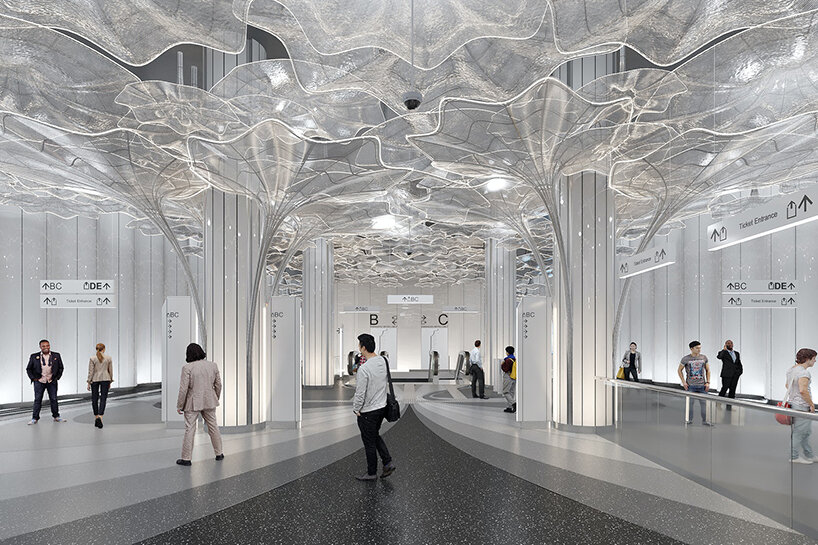 the modules can be clustered in a variety of patterns and numbers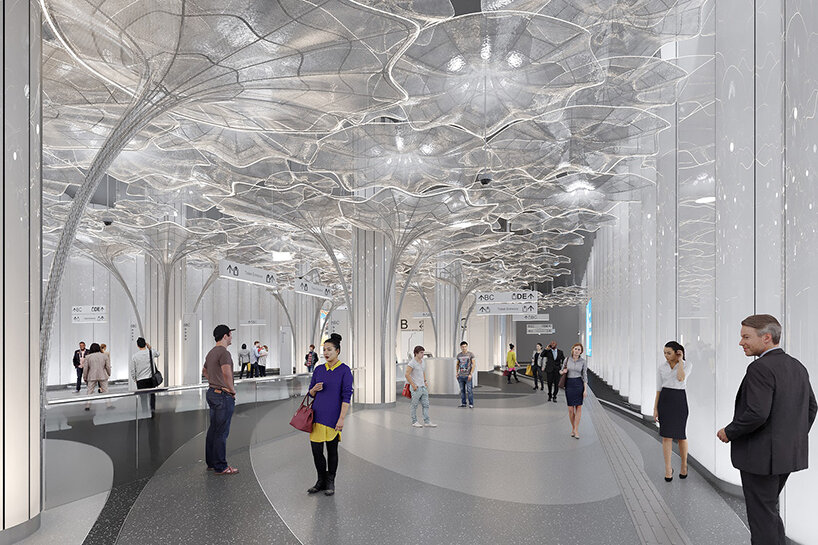 the lights beam and pulsate across the ceiling like a lighting show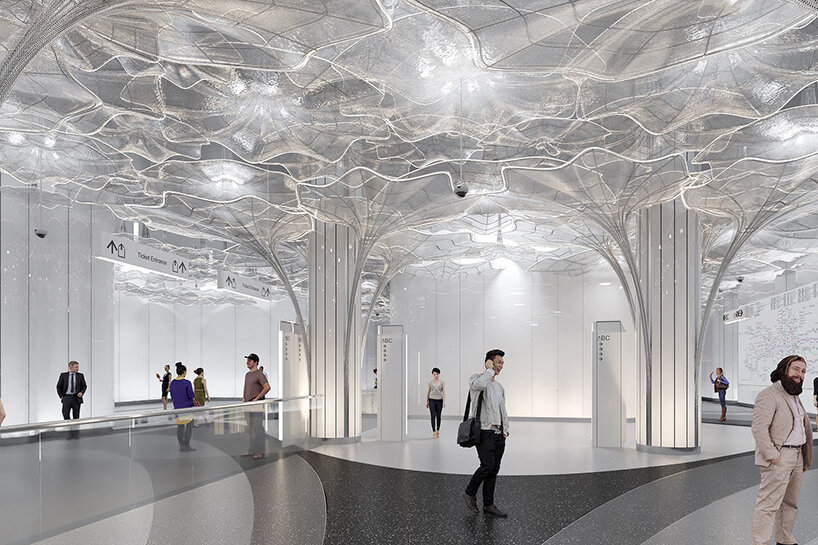 an expandable, mobile, and modular installation system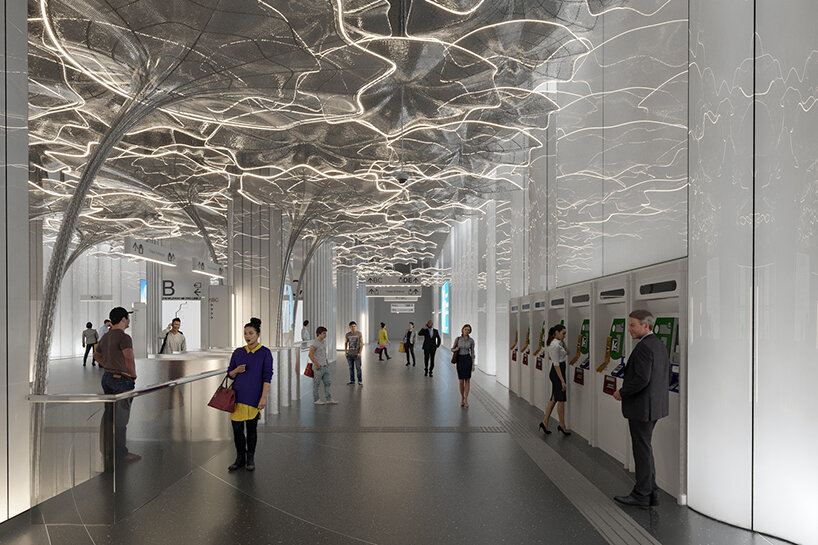 night-time lighting, emphasizing the petal outlines rippling across the space
project info:
name: The Flower Clouds | Zhengzhou Metro Line-7 Stations
concept by: MASK Architects + Jiang & Associates Design (J&A)
location: Zhengzhou, China 
number of stations: 20 
line length: 26.82 km